Menu Functions: Playback Menu
John Greengo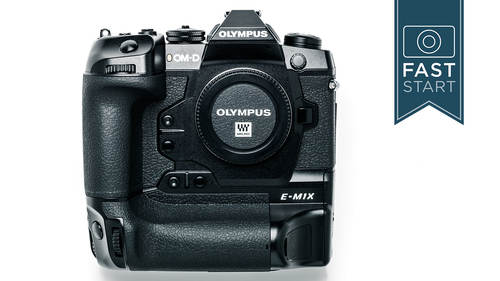 Menu Functions: Playback Menu
John Greengo
Lesson Info
11. Menu Functions: Playback Menu
Lesson Info
Menu Functions: Playback Menu
Next up is a fairly short menu, the playback menu. And this is controlling things, obviously, when you are in the playback mode. Olympus has a very smart automatic rotation system for playing back images. So, however you rotate the camera, it'll automatically rotate the image so that you can see it in the largest size available, which is really nice. This may not work out if you're not holding the camera upright, if you're holding it in some unusual position. So you can turn it off if necessary, but it'd probably be best to leave it on. And not to worry, it will rotate your images. There is a sensor built into the camera, and so it'll automatically rotate your images when you download it to software programs. You can edit your images if you want, and you can do an overlay image of up to three images, and you can take these images, choose which images you want, and then you can choose how much, how important they are, and the opacity level in these overlays. And so this is a creative wa...
y of creating a new image. Not to worry, you will never harm an original image here, you are creating a new copy of these additional images as a additional creative outlet. If you want to, you can hook your camera up to a printer and print directly to it. This will allow you to go in and make some of those print settings. If you want to protect images that you have already shot, you can put the lock switch, which is the AEL AFL button on the back of the camera, on your images, it'll prevent images from being deleted. They can still be reformatted, so you do need to take care with important images. Reset share order, this is an Olympus OI share app, and what you can do is you can mark images for sharing, and then when you have the app on your phone you can move images from your camera to your phone and then share them online with Olympus's app. If you are recording onto one memory card, and you want to copy images to a second memory card, you can do this. This is a great way, if you're traveling, you take some pictures of some friends, and you wanna give them copies of photo, you can just ask for their memory card, put it into the second slot into your camera, and just transfer those images from your card to their card in the camera, and do that all out in the field. Next up is Wi-Fi connect, you can take this camera, like pretty much all modern cameras, and connect it up to a wireless device. There's a few different options and some basic ways that this is gonna get used. So, device connection is usually with some sort of mobile phone, access point connection is generally gonna be with a computer, for some sort of tethering type system. I'm gonna talk mostly about a device connection, and so when you go into this, you're gonna get a couple of screens that explains that you're gonna be hooking up to a Wi-Fi system, and then on the third page you're gonna get a scan code, which is one option of getting in. I've found in general, the most consistent, easiest way to get in is to note the Wi-Fi password that you would enter in on your phone. And so I'm gonna walk you through the basic steps that you need to do in order to hook up your phone to the camera. And it's gonna require steps with both your camera and your phone. The first thing you need to do with your phone is download the Olympus Image Share app. This is available at the common online stores for apps. Download that for your respective phone system that you are using. Next thing you're gonna need to do is go to the camera's Connection to Smartphone, which is right where we've come to in the menu system. From there, back on your camera, it's gonna connect up with Wi-Fi, so first thing, duh, you need to turn Wi-Fi on. And then you need to select the right system and enter the password. Now, once you enter the password and join, you won't need to do that again for that particular camera system. Next up is just open up the camera app on your phone, and you should be connected then, and it will allow you to go through and connect to the camera in various different ways. One of the most common ways is remote control, if you wanna have the camera set up on a tripod and look at what the camera is focusing on, you can do that on your phone. Not from an infinite distance, but from a short distance away. However far that Wi-Fi signal can carry. You can import photos from your camera to your phone, so if you wanna upload them to the Internet, that's a great way to do that. There's also a couple other options for how to's, editing photos, and adding geotag information to your images in there, and so this is something that you can explore as you have time in there, because there's a lot of great options. The app for your phone does change over time, and they do make improvements, and these things keep getting better especially as in the current years of all this developing and becoming new, new ways of connecting with the camera.
Ratings and Reviews
This fast start marathon by John Greengo was fantastic. It revealed a great many interesting features that reviewers of the E M1X ignored when the camera came on the market and of which I was unaware. Plus it offered useful advice on how to determine in what circumstances the camera's many options and capabilities are useful and how to decide whether they should be turned on or off. I would say though because of the in-depth nature of this feature tour that unless the viewer has a vested interest in this subject, this class could quickly become an info overload experience. It's l-o-n-g! But for anyone interested, it's a super intro to the manual. Greengo draws attention to many items that an individual alone with the manual might overlook. Beyond that, it piqued my interest in the E-M1X! Olympus should make John Greengo's class available to new owners of the camera, or at least direct them to this class.
Just got the om-d e-m1 mark iii so came to Creative Live for a tutorial and although this is for the X the menu system is almost the same. Have followed John Greengo's A7iii guide on here as well and both courses have been a great help. I will be purchasing the course for the om-d e-m1 mark iii as soon as it's released. Highly recommend John's tutorials.
Student Work