Menu Functions: Shooting Menu Part 1
John Greengo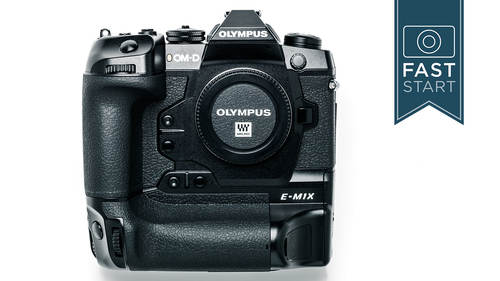 Menu Functions: Shooting Menu Part 1
John Greengo
Lesson Info
8. Menu Functions: Shooting Menu Part 1
Lesson Info
Menu Functions: Shooting Menu Part 1
All right, it is time to dive into the menu of this camera, which means sit back and relax, because we got a long ways to go through this. The video, the menu on this camera is very large. With this class comes a handout that has the entire menu and my recommendations along with it. I think Kenna is gonna hold it up here for me, so give you a quick look at what this looks like. So this is a PDF that comes with the purchase of the camera, and on the inside of that is gonna be a full listing of the menus, and some of my recommendations, and so I'll have one page with my recommendations, and then I'll have another page that allows a blank space where you can write in your own ideas of what you want in there. So let's go ahead and dive in, and talk about the menu. So when you hit the menu button on the back of the camera, it's gonna pop up, and there's gonna be a number of tabs on the left-hand side, and I'll have to say that I think Olympus, despite the fact that they have a lot of inform...
ation in here, they have done a pretty good job of organizing where the information is. So we're gonna have a couple of shooting menus, which is kinda the more important stuff that you're likely to wanna get to on a regular basis. We have one menu dedicated to video, one to playback, and then the custom menu, and this is gonna allow us to really dive in to the customization of the camera, and so the custom menu is kind of a huge menu within itself, and so that one gets very involved. The setup menu is a few basic parameters, and then the best menu on any camera is my menu, where you get to decide what's in the camera itself. All right, so let's dive into the menu, and the shooting menu is first, but I'm gonna do a little reverse on you, and I'm gonna go backwards, and I wanna talk about the last menu first, because this camera does something that all other cameras should do, and that is make my menu really easy to work with, and so my menu is the bottom and the last of these menus, but what this is, is it allows you to create and save features from other places in the camera to your own shortcut set of pages. And the way that you do this, and this is ingenious, and so whoever works at Olympus that came up with this idea, just, gold star to you for coming up with this idea, and what you do is you just scroll through the menu, and when you say, oh, I like this feature, this is something I want, what you do, is you press the orange video record button on the top of the camera, and it will save it to one of five pages. And these are known as basically star one through star five pages, and so when you hit the record button, it's gonna give you the option to save it to one of these five pages. Now, number one could be all your favorite stuff, and then your second favorite stuff on page two, or you could organize these by category, like, maybe category one is general stuff, and page two is video settings, and page three is landscape settings, and page four is auto-focus settings, so you can organize this in any way you want, so as we go through the menu system, remember, hit the video record button to save any particular feature to one of five of your favorite pages in my menu. So keep that in mind as we go through the rest of the class. All right, starting on shooting menu number one. This whole tab is filled with basic, pretty common stuff that you may wanna get to on a regular basis. A lot of submenus in here folks, so we're gonna have to dive in to the rabbit hole to get in a little bit deeper. So the first thing that you can do is if you wanna reset your camera, you can do either a basic reset, or you can do a full reset, like if you're gonna sell your camera, you're gonna loan it to somebody, you might wanna reset all your controls, or perhaps you have messed your camera up so much you don't know how it's messed up, you just wanna reset it back to the factory default settings. This is a good place to reset your camera back to those original settings. Next up, assign to the custom mode, so you remember on the dial, we've got the custom one, two, three, and four settings, set the camera up as you would like with the shutter speed, aperture, exposure mode, drive settings, focus settings, bracket settings, all those different types of parameters that you wanna have set up, come in here, and set it to one, two, three, or four. That way you can quickly recall it by simply turning the mode dial to that particular setting. If you wanna go ahead and just clear what is in there as well, you can clear out any previous setting that you might have had in there. Kind of an unusual mode here is you can recall from the custom mode, so for instance, let's say you have a bunch of parameters set in there for, let's say, bird photography, and you normally have the camera in shutter priority, but you're wanting to work in manual priority right now, manual exposure. You set the camera in manual, you go in here to recall from custom mode, you go to the custom mode that you have preprogrammed for bird photography with shutter priority, and it recalls all the settings with the exception of the shooting mode, the exposure mode that you're shooting in, so now you can grab all the auto-focus and drive modes that you had for that particular custom mode, but now applying it to your own choice of exposure mode at that time. And so this is a good way for pulling one idea, using it in someplace else. Next up is the picture mode, this is for the JPEG shooters, who wanna go in and control the contrast, color, and look of their images. I'm gonna recommend i-Enhance for general users, maybe natural is for a little bit more advanced. The problem with i-Enhance is that the camera has some control over the way it's gonna look. Natural is going to be more consistent in the way that it records information, and it won't adjust the contrasting color on its own. It will just kinda keep a very simple and basic setting that can be a little bit easier adjustable later. Now as we go through this class, I'm gonna be giving you my recommendations, and they're as good as whatever you think they are. They're a good place to start off with. I know you're gonna customize the camera to your needs as you go forward, but sometimes when you're getting started, you're not sure what's a good place to get started, and that's what my idea for my recommendations are. Now, a lot of times, advanced users will have a little bit different needs than beginner users, and so if you're a little bit more basic in your photography you can take the general recommendations, the more advanced users I'll put those recommendations in red, both onscreen in the video here, as well as in the PDF handout that is part of the class. Next up is the image quality symbols, and this allows you to save in the different formats of raw, JPEG, or different types of raw, and so this is where I recommend shooting in raw in general, but they do have good JPEGs out of this camera as well, and so if you wanna get into this, you can dive in to the different types of setting, and set the custom, in the custom menu, you can preset the different sizes of JPEGs and the compression modes, and so you essentially have four different presets for those JPEGs that you can choose the size and style of those JPEGs in that custom menu, that we'll get to later on. We talked about the image aspect ratio before when we were in the super control panel, but of course it's gonna be here in the menu as well. This can be assigned to many of the other custom buttons. Most of the time I would leave it in four by three, unless you know that you are needing a different format for the final of a particular image. The digital teleconverter, this is for your JPEG shooters. What this does is it is a digital crop into the frame so that you can have more magnification. This could be helpful if you know that you are gonna be shooting an object that you are going to be cropping anyway. Let's say you're photographing a bird that is just really too far away, and you wanna crop in and see it full frame in the view finder. By turning this on you will see that larger image in the view finder, and it might make it easier for composition and following that subject in the frame. Next up is the drive mode. There is a drive button on the top of the camera. You can get to the drive mode in the super control panel, so this is just yet another way to get in here and control this, and so we've talked about all these different modes, most of the time probably gonna leave it in single, but there are some other modes that you can get into. Be aware of any arrows that you see, so on this menu down at the bottom, you'll see that there's some arrows over to the right-hand side. That means that you can go into a custom menu to control those particular features, and so if you go into those custom settings, you can control, for instance, the self-timer, the number of frames that you are going to shoot after the self-timer runs through its time. You can control how long the timer is, you can control the interval between the shots, and so this is almost a low-end intervalometer here, but it's mainly designed for, I think, doing group shots where you have a number of images, or anytime you wanna take several pictures without touching the camera. You can also choose to have the camera refocus. Let's say you're gonna move closer to your camera with each one of your shots. Do you want the camera to refocus? All of that is in the drive modes. Next up is the intervalometer and time lapse. If you're not familiar with this, this is a way of shooting a large series of photos that you can compress into a short movie, and this is a great way of showing time, or an expanded period of time, in a short period of time. And so when we dive into the menu here, you can first choose the number of frames. I think 300's a good number because a lot of video is shown at 30 frames a second. This gives you a 10-second clip. That's a good starting point for a intervalometer series. Next up, waiting time, when do you want it to start? Right now, or somewhere down the road? Perhaps you might want it to start in an hour, during the start of a particular event. The interval length, how long does it take between from one shot to the next shot? A lot of times, this'll be one second to 10 seconds, maybe a minute, could be more than that. It depends on what type of event that you're trying to compress in time. The time lapse movie will actually compress this information in camera to show you what you've seen, and this can be kind of handy if you would like to see what your movie is going to look like at any particular time. In general though, if you wanna have a lot of control over your time lapses, you wanna record individual frames, and then you'll use a separate program for compressing and working with individual frames. As I say, if you wanna have the most control over your intervalometer. And if you are gonna be recording a movie, you can record, you can choose how that movie is recorded, in what resolution, and in what frame rate as well. That completes our first menu tab within the menu section.
Ratings and Reviews
This fast start marathon by John Greengo was fantastic. It revealed a great many interesting features that reviewers of the E M1X ignored when the camera came on the market and of which I was unaware. Plus it offered useful advice on how to determine in what circumstances the camera's many options and capabilities are useful and how to decide whether they should be turned on or off. I would say though because of the in-depth nature of this feature tour that unless the viewer has a vested interest in this subject, this class could quickly become an info overload experience. It's l-o-n-g! But for anyone interested, it's a super intro to the manual. Greengo draws attention to many items that an individual alone with the manual might overlook. Beyond that, it piqued my interest in the E-M1X! Olympus should make John Greengo's class available to new owners of the camera, or at least direct them to this class.
Just got the om-d e-m1 mark iii so came to Creative Live for a tutorial and although this is for the X the menu system is almost the same. Have followed John Greengo's A7iii guide on here as well and both courses have been a great help. I will be purchasing the course for the om-d e-m1 mark iii as soon as it's released. Highly recommend John's tutorials.
Student Work