Class Introduction
Andreea Ayers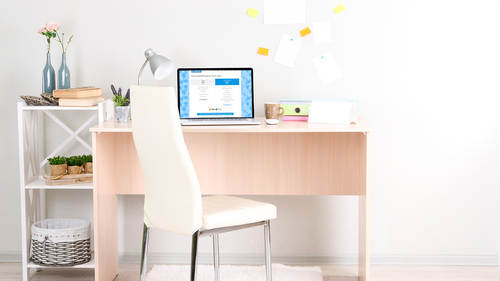 Class Introduction
Andreea Ayers
Lesson Info
1. Class Introduction
Lesson Info
Class Introduction
Hi everyone I am super excited to be here with all of you today I know many of you have a website some of the arthur thinking of starting a website and I know a lot of you in the audience are in the same position and like jim and I were talking about two off the things that people always come to me with is how do I get more traffic and how do I get more sales? I know when I first launched my t shirt business it seems like it was so long ago but I launched my website and I really thought well if you build it they will come right how many of you might have felt the same way right right yeah you put it up there you know you let your friends and family know and all of a sudden, like you're just sitting there waiting for orders and nothing happens so I've been there I know how it feels but then after a while you start doing some stuff and you start getting your website out there and people start coming and it's great because you see all of this traffic coming in but the sale sometimes are s...
till not there and that's because what a lot of people I don't really think about is how do you optimize your online store so you can turn more of the traffic into actual paying customer so we're going to be talking a lot about that today and things that maybe you might not even have thought about how to optimize your about page your home page your product descriptions right there's so many different things that go into it and what I want to do today is take you through the customer journey so whenever someone comes to your website what does their journey look like where do they go? What are some of the things they're looking for and how can you facilitate that journey so that way they turn into a paying customer so how does that sound to everyone? Is that sound like something you want to know all right so good so I have so much information to share with you today but first I want to talk about why should you have your online store? I know some of you are selling on at sea and I'm not saying you should get off of me I think it's a really great platform lots of really good traffic when I first launched my business the first sales I got were from etc so there is definitely so much value and having on etsy store but there are other things that you really need to keep in mind when you think about having your own online store so I highly recommend to everyone even if you have a nazi store you should also have your own home base online and there's a lot of reasons I'm going to give you today, and hopefully if you don't have your own web site by the end of this workshop in the three days would be like, ok, I need to get my own website and I need to get it up a s a p so the first reason is that you can actually collect and start building really collect data and start building relationships with your audience. So what happens is when people come to your web site, they don't really know yet, right? You're not a huge brand it's not like you are a target or wal mart or some huge designer, so they want to know more, and sometimes they're not ready to buy right away. There's a really interesting statistic that says it takes someone an average of seven times before they come in contact with you or to come in contact with you before they actually make a purchase. So think about that that's a lot of times, it's not like someone just comes to your website and they're ready to buy. They need to find out more information they need to read more about you. They need to make sure that your product is a good fit for exactly what they're looking for and it's your job as a designer and as an entrepreneur. To think about their journey and make sure that they have everything they need to make an informed decision so they can feel really great about purchasing from you and they can feel like they actually are making the right decision and sell having your own website allows you to get their email address if they're interested for more information and then you can contact them later on and that's where that seven times comes in right because if you get their email address there on your website that's the first time you get you send them a newsletter that's the second time they come in contact with you maybe you encourage them to like you on facebook and like your business page which we're going to talk all about that tomorrow but that's the third time they come in contact with you then maybe another month later you'll send them another newsletter that's the fourth time so you see how it's not just a one time thing where they come to your site and they buy you sort of have to build that relationship throughout different channels and keep in mind that seven times that they need to come in contact with you before they actually make a purchase. The other awesome thing about having your own website is that you don't have to fight with competitors I know I've done this I've found maybe a really awesome product on etsy I want to it and I was ready to buy and then I saw a whole bunch of other products that were similar some might you know where lower priced or some had a different design or a different message or something like that where I was sort of drawn to a different product other than the one that I was originally therefore so that happens a lot if you our only counting on etc you really can be losing out on a lot of people who see another product and go to buy that particular product and lastly, your customers are actually yours and not someone else's and that is going to be really, really important because what happens if etc closes down tomorrow? You've lost everything, you've lost your business right? And I don't think they're going to close down any time soon, but what happens to your business if that does? You pretty much have no business so it's really, really important to have your online store now let's talk about setting up here for your home page because chances are if someone finds out about your website, they're either going to type in your you earl or they're going to google it, which is often going to take them to your home page, so you really have to think about what's on that home page that invites and attracts them and hopefully convinces them that they should buy products from you so let's talk a little bit about your customers journey through your website so before we do that I want to talk a little bit about the purpose of your website so I want to ask all of you in the audience here what do you think is the primary purpose of your website tracy to build trust awesome anyone else to share to share maturation yes what's available from you on also so they can see who you are you could meet you and one last thing anyone else want to share something else to make a sale awesome yes I'm glad you said that and I think I was going to mention that's usually when you put up your web site you put it up to make a sale. However that sale is not going to happen unless you provide the right information unless you create of really awesome experience for your visitors and unless you engage on connect so I want to shift your thinking a little bit about the main purpose of your website and yes, you do want to make a sale obviously that's why we're all in business we have awesome products that we want to share with everyone here but you have to really keep thes three things in my this should be your main purpose of your website and as an entrepreneur you have everything in your power to make all of this happen and we're going to talk about how you can do that for the next three day, three days now your secondary purpose is to collect leads obviously, so if you don't have an email newsletter, opt in box, I want you to stop everything right now literally if you are online watching in the studio audience, this should be the next thing you do and you should definitely make collecting leads ah, priority and sometimes I hate the word leads because you look at your customers as just another number, so I don't necessarily mean for you to look at it that way because we're going to talk, look out how you can build relationships and how you can not look at your leads as leads, but as real people who have a need that they're looking for you to fill, so definitely there should be a huge priority for everyone here. Your other purpose is to sell products obviously, right? This is why we all started a business. This is why we do what what we dio and lastly it's to make things easier and this sort of falls into the aa lot into the primary purpose where you're engaging and connecting and facilitating your customers journey but there is one more purpose which I know I've mentioned a lot and it's to facilitate your customers journey and everything on your site has to keep your customer in mind you have to think about what is my customer getting and what's their experience like as they are moving from different pages on my website? And how can I create that two way conversation? Because they're not in a store where you can talk to them, right it's like they can come up to you and they couldn't say, oh, do you have this in a different color? Or how does your sizing run or what is this made out of? So you're not you're completely removed from that picture, so you have to make sure that your website sort of acts as you so think about your website as another extension of you and you interacting with your customers directly on your website so let's walk through your customers journey so first they come to your site and usually they come to your home page and this is where that they decide is this something for me? Or is this not for me? And if they decided it's for them, then they start looking around for more information so they might go to your about page to read yours to read your story. If you have a blogged they might go to your blogged, they might go to your fake you page and after that they're still trying to the side of this website is for them so what they might do is they're going to look at your product pages and I'm going to read the description and again see, is this something that is good for me? And lastly, they are going to take action and they're going to make a decision they're going to decide if they if she wants to give you her email address to maybe she's not ready to buy right now, but she wants more information she might buy your product, which obviously we all want our customers or what visitors to buy our products. And lastly, she might leave if she decides that this is not for her, so we definitely don't want anyone to leave right, and hopefully some sometimes people will contact you for more information, but hopefully your website will answer every single question that they have. So this is what usually happens when someone comes to your website and if you think about your own journey and let's say it's, a new product that you just discovered it's sort of the same pattern where you go, you check it out the side if it's for you and then you make a decision either to buy to give them your email address, for to leave and never come back and that's now what we want to happen in our case, right? We all want hopefully everyone who comes to actually turn to a customer, however, I get this all the time. I know people come to me and they'll say, oh, I had two hundred, people come to my web site last month and zero sales what's wrong. And I know we all expect everyone to buy when they come to our website. But usually what happens is about one to two percent of people actually purchased. So that's something to keep in mind as well, because not everyone is ready to buy right away and that's. Why having your email address on having an opt in box is going to be critical to get people tio give you their information so you can start building that relationship and then get them back to your website.
Ratings and Reviews
This class is perfect! A great overview and explanation of what you need. I really like the simplicity and after watching it for free I bought it so I could pause it and implement the ideas as I went through the course. I love my page website now and highly suggest this class!
This class is packed with useful information presented in a clear and coherent way. Andreea Ayers has a track record of success in e-commerce and offers ideas and tips that come from experience. Whether you're just starting a website or looking to improve an existing one, this class will help you get your mind working and your creative juices flowing. Highly recommend!
Wow! I bought this class on a whim and didn't expect to get as much out of it as I did. It is to the point, filled with really good information and presented really well. I am so glad I got it. We are about to redo our website and I feel a lot more confident about doing it right now.
Student Work