Photo + Video Fusion
Vanessa Joy, Rob Adams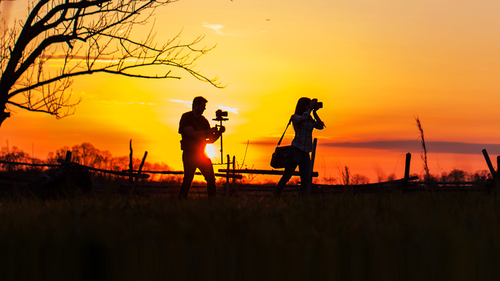 Photo + Video Fusion
Vanessa Joy, Rob Adams
Class Description
Fusion storytelling with photos and video is changing the photo business. In this workshop Vanessa and Rob show you how to stand out from your competition and make more money — using the video capabilities your camera already has! You'll learn how to shoot video, love it, and watch what it does for your wedding or portrait photography business.
Class Materials
Photo Video Fusion - Day 1 Slides.pdf
Photo Video Fusion - Day 2 Slides.pdf
Photo Video Fusion - Day 3 Slides.pdf
1000 Dollar Gear Wish List.pdf
Workflow - Adding Audio.pdf
Workflow - Fusion Album.pdf
Workflow - Fusion Slideshow.pdf
Ratings and Reviews
Worth every penny and then some! i just purchased the course and can't stop watching it. I normally don't give such high praise, but these guys turn out a very high end product and are so efficient with their workflow. The class was so full of information, they walk you through the process step -by-step, and take the fear out of photo and video fusion. I can see how the thought of adding video to your workflow can be intimidating, but Rob and Vanessa do an amazing job of simplifying the process and showing you which programs and scripts will make your life easier. This is THE photo and video fusion course to buy if you are contemplating adding video to boost your sales. Great job and thanks to Creative Live for finding such great instructors!
Excellent presentation. In your presentation you modeled appreciation, support, affirmation and humility in a way that was inspirational. These characteristics together with a depth of knowledge in your topic area gave it huge integrity. Thanks!
They were good as 'teachers'.Well organized. Rehearsed!! but they are also good at selling. I think this whole course was a big Ad campaign in a way for their sponsors like Animoto and especially for Their actions!! It actually turned me off. Felt like they were trying to sell me something- A live infomercial. Nothing against their work though.They gave you just enough info and tips but the rest really depends on their fusion actions and your skill. They Definitely get you excited to create your own though!
Student Work