Sony A7 III Fast Start
John Greengo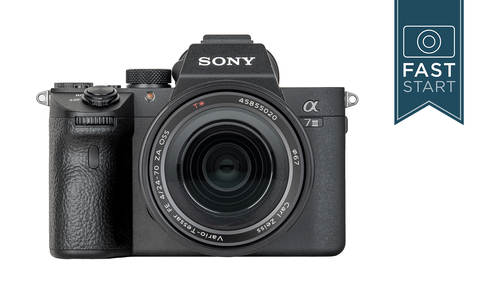 Sony A7 III Fast Start
John Greengo
Class Description
AFTER THIS CLASS YOU'LL BE ABLE TO:
Use the advanced focusing system with 425 Contrast points and 693 phase detection points
Understand and leverage bracketing options for Exposure, White Balance and Dynamic Range Optimizer
Use the multitude of customizing options
Use video features like 4K video, slow motion, and time-lapse
Better use any modern mirrorless features like the EVF
ABOUT JOHN'S CLASS:
Sony set the bar high by calling the Sony A7 III a basic mirrorless camera, packing the $2,000 body-only digital camera with a 24.2 megapixel Exmor CMOS sensor and image processor capable of 10 fps. The entry level full frame camera is being touted as one of the best options for full frame, even among Canon and Nikon competitors.
This class helps you get the most of your Sony camera with a complete step-by-step walkthrough of the camera's features, whether you are just picking up the a7 III for the first time or you want to learn new tricks for your well-loved camera. Join expert photographer John Greengo as he gives you all the information you need to understand this Sony Alpha camera's buttons, menus, and functions -- without the 642-page instruction manual.
WHO THIS CLASS IS FOR:
Anyone who has purchased, or is thinking about purchasing the Sony A7 III
EQUIPMENT USED:
Sony A7 III
ABOUT YOUR INSTRUCTOR:
John Greengo is a veteran instructor and an experienced photographer with over 50 Fast Start classes in the CreativeLive catalog. He has dove into the complex menu systems of multiple Sony cameras including the a6000, a6500, a9, and a7r III, as well as mirrorless and DSLRs from Panasonic, Nikon, and Canon. Besides being adept at dissecting new cameras, John works as a travel and outdoor photographer. With his experience in analyzing camera manuals, he will discuss the complete breakdown of your camera's exposure, focus, metering, video and more. After this class, you'll be able to use your new Sony A7 III with confidence.
Class Materials
Sony A7 III Recommended Settings
Ratings and Reviews
John GreengO! What a wonderful teacher! As always to the point. You do all the testing for us and we get an amazing tour of the camera. Really thrilled with your class once again. Thanks a lot!
Thanks John. Another great class! I appreciate the thorough explanations. I many never use all of the features on this camera but at least I know what they do. Love all of your classes and would definitely recommend them.
Wonderful class. John is a great instructor. Learned a lot. Only wish he'd include a bit more on using a7iii to shoot video, such as using Clear Image Zoom, and including video in the ending Camera Operation settings section. Loved the course though.
Student Work