My Menu Overview
John Greengo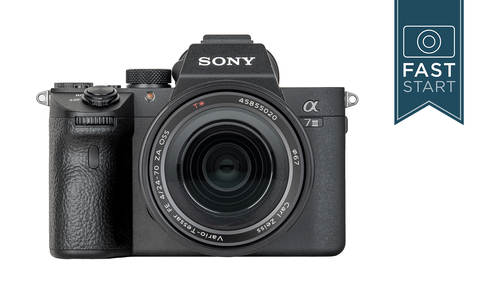 My Menu Overview
John Greengo
Lesson Info
28. My Menu Overview
Find the menu daunting? Sony's My Menu allows photographers to save the most frequently used menu settings to quickly find the option without digging through pages of menu options. The custom menu idea has been around for a while on Nikon and Canon DSLRs, but it's a relatively new feature for Sony cameras.
Lesson Info
My Menu Overview
The last tab in here is My Menu. This is something that is relatively new and expanded with Sony. This is what other camera manufacturers have been doing for a while. It allows you to go through this list of 250 some-odd items or something like that and select a few that you really want to access and put them in My Menu. You do have the options of hard buttons on the camera, you have the function menu on the back, which is your shortcut menu, or you can create My Menu. What you can do is you can go in here and add and organize items. Let's go ahead and do that right now and see if we can customize our camera a little bit. We're gonna go into the menu system. Let's go up to My Menu. There's nothing in here right now. You can see we're on page one of one, and this is just the organizing page. Let's add some items. Let's add File Format. We'll add it to that location. Let's choose JPEG Quality, and we'll add that there. Let's go down, find something else. Actually we're gonna go to the ri...
ght. You can see we have 32 pages of information. Let's just add some random stuff. Drive Mode; yeah, that's fine there. Adding that in. Let's go find one more. Let's go Focus Area. But this one's really important, so I wanna move this up to the top of the list. So that's up here. I'm gonna hit the menu to back out of this because it says down here, MENU; that's the back-out symbol, so I'm gonna hit Menu. Now under one of one, you can see, here are the items that I've chosen and that I've organized the way that I want to. If I want, I can add another item. Let's just go change something. Let's do the face priority. We can move this and put this on a second or third page if we want. Let's say we wanna have some things dealing with focusing on page three. So we've added that here. I'm gonna hit Menu to back out of here. Now we have our first items in here. We have a new page that we're starting. I forget how many pages; I think there's five pages of information that we can have in here. What I've done in the past is I've organized my first page as general settings and then my second page as landscape settings, and my third page is video settings. So I can go there and find the quick summary of all the features that I would normally like to have access to, but I don't wanna gotta go hunt through the Sony menu system and try to find it. It's a great way to make the camera quick and easy to work with. Yeah, I've made a few complaints about the Sony menu system, but it's improved a lot. We've got a lot of different ways to customize the camera, and I think anyone who has this camera for more than a few weeks and plays with the system a little bit is gonna learn it forwards and backwards and get the system set up the way they want so that they're not wasting time out in the field. I think if you go through the trouble of what we just did in the class, going through all the menus, getting things set the way you want, work out a nice My Menu, it's gonna be a really fast and easy system to work with. Kenna. Maybe we can take a couple of questions now before we keep going. Yeah, go ahead. Can you show us where we can find the shutter count for the camera? No. (laughs) Oh, I'm sorry. No, I'm not allowed to do that. It doesn't have a shutter count that it shows us directly. There may be some aftermarket programs that you can hook up on the Internet, plug the camera in with its USB connection. I haven't tried this version on some of the shutter counts that I've already downloaded. There's a number of people that have made shutter count profiles where they can go in and find that information in the data, but there's nothing in the camera that will show us directly. We have a question from Loretta Clark who says, "Are there any issues with this camera that you could envision when it comes to night-time photography?" She says, "I know about the star eater problem, but I'm thinking more of the battery overheating with multiple or very long exposures." And then, "Do you get hot pixels with it?" Okay. Well, maybe for our other non-Star Wars viewers, we should recognize what the star eater problem is. That was Sony cameras, especially on the previous generation, had some sort of bug in their software that I don't know that they really tested with, and that is that when you shot stars, it saw these small little light points as noise and then it would mask over it. That was the star eater problem, is that all these astronomical photographers were saying, "This doesn't look very good. There are a lot of stars it's not picking up on that I thought I saw in there." It's doing much better. Apparently there's still a little bit of an issue with that, and so if you do a lot of astrophotography, I don't know that it's the best camera out there on the market for that. That's that issue. Shooting night-time photography; I don't know that there's anything really different about this than any other camera out on the market. You probably don't wanna leave the shutter open for more than 5, 10, 15 minutes because that's gonna cause a lot of heat and that's gonna cause a lot of noise in the images. Typically for a lot of the astro shots, people are shooting at 15, 30, 45 seconds, 1 minute. In some cases, you can do longer shots if you have a worm drive that can follow the stars. But you do have to be careful about leaving the shutter open for a long period of time. That would be my main concern. If you are doing a lot of long-time exposures, that does eat more battery life. The whole 600 shots goes completely out the window when you're shooting 30-second exposures. I think that would be obvious, but expect a lot less when doing those long exposures. One more from Loretta. Does the crop option extend the length of telephoto for getting in close to wildlife? Yes, it does, but at the expense of megapixels, detail, and resolution. For instance, their new 402.8 lens has a dial on the lens that you can program to automatically go into a 1.5 crop mode. So with a 400 millimeter lens, you're kind of limited. You don't have a zoom. But with that, you have an instant zoom-in, but you're instantly changing from 24 megapixels to 10. There's a trade-off there. It may or may not be worth it because, to be honest with you, a 10-megapixel is gonna be pretty much good for the cover of any magazine. You guys remember magazines, right? (laughs) Anything on the Internet. Some people are perfectly happy with the 10-megapixel image because it fits the needs of some applications of images. All right. Oh, yeah; question. I have a question regarding that last one. What's the difference between cropping it in in the camera and just zooming it in in the computer? In final result, same thing. The difference is, is cropping it in-camera gets you an instant image that's cropped the way you want it. Well, or cropped to the 1.5 factor. It's done quickly and easily. If you crop it later, then you can always go back to the original. Some people just like to look at it in the viewfinder and have the focusing points in that area. It's something that you can do now or later, either one.
Class Materials
Sony A7 III Recommended Settings
Ratings and Reviews
John GreengO! What a wonderful teacher! As always to the point. You do all the testing for us and we get an amazing tour of the camera. Really thrilled with your class once again. Thanks a lot!
Thanks John. Another great class! I appreciate the thorough explanations. I many never use all of the features on this camera but at least I know what they do. Love all of your classes and would definitely recommend them.
Wonderful class. John is a great instructor. Learned a lot. Only wish he'd include a bit more on using a7iii to shoot video, such as using Clear Image Zoom, and including video in the ending Camera Operation settings section. Loved the course though.
Student Work