Menu Page 6: AF2
John Greengo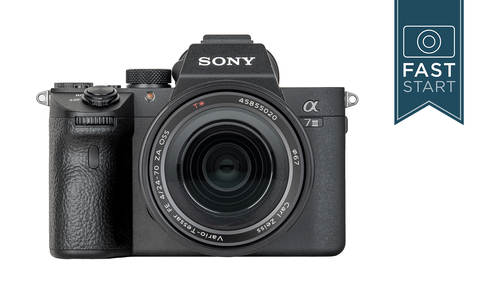 Menu Page 6: AF2
John Greengo
Lesson Info
15. Menu Page 6: AF2
The Sony a7 III is often noted for the autofocus improvement over earlier models. Dig through the different AF options by digging into what all the features in the AF2 menu mean.
Lesson Info
Menu Page 6: AF2
It is time to continue on our way through the menu system, so let's dive back in. And we are on the auto focus section. First up here is the AF Illuminator, which has got the light in front of the camera I mentioned that is not all that powerful. And so auto would have it turn on under low light conditions, but it doesn't seem to help a lot, because it is relatively short range. And so I just recommend turning that off. Next up is center lock-on AF, and this is a old Sony feature that they had well before they have the lock-on options in the current focusing options that we've already talked about. This is a little bit more help in shooting video, because when you shoot video, they don't have the subject locking capability in the auto focus options, so you can use this here. And the way that you do it is you need to activate the particular feature, and then you press the center button when your brackets are over the subject that you want to have, and then it kind of locks on and tracks...
that subject moving around. It's a bit of a clumsy way of doing it, but it does work and it is sometimes the best option when shooting video and trying to track a moving subject. Set face party in AF, that's not a face party actually. It's priority, so the camera can recognize faces as we mentioned before, and so what happens is do you want it to recognize faces, which is what it was doing earlier in the class when we were doing the detection. It could determine a subject or a face and it would put a box around that face. So, you can determine if you like it to do that or not. If you do a lot of people photography, it's kind of helpful. If you have lots of people in your photograph, it might not be choosing the person that you want it to focus on. And so it tends to work better with a fewer number of faces to look at. And then there's the option of whether you want to see the frame or not in the viewfinder. It's kind of nice to have to know that that's what the camera is actually trying to focus on. All right, next up is AF tracking sensitivity. And this is a way for you to tweak the parameters of the way that the camera focuses. So let me talk a little bit more in depth about what this is all about. And so, in the AF tracking sensitivity, the idea is when you have your focusing set on a subject, and another subject comes in between you and your subject, do you want it to jump to that new subject? And the answer is sometimes yes, sometimes no. And so this is where you can kind of tweak the system to go one way or the other. And so sometimes you want it really responsive. You want whatever person or subject is closest to you, you know, it's like somebody coming in to the finish line, whoever gets there first, that's the person you want to focus on. Staying locked on is good for subjects that have interference. For instance, in butterfly swimming, when the swimmers are moving, they're pushing out a lot of water in front of them, and you don't want the camera focusing on the water two feet in front of their face. And this could also be true with tennis. With a tennis ball or racquet coming between you and your subject's face. And so it depends on the type of sports that you were using, so three is the best place to start until you know exactly what you're doing and how you need to tweak it. The AF system can be changed from face detection to contrast if you are using these adapters. And so this is what Sony has for using their SLR lenses on their mirrorless camera. I don't see a lot of people using it, but you can adjust these systems. The face detection is going to be a little bit faster. The contrast detection will be a bit more accurate. All right, we talked about back button focusing, and this is where you want to make that change for those of you who do want to go to an exclusive back button focusing system. The AF on button is going to allow you to focus with the back button by going up to the shutter release and turning that off in this menu selection. It will no longer focus when you press down on the shutter release, and that means you are then in the back button focusing system. Now back button focusing is a very generic term. It could be top button focusing, it could be front button focusing, or wherever there is a button on the camera that you can program to do auto focus. Because the AF on button on the back of the camera is really nothing more than a customizable button that is preset to begin with as auto focus. But I think this is a really good system. A lot of people will like it once they get into it. Kenna, you have a question. I did have a question, John. Or Anthony at Roberts has a question specifically about this setting. And his question was if he does turn it off and places the camera in program mode and hands it to a friend again, will they have to use the back button focus? Yes, they will. Okay. Yes, they will. They have to know that there's no, like, program auto manual that doesn't affect it. Nope, no. They're going to have to, that's yeah, they have to. And that's one of the reasons why I always try to know where this is, so that I can quickly get it out of there when I hand that camera to somebody else.
Class Materials
Sony A7 III Recommended Settings
Ratings and Reviews
John GreengO! What a wonderful teacher! As always to the point. You do all the testing for us and we get an amazing tour of the camera. Really thrilled with your class once again. Thanks a lot!
Thanks John. Another great class! I appreciate the thorough explanations. I many never use all of the features on this camera but at least I know what they do. Love all of your classes and would definitely recommend them.
Wonderful class. John is a great instructor. Learned a lot. Only wish he'd include a bit more on using a7iii to shoot video, such as using Clear Image Zoom, and including video in the ending Camera Operation settings section. Loved the course though.
Student Work