Production Video - Left Nav
Daniel Walter Scott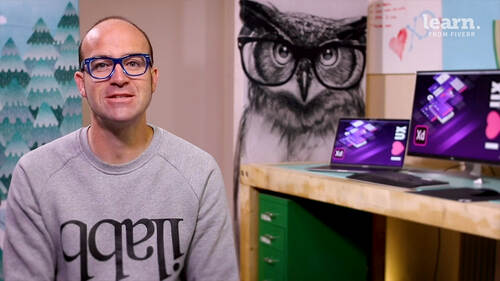 Production Video - Left Nav
Daniel Walter Scott
Lesson Info
18. Production Video - Left Nav
Lesson Info
Production Video - Left Nav
Hi there. Welcome to this production video. And if you see any of the video titles throughout this course, there's something there. Maybe another one or two. Production videos are just videos where I actually have to make something like this didn't exist in the last tutorial and we need it going forward, but it's nothing very exciting. It's a blue box with text in it. So you can skip ahead and just do that by yourself. And I'm going to leave this video in here for the people that are new and just want to see how it gets done and any tips that I do along the way. If you're going to skip along the text is hidden in your exercise files, it's called left Nav. That's all the text you need, you can put in random text. The big thing you need to do is just make sure it's a symbol, you can see I call it left Nav over here, but it's a short video you can follow along or you can skip it. Let's get started or not. All right. First thing is we're going to create a big blue box. I'm gonna grab my re...
ctangle tool. I'm going to practice my shortcut for showing me the column so I can see the edge, anybody remember what it was. I want to see that big kind of cyan column. You need to make sure that your art board is selected. 1st command shift and hit the apostrophe key. If you're like, what's the apostrophe key was he talking about is under view. This one here. So that's the kind of command shift and whatever that key is on a pc. It's control shift in that key. Cool. So I want a box that goes from about here all the way down actually, all the way down my page, I'm not sure how long it's going to be. You end up re sizing the pages all the time. It should snap to the edge if it doesn't grab your black arrow and to see if you can adjust it again. Watch snap. Okay. And I'm going to have mine. You can't change the default at the moment. Okay If you're like man, I wish it wasn't always having this gray border and a white fill. You can't change that at the moment as far as I know and trust me I've looked but you might be in a later version of it and they might have adjusted that for you. Cool. So I've used it just to make sure I've got the edge here and turn it off again. Now I have no up board selected. So I spend my time going command shift apostrophe and nothing happens. So you've got to click on it and then do that shortcut and disappears. Alright, next thing I want to do is there's nothing fancy is going to happen in here. I'm gonna grab one of these guys fancy I'm going to go into this, copy it and if I paste it now, it ends up being as part of that symbol, that's not what I want. I want to copy it out so I am going to copy it click outside of the box so it's d selected now paste it and it kind of comes out and it's not connected to that symbol. Well you might just grab the type tool it might be easier. Now. Has left Nav. I have the text in your exercise files. Where is the exercise files? There's one in there called text and fonts. There's one called left Nav. So if you can't be bothered typing it in we cant spell like I can you can double click paste. I'm gonna make sure mine's left aligned. That's perfect. And what I'm gonna do is I'm gonna hold down bolt, grab this, grab another one. Another one. How many do I need? Not very exciting tutorial. I know 3. 4. Okay I need four of them. And the reason I'm not putting them in is one text box. Do you remember because I don't want I want them to be separately clickable when I start doing my prototype. I didn't even count before that seems like enough. So I'm going to speed through it now. Ready city speeding paste and we're back. The reason I just don't jump to this because I don't know I want to show you that a couple of things. A couple of shortcuts but I also want to make sure that you turn this into a symbol. Okay so I'm going to select everything. Okay make it a symbol. I'm gonna call you left Nav left Nav and that should be us. Short little video. Totally skip a ble. Just make sure you've got this little grouping going over here that was boring. The next video repeat grids you're gonna love. Super exciting.
Ratings and Reviews
Thank you, Dan Scott, for providing such a beautiful Adobe XD course. I completed the course today and noticed a couple of things that are missing. I want to share them here so that you can upgrade the course, which would be helpful for us. Hover state and toggle state. Dragging pages from 1-2 to 2-3 and then back from 3-2 to 2-1 with dragging is not working. Another thing is that we learned scrolling the website from top to bottom, but scrolling or pushing things from right to left has been completely omitted. These are the things I have noticed, and I would like you to upgrade them so that we can improve our Adobe XD skills.
Student Work