FAST CLASS: Glamour Photography
Building a Business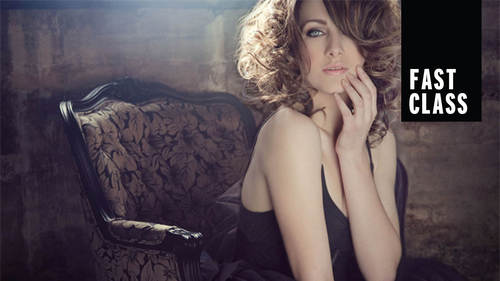 FAST CLASS: Glamour Photography
Building a Business
Lesson Info
Building a Business
voting a business. As you know, I came from the eighties. I was gonna flick through this. I started off in the eighties. Glamour died, er, crash. We don't need to talk about that. Everybody knows that it died and died badly. This is my philosophy behind the evolution 22 years in the photographic industry, I have seen nothing but change. When people tell me that this industries, they're afraid of what's going on in this industry, I don't know a time in this industry when I was not afraid. I do not know a time in this industry where I was not going toe work, wondering if I still had a job because I didn't know how to use the equipment that was now being bought to my table. So it is not the strongest that survives. It is not the most intelligent. It is the one that is the most adaptable to change. And if I could say anything to anybody, prepare yourself for constant evolution and business. There's a really neat little Bach cord who moved my cheese. Do you guys know what that is? It's abou...
t these two little mice and one day somebody moves their cheese and the to my sit here and argue for days about Where's my cheese? Gone and one just sits hearing complains about it for the rest of his life. My cheese used to be here. Now it's not the other the other to run off to find new cheese. Okay in the sued when the 4th 1 Actually, this this for mice to run off immediately, the other to sit and argue about it. But eventually the third mouse's Wait a minute. Somebody moved my cheese. It used to be here every day. This mouse is just complaining that it's no longer there and the other mice have gone and not come back. But I can't see them anymore, So I'm wondering if they found new cheese. But I do not know, and I have fear of the unknown, blah, blah, blah. Great little book takes you about an hour to read it, but what it does is it just identifies a mindset around evolution. If you're not prepared to evolve, you will die. So my evolution was based on this one simple question. Who are you trying to attract as a client? I want you to write that. Who are you trying to attract as a client? Can you tell me what your demographic is? Can you tell me who your demographic is like I you Are you looking at your website and talking to one type of person or you seeing the same client coming all the time? That's who you're talking to. So if you're seeing one type of client coming all of the time, that's who you were speaking to. Okay? And if you open up that range, if you open your range apso, don't just shoot boudoir Shoot Portrait shoot. Contemporary portrait Shoot Family Portrait with a beautiful edge There's a 1,000,000 ways to evolve your business toe. Open up your brand. So what I'm saying to you is, you do not have to start shooting glamour photography if you're a boudoir photographer, Ed, Boudoir End Beauty. Or if you're a portrait photographer and you've got an old family style brand and you want to jazz it up. Head Contemporary portrait. You know it's start expanding your brand to include not just another genre, but basically opening it up to a huge a market of people to come into your studio. This is really, really important. The more I open up people to come into my studio, the more I make it accessible for all women, all ages, all sizes and all demographics in my target market based gets larger. So I want you to sit down and write a goal today. Right now about what sort of target and overall look you want your business toe have now that you've seen that I crossed those genres. Now that you've seen that I'm a little bit good wire and a little bit family and a whole lot of glamorous and I've got a desirable product, how can you evolve your brand to start including more off what I offer more of a general base. How can you start inviting the sort of shoots that you want into your studio? And are you shooting something you don't want to do anymore? Because if you're shooting something, you don't want to do any more. You need to start moving away from it immediately because it will crush your will to live if you are not doing what you love doing. These are the lessons that I learned. Talent will get you far, but not as faras ambition. I'm a very, very, very ambitious competitive girl. I love sitting a goal for myself and immersing myself in it. For with everything I've got, I like to when I love something, I like to give it a smudge. Physical power is I am capable of giving it. That makes me someone who likes to achieve in wind things. You know, I applied myself to this business with everything I had. I decided right at that moment that I had no product in my studio. I actually didn't know what to sell people. I also could not sell my own work. I had no website. I had no idea how to manage money. And I was not a natural saver. But luckily, my business partner was watertight, so she controlled the money. I controlled the retouching. Those were all specialities at the time. The balance off, the my creative in teaching her how to shoot because she became my second shooter. And the balance of her teaching me had a save made us incredibly successful. One of the things that I have to tell you it is it does not matter. The success of that 1st 4 months in having that money in the bank. It was not going to last long with four wages if we did not keep making money in Loon how to save it? If you cannot manage money, I I just I can't I really can't sort of pushed this on to you enough. If you having money with issues with money, you must shift your beliefs, your thoughts, your ideas and your core beliefs around money. For starters, secondly, you need to go to people who make in save money well and learn how to save money. Okay, you can change. I used to be in debt. Now I have savings. I have learned I've become more frugal. I don't buy as many choose. I have a budget on what I can spend on shoes. You know, I am Mork If with money, I now and the difference is is when the global financial crisis hit us in our fourth year and business, we had 100 grand in the bank. We were not going to go under. You know who's swimming naked when the tide goes out? The businesses that crashed in the first month had no reserve. The businesses that crashed in the first year had little reserve in a bad attitude. And the business that survived the businesses that survived had strong marketing and money in the bank. Now, you you might throw that back at me and say, you know, the whatever I am a luxury item. I survived. I had a strong marketing based on money in the bank. I certainly should not have survived a global financial crisis. L mentality around. A shift in money like that just changes is everybody. But let everybody's belief in money. I'm gonna talk about that later. One of the things I'm going to say is this There is still ultimate wealth in this world. It just shifts in power. And it's still there for you. If you can change your focus, it is still there for you. But the more clever you are with your savings, the better. You are always gonna bounce and hard times Okay. In another, I'm gonna come back to the style, Brandon Product. This is how simple it is for May. I do not have a degree in marketing and I do not have a degree in business, but I have a black belt and shopping. I am a woman and I know why I buy. I will spend my last $200 on a pair of shoes when I know I'm supposed to buy groceries and then go on eating friend's house Growing up in my twenties. We don't care when we by its cause we want something. Price is only an issue in the absence of value. If you want something, you buy it. Is that right, girls? Somebody say amen. Okay. So from here what I did was I created a brand and I wanted my brand to be obvious. The first thing everybody said to me eight years ago is You can't call it grammars, So crime is gone. And I said No, it has to be claimed my glamour. Ihsmay. I am glad I want to be glamour. I do climate. This is May I put eyelashes on to go running, for God's sake. Okay, so I thought if I don't call it glamour photography, if I call it contemporary portrait and I use this the saurus meaning of glamour which is beauty, loveliness, attraction, elegance, charm, fascination, Excitement, allure, enchantment kept ovation, magic spell all words that I would use to describe myself then that can bay my tagline and she's beautiful. She is a woman as Shakespeare, who wrote that more beautifully. She's beautiful. She's a woman. I did not put any babies on my website. I did not put any families on my website. I did put some couples, though, because I didn't want Children in my studio and I did not want weddings in my studio. I wanted to portray on lead the bookings that I wanted because I figured if our starting with nothing, I had nothing to lose.
Class Description
FAST CLASS:
Try a Fast Class – now available to all Creator Pass subscribers! Fast Classes are shortened "highlight" versions of our most popular classes that let you consume 10+ hours in about 60 minutes. We've edited straight to the most popular moments, actionable techniques, and profound insights into bite-sized chunks– so you can easily find and focus on what matters most to you. (And of course, you can always go back to the full class for a deep dive into your favorite parts.)
Full-length class: Glamour Photography with Sue Bryce
SUBSCRIBE TO CREATOR PASS and cue up this class and other FAST CLASS classes anytime.
When you hear the words "glamour photography," what comes to mind? Pink backdrops, feather boas, soft focus, blue eyeshadow and lots of hairspray. You get the picture. But thanks to master photographer Sue Bryce, there's a new kind of glamour shot, one that's beautiful, contemporary and taking the market by storm.
Bryce has hit on a formula that's kept her portrait photography business thriving for two decades, and she's here to reveal all of her secrets. In this three-day workshop, you'll learn everything you need to know about posing, eye lines, hair and makeup techniques, and wardrobe. You'll also get advice on building your own business and successful marketing practices.
Whether you want to focus your business on glamour shots alone or simply improve how you photograph women, this course is a game-changer. By the end, you'll have the skills to bring out both the inner and outer beauty of all your female subjects. In this class, you'll learn how to:
Define your style, brand and target market.
Market your business creatively and get yourself noticed.
Figure out what women want and sell to those desires.
Pose your subjects by following Sue's rules: chin, shoulders, hands, hourglass, body language, asymmetry and connection.
Use natural light to make your work more modern.
Include husbands, boyfriends and families in your shoots.
Create before and after shots.
Make women of all shapes and sizes look and feel fabulous.