FAST CLASS: Glamour Photography
Freestyling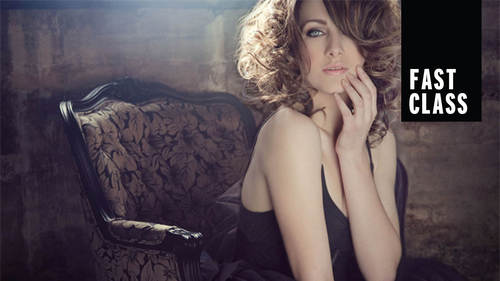 FAST CLASS: Glamour Photography
Freestyling
Lesson Info
Freestyling
freestyling to May is when I'm going, I sort of think it's the next level of directing. It's when you're on a couch and, um is here your shoulders here, your hands Here, you're sliding it back here. You're dropping the front shoulder, your chins long, you're pointing it forward. Those positions when you're learning them are quite difficult to find until you learn them and then they really easy. Anybody can do them eventually. Some people take a little bit longer to mold into those positions. But this freestyling here is is when you go crazy taking photographs because they're out there on their own. So it's one of the hardest things to do. You did it actually, in your show, didn't you? And that laughing showed a few. Holding your elbows was so beautiful and candid, but I need to be able to control it, so I control it like this. So okay, I see a lot of photographers freestyle, so let's just say with freestyling and it's like, let's all just go freestyle and people just do the same thing ...
and they and they don't connect the chin and they don't do anything. They don't do any of my rules. Basically, though, they'll go. They don't know how to touch the body because I'm not directing them and, you know, and every now and then you'll get someone who's hot stuff and they can move a little bit. But they'll just do the same thing in the chins, never where I wanted to bay. So it's directing and free styling. So I wanted to be a little bit like this. I'm going to say, OK, what we're gonna do is I'm gonna get you to hold your elbows and look at me over your shoulder. This way. That's it. Okay, and then I'll go click. But then, when you change, I want you to step out and go this way and then look over your shoulder this way, okay? And so I just want you to change and they do the same thing again. This rocket, that's it. Do it again. Click. Look at may click. Look at me and smile. Click. Look at me and smile again. Look down and smile. I can't look down a smile. Click again. I can't not spend all the way around and reset with your shoulder. That's exactly right. So That's all I'm saying to them. So I'm getting them to do really basic movements, something really simple. Like Huck your shoulder. And then just look back over your shoulder, shrug your shoulder, look back over your shoulder and what it translates to is just really as long as you get it on the on the look, you'll get it. You just click. And if you put a fan in there or you've got fabric in there, it looks incredible because it looks like they're in a full range of movement, and they're actually doing something really simple. So we're gonna pretend that someone has got a flowing skirt on. Obviously, she doesn't now, first thing we're gonna do is the first thing I'm gonna do is I'm gonna tell you to spend like this with your hand out like that, just nice and slow and spent, and everybody does the same thing that's been That's exactly right. Now what I want you to do is trail it. So I want you to go at this in trial it behind you. Yeah, that's it. Ok, now do that again. But this time I want you to arch your back and long trail like this. Like watch it trail all the way around. Good guilt. Now, this time what I want you to do because I want you to spin. I want you to trail it. And as you come around, I want you to call it the something shoulder. So I want you to go like that. So you're trailing behind during a beautiful action, your back and connecting to your shoulder and looking at me at the same time. Go and bang. See? So just keep asking one thing at a time into your building into an amazing type off pose. Okay? So movement movement is really important. I use a lot of fan and here and I use a lot of fan and fabrics, but ultimately they have to look like they can move. If I get somebody who actually can dance talking again, then I'm I dance with them and I say, OK, so I've got my camera on my mind apart. I'm taking as many shots as they can. OK, what I want you to do is I want you to bunch up and just flip. That's it. That's it's like I want you to sort of Bring the shoulder across mirror me cross May and the first bringing across That's it. Now I want you to go this way. And this time I want you to flick Beck that set so as high as you can go. That's a girl. Perfect. Now bring that shoulder forward. Okay. Now, I want you to keep this hand on the fabric, and I want this hand to come up kind of salsa nightly. Good. Yet so, I kind of want you to spin this way and then just like a salsa move. Night mirror May. So you're gonna spend back this way that to go? Go back, Take that hand off this one. You're gonna come at spin and like, yeah, and I'll get people to dance. So ultimately, I get them to do small movements like that Or get them to turn and spend back to the camera. And I just want to create some dance moves with the hit with the hands up that moves the here. And I just say, Keep bringing the chin forward. Do it again. Spend again. Throw the dress up movie hips, move your body, spend around, and ultimately they'll start laughing because that all of us had in there doing the least dance moves. And then it translates to laughter and coming out, And that becomes a sequence for May. So tomorrow, when I'm talking to you about selling a Siris of nine images, I would like everybody who comes into my studio to buy a folio box and a wall portrait off. Nine Portrait It's and the War Portrait of nine looks its best when it's a series of dancing or moving images.
Class Description
FAST CLASS:
Try a Fast Class – now available to all Creator Pass subscribers! Fast Classes are shortened "highlight" versions of our most popular classes that let you consume 10+ hours in about 60 minutes. We've edited straight to the most popular moments, actionable techniques, and profound insights into bite-sized chunks– so you can easily find and focus on what matters most to you. (And of course, you can always go back to the full class for a deep dive into your favorite parts.)
Full-length class: Glamour Photography with Sue Bryce
SUBSCRIBE TO CREATOR PASS and cue up this class and other FAST CLASS classes anytime.
When you hear the words "glamour photography," what comes to mind? Pink backdrops, feather boas, soft focus, blue eyeshadow and lots of hairspray. You get the picture. But thanks to master photographer Sue Bryce, there's a new kind of glamour shot, one that's beautiful, contemporary and taking the market by storm.
Bryce has hit on a formula that's kept her portrait photography business thriving for two decades, and she's here to reveal all of her secrets. In this three-day workshop, you'll learn everything you need to know about posing, eye lines, hair and makeup techniques, and wardrobe. You'll also get advice on building your own business and successful marketing practices.
Whether you want to focus your business on glamour shots alone or simply improve how you photograph women, this course is a game-changer. By the end, you'll have the skills to bring out both the inner and outer beauty of all your female subjects. In this class, you'll learn how to:
Define your style, brand and target market.
Market your business creatively and get yourself noticed.
Figure out what women want and sell to those desires.
Pose your subjects by following Sue's rules: chin, shoulders, hands, hourglass, body language, asymmetry and connection.
Use natural light to make your work more modern.
Include husbands, boyfriends and families in your shoots.
Create before and after shots.
Make women of all shapes and sizes look and feel fabulous.