FAST CLASS: Glamour Photography
The Science of Marketing to Women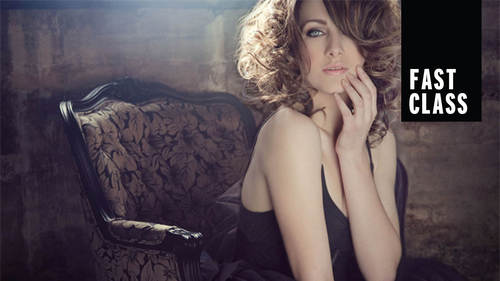 FAST CLASS: Glamour Photography
The Science of Marketing to Women
Lesson Info
The Science of Marketing to Women
the science of marketing to women. It just so heavens. If you do something consistently enough, somebody will notice that they will make a book out of it and then tell the rest of the world that you are just really quite a simple science. They've been studying asked ladies for quite a long time. And the weird thing is, is they know shit about us that, frankly, I don't know how they found this out. But now that now that it's out, we're in trouble because the boys now know about our shopping habits and we have been outed as shoppers. There are four shopping demographics. So let me tell you about these demographics. The four shopping demographics is the girl power. I call it girl power. She is between the age off 18 to 30 years old. She is unmarried and 85% of the time is still living with him. I'm dead. Why would she pay rent when Mama did have a beautiful home? She can come and go as she pleases. She's got a beautiful car, a great little job. She's a good saver by demographic shoes. An ...
average spender. She spends 10.5 hours a week with her inner circle of girlfriends. So whatever she does her girlfriends does, she is a facebooker. She is a big ticks or she's a phone user and she's a fake handbag buyer because she's pretty much saving for a home. That demographic have a boyfriend that pay for the shoot. They also have a boyfriend that want to watch the whole shoot. They have a mother and daughter shoot, which is my biggest market without doubt, my my biggest market, and they also have the girl's day out paint. The town read whole demographic so I can market to this girl in four different ways, and I really like the sexy young group. They're also really hard. They're easy to photograph. They've got lots of clothes. They love the hair and makeup, and they love my brand. So they're an easy sell. The stick and demographic is deliberated. Lady, that is, Anybody age 30 to 50 years old, unmarried, actually not unmarried, but with no Children because the Children shift the food demographic. I am a liberated lady. We are the biggest earners off income in terms of wage for the chemical, for shopping demographics in the world and we have the biggest spenders. We're living usually at 120% of our income. Which means we have did we have mortgages, which we struggle to pay in balance l addiction to Christian Lou Baton. We have expensive handbags because we like to buy. We'd like to travel. We like to drink wine. We like to eat out, but we also go to the gym. So we're a bit of a paradox. We overdo it, but we balance our lifestyle, were unmarried, and we still dream about a man. It's gonna come in and save us with lots of money and make our lives better to try to say that out there. Okay, so I market to this woman is sister, best friend because my inner circle of girlfriends is six and they are my sisters. When I do something, they do something. We make big ticket purchases because we can afford to. But we talk to each other about it. We don't buy to compete with each other. We buy to shear with it one another. When I invite this group out for a wine and cheese evening, all six of them come because they want nothing more than to catch up with each other were fantastic demographic where a gorgeous crew where girls pampa days, wine and cheese and because you're with it is the tagline there for this demographic because you have just discovered for the first time that you no longer have the body of a 20 year old. But you have an incredible brain, a great business mind, your meeting or some guys, and you have a sensuality that you've never discovered in yourself until now. Family first, family first. Is anyone pretty much from 25 up? That's got Children. As soon as you have Children, you go from the top of the shopping list to the bottom. Everybody else in your family comes first before you boo hoo, Right, That is the plight of the mother. We know this. You are time poor. You don't have a lot of time because, like Amanda said, did you shall in this morning? I don't know. I was too busy feeding everybody else. So you feed everybody else. This demographic here is an amazing demographic because they are at home a lot, so they're easy to contact. They do everything via the Internet there, the biggest Internet user out of all four demographics, and they have the biggest researcher online. So if you are making your business accessible to this woman, she is researching you. Her demographic is easy. Family, shoot, husband and kids. Three generations she can get a Mamun who will also spend. She will bring her daughter in. It's a great shoot. Girls pampered a wine and cheese just for you. Mother's Day. She is a constant family, first in an easy demographic to write stories about 50 and fabulous. This is the most UNM marketed to demographic in the world. They are holding the world's wealth. They're inheriting, know Donny from the appearance, but from the husbands as well. They have a high divorce, right? So what they have is a lot of money to spend. They are the most unmarketable to demographic in the world. I'm gonna say it five times so that you can hear it. They are crying out to be marketed to their the mother of the bride. There, the grandmother there, the matriarch of the family. They are the one who is controlling currently the world's while sitting in the bank account of this demographic. She is the biggest spender of luxury lingerie and world travel in the world. Luxury lingerie. She is also the second biggest Internet researcher cause, let's face it, she's learning the Internet. But she's a pain in the ass because she's ringing you going? How do I do that thing? Where you like, do that thing on the thing thing in my my thing? He's not talking to my thinking. It's like Mom, get dead. Okay? This demographic here is my favorite demographic because they're not only a big spender, they're beautiful to shoot in their gorgeous women woman who have plus now. Ah, hot stuff. If I could only photograph this demographic, you know what? Leave the world market to me. I'll take this demographic off your hands. Not a problem. It'll market to this woman. Think about it. You know, she's crying out to be heard, and she feels left behind and nobody is speaking to her
Class Description
FAST CLASS:
Try a Fast Class – now available to all Creator Pass subscribers! Fast Classes are shortened "highlight" versions of our most popular classes that let you consume 10+ hours in about 60 minutes. We've edited straight to the most popular moments, actionable techniques, and profound insights into bite-sized chunks– so you can easily find and focus on what matters most to you. (And of course, you can always go back to the full class for a deep dive into your favorite parts.)
Full-length class: Glamour Photography with Sue Bryce
SUBSCRIBE TO CREATOR PASS and cue up this class and other FAST CLASS classes anytime.
When you hear the words "glamour photography," what comes to mind? Pink backdrops, feather boas, soft focus, blue eyeshadow and lots of hairspray. You get the picture. But thanks to master photographer Sue Bryce, there's a new kind of glamour shot, one that's beautiful, contemporary and taking the market by storm.
Bryce has hit on a formula that's kept her portrait photography business thriving for two decades, and she's here to reveal all of her secrets. In this three-day workshop, you'll learn everything you need to know about posing, eye lines, hair and makeup techniques, and wardrobe. You'll also get advice on building your own business and successful marketing practices.
Whether you want to focus your business on glamour shots alone or simply improve how you photograph women, this course is a game-changer. By the end, you'll have the skills to bring out both the inner and outer beauty of all your female subjects. In this class, you'll learn how to:
Define your style, brand and target market.
Market your business creatively and get yourself noticed.
Figure out what women want and sell to those desires.
Pose your subjects by following Sue's rules: chin, shoulders, hands, hourglass, body language, asymmetry and connection.
Use natural light to make your work more modern.
Include husbands, boyfriends and families in your shoots.
Create before and after shots.
Make women of all shapes and sizes look and feel fabulous.