Gear Setup - Setting Up a Monopod Light or "Boom Stick"
SLR Lounge, Pye Jirsa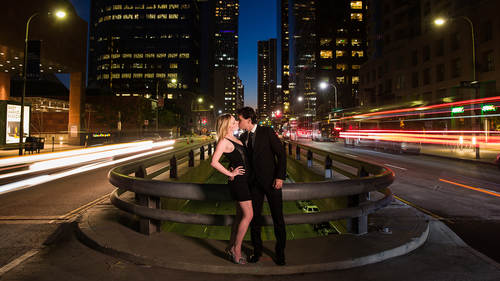 Gear Setup - Setting Up a Monopod Light or "Boom Stick"
SLR Lounge, Pye Jirsa
Lesson Info
18. Gear Setup - Setting Up a Monopod Light or "Boom Stick"
Lesson Info
Gear Setup - Setting Up a Monopod Light or "Boom Stick"
Welcome tto how to set up a pocket strobe boom stick. So we have our boo mobile stick right here. But it's not really a boom stick without the boom part. Well, we have the boom part here, but not the flash boom part, which we're going to show you how to do here. Now we're gonna be setting it up with a full feature flash, but just keep in mind that if you're using a manual strobe, you're just going to follow the same steps that we did in the prior video where we set up basically a pop quiz or or use whatever radio triggering system that you're using for your flashes. But I like the simplicity of the full feature strobes like the meters plus we're going to that. Now, the first thing I need to do is you'll notice that this is the we're gonna be using the westcott rapid box for our octa that goes on top of this for the light modifier. And this is basically what mounts the well, the modifier to your stand, but this it doesn't fit, and if I keep hitting it not gonna get any better. Okay, so ...
what I've got to do is I need to adapt that a little bit. So I have a spigot. This is a three eighths twenty. So basically have a three inch diameter hole right here on this side, and it goes to a quarter twenty diameter female hole on this side. Okay, so all we're gonna do is adapt this, but really, we don't need the adoption. We just need this to become a little bit larger. So that way, we can attach this to it. So I'm gonna do is just mount this little spigot onto there. And this is always a good idea. Whenever I'm creating, like a boom stick like this, I'll grab a wrench or something, you know, and just grab it and kind of twist just to make sure that this is on there. Nice and tight nation. Okay, I flexed for the camera. Did you all see it? Hopefully. Okay. So now we can place this right over our spigot and then tighten it and we are good to go. Okay? So we're gonna tighten this down, and I just want to make sure that gets tight. So that way, this isn't going to turn on that that mountain right there. Okay, so now we're gonna grab the westcott octo, so this was the mounting bracket for the octa. And before I opening up, I'm just gonna go ahead and on the back side you can see that it has this little plate things. So all we do is we just open up the plate on their press down this button, make sure it pops in right there. So now it's, nice and secure and we're going to take this and we're gonna just mount it right on to our bracket so I have little screw holes on this side. I'm going to thumb screw it into their okay, so here's, what that looks like so far. All right, this is looking really nice and good so far let's go ahead and just open this guy up let's, open it up. Let's place. I wish I just knew what all these things were called. We're gonna place this guy through the hole like so and then what? We're gonna do it just make sure that seated well and they're gonna grab our reflector dish. Now this dish is what basically pushes back the flash light so this dish right here it pushes back that light into the silver area of the octa and so that way you're using the entire area now you can possibly you can kind of imagine with your heads that's how you'd imagine again so you can imagine with your minds but there's not really anything else he needs to imagine so imagine placing a flash on here and not using this just means that the flash is going to come straight through you're not going to be using that entire octa soft box thing it's just gonna be a slightly slightly more diffuse flash okay, so what we're gonna do is grab our little wing nut now I've lost the actual wing that that came with this but that's okay, I went to home depot and got another one we're in place the dish es so that its khan cave basically so that's going in like this so I'm think I'm using that word correctly whatever if I'm not don't see me just places so the curve side is facing in or the rough side here here's the rest place is facing it, okay, so let's just go ahead and do that now I'm gonna just pop this right under there and let me try and do all this without actually dropping something and in a manner that you guys could actually see what I'm doing to you it's not gonna be easy I'll be honest I'm trying to keep it open let you guys see what's going on but I'm not left handed so this is rather difficult there we go visit going there we go, there we go all right okay this doesn't need to be on there like super tight um it's not like it really is going on we just needed to be there to deflect that light so it uses the entire material there okay so before I put on the diffuser let's go ahead and flip this around and let's put on our actual flash now so let's go ahead and just grab our flash unit I got the photo takes metro's kill us we're gonna place it right here onto this bracket and by the way these brackets are just standard brackets okay so if you ever end up losing one of these they come you know that you can pop these on and off very easily there just quarter mount brackets and you can buy these on amazon uh they're just standard a little flashback it so if you happen to lose one of these don't worry like they're very easy to replace and again that that screw is just a quarter twenty standard screws size so all right so with pop the flash on okay we're gonna tighten that so it's nice and tight and I'm gonna lock it so it's extra tight and what I can do is I can adjust this so we're gonna do is basically put the flash so that is angled in towards this guy but look right now it's not lined up correctly right right now it's not line up in five fire only some of the lights going to make it in to our little device here into our little westcott rabbit box. So what I need to do is lower this a little bit and then using the loosened hot shoe on the bottom here, I'm just going to push it in until the entire head is inside of our modifier, ok, just adjust this up a little bit, so that way I'm hitting dead center right there on the on the ring. We're close enough. All right? So we're good there and now, let's, go ahead and open up to this size. You guys can see it. I'm gonna go ahead and turn this on and hopefully my model people just stand like that. Yeah, look about it stands ok, so if I fire this now, you're going to see that we get a nice, basically full kind of wrapped around this entire thing. So let me just go ahead and turn on the power so I can have a little faster of a recycle time. So basically what's happening is that that flash is hitting the dish and it's reflecting and the dishes opening it up so that we're using now the entire surface of the soft box, or at least most of it. Now with this silver you can imagine again from letting one when we talked about silver is going to give you a more speculative light it's going to be more powerful is well okay, but if we want to diffuse that we can we're just going to grab the diffuser this comes with the rapid box we're gonna put the diffuser okay, so the future just goes on very easily around the outside of this guy and I'm gonna try not to knock anything down with this hey, that actually went fairly well without hitch unlike what I was expecting expecting the film around let's go ahead and get this thing balanced so we can let go of it. All right, so now we have a lovely defused soft box you can see how you can see how basically has taken that little tiny pocket strobe when I'm firing now this whole surfaces lighting up so we've opened that pocket strode into a much larger light so I love this setup why? Because it's super convenient it's very quick and easy to set up. You can navigate this into any position if I want to get rembrandt lighting or flat lighting or loop lighting or anything I mean I can get this I can have my lighting assistant just adjust the position so easily we could go top down we can get this into different areas and it's just it's just a very simple and portable light source. So this is one of my favorite go too boom stick options is just the simple pakis trobe full feature pakis trobe going through the westcott rapid box just remember that as far as light output goes, you don't have a lot of power here. We have roughly fifty to sixty watt seconds of light here and that's, not a ton. It means that basically, if you're shooting during the day and midday sun and you're trying to modify a pocket strobe, this is not going to be enough light to overpower the sun or really even be that noticed. It might give you a little bit of a fill, but that's it so you want to overpower the sun with just a single bearable flash? We need to fire bear bull, otherwise we need to put a larger strobe inside of this to be able to overpower some light, but what we do get from this is during dusk, night, time indoors, all those other scenes that aren't bright midday sunlight, we get a beautiful octa just a super portable octa box that creates amazing wrapping light anywhere you want to go, so this is a fantastic option for y'all looking for a portable boom herbal broomstick hope you'll enjoy this video lets go ahead, move the next one
Ratings and Reviews
Pye is a god. His teaching style is really engaging, breaking down everything you could want to know about each example in a fun yet detailed manner. The course is absolutely jam-packed full of great information and fantastic inspiration. This course, as well as Lighting 101, give not only a perfect foundation for anybody learning about flash from scratch, but also have more than enough tips and advanced techniques in them to help experienced flash users seriously up their game. Cannot recommend it enough.
I'd like to say thank you to SLR Lougne, Creativelive and especially Pye for creating this wonderful Lighting series. Pye has a great sense of humor and he is also a great teacher. He expains everything in tiny details. I love his creativity, all the tips and dedication. Recommended!
I'm watching this live and am seriously considering buying this course. I really like the examples and all the information. Pye is super generous and easy to listen to. I also appreciate the talk about gear and am happy that Pye is giving us options for different price ranges. Thank you, Creative Live.
Student Work