Our 2 Favorite Radio Triggers
SLR Lounge, Pye Jirsa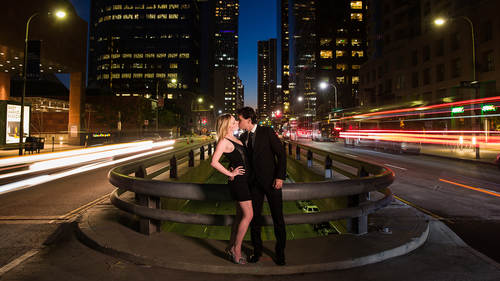 Our 2 Favorite Radio Triggers
SLR Lounge, Pye Jirsa
Lesson Info
11. Our 2 Favorite Radio Triggers
Lesson Info
Our 2 Favorite Radio Triggers
Our two favorite radio triggers that's what this video is all about now let me give you guys a quick guys and gals, let me give you all let me give you all a quick note on our recommendations, we do not recommend products that we simply get for free. I know a lot of you think that, but we don't do that reason being is that we've gotten tons of products for free, that don't work, they're very crappy products and we don't want to stand behind anything that isn't good. Instead, what we do is we buy all of our equipment first we buy and we use what we want to use and what works well, and as we've tested things over time, then we get in touch with the manufacturer, we tell them that we want to support that product, so that is the way that we work so anything that we recommend, we wholeheartedly are standing behind that's why, when it comes with, you know, four other flash options that are on a roll mentions that will work, we tell you there are going to be certain issues with them. Likewise...
, when it comes to this stuff, our two favorite radio triggers we tell you we use pock wizard because we've used tons of radio trigger systems and they come with consistency issues and reliability issues and it's a hassle on set when you're shooting and things aren't working right? And it really throws you out of your rhythm pop where there's the only brand that we've used that worked consistently and that's why we recommend it so we just want you to understand that everything that we recommend is based upon our shoots we take things on heavy and extensive shoes before we're willing to stand behind it all right now let's talk about these two radio triggers so one other quick note is that when you're buying inexpensive flash systems like, say, the young, the old and the new hours I would highly recommend just sticking with the factory wireless controllers for those because jenna, they're designed to work pretty well. The factory wireless controller is going to work pretty well with that unit where the third party control is going to war expensive and if it's more expensive it's kind of like why are you going that option in the first place? And it might not work is reliably okay so just keep that in mind when it comes to flashes like the limit pro lp one eighty when it comes to the bull v b twenty to anne other manual strobes that we want to control reliably we look to wizards, we have two options on the pop quiz inside one of the park with their plus x for a hundred bucks one is a popular plus three for one hundred fifty bucks. Now, both these air fantastic options, they're both just as reliable as each other. They're both just as consistent have the same range. They do the exact same thing, these air both manual triggers, which means that they don't send information for power or for zoom or for anything else they don't do t t l they don't do rear couldn't sink any of that stuff is not done. All that these do is just simply send a signal to fire a flash and that's it, but this one is a little bit cheaper. Why is that? Well, it's a little more simple of a unit, ok, so basically, what they've done with the plus x is they've given it first of all, a cooler name because, frankly, plus x sounds like it's like plus extreme and I would love to say that like on my shoots, give me the pock wizard plus extreme yo, I don't know if it's actually the extreme, but I think that's what it stands for. Personally that's what I'm making a stand for anyway they simplified it so they took away the channel grouping to it. Okay, so over here I'm sorry not the channel grouping. They took away the grouping functionality so they kept channels but they took away the grouping functionally where this guy has a grouping and they also took away the number of channels so they just made it a little more simple doesn't have all the features that this guy does but they charged fifty bucks less port now if you need to buy four five these units that fifty bucks can add up so it's one hundred two hundred dollars saving over the course of several units but it's very simple has ten channels built in has a simple test button it's just pop it out, plug it in and turn on it's gonna work it's it's just very reliable and super simple to use the only con is that again it lacks grouping on both these air manual flash car control so that's not really a con of either one specifically is just both of them are on ly man manual control and this still cost a hundred bucks so it's not necessarily as cheap as just, you know other third party radio options but you know what? For the reliability and simplicity of what it is it's a value still even at that price now the plus three plus three, we have thirty two channels, so we have three times the amount of channels, and by the way, both these options will work with legacy populism items, so if you have legacy popped wizards with, you know, the old four channel systems or one channel system, and so for these still work in conjunction with those, this guy has thirty two channels, both have the same range, they could go to fifteen hundred feet or five hundred meters, which is generally far more than you actually need unless you're shooting in a big arena, this one also has sixteen grouping sorry, sixteen grouping channels, which is basically channel seventeen through thirty to those air grouping channels. Channels one through sixteen are what are referred to as legacy channels, meaning that you you can use them to control legacy pocket wizards and do that channeling and so forth. But you can't control groups when you're on channel one two sixteen, you can only control groups from seventeen to thirty two. It offers to you four different groups, which means this I can put and this is our typical reception set up, okay, I have four corners, the room, my place, you know, if I'm facing the front of the room, I go left side is going to be a right size be back right is sea and back left his d ok, so a b c d they're all in challenge seventeen and an a b c d so now, using my pocket wizard, I could just press a when I want to use only a or I can add b when I want to use a n b or I can press abc and used all three in conjunction or I can turn around turn off abc and on lee used d all of them could be triggered directly from my my system, my handheld system with my handle papa was it right there, and I can turn on and off any or I can busy anyone or any group ng that I choose to whether it's two of the flash is one of the flashes, or for the flashes of whatever I like so it's fantastic, because I'm constantly turning and using these different flash in different positions for back lights in my shots. So that is kind of just a practical usage of groupings, which is very, very handy remember that even with grouping you can only control, you've only basically turn on and off the functionality again, we still don't have power control in fact, that there's still fully manual systems, they only send the signal to fire or not fire okay along with this comes also different triggering modes so for example I can have this be a transceiver or tx rx I could turn it on to receive on ly to transmit on ly I can have it be an extender so it constrained the range of the popular plus three if I put one in between a long distance the plus x doesn't do those things these air advanced features that come on lee with the plus three okay so that main khan to this system is just that it's a hundred bucks apiece and it's going to be a little bit more complicated but again it's still an extremely simple user interface everybody once you understand radios it doesn't matter if you're using a faux takes odin or using a pocket wizard or using any other third party system they all operate the exact same way they have channels channels allow those those different receivers to communicate with each other anything on the same channel will communicate with one another and then they have groups where yes you can communicate everything in that same channel is communicating but you're turning on and off specific groups within that channel so that's how they all work they all work identically regardless of the brandon that make pock wizard makes there's incredibly simple to use the user interfaces are absolutely fantastic phenomenal probably actually among radio triggers they are the best using your faces that I've seen okay so they're very simple and great so that is our two favorite radio triggers. We use pop quiz when it comes to all third party, triggering. Otherwise, we're using factory systems, like with the flow takes me trust, plus, which is kind of our go to flash. That's it for this video. Let's, head on to the next one now.
Ratings and Reviews
Pye is a god. His teaching style is really engaging, breaking down everything you could want to know about each example in a fun yet detailed manner. The course is absolutely jam-packed full of great information and fantastic inspiration. This course, as well as Lighting 101, give not only a perfect foundation for anybody learning about flash from scratch, but also have more than enough tips and advanced techniques in them to help experienced flash users seriously up their game. Cannot recommend it enough.
I'd like to say thank you to SLR Lougne, Creativelive and especially Pye for creating this wonderful Lighting series. Pye has a great sense of humor and he is also a great teacher. He expains everything in tiny details. I love his creativity, all the tips and dedication. Recommended!
I'm watching this live and am seriously considering buying this course. I really like the examples and all the information. Pye is super generous and easy to listen to. I also appreciate the talk about gear and am happy that Pye is giving us options for different price ranges. Thank you, Creative Live.
Student Work