Grow Your Business with Snapchat
Who uses Snapchat?
Inna Semenyuk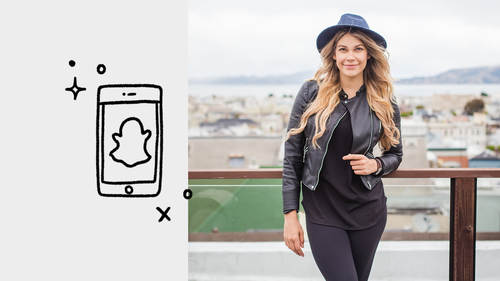 Grow Your Business with Snapchat
Inna Semenyuk
Lesson Info
3. Who uses Snapchat?
Lesson Info
Who uses Snapchat?
Why Snapchat? Like, you've seen a little bit of context, you've had a little bit of context, but let's talk data. Let's talk numbers. So, Snapchat has over 187 million people using the platform daily. Those are daily active users. They create over three billion snaps a day and they open the app over 24 times. If you look at the audience that is 25 and older, they spend around 20 minutes on the app. But if you take the younger audience, they spend twice as much time, 40 minutes. That's quite a lot. If you think that it's not, then an average American person spends three to four hours on the screen. But, that includes watching YouTube videos and all social networks and, basically, glued to your screen. So, 40 minutes is quite a lot and over 60% of Snapchatters actually create content. Again, this is talking again about how proactive people are on the platform. And the most importantly, Snapchat reaches over 70% of young people just in the United States. The thing about Snapchat that real...
ly should, I think this is one of the most important things, that this audience is unique and exclusive to Snapchat. So, in this graph, you can see how in different countries, Snapchat captures the exclusive audience that people might be using it on Instagram, they might also be using Twitter and Facebook and YouTube, but people who are on Snapchat, they cannot be found on those platforms. So, you're really talking to very selected, specific audience here. We spoke about 91% completion rate, why it's important, because, if I watch the story 'till the end, that's when Snapchat will show me the ad of the brand that bought the piece of advertising and I'm more likely to see the ad and this is a good ad and if I can relate to it, then I'm more likely to take an action. So I pop, or watch the video, or whatever action it is on the ad, I'm more likely to do it. So, completion rate is hugely important. So, the bottom line, and the number one reason to use Snapchat, if your brand has a younger audience, that's the platform you have to be on. If you think about the brands that carve the niche on Snapchat and on Instagram stories, you will see that if some brands are not as active on Snapchat, that means that you can have a little bit more space to promote your brand. And, if you think about it, if you hear marketers saying I'm not using Snapchat anymore, I'm all about Instagram stories, well, good, 'cause you have less competition. Probably if you do Snapchat ads it will be cheaper for you to run your ad because you have less competition in the space for that particular audience. So, I encourage you to think about it as not do what everyone else is doing, but really see if Snapchat is gonna work for you and carve out your niche and then focus on what's working for you on Snapchat provided that you see the results.
Class Description
Just when you think you've got a handle on the big social media marketing players—Facebook, YouTube, Instagram and Twitter—along comes Snapchat. Do I really have to learn how to market on yet another social platform? you wonder. Can't I just let this one slide and call it a day?
Our advice: Don't skip Snapchat. With more than 200 million monthly active users who send 700 million photos and videos each day, the majority of whom are in the coveted millennial age group, Snapchat is becoming an increasingly popular marketing tool for companies and entrepreneurs.
Inna Semenyuk, founder of InnavationLabs and editor of Snapchat Daily, will demystify Snapchat for marketers. She'll show you how to use the app's unique features and disappearing content to reach new audiences, promote your products and services in a more authentic way, and win loyal customers.
In this class, you'll learn how to:
Target the right audiences for your business.
Use Snapchat's unique features and fun editing tools to advance your marketing efforts.
Understand the newly redesigned Snapchat.
Tell your brand story with disappearing photos and videos.
Evaluate your Snapchat marketing efforts.
Ratings and Reviews
Student Work
Related Classes
Reviews
I was surprised to learn that Snapchat wasn't basically a dead site. It's interesting to see what they're working on. But the presenter left me feeling like working in Snapchat would be more bother than it's worth, unless you want to learn a whole new language