Ideas for Dynamic Live Video Stories
Joel Comm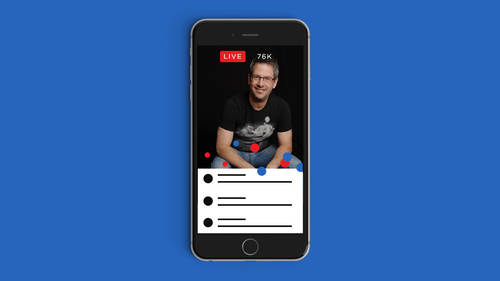 Ideas for Dynamic Live Video Stories
Joel Comm
Lesson Info
6. Ideas for Dynamic Live Video Stories
Lesson Info
Ideas for Dynamic Live Video Stories
Here are some ideas of things you can do or is an individual, because you may be your brand as I am mine, you can go behind the scenes, show people. I've done videos before I get up to give a keynote behind the stage, telling people what I'm thinking, how I'm feeling, what's about to happen. You could do that. It any business, take questions for consume from consumers, whether it's customer support or whether it's just answering questions. I know we've got some coming in today and will address some of those that are being sent in from people watching elsewhere. Share news Company Updates Motivator Inspire people as a good idea. Give your opinion whether it's right more radical it is, the more engaging it will be. Just be willing to pay whatever price comes with that provide tips and tricks things you know from your industry that will help others. You can give presentations on live video. That one. You just saw me. I had my friend Brian fans Oh, take my camera log into my Facebook live ...
account in stream. My keynote that morning, broken clicker and all. How about introducing people to team members at your office. Introduce them to the CEO, to the marketing director, to the social media manager to the receptionist to the intern. Make it about people and you will connect. Most of all, don't be afraid to be spontaneous. So a few of the common objections to going live I don't know what to do on camera. Have we resolved that this morning? Do you feel like everybody now has an idea of what you can do on camera? Nod your head if it's es. Excellent. Hope you're nodding your heads at home to you should have some ideas by now. Nothing I do is interesting enough for video baloney. I don't care if your greatest talent is that you can dislocate your shoulder and go ahead and do it on video, cause there's gonna be some people. It will be like, Wow, that's rad! But I'm sure everybody can do more than that in sharing what you think is interesting will be interesting to others as well. What can I make a video on when I have a creative block? Or how do I come up with cool ideas? Consistently do the next thing. That's it. It's always that just do the next thing. The next thing is what's interesting to me now. Ah, lot of people like Erin at our con streams every day. If I don't feel inspired to do a video on a day or several days in a row, I don't I don't want to just go on and go, Hey, what's up? How you doing? I don't unless I have something I want to talk about. I just don't do it that way. I know every time I stream, I have an intent. Somebody else might look at it differently. Their approach might be. I'm just going to go on and talk and that's great. You have to decide for you what feels right. And if this is a concern, then you might just want to go live when you have intent and are inspired
Ratings and Reviews
Great introductory course to live online broadcasting and the huge opportunities in this space at the moment. Especially useful to anyone interested in using live online broadcasting to market their business. I'm confident and excited to start live broadcasting!
Joel is a great teacher and really walks through everything you need to know about Live Broadcast. This is brand new content, never shared before and it is only going to get more important in the coming years as video gains popularity in the mainstream. Take this course if you are serious about sharing your message by leveraging the power of live broadcasts. He also shares some really neat tools available in the market place such as Crowdcast and Allie Camera.
Joel Comm is the King of live broadcasts on social media. This is a fully packed course of information that will help you get up and running fast. He provides great tips for both intermediate and advanced users too. The 4th segment of this course provides a ton of valuable and time-saving information to help you market your broadcasts and videos. I totally recommend this course, and you can't beat the price.
Student Work