Add Layer Style to Image
Khara Plicanic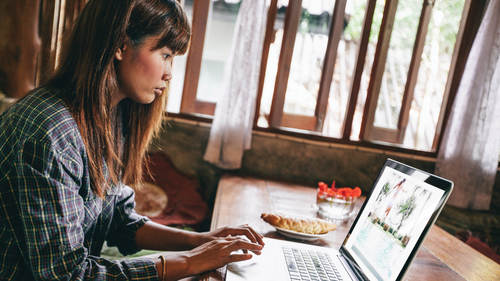 Add Layer Style to Image
Khara Plicanic
Lesson Info
35. Add Layer Style to Image
Lesson Info
Add Layer Style to Image
And if we wanna get fancy, we can add a drop shadow to this because obviously we want to go for realism here. The drop shadows as we saw yesterday are found under the Styles panel. So I'll click the Styles and from the Styles panel we have sub-collections, so all the different styles are grouped. So what we're looking for if I wanted to add a drop shadow, it would be this one right here - drop shadows - and these are the different presets. Remember we can edit these so I'm just gonna, I usually just reach for this guy down here; this is the soft edge drop shadow. So I'll just double-click that to apply it and you can barely tell that it's been added down there. If I wanna change it, I can click the little gear icon right here, and maybe I wanna increase the distance a smidge, and increase the size to soften that shadow, and maybe reduce the opacity; that's ridiculous. Okay (chuckles), we'll click okay. But the ridiculousness doesn't end there. We can also add all kinds of things. If I ...
can get my mouse to come back - whoop - there is a whole collection of dress-up shapes, there we go, dress-up shapes in here, oh wait, the Crop tool, there we are. So I mean you can see how like we can put glasses on the cat and actually I should show you one more thing that is handy. Let's go back to this blizzard image and I'm gonna undo what we have here right now by pressing Command or Control + Z to undo that, and I'm gonna click this button that's labeled graphics, and this is great because like right now I was thinking oh, we should put glasses on the cat, but I don't have a file handy that would make a good pattern for the glasses. But Elements has this Graphics tab and there's all kinds of graphics in here including... You can sort them by types so here we're looking at backgrounds, but there's frames, there's graphics, there's more shapes, there's text. I'm actually just gonna look at backgrounds right now and so I'm gonna look through and think, what would make a good texture for if I wanted to add glasses to this cat - oo I like this. So I'm gonna double-click this and it just downloads that graphic and fills my whole paper with it. So now I can repeat the process that we did with the tie with the glasses. So let's do cat glasses I guess right? Get it? So we'll put cat glasses, I'm gonna drag these out something about like this. When I let go, they are cropped, we'll go ahead and commit that, and again with the Move tool, I'm gonna click and drag, and drop that onto the cat. And of course we need to resize it and we need to adjust the angle a little bit, so I'll press Command or Control + T again to bring up the Transform box, and then I'll drag in and hover over here, and we can, oh yeah, wow, I'm pretty, I'm pretty excited about that. We can apply that. Now if we wanna copy and paste the layer style that we added over here too, that drop shadow, we can click back over to the Layers panel for a minute, and we see that because we added that drop shadow to this tie layer - layer one is the tie, layer two is the glasses - if I want to copy this layer style, there's two ways to do it. I can right-click on the bar over here of the layer, and I can choose Copy Layer Style, then I would right-click on this layer and then choose Paste, and that would work. Or if I undo that another option is to hold down the Alt or Option key and just drag the little effects icon, and drop it in place up there.
Ratings and Reviews
Just watching this class live. It's my first class with Khara; she is a wonderful teacher, moving at a steady speed but always being careful to let us know what she's doing in the moment. I would classify myself as intermediate in terms of PSE but I've learned lots of little things that will make further use even easier and more fun. I really appreciated her descriptions of the difference between PS and PSE and her encouragement in using Photoshop Elements and all that it can do.
I have only been able to watch portions of this class but every single part that I have watched has been technically clear and inspiring to me. Based on this experience and the thorough, 58 item list of lessons, I will surely be buying this class soon! Thank you Khara and Creativelive for making a class on this topic and making it be super!!
Great course. You can tell she knows the programme inside out.
Student Work