Straighten an Image in Quick Fix
Khara Plicanic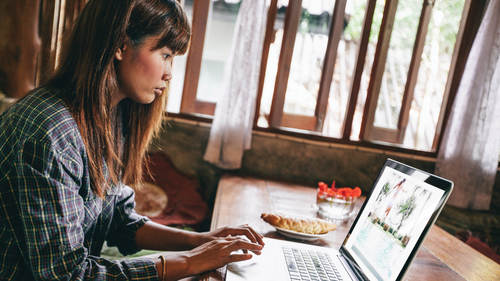 Straighten an Image in Quick Fix
Khara Plicanic
Lesson Info
11. Straighten an Image in Quick Fix
Lesson Info
Straighten an Image in Quick Fix
One last thing here that's really pretty cool is the ability to straighten our images. So I know that you guys at home never do this where you take a photo that is a little bit crooked. I'm the only person, I'm sure, who does. But I'm really grateful then that I have this tool. If you were to accidentally take a crooked photo as well, you might also find this really handy. Over here in the tool bar there is this tool that looks like a level that you would use when you're hanging cabinets or hanging a photo or something. So this is the tool we want, it's just called the Straighten tool. Incidentally, any of these tools, you'll notice when the tag pops up and there's a letter in parentheses, that letter represents the keyboard shortcut for that tool. So that means that wherever I am, if I've got the Move tool down here, and I want to grab the Straighten tool, I can just press P on my keyboard and it'll switch. So the way that this works is pretty simple. You find a photo that's crooked a...
nd you want to straighten it. And all you have to do is click along this line that you want to straighten. So in this case it's my horizon. So I'm clicking here and I'm holding my mouse down, and I'm just gonna drag along that crooked line, and then I'm gonna let go, and PhotoShop's gonna measure that crooked slope and then it's gonna straighten it. And then, because I told it to maintain the image size and auto-fill the edges, it went ahead, straightened the image, and then filled in the edges for me. So I didn't even have to crop this photo. Normally you would have to crop. When you straighten a photo there's always gonna be some cropping, unless you're working with an image where you can do this. Now this auto-fill in the edges is not gonna work on every photo. This image was a good candidate because it's just a blurry, rainy sunset photo shot through a window. But if I had a lot of detail here, if I had a photo of, like I'm at a football game and there's a lot of people in the crowd or something, auto-filling in the people around the edges might not work out as nicely as this. Lemme show you what that looks like. If I undo this, and we'll turn off Auto Fill. And then our choices are to Maintain the Canvas Size or to Maintain the Image Size. Well just go ahead and leave that there, and I'm just gonna re-run this. Now you'll see what happens. This is why you end up having to crop when you straighten a crooked photo, because when you skew it to straighten it, you create these wedges, as they are affectionately called. So fixing those requires the crop tool or some auto-fill magic in Photoshop.
Ratings and Reviews
Just watching this class live. It's my first class with Khara; she is a wonderful teacher, moving at a steady speed but always being careful to let us know what she's doing in the moment. I would classify myself as intermediate in terms of PSE but I've learned lots of little things that will make further use even easier and more fun. I really appreciated her descriptions of the difference between PS and PSE and her encouragement in using Photoshop Elements and all that it can do.
I have only been able to watch portions of this class but every single part that I have watched has been technically clear and inspiring to me. Based on this experience and the thorough, 58 item list of lessons, I will surely be buying this class soon! Thank you Khara and Creativelive for making a class on this topic and making it be super!!
Great course. You can tell she knows the programme inside out.
Student Work