Student & Web Questions
Cynthia Ackrill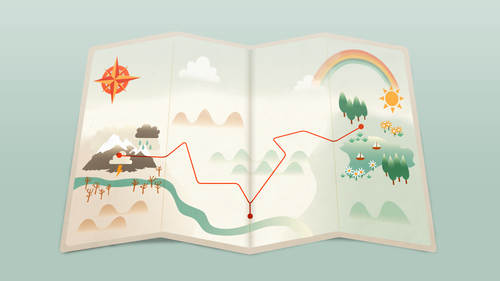 Student & Web Questions
Cynthia Ackrill
Lesson Info
10. Student & Web Questions
Lesson Info
Student & Web Questions
I would love to hear thoughts and questions on that from online and from you guys so on the daily check in that you just went through the who do I want to be? Um do you find that day in and day out you generally have the same thing down or does it change a lot depending on what what you have on the agenda for that day or mixed role you'll find things for you and then you're gonna have days you're gonna look at and think I've had quite a few of them lately I'm writing this while packing up my house and looking and who do I want to be? I want to be alive at the end of the day so I want to be a person who takes five minutes in the middle of the day to center myself I know that I'm not going to be my most center itself today but I want to take I want to be the person who took care of myself for five minutes okay? And then thesent intention for the evening um I'm assuming that could be, you know, close don't, um focus on me time like meaning so it I would be if like a proactive thing but it...
would be that don't work basically the intention would be time of family or what what do you mean by that? Um he can be which whichever of those we all have most of us have to work some evening, right? Yeah, and we can set the intention to say, I'm going to take a dinner break, I'm get a commune with the people who are important in my life, and then I'm you know, I'm going to read the bedtime story or do something, and then I'm going to go to my office and spend two hours on this project, but that's so much different than oh, my god, I still got that project. Um, dinner seems to be taking, so I got to get bad, you know, it's a very different feeling, okay, great, and it lets you know that you've put it's funny about the human brain. If we're trying to care around all the things we need to do, we haven't put them down or intentionally decided to do them for exhausted, trying to just carry them carrying them takes a lot of effort, whereas if you proactively say, you know, I'm going to take this break from six till seven thirty, and then I'm back at it and I'm stopping at nine thirty that your first of all, you're in me way more effective way more effective, you're probably gonna sleep better, which is going to make the next day more effective, and you're gonna feel more in control. And since stresses feeling out of control, this whole point of this thing is to feel backing in jerome, and you'd mention the three by five cards, what do you do? What did you what do you do with us? I put this on a three by five card, essentially mine isn't all written out anymore because I've done it for so long, and this is this is cindy system. I'm not saying it's, erica system, simon system and everybody else's system, but this I found has worked for me. I have this master to do lists, and each day I make a one three by five card that I carry with me that has on it my must choose that day, it has my to do list on it that I pulled off the master of what's going on, and I make I have my own little crib sheet in the corner for what? My checks, you know, did I ask her size? Did I do the meditation? Because those are things that I've set up for me for goals? Um, I'll just do the checks of them people who write down that they're going to exercise far out exercise that people who don't write it down, so I put it there, I just put it there. I then have this siri's of cards which is kind of interesting because it's sort of my life on index cards but it's also the place on the back of it where law captured say we have a meeting at ten o'clock and I find out I've got to remember to do this ah that's where I'll capture and make sure it gets back to the master now there's some word slate streamlined electronic versions of that two it'll do in a number of different systems that work whatever works for you that's the point my point is to make it intentional and re attention to your intentions great thank you any questions son who's gonna do what I just feel about from the online community we do have some more questions coming with them or general questions just about stress et cetera how how much confidence do you have to go let me that was hit on the meetings part and let me just frame up where we're going to go from that and then this general questions are perfect okay that's really good so what we're doing is system izing where we're going where to go and I gave you the meetings in this part because I want you to realize that when you commit to doing something like this it just feels better there's structure to it and our brains love structure we may rebel against structure but our brains actually need structure to stay um, we're going to look at the different ways we can impact the stress puzzle. So on this slide, you know, we had all those things that come into the brain, we have our perception that labels them in danger or not, and then we have the reaction that occurs if it's stressful, so we have three places where we can play in here and that's, what we're going to be doing is we go forward, and this may answer some of the stress questions, but also bring up some other stress questions was where I welcome we can reduce what comes in, and that has been where the majority of stress management talks and books, et cetera have focused on reducing what comes in that's only part of the puzzle we can also work on. How can we refrain? What comes in? So say I have to do something I don't want to dio how can I refrain that? So I'm not just spending the energy doing it as well as the energy resenting it? How can I change that that I just do it? It takes less of my energy to just do it because I can't get everything off of your plate, I don't have that want through things on your plate, you've got to do that, you just have to do. You can tie them to your bigger purpose there are all kinds of ways to refrain them so this is you know we can reduce the load will talk a lot about that delete two for delegate we can reframe what's left on our plate and then we can't just get stronger we can do those habits that create a resilience that are going to make a stronger in the face of stress because I started out the very first quote of this life has beautiful and terrible things in it so resilience is necessary and life is getting more demanding which really is a call to ramp up our resilience interesting I mean resilience because guess five four zero zero to in the champions and saying how did they get over that defeated feeling is resilient is going to be something that helps him with that yeah what I asked back what does what do you mean by defeated? Yeah please tell us yes or at least tell us what you mean by defeated I hear that term and I'd like to hear your interpretation of it, allison james saying I'm closing out the day for a good night's sleep how does reviewing tomorrow help with that doesn't that stimulate the thoughts and things you have to prepare great great questions so I would ask that you do that earlier in the evening if that's how it feels for you I work with people I who were in an office setting mostly and I encourage them to do this before they leave the office, not right before bed that's not the time to do this, but I will say that when you actively look at your list and write it down, it feels better then it being this nebulous oh my gosh what's tomorrow because then you're starting with different stories about tomorrow and as we heard earlier stories can cause stress great quest now angie is asking eyes the source of their stresses that they really don't know who they are or what their purpose is, so that's a huge subject but that is apparently causing them stress. How do you get beyond that? I mean, what are the baby steps you need to take, perhaps to define who you are and what you are where you're going? So first of all, I would say I want you to write now put a hand on your heart and send yourself a little love it is just fine too not no, it is absolutely fine to not know it doesn't mean you're not a good person, you don't have to know you will find it as you allow yourself to live life and it doesn't have to be I want world peace, I have a friend to east we were walking as a group three moms who had challenging a dd kids and the's walks could get very fast, depending on who was the most frustrated and my one friend would say, you know, I think my obituary is just going to say she managed she didn't contribute because, you know, you see those pictures, he basically solved world peace and set up companies and fed all the children in india and yada yada yada, yada and and I think mine's just going to say she managed don't feel don't have a story or an expectation that your purpose has to be this grandiose thing your purpose, khun b that you give love to the people who are important in your life your purpose can be what takes your values so I encourage you to do the values exercise because I think there's a lot of information in that, and then I really that self compassion it's ok not to know it's really, really okay not to know, and you can still feel guided. You can still feel like your purpose right now is to figure out your purpose now our guest in the chatroom was saying that they had a defeated feeling they've gone on to say it's, still not too much detail is it's regarding how to let go the same they've never been able to let go of somebody stabbing them in the back, and they've been going over it for years, and so maybe that's contributed to their feeling of defeat. They just can't move on from that that's a great point. Um, we all have sticky points. We there's, um, a lot said about ptsd post traumatic stress disorder, but the majority of people walking around have wounds, wounds of some kind, and those wounds are big and they hurt and things fall into them and things get attached to them. I've had just the amazing privilege of hearing people's intimate lives, people who I looked at and I was not a self confident kid at all. I I had this story that everybody else was better, and I was not good enough, so I did a lot of that comparison is a friend of mine mother calls it the land of er she's, better, smarter. I did a lot of that, and there was this story to it. It was a wound I was walking around with, and I let a lot of things fall into it. Well, we're all walking around with not full on ptsd because I don't want to dilute that term, but we all have those areas of trauma you cannot be human and get through life without some traumatic things happening, and when we get stuck with, um, there are times that it's time to ask for some help to talk it out. I think it's really brave to say that that's what's going on it's really brave to save you can't let go. Forgiveness is hugely powerful there's some great books on forgiveness I think the guy's name is luskin forgiving for good it's something close to that google it and find out forgiveness is a is a way and forgive the starts, oddly enough, for giving somebody else starts with forgiving yourself, which is a very interesting path and is another fabulous pathway toe less stress. So I really appreciate your asking that there are places where we're stuck it's great when we recognize him and then that's it information to go out and find some resource is to get through that often we see where we're stuck by maybe a person stabbed us in the back, and what that's really done is triggered another wound from way in the past. It's triggered some other feeling that we have and so talking that out with somebody doing some reading can be really helpful thank you for asking interesting question I mean, I'm sure it's not quote coincidental, a tool that in most religions in the world, and we talked about spirituality earlier. That forgiveness is a tenant of most religions. Almost all of them sound forgiving. Others and forgiving yourself does helped free you of some of the things that you carry around otherwise. And isn't it interesting that it's, a part of most religions, and we're pretty darn bad? So hee? Oh, yeah, and we're the very worst of forgiving theirselves.
Class Materials
Cynthia Ackrill - Keys to Creating Strategies to Ease the Drain of Stress.pdf
Cynthia Ackrill - Stress Is Optional Workbook Parts 1 and 2.pdf
Cynthia Ackrill - Stress Is Optional Workbook Part 3.pdf
Cynthia Ackrill - Apps Resource List.pdf
Ratings and Reviews
Thanks so much for this free class, as a Naval veteran and cancer survior now dealing with female infertility and graduate student I needed this so much!!!!!! THANKS THANKS!!! Very educational. I loved the mindfulness and caring for yourself first! So many good things! I wish I could afford to buy it so I could share with friends and family!
Cindy is a woman of integrity. She is one of the most inspirational" healing to the soul" speakers that I have listened to in a very long while. There were so many beautiful nuggets of wisdom that changed my thinking. So thankful for the blessing she has been in my life today!!
Very informative, relaxing, and encouraging. I hope to see more courses from her in the future and hope to do her course materials justice! Thank you!
Student Work