The Video Aftermath Part 2
James Wedmore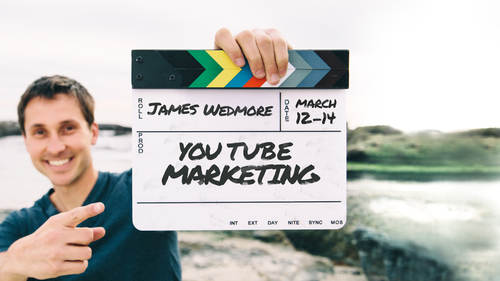 The Video Aftermath Part 2
James Wedmore
Lesson Info
22. The Video Aftermath Part 2
Lesson Info
The Video Aftermath Part 2
this person actually reached out to me on Facebook and I want to read their message. They basically have a question. They've been doing some YouTube for a while, and I want all of us, including the Internet, to give their feedback and support. And maybe we can all help answer the question they have. So this is from a gentleman name. Darren Hughes. Give me Give me second. It's a little bit of a long email, but we'll get through it pretty quickly. James, I just wanted firstly say thank you for your three day seminar with creative life. I am the crazy bastard from Australia that has been getting up a 3 a.m. toe watch. You and I've been learning a lot, and I wanted some advice. My wife has a YOUTUBE channel, which is over at youtube dot com Fort slash felt cuisine. This is a very, very unique niche, and I was blown away by this f e l t cuisine. See you. I s I n e felt cuisine is their YouTube channel. They have 31 videos on YouTube, just about 1300 subscribers and over 700,000 views and th...
e entire channel our videos of images of felt made food food that is stopped laughing. Kate. It's food made like looks like so uncanny, so riel. But it's all made from fell, and it's and it's for kids. It's safe, you know, cute toys for kids that wanna, you know, playhouse and stuff like that. Um, I have a mailing list of 6 66 7600 names and e mails. They've been building that list, which is fantastic. We also have to Facebook panic pages with you guys and go like at facebook dot com for its lush felt cuisine and facebook dot com. Ford slash pretend Play Kitchen. So his wife is making this stuff by hand and they're selling kits and ah, but we're still only making around $200 a month are so in sales. Over the past 4 to years, we've made around $60,000 in sales and total, which has been great, but I can see that there is huge potential. The problem is that my wife is, and we can all relate to this very shy and hates the idea of getting in front of the camera on. So what she does. She sells e books and kits, and they teach people how to make pretend play food for kids. And I know it's a huge market. It really is. And we have nothing but great feedback having a having had a total of less than 25 refunds ever. Eso basically here there. Hey, gave me some action list, which might go over some things he wants to dio on. I want to see if there's one final question, but he's just really saying, I'm hoping I'm on the right track and if you have time, if you give us any quick thoughts you had as well, that would be great. And that's from Darren Hughes, and I wanted to think Darren for that. Felt cuisine once again is their YouTube channel. So, Darren, I went to your wife's YouTube channel and checked it out. Congratulations with all the views. I think that's amazing, because let me tell you the videos air very simple there, like photographs or like simple video shots of it, Um, and I think that's great one. I have a few things. I went to your website. I looked at your stuff. Here's some few quick action items. And if anybody who's going there on the Internet youtube dot com four sessions, felt cuisine. Who has feedback and support like we've been getting for the last three days? I'm going to encourage that on. I don't know if we'll we'll have time for that to come in. But if we find something, let's share it with Darren and his wife. First thing I noticed that you're attempting to use the key word strategy correctly, but one of things I noticed is you had, like, the same key word for, like, 20 different videos. So here's your list of all these videos, and it was like the same keyword every time. Like felt crafts felt, crafts, felt crafts and and one little distinction you could make make a world of difference is have one keyword per video. So go back in and change that to literally the specific things like felt banana felt pie because those why did the keyword research and those things are searched heavily. ITT's crazy felt tutorials on, and obviously, as you know, so I don't want you to create these keywords or videos that compete with themselves, you know, if I type in felt tutorial. I only want one of your videos there, and I wanted at the top. I don't need 10 covering the first page because they're searching other things as well. OK, so that's the first thing. The second thing is someone I really want you to look up to and start Modeling and watching is someone I've referenced before, and it's a very similar style of business. And I'll tell you why in a second. But this is my good buddy Dave Powers over at youtube dot com. Ford slash Please write this down our sea superpowers and he does the remote control airplanes. He has million views and all. He sells our plans for building your own remote control airplanes, and he does far more than $200 a month with this, and I think you can be doing the same because what Dare and his wife are doing are selling plans for felt, you know, handmade crafts for the kids, which I think is great. So go to his website as well, which is RC powers dot com, and you'll see how he set up the sales process. The first thing I noticed with your site was that you listed all of your products on one page. And so what happens when we do this? Like I said, we're talking to you on YouTube at this point is when you have something you wanna sell or you want to buy something and you have 20 options to buy, what happens? You end up not buying any of them because you don't know what to get. People can't really comprehend beyond three options, so I would limit the amount of products you're selling upfront on your store. That's number one. I would only have 123 products that you're selling and at different price points like here's a basic. Here's our most popular and here's the bundle, where you can get everything in one place. The other thing I noticed was that you had product images, but the product images were of like a PdF of the plans and the product image should be of the finished product, like the beautiful apple pie that people will create when they buy your kid. The finished product, the end result. Okay, not just like a little pdf workbook. So those are some those air like three action steps I get, I give you live on air with creative life. I don't know if anything ever came in from from people. Are they had time or anything? Do you guys see any feedback from It's okay if you didn't, but I wanted Teoh say thank you during for the shot out and for watching, especially tuning in at 3 a.m. In the morning. That's so cool. I rarely do anything at 3 a.m. in the morning, so oh, great perfect suggestion I would think of is the whole mommy blogging community, he said. Now, like some free examples of that. And I was also thinking about grandparent's to something the grandparents could do for grandchildren. And that's that brings into a whole other thing that we could be talking about about you know, YouTube is it's going to be the only answer, and I don't want it to be the only answer for you when you can get this into stores or other e commerce places, when you can leverage other audiences, other outlets to sell this product, you're going to go from from here to there you reach far more people. That's another conversation for another time. But because we're talking YouTube and you have great great traction with the YouTube. Um, that's great. And your wife doesn't have to be in front of the camera. The, uh if you hopefully if you've been training for everything you saw stew Indian voiceover, Your wife doesn't even need to do the voice over. You just need, ah, friendly, female, motherly sounding voice describing because these I don't think these videos even had voice over. It was just like music and pictures. Simple stuff. And they're getting thousands of views, right? So imagine if it's like, you know, like our durable, you know, handmade, blah, blah, blah. Felt projects can create endless hours of fun for your Children, right? And it's like showing video of kids dressed in rhino outfits plane with their pies and bananas. We got a home run because rhinos and babies cell right guys. Okay. Yes, Krista. Yeah, I was just wondering. I was thinking back Teoh what's do Indian shared earlier about the video types and if he could do something Whereas they launched new products, they do promotional videos. If they can find anybody in their area and get like, you know, b roll footage of like, customer experiences and especially like with the kids in a shot of like, putting it together, like playing with it or whatever. Um, and if they can really develop that like, family oriented, super friendly, super warm like style of ah, brand on and, like really, you know, make themselves that way. His wife, Darren's wife, wouldn't have to be in front of the camera. They could do all like voiceovers but of customer. But it would be like riel personal and human out them. Having to show themselves necessarily here would be a cool video. I would not do it yourself, and that was great. Crystal appreciate that. How about a video that's like a time lapse sped up of the felt itself being created and turned into something, you know? So people see the entire experience and demands to talked a lot about that. There's so much create creative options you can dio, and obviously you're very close, I think, because you already have the views. I didn't talk much about the creative stuff because you have the views you can get those views to be traffic So that's why I kind of focused on the website. I think you have too many products. Listen on the page you could do like a product of the month or, like, you know, the favorite product of the month and then one or two others don't get people too many options.
Class Materials
YouTube® Background Template
YouTube® Background Template
YouTube® Video Placeholder Template
YouTube® Video Placeholder Template
6 Steps to Video Creation
YouTube® Marketing and Optimization
Overlay Green Arrow - Bounce
Overlay Green Check mark and Box
Overlay New YT Subscribe Button
Overlay Red Check mark and Box
Ratings and Reviews
I am POSITIVE that this is going to be an AMAZING course! James ROCKS and is an AWESOME teacher with REAL actionable steps! I am UBER EXCITED to see this! :-)
I just started this course and its really great, very interesting and fun course, James is a great teacher.
Student Work