Secrets of Selling at Craft Fairs: How to Get In, Make Sales, and Grow Your Business
Nicole Stevenson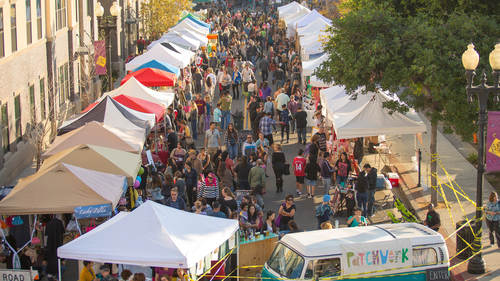 Secrets of Selling at Craft Fairs: How to Get In, Make Sales, and Grow Your Business
Nicole Stevenson
Class Description
Selling at craft fairs is a big investment of time, money, and resources – it's also one of the most powerful venues a crafter has for getting products in front of people. In Secrets of Selling at Craft Fairs: How to Get In, Make Sales, and Grow Your Business, Nicole Stevenson teaches you everything you need to know about working the craft fair circuit.

Craft shows are complex affairs. From the application, to the preparation, to the actual hustle there are many variables to plan and prepare for. Nicole has been a vendor at over 300 craft shows and produced over 40 – in this class she'll help crafters make informed, strategic decisions about where to invest their time and effort. 
You'll learn how to:
Find and apply to the right show
Develop your "look" using basic branding
Prepare for shows with products, checklists, staff, and a pitch
Merchandise and display products for maximum effect
Deal with pricing, permits, and taxes
Nicole will offer insights on troubleshooting common challenges so you aren't left in the lurch without the equipment or information you need to do a great job. You'll also learn strategies for keeping in touch with customers and building relationships with event producers that last long after the show ends.
The world of craft fairs is complex and it is not always easy finding the right match.  Secrets of Selling at Craft Fairs: How to Get In, Make Sales, and Grow Your Business makes the process of finding your perfect fit as stress-free and fun as possible.
Class Materials
Craft Show Secrets Syllabus.pdf
Craft Show Readiness Checklist
Craft Show Timeline Checklist
Profit and Loss Worksheet With Examples
Benefits and Goals Worksheet
Post Craft Show Checklist
Craft Show Application Checklist
Brand Mood Board Exercise
Ratings and Reviews
It was an awesome experience. I learned so much from Nicole. She is entertaining and so knowledgeable that I feel I left the show with soooooo much info. I loved being in the studio audience, I met so many great people, crafters and new friends I feel we all became one big support for each other. I am putting to good use everything I learned. I look forward to coming back to Creative Live for another learning experience. Craft Show Secrets taught me all the ins/outs of craft shows ...I'm excited for my next craft show. Time to Create!!!
Great Class! Full of practical information + tools about how to REALLY succeed doing shows. I have attended many a craft show and found an enormous amount of useful tips. I especially loved the bonus material! Thank you Nicole and Creative Live for keeping it real + FUN!!
I've been growing my business successfully online for the last six years, but hadn't shown my work in person for a decade. As a refresher, I took Nicole's craft show class to be sure that I made the most of the time I would have in front of my customers. Because of the preparedness and mindset that I gained from Nicole's teaching, my show was a huge success. My interactions with the customers, producers, and other vendors were genuine and joyful, building a stronger foundation for future business and relationships. This course took the worry and stress off my shoulders so I could enjoy the opportunity that I had. Thanks, Nicole! Tamara Kraft Pithitude
Student Work