Iterate, Reposition, Differentiate
Tara McMullin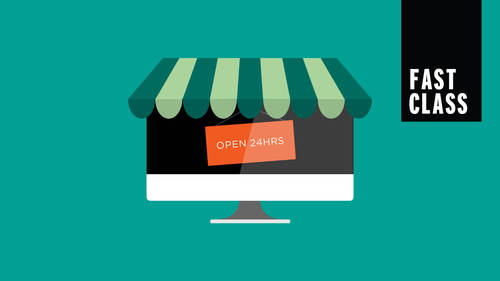 Iterate, Reposition, Differentiate
Tara McMullin
Lesson Info
20. Iterate, Reposition, Differentiate
Lesson Info
Iterate, Reposition, Differentiate
iterate reposition or differentiate because the question, once you sell your product and get feedback on it is what now and inevitably the answer to this question is sell it again, that's that's the fundamental answer. You have to sell it again, whether it's something that's evergreen, whether it's something that you've put out there for just a short period of time, you absolutely must sell it again, but you don't normally, or often you don't want to just sell it again the way it was, you want to iterate reposition Or differentiate and that step 13, this is the last step of the building products that resonate process and essentially what these words mean is more different or more different. It's really that simple, you can make your product more of what it is in a future iteration, you can make a difference by repositioning it and selling it is something, you know, the message is a little bit different. The value you're promising is a little bit different or you can make it more differ...
ent, which is to really figure out how you're gonna make that product stand out in what is inevitably a crowded market. So here are your next steps, Here's how you do that. If most of your guesses about your product were correct if you figure out yet, this is how people used it yet, this is the value that they got out of it. It's time to add features and make the product better by making it more robust, you know, all that, all that fun stuff that we stripped out of your product when we were building the minimum viable product, this is your opportunity to start adding some pieces back in. And what I would not recommend is that this is the path that you're on to go from a skeleton of a product to what you think is a fully, fully developed product. Do it step by step by step, because as you do that, you may learn different things each time you sell it and you don't want to have to try to figure out what features may have caused, uh negative responses or positive responses. You want to be able to attribute adding features to whatever new feedback you get. So do it little bit by a little bit. Um, if many of your guesses were wrong about your product and that happens, and it's okay. In fact, it's great. The more wrong you are, the more you've learned, uh I know that's not that's not super comforting, but it's true if many of your guesses were wrong, use the customer feedback to create a new offer of the same product and see if that does better, because here's the thing, when your product fails most of the time, it's not the product, that's the problem. It's not the idea, that's the problem. And most importantly, it's not you, that's the problem. Way too often, I hear people say negative things about themselves, mean things about themselves shaming things about themselves. When a product fails, they attribute it to the product, they attribute it to the idea and then they attribute it to themselves. That's not helpful. Most likely your product is great. Most likely your idea is even better and certainly you are awesome. But there are all sorts of other things that can go into putting a product together and putting it out there that can cause it to fail. One of them is missing, assumptions are making assumptions about your customers that just aren't true. Another one of them is not having the right audience to be able to sell to. Another one is missing the mark on what real value your product is going to create. Another one is missing the message that's really going to resonate with people. There are all sorts of things that can go wrong that have nothing to do with the product itself. Now, that's not to say that you might not adjust the product or change the product after a flop, you might change the curriculum, you might add a couple of features, take a couple of features, a way to support your repositioning, but it's repositioning, that's important. And then another option you have is if you see an opportunity to make your product more attractive than what's on the market, emphasize what makes it different in the way you adapt features or market it. So if you put a product out there for the first time, often differentiation is not your first idea, right? That's not what you're thinking about when you're putting a new product out there and it also doesn't matter in terms of the market that you're selling to because the market that you're selling to wants to buy from you that's part of the minimum viable product process. Especially for personal idea driven businesses. You're the people who are going to buy that M. V. P. Want to buy from you. They don't care if it's different than what's on the market because the fact that it's from you is what's different than what's already on the market. That's what's exciting. But in subsequent releases differentiation is going to matter more and more and more. So if you're in a really good place with your product if you're just looking for what's next think about differentiation, what could I change about this product? What features could I add to it? How could I adapt the marketing of it to make it more and more different than what's already out there. The stronger you make that message, the more sales you'll get. Would you add anything to these next steps? I would say that you know we say more different, more different. Uh Don't forget that sometimes less is more right? Sometimes less is more and so when you're going through and you're looking at your next steps. Don't just be looking at what can I throw in because that's where we get these bloated products that try to do too much. Um One thing to look at is what didn't work as well and if the reason it didn't work as well as, because it actually doesn't fit, take it out like it doesn't need to be there. Uh, and as you do that, the other thing to keep in mind just to restate what terrorist said before is don't change too much at once. Right. Right. When I launch a product, I often will do this private invitation style launch two or three times before I start doing it on a bigger scale because each of those times I want to be making tweaks and adjustments. I want to see if the tweaks and adjustments I make actually worked. So your other option here speaking of wholesale change is to pivot pivot is I didn't put it in the lesson title because I think most of the time pivoting is not what you need to do. However, it's an option that should always be on the table. What a pivot is is a wholesale change. It's taking what you've learned and doing something completely different. Maybe it's that you that you know you want to serve these people that the right people that you know, you sold the product to the right people but it was the wrong product or maybe you sold the right product but you sold it to the wrong people and so you need to make a pivot to be able to accommodate that. Maybe you thought the format should be one thing and actually should be something completely different with what you've learned. Or maybe you need to shelve that idea because of what you learned and you need to move on to something different. Maybe your audience wants something more advanced, maybe your audience wants something more beginner. These are all different reasons why you might feel the need to make a complete pivot. If you discover you are mostly wrong, take the feedback that you've gotten and start fresh and I start to say start fresh instead of start over because the best part of this process is that you never have to start over again. You never have to start over again. You are always learning when you do this process, start to finish step by step by step, you are learning every step of the way, that's the heart of the lean start up methodology. You have to learn every step of the way.
Class Materials
The Observation Engine - Multimedia Pack
cL-1510-GENTILEPRODUCT-S00L01-INTRO-MARKETER-HD.mp4
cL-1510-GENTILEPRODUCT-S00L02-THINK-WHO-HD.mp4
cL-1510-GENTILEPRODUCT-S00L03-THINK-WHAT-HD.mp4
cL-1510-GENTILEPRODUCT-S00L04-THINK-HOW-HD.mp4
Create a Product That Resonates Workbook
Turn Your Service Into a Product Workbook
Ratings and Reviews
I'm in business a looong time and know a lot but... Tara is great, the course is great and it is a MUST SEE for every entrepreneur. I'm not a native speaker (from Germany) but I can follow Tara very easily and there is the transcript... just in case ;-) Well done!!!
Student Work