Lightroom 5
Color and Tone Enhancing in Lightroom and Photoshop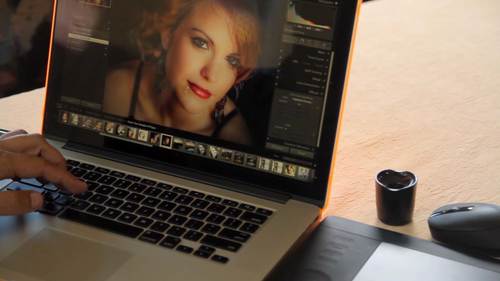 Lightroom 5
Color and Tone Enhancing in Lightroom and Photoshop
Lesson Info
Color and Tone Enhancing in Lightroom and Photoshop
We're talking about doing some affects some glorifying some high key I thought I'd start off of that so we don't get right up to the end of the day and you guys say you promised high key and now I don't believe you so I thought I would start off right on that because we're going toe then extended what? How far can you do especially going talk about this black and white high key effect and then we're gonna go back into photo shop where I mentioned that you can do mohr because of the access two filters and blend modes and even something known as the advance blending option is going toe allow you to do some really, really fun stuff ok, so with that here's a little formula for doing hiking first off when you're working with high key, you typically will do that to a black and white image you don't typically do itto a color because obviously high key is high contrast high contrast with high color is not pretty okay you can do other things with it, but right now we'll just say that by definit...
ion high key is usually a black and white we already did this work we just did this one of a portrait from light workshops and so here's your formula first off you could go to a true black and white that keyboard shortcut is tapping the wiki that is the same is going down and tapping on this black and white down here in the hse l panel ok, so capping the wiki does a beautiful black and white right there again yesterday we talked about could you go in there and go into the black and white take advantage of the fact that you can change luminosity you know and we can change the lightness or darkness of a file and again I definitely got an issue with my um with welcome him so what we're doing is we are taking and moving the slider to change as specific portion of the tonal range so you can hear you can see here in this what's known as the h s l panel hs sell black black and white panel we've asked it to be black and white by simply tapping on being w and then we can go in here and fine tune a portion of the color range in this case we're clicking in the oranges and can do that we couldn't come over here and, you know, separate out the oranges from the yellows. Her eyes actually are looking kind of like a yellow color here so again here's our before and after you can see how far we're taking this right now so you can shape a black and white beautifully by just taking advantage of the sliders within hhs l and black and white that's not quite the same as a high key, the high key is rarely were doing something else in terms of the contrast on the image, so I'm going, go ahead and reset the black and white to its default setting and show you this formula, which is basically going back up to our basic panel where we did the tango this morning and yesterday and we're going to break the tango, and we had to do unnatural things to this photograph, and we're gonna do things that you normally would never do, but I'll explain why we're doing it, and you'll see why it is useful on let's see find out let's state zoomed out so we can see our whole whole image here. What we're gonna do is you're gonna take your contrast all the way up to plus one hundred, you're going to take your highlights all the way down to minus one hundred, you're going to take your shadows all the way up to plus one hundred, and then you're going to use your whites to taste okay, whites and actually blacks to taste, and what that's going to do is one. The contrast up is obviously going to exaggerate the tony allen in your file totally exaggerate your lights and your darks in the file, taking your highlights all the way down, darkening them up. Because even though we've taken that contrast all the way up by taking the highlights all the way down you're saying please maintain as much as possible of your highlight detail so where were fighting in here were saying go all the way up but also go all the way down I want to maintain that highlight detail a shadow the shadow slider over here okay all the way up in other words I don't want you to plug up the shadows in a sense the contrast is saying dude you just told me to throw out my highlights and plug up my shadows well I'm kind of that kind of guy I want it all give me all my highlights back and give me on my shadow detail okay and then whites are going to be to taste ok actually you can set all of this this presupposes that exposure whites and blacks are going to be based upon your image so that I don't know what that is but the formula in general and of course you confined to in any of these contrast one hundred highlights minus one hundred shadows plus one hundred whites blacks and actually exposure to taste that's what's going to allow you to get what you want and you can see over here even though I've done this exaggerated tone ality I'm coming up here over my little indicator in the history graham and you can see that I am getting some clipping along the nose let's go ahead and take that white we'll just leave that on right now so we can see that and then that white slider to taste I hold down my option are all key I really just want to make sure that there's some tone ality in the nose so now I've got that right there I don't mind the speculator highlight that's a strong sidelight and so now I've got my, um really strong black and white here's my, um hi key effect right here couldn't do are before and after that's going to be a little exaggerated but you can see how far we can push it if you want to add this to, um taking advantage of that h s l where you're going to find tune the skin tone or anything else like that you certainly can let's turn back off that that warning right here don't need that um you certainly are welcome too, so if you wanted to you can come up here actually that was the last thing the formula is actually is a important one that I passed on once you've exaggerated all this totality and you've lightened up so much of the subtleties of skin tone by exaggerating the contrast your clarity, your ability to use clarity either up or down is going to be enhanced just because you've thrown out the subtleties of the skin tone meaning that you can actually go get away with it being softer even war glowy without it looking you've taken out colorado the equation so you're not much of modifying the colors or you can even come up here and start doing a clarity up something that you normally wouldn't do on a female portrait again you're probably going to come up here and find two in some of these other elements okay really exaggerating it let's take the exposure up now that I'm doing that clarity up I'm going to take the exposure oppa's well and now I'm going to take that those blacks and really pegged them down so I still get the nice dark riches in the file but I'm exaggerating edges throughout by taking clarity up this case let's go ahead and I'll make another snapshot so we could just start comparing some of these so here is clarity up on the pot portrait also taking advantage of exposure up let's go back to a step right here we'll go back to our fourth step this is our clarity down let's also take that exposure up if we can a little bit and also I'm going to peg down that blacks I mentioned that being able to have access to your black slider is what's going to allow you to you know, find tune special effects so here we've got this is our clarity down we're going to go ahead and click another snapshot called that six so here is five it is going to be our plus clarity, very different. Look to it, it's actually zoom in a little bit so we can get our kind of a feel for our look in this file. Stay good. Uh, there's our five and here is our six, where we're doing it now we're taking out clarity in this situation, so either one of those is a totally viable option but that's up to you as far as what you're going to do. Let's look at our adjustment brush. I think what I've also done in here is let me just check one thing. We've got our adjustments that we did earlier, it looks like the whites of the eyes are really excessive there this this right here is something that I've done who's mentioning the eyes and the lips, while use clarity to kind of do an automatic eyeliner as well as lip liner and looking over here, I can see that my clarity is way up on that one. So again, that's going to allow me to use a really large anti clarity overall in the file, and you can see what's going on with those if we take out that area, this is what that d clarifying overall in the file, and this is me bringing back in that clarity. So even though overall that formula for doing a high key I can remove a lot of clarity, get a lot of glow, I'm going to probably come back in and put clarity back in around areas like the eyes and lips okay let's do another image from scratch, so we just get the the field for this particular um, effect and we'll use we'll use this one I've used this one before another great one taken up it light workshops again wonderful models here so we've got our full image of uses one but this one you'll see why I've used this one in a second, so we'll go back this one actually doesn't even have the tango to it being done actually does have looks like that the one thing it doesn't have is that, um, effects for bin yet so I'm gonna come in here and I love just because I've got a little bit of a distraction on that background, so I think vignettes definitely are high key images definitely helped by having your vignettes at your disposal. So aside from that will say that that's actually pretty good and let's do a snapshot so we could do our confirming so we'll call this one one for a step of the high key black and white is this way to do black and white tap the wiki actually let's not do that yesterday we did a little trick to create a custom black and white. What did we do to create that custom? Black and white made a pre set of it as well we d saturated rather than actually going in there. We made this little d set, and even though it's going to look exactly like a black and white would go over to that h s l in our saturation, we made this pre set by taking all the color out of the file gave us left us with a black and white, but it's also going to give us some of the colors later on what you're going to be kind of fun as an option, so step one is make a black and white, you can either just tap the wiki and turn it really into a grayscale file or one. You can do your little trick of d saturating in the hse l panel, and you want a d saturate here, not in the basic panel and again, you'll see why in a second, but there it is formula for our high key was contrast all the way up highlights all the way down shadows all the way up, whites to taste and again, clarity to taste if we take our clarity down let's say we're going to do a little glorifying, and if we want to weaken even turn on our little history, graham warning make sure that we're not getting too carried away so when I say whites to taste, we can just take that down, okay? And I don't mind a little bit it's actually take our exposure up and our whites down ok, so here is definitely high key. We've definitely have our glow going on here is our before after before, after the reason why I like using that specific black and white as a conversion method of d saturating is we still have access to all that color, which means there's nothing stopping us from coming back here and bringing back in our reds or in this case are magenta as I think it looks like it's going to be our reds. So here we've got our high key image and I think I mean, they don't want that a little bit higher key, and we've also got our reds brought back into the equation ok? Simply by saying please bring back in your reds it's two for the price of one if you take that off, you got your night black and white high key you do also have luminant said, we want to darken up those lips remember just like any black and white, high key or otherwise in come up here and weaken dark in those lips because we have access to it also, we can lighten up that overall skin tone I mentioned before so here we're exaggerating that watching artist a gram over there and darkening the lips and again, we have access to our saturation so he can come over here and bring back in the reds. Ok? So before after before after, if you have a whole series of this, um, model and you like it, what you going to do? You could to save it as a preset, but typically it since this pre set us set on this model, this lighting this lip color usually would synchronize it to the other ones, I wouldn't necessarily say that is a preset I saved the de saturation as a preset because that I'll use over and over again, but when I do a selective re coloring oven image it's usually based upon in particular image and I usually don't save a preset for that, I saved a preset for every time I saw something cool that was specific to one image I'd have more than I needed, knowing that I can always get back to it and always sink it or always copy and paste it to another image. I mean, I can use this, I'll do a copy let's go ahead, we'll say a copy that's everything which included crop let's not do that that's just kind of silly actually let's check none and do what we just did we did our color is basically effect and our basic and our clarity and uh we didn't local adjustments we did a little post crop then yet, and we'll include our process version in here, so we'll say that that is the effect that we've got here, so if we come up and find another one, this is going to be a very different tonal range, but it could be a starting point for it. I'm going to come over here into a paste that's going to give me a starting point, which may be not be a good starting point for this one because it's such a different exposure shedding setting to it is I'm going to come up here and change the exposure so it's set for this image also because in this case they read her lips aren't the kind of the main story here I'll take all that out but maybe come back here because I do know that she has beautiful blue eyes. So from this standpoint, I've got now from this to this using a copy and paste from that same image actually that background because it's a light background that also may be a situation where it come back into that effects and rather than do a dark one, maybe I come up here and do a light thin yet okay so here is high key we're using that same basic formula here contrast up highlights down shadows up whites to taste again it's always going to be to taste so in this case whether it's appropriate for this file or not my clarity is way way down let's again here is going to be a high key where I'm going to rebounds that out and here's a high key image version of it so again always the shortcut for taking a snapshot command and as for new so I'll come over here I think this one so I've got one here here's my hi key version high clarity let's go over here clarity down our nice you know diffuse glow and again fine tune our whites command and two now I've got both of those saved maybe I go back here to h s l and go I don't need any color effects thank you very much command and I've got another one three I'm back over here I can see luminosity you know I do want maybe uh again those red lips down a little bit and we'll use that skin tone up a little bit looks like it did copy something else over from that file something else is going on but again command in and you know you could do that all day long so you just do the variations and tell you sure that you've got the story that you want you come over here and the nice thing is with this navigator you just hover your cursor and you're able to check out all your different snapshots and they go you know, out of these I think I like that one so just to verify on the snapshot that's essentially basically like like grabbing a section of your history kind of like it's so everything every single thing that's part of that file is saved when I did that every adjustment, every brush, every slider, everything is safe with it and again it adds almost no memory because it's just a little database of where the sliders were and what things were going on so they're excellent and on lee at the time when I go ok, now I know that I like that one and I may you know, I like that original so now I'm gonna want two of these so I'm gonna go command apostrophe which is the shortcut for virtual copy each one of the virtual copies has all the different variations on it. So another command apostrophe I've got another virtual copy now we come over here and do one that's pure black and white so now I have thes three images and now I have them in my film strip now money to take him into footer shop export them put him into a slide show book variations shown to client whatever so I only use the virtual cos when I know more dear to use something with those files because it's so easy to scan through the snapshots and go yeah remind me why why would you why are you creating the virtual file? Where the virtual copy if the vert anything that's in your film strip you now can output. Okay, so right now I can do a neck sport. I have access the nice thing about the film strip remember everything in these seven modules are all going to be accessible via the filmstrip if it's on lee in the snapshot I they don't really exist. I can't put snapshot to into a book until I have it in the film star so yeah, I know this is really simple, but I missed how you converted the black vignette toe a white I went down into where I had created the vignette, which is in the post cropped and yet there again out of the different vignettes in porter shop, your lens correction has a vignette, which is actually is that greg been yet, but it does not follow the contours of your current crop so that's the lens correction version of it the other one is, um under the effects panel and this is where we can add this post craft and yet we're follow the contours of your crop the ones that we mentioned that I like there are highlight priority color, priority and paint overlay vignettes, and in this case, we're using the color priority it's the more subtle one, and instead of going down and darkening it, I'm using and taking it up toe lighten up the vignette, okay, definitely is now a special effect yet cool and in the attack on the internet, a couple of people have a question. Same question sam cox and mac guru paul and they ask for high key images you ever use tone curved. We just contrast you could yes stance your question I do, we're going to be using the tone curve for doing things like cross processing in effects like that we're talking about. Here is the tone curve, not the basic, but the tone curve here and coming up and fine tuning it. It's an excellent way of doing it, it's the traditional way that people have been doing it in photo shop to have access to it because that's, where you actually have access to all these different quadrants of the tonal range. So I do use it because of how powerful. If you think about what we're doing with this ridiculous formula right here, the fact of asking it completely exaggerate the tonal range. Oh, but still keep shadow detail and still keep highlight detail and set the blacks in one direction and the whites basically what you're able to do to atone curve with these six sliders, it is amazing and adobes formula, especially in light room four and five, the new processing the current processing engine is so powerful without getting a flattening of the tone curve. The problem with a traditional tone curve, either in light room or in photo shop, is if you're asking, I want youto lighten up the shadow but dark in the mid tone, but lighten this mid tone value here but dark in this quarter tone and lighten up the very white point any time that you're messing with this and trying to tear that tonal range in different directions you have the potential of of of actually degrading the quality of your file, as you saw with something as exaggerated as this particular formula. If I was to replicate exactly that in the tone curve every time that the tone curve comes in like this and flattens, you've actually thrown away the information, everything that's along that horizontal line versus a steep curve is going to be actually throwing away all the curve you're basically saying everything from this tonal range to this tonal range is now one tone. So you have to be just very, very careful with tone curves, and you know what you're doing so it's excellent it's, powerful it's, wonderful it's a little bit more, uh, challenging in terms of making sure that you haven't corrupted your file so that's, why I typically don't teach it for this thing. Good question. Quick question from annette de from palm beach, is there any way to add texture to have been yet you can't add texture to oven, yet we're going to touch on texture tomorrow because here's there's little jiggery pokery that you can do to do texture in I'm like, well, even though it's not meant to do that, so not specifically in terms of that what you can do and what often will dio and it comes in when you do something like imitating an infrared and let's come over here, because yesterday we talked on doing a black and white conversion, and we talked about this idea that if you have a black and white, you can come over here and, you know, darken the blues of a sky and then yet lighten the yellows and greens, and you start getting, you know, an infrared look, uh, image to the file, and especially if you combine it with something like that post crop, and yet where your darkening you know the sky and doing a little feather in here and making sure that your highlights stay clean you know as they come in so I'm I can get something that actually looks like a nin fred file for after before after the thing with infrared a traditional infrared has two things going for it in addition to this dramatic sky versus foliage and that is one it was usually in traditional effects. It was done with a high I esso film and infrared film is a very, very sensitive film because you basically blocked all the visible light out and therefore it was a very grainy film, so grain is something that you can add not specifically to have been yet this grain is overall even though it's under the effects post craft and yet area it's actually overall to the files I'm actually adding film grain so tomorrow when we get into some antique coloring effects will be adding grain in or film grain to it's not as much a digital noise as it is a film grain. You can change this roughness of it to kind of clumped that grain together if you want to exaggerate that as well as the amount so that's one thing that you can do in this case specifically for a name for it the other thing is you can use that clarity to get that glow because they were long exposures of a traditional film based infrared the exposure would actually build up on the film and you get this kind of glow so bye reducing clarity and adding film grain you actually can get a you know nice little infrared effect right within um like room if you're not concerned with imitating a film based infrared right now people aren't using this stuff called film anymore new modern in fred's like this one in the back here that doesn't have the glow doesn't have grain it's not a high eye so film so doing something like that could be a situation where you're not using film grain or clarity anti clarity to do a particular effect but I want to mention that from yesterday yes you mentioned that any file down on the film strip is ready for export could it also be sent like as a link to an inn design file or straight premier or after effects? No very very good question and that is one thing that would separate from something that's in the bridge let's say anything that's in the bridges is you know well, that's that's actually clarify that anything that you're doing in light room because it's procedural is temporary it's not permanently cooked into the file okay again we're going back to this analogy of raw versus cooked you can think of whatever you have in light room or adobe camera raw all the settings have been set to the file, but they haven't been cooked into it. They're still pliable. You khun uncooked the file, right? Everything that we've done here is undoable these this meta data, the procedural processing that's taking place will not show up if you take this either tiff or j peg, you know you can't place a raw file won't accept that file format and something like in design. But let's say you brought in this happens to be a j peg if I took this j peg founded, you know, went here and, uh, right clicked on it and say show and find her. Okay, that file, if we're gonna do right here, can't locate the file. Okay, be that way. If you could locate, you'd find that it's a full color file so you need to cook whatever you do in light room or in adobe camera raw before you share it with anybody, whether it's the internet or email or in design or illustrator or anything, it is still the metadata is still a rapper around your original photograph. By going to export, you'll actually cook those settings in. It actually makes pixels based upon those parameters, and now you're able to share it. So it's actually it's a really good point. You would never take anything from light room and send it anywhere aside from photo shop because of that integration between these applications that's the one place where you can say open and photo shop and photo shop is smart enough to read that information, cook it and give you pixels toe work on so you can do something with it. But aside from going from light room into foot a shop, um, you really are going to want to use the export module. If you do use a third party external editor what they call it in light room by definition, as soon as you go into that external editor it's cooking it on the way out. So if you send this to snap seed or another nick or on one software, something it's going to cook it before it gets to that other application, but that's not the same as, like imported into in design, you definitely would want to use export for anything like that. Very good question. Anything else? Okay, good. Okay, now we just did a kind of a glowy, high key thinking, andi, I wanted to show you another way of doing this, and this is going to take advantage of stuff that you can do in photo shop that you can't do anywhere else? So I'm gonna come over here and I'm going to right click and we're going to say edit in photo shop and let's let's go ahead and we're open it regular and photo shop because I want to do take advantage of something that's not possible with a smart filter recipe, so I'm gonna go ahead and open this anyway, and what I want to do is I want to take advantage of filters and blend modes and very, very specific blend mode and I'm going to use a action as a starting point actually that's created well, we could create the action afterward. I've given you the action even on my free facebook freebies page, I believe this action is part of the mini set that I've given to you all, and the concept here is that if you duplicate your current layer and you can drag it down to the new layer icon, you could go layer new v a copy also command of control j those air too easy ways of doing it. So I'll do a command, jay and I've got a duplicate of it and I'm gonna come over here and I'm gonna go filter, blur gazi and blur this is again a formula for creating a diffuse glow, so I'm gonna go gazi and blur and I want to blur it enough that I can still see the details in the file and like I still want to be able to see lips, but I don't want to see a whole lot. Mohr in other words, I want to soften the details in the file and now I've got my copy, my blurred copy let's call it a blur just so we don't came and we've got our sharp copy below, and we'll just zoom in a little bit now. Typically, if you use a traditional glass lens a diffusion on your camera, what you would get is the same thing as a fifty percent capacity of that. The frosted glass you put on it is the same is going to the opacity of this layer and dropping it back fifty percent let's, go ahead and do that here and again, the if you have your move tool active or anything other than a brush tapping the number keys changes the opacity of that layer, so I've got my original duplicated blurred tapped the five key I'm now at fifty percent, and I've got my diffuse glow kind of like my an anti clarity but actually it's nicer because it's doing the entire image player to remember is just edges so that's one little diffuse club if you like that that's a traditional diffuse scope, I want something more exaggerated, so I'm going to take that back up to pure one hundred percent capacity and I'm gonna change the blend mode so I'm gonna change the blend mode here in photo shop now think remember about blend modes in photo shop it's since footer shop seven I think these have been organized based upon what they do before that they were alphabetical, which meant that nobody in the world knew what they did accept. We've been wilmore right because he didn't get out enough but now he's married so now he doesn't need to know these things because he's got other things too spend his time on but anyway so now these air all organized based upon what they do so dark in all these that aaron this little category can only darken that's their job these that start with the word lighten can only lytton that's their job great that it's organized multiply and screen or the two workhorses in this category coming down here these that air start with the word overlay are known as the dodge and burn or contrast blend boats they can both lighten and darken that means that they are mind bendingly powerful the fact that they could do both of those the two war courses in there are overlay and soft light they are like brother and sister overlays them or exaggerated. It will not only increased contrast with saturation at the same time and soft light is more subtle what they are going to allow you to do is if we go into say soft light is you're going to get that blurred copy blend and blended into the original and you're going to notice the lights are getting lighter let's actually go to the exaggerated one just so you can see it the lights are getting lighter looking at this area right here ok and you look around the edge look at the top of her hand how that's getting lighter and the darks are getting darker so what it does is anything that's fifty percent gray and the overlay blend boat does nothing it's neutral anything that's lighter will lighten the file anything that's darker will darken the file so it does this exaggeration of the totality and the file and it's doing it based upon this blurred copy, so it's softening the detail in it, blending it back in and exaggerating the tone. The problem with that is that it is plugging at my shadow detail what was dark right if it was already fifty percent gray looking at her I I had this again it's now fifty plus fifty it's now one hundred and I've lost my shadow detail I never wonder fact is cool is that's kind of doing in shaping the light? I don't want an effect that's going to compromise the quality of the image I'm always thinking about that um you know what is the story and in my adding to it so what I want to do is I want to ask photoshopped please don't plug up my shadows I love what you're doing to the highlights I love what you're doing to the mid tones I'm not crazy about what you're doing to the shadows I could hand mask out that portion of the file, but I don't have that much time and that's way too difficult I just don't want to do that but there's a feature that's been built into photo shop for hundred years matter of fact, it was part of photoshopped one point oh even before there are layers in the paste command there was this command that I'm going to show you now and it is incredibly powerful wasn't mind bogglingly powerful and we had to get to that it's actually part of your what are known as you're blending options within the layer styles dialog box so I'm gonna go to blending options and this is where we add our devils and in bosses and glows and everything else but at this very top level where it says blending options and let's zoom up what's his blending options before you get into the bevel in boston stuff like that you have your blend mode which is exactly the same as the layers palette you have opacity for that you have a secondary opacity and that's how we get all sorts of cool transparency for orb evelyn and bosses and glows that's not what we're talking about we're going to come down here and there are what are known as they advanced blending blend if sliders and these sliders are ridiculously powerful because what they allow you to do is I can ask for the shop on this layer right here which is the current active layer which is my blurred layer would you please hide or make transparent or make disappear either lights or darks so if I dragged this slider over here you're going to see that the darks in that layer are disappearing hey they're actually kind of like being eaten away and let's actually kind of I'm going go ahead and turn off the background layer so you can see what's going on here because I move this I'm asking for the shop would you please hide this layer based upon this slider and it's a scale of zero to two fifty five and as I move it when it hits this level of luminosity this is what we're doing here based upon gray you can do it red green or blue but it's hiding that shadow detail now the problem is if anybody has ever stumbled upon this which you may have you go well that's cool and then you zoomed in and you realized it's what's known as a one bit transition okay it's either on or off it is hard edged it's awful it's useless it's a piece of garbage so if you ever stumbled upon it, you kind of go great I have you've made a make awful slider in photoshopped thank you very much. What you didn't know is that if you hold down a secret mickey mouse club handshake, you can actually ask photo shop would you please make not one transition when it hits this tone? But if you hold down the option key on the mac they all killed the pc. You can split that slider and do get a perfectly smooth transition between what's visible and what's not as if you'd spent a month hand creating a layer mask to sculpt what's visible on this layer and the benefit of that so let's, go back and turn that off so we can see now our background layer the benefit is that if I move this over till I can see my shadow detail hold down my option are all key and split that slider I can come up here and I can see my shadow detail and yet I'm still getting this beautiful diffuse glow. So now what I'm getting is I'm getting this rich to my mid tones and I'm also adding a glow to the file now I am affecting the color you're affecting the color in here but the nice thing about this blend mode is it works whether you have a colored layer or not, in other words, the blend mo we're going back to the fact that we haven't overlay blend mode it's doing dodging and burning it's using luminosity to darken or lighten what's below it you don't even need to have a color version of this file in order to do this magic, so if I wanted to add a glow to this file but not change the color I can not only can I blur the copy, which is what we've done change the blend mode to something like overlay, but I can also come over here on this layer and go adjustment and I can go d saturate and now I have got a black and white version and I'm using this blurred copy toe add this glorification to this file now we're not we're not done yet because that's a kind of a glow you see it on the hand you've seen were getting a nice kind of like, well, rim lighting in here and we're getting a glowing here, but what I like and what we're talking about now is high key is not doing the overlay blend mode we're not wanting to both darken and lighten I want to come over here and I'm going to tell it to screen which is part of these ones that air can only lytton you can use any of these for this particular effect we're gonna use screen and when I go to screen, you're going to see here that again I'm getting this glow, but I'm going to reshape this set of sliders so now screen what's doing is it's taking any values aside from black and it's going to subtract them from the other image it's going to lighten it up so in this file let's, just go ahead in this file right here the lights are going toe lighten anything that's real dark is going to have very little effect if it's ninety percent black in other words, if it's a ten percent gray, then it's going to add ten percent little screen or lighten that file so that's what's going on here? So in this case now, when I go back to these sliders and say, you know what what I want you to do is use this blurred copy to shape the highlights on the file. Now what I'm gonna do is I'm going to come over here and I'm going to take it out of everything but the highlights and I'm going to leave this little puddle of light on her cheek those of us who have spent a lot of time with lighting and shaping light, especially in a studio environment here we've got back lit and studio lighting all these things this ability to shape light how it's interacting in this case with a figure it's really cool especially when I split this slider and say would you please come up here and just shape that light in there? So when I come up here what I've done is I've just made it made it made it it is the technical term I just made it in this blurred copy which by the way it's still there this is procedural that that image is still you know, completely there it's only being hidden because of that slider so it's also like light women's procedural and now I'm coming up here and I'm adding it to that file and I'm able to shape light if you look at the light that's on her face that's pretty flat what I've been able to do by this little trick of a blurred copy said to screen now and then taking advantage of this advance slider I can actually come up here and shape that light on the scene just putting it where I wanted now spreading those sliders to make it even more subtle it's very cool especially if you do this because I did it once I go I like that I want that even more intense it's his bright as the original image was if I do command jay command j I've now just did a dramatic reinterpretation of that scene by adding these different copies to the file if I turn off the background, this is what I'm creating that right there that ability to kind of reshaped the light and blow it out where we wanted the topic here is high key and cool effects and being groovy and everything else like that is really, really neat and that's on lee that's going to be done in photo shop especially considering that I haven't painted anything I haven't made a mask I haven't done anything aside from a gaussian blur from this case a lower s file of about ten so that is pretty darn cool we want to of course we can add something like another adjustment layer on top of this let's go to q saturation and, uh you know, d saturate the file and now we've got a nice black and white a version of it and typically as I said, hi key you typically would do that as black and white. So here is before after before, after we zoom up on this file, we've got again because it's blurred we have this beautiful, you know, subtle halo around the image which were able to sculpt how that light is going in and weaken scope because we have both the lights and the blacks don't get me started this is not a photo shop class, but I need more highlights on that hand yeah that's a little bit too blown out that same slider that says would you please hide all the rial darks smooth transition between what you're keeping this is that smooth transition everything on this side is completely hidden this is the smooth transition there's nothing stopping you from having the same thing for the highlights in other words, I only want that blur just in my middle tone value so if I come over here on this file, you can see that I can bring back in highlight detail as well and typically what you do is you hold down that option are all key and now I'm bringing in a smooth transition so I still have some pure highlight so it's a it's a credibly powerful feature these advanced blend if sliders r ridiculously powerful yes at this stage if you were looking to do the highest quality black and white high key would you didn't take this back into light room and do the black and white version that it's a very good question this case I did a d saturate and I told it that that's not a good way. The fact is, since I've changed the tone ality so much you know I could do it here, but if I wanted to take this right here this where I've taken advantage of the fact that aiken blur, which I can't do in light room, I could do multiple layers which I can't do I have a blending option advanced blending, which is unique the fact that aiken scoped something like that without hand painting is pitching so if that's what I want right here, I can close this right now save the file, go back into light room, I've got my file here and now I could take advantage of different black and white versions of it or something like that. I now have that black and white here, so now I can sculpt it, I can, you know, continue to play with the skin tone. Now I'm taking the oranges up here or, you know, sculpt whatever I want, so you certainly could take advantage that I could add film grain in it with this effect and that much shaping of the tonal range, probably I would come up here and add some film grain to to kind of give me the feeling of, um especially in this lower his file, this is a low res j peg, normally I wouldn't do this sort of thing, but with sisi now we could do that right within al the new camera filter you're absolutely right. So if you wanted to do that, normally what you're doing is you're coming back to your catalog inside of light room, what are your project is in light room, so you're going to close it and do that do it down there if you wanted to take advantage of the camera filter that's now built into ccu absolutely could if you wanted to let's you know go back into this file because I closed it so let's edit in photo shop will edit the original so it's the exact same file if I wanted to now to take advantage of this filter here it's adobe camera filter the thing is, since I'm looking through these four different layers let's forget that black and white one at the top looking through these if I want all of those to be affected by adobe camera raw, which again is the same engine what I can do is either one make what's known as a merge visible copy at the top of this file something that's been in for a shot for a million years its command option shift ae just made emerged copy also known as elbow e it was your holding down your elbow in the entire left lower left corner of your keyboard or claw e ok, so that is it or if you wanted to, you could also do another little trick select all your layers say right click and say convert to smart object so they're not coming from um light room is a smart object I'm doing layers and everything else convert to smart object that doesn't make it raw that doesn't you know do anything aside from I can now do a filter like the camera raw filter and I can come over here to my color and even though it's a different interface it has the exact same sliders here is my convert to grayscale here is my orange up and whatever else I'm doing goto effects I can do you know a little been yet here around the edge I wanted to delight in that up I can add my film grain back in the nice thing about doing it this way as opposed to doing that command option shift your control all shift e is the fact that if I wanted teo and go you know what? I like that but I wanted to reshape and get those highlights if I double click on this thumbnail any smart object when you double click on it it sends it back to where it came from this one came from this multilayered document so I can come over here and turn something offer do something to this file when I close it it will come back and automatically reapply that filtered to it so that's the power of ah smart filter which is anything that's applied to a smart object ok, good question quick question jack yes, I'm marrying aspirin who said can the blending sliders also be used to put more light in the faces of a subject that has been shot with backlight absolutely because that screen blend moat what that screen is doing is exactly if we if we look at our image here that's exactly what we're doing with this file if we look at our original looking at the light that's on her face, I am doing exactly that I'm saying would you please relight that face in other words, taking the subtleties? There are some subtleties right here that differentiation between this tone and this tone is what I'm getting with this will mode this is affecting it this is what's left behind and it's what's causing the lighting okay? Because this is in the screen blend mode it's saying whatever is light is lighting it so that is the power of this that little those pixels right there are lightning, the file these right next to it aren't doing anything because I've hidden them using those advanced blending sliders if you're going dude, I have no idea what you're talking about. You I need a margarita I don't need advance blending sliders, it's okay, I totally I totally understand it. It would be really nice if someone had come up here and let's go ahead and we're going to do this and we're going to go image duplicate we're going toe create a new version of it if you don't use image duplicate you should, so I've got a a version of this file flat as it came in you go I don't just make it pretty I've written actions and I believe this is part of those free actions that are part of the the wow sampler set it's definitely part of the nine hundred process that are part of my one click preset found it while creative arts dot com but if we go into my photo enhanced library of actions, all of these air actions that air specific to photo shop for photographs, photograph actions, design actions, painting actions again window washing cat walking you know actions and I'm gonna come over here to my law soft focus screen action overlay soft light screen darken all these different things so what it does is you just simply click on an action hit the play button all my actions are used for teaching purposes they don't do a little hidden thing underneath the the neighborhood, so to speak so this one actually creates a softened detail effect when the gaussian blur filter dialogue comes up which is where we started a second ago except our default or changed taste when finish you go back and further experiment with the advanced blending and the opacity of the soft glow layer so I say ok it automatically made the advanced blending sliders on it here is my radius again you can choose whatever radius that you'd want for the resolution of your file you hit ok? It automatically made the duplicate it automatically did the advance blending sliders and if you wanted to you can use that command j j j and do that so that the actions if you do something that is complex like this one that's got a lot of stuff going on. I've given this action to you all tio play with exactly right let's go back and to, um, like women again that's not just glamour close I would use this, you know, on things like, you know, even this portrait this you know, father daughter portrait right here. I would use that same sort of thing, right click headed in photo shop action still sitting there so even on something you know which has nothing to do really with glamour is just a really nice way how to shape that light in a scene exaggerate the tone ality without blowing out details. Okay, so I use that sort of thing all the time and again, we'll use that command j so I'm exaggerating that light in the scene. I am also softening up my friends, you know, a little bit rough exterior and certainly adding a lot of glorification to it. So whether it is a beauty shot or not um it's it's actually quite nice okay, back here into light room I've mentioned removing of the background of a file, a little trick. A lot of these little things I'm going to give you in for photo shop is one a teaser cause I'm hopefully going to be doing some photo shop classes here at creative life because I love it. Obviously been living in photo shop, not light room for, you know, twenty plus years, that photo shop has been around there's a lot of hidden features in the photo shop that most people don't know about, for whatever reason, actually know the reason most people who have used for shop they've used it the same way since they bought it, they bought it, they unwrap the shrink wrap, they learned enough howto get work done, make money with it, and that was five versions ago, and each time there's a new version you on shrink, wrap it and you install it and you use it the exact same one as the other way, and you keep doing that over and over again, and it could be that things were missed out because adobe obviously showcases new features every time what they're doing right now and cc and in light room five and other features like that advanced blending slider. Right that could be the poster child of an entirely new feature set in photo shop if that was just added in cc it would be one of the main selling points of sisi new advance blending sliders allows you to change the luminosity of a layer with a slider it's been in there since one point oh was part of the paste command it was a hidden paste feature but it's not because it's not new, you know even it's been around there for a million years also the person that genius that invented it probably left you know adobe, you know, fifteen years ago and that's a lot of things that are really, really cooling photo shop the person who was the who showcased it who came up with the who championed it got it into photo shop has left adobe and they're you know, nobody is championing champion yuning again it that's why I'm here and this is the future that I'm going to show you right here and this is a one of the quick, easy ways had to change to select something in photo shop and since light room doesn't really do compositing of layers if you want to change the background on a file specifically but any kind of selecting is why I'm bringing this up here and I'm going right click I've got this little girl shot being tossed up in the air this guy is kind of boring so what I'm gonna do is I'm going to swap out that background and I'm going to do that same trick of edit in photo shop but in a real sneaky fashion I've got sky over here that I want to bring into here so I'm gonna take that sky and I even I think I did this trick and photoshopped weak because it was a really nice fund photoshopped tricks so I'm bringing it back out here edit in open as layers and photoshopped and I'm going to get my new sky and my girl it's kind of going to be a low res we're going toe kind of throw that out of focus so I'm not too I'm concerned about that we've got our little girl here and uh let's actually I'm going to go ahead and scale this background I'm going to do our edit transformed three transform commander control t we're going to go ahead and I'm just gonna go ahead and um scale this background by the way if you're creating your own stock photography to use and again swapping out skies is something that we do all the time you have to shoot with whatever whether you have you set up something with a client or even a friend or family member you don't have that luxury of clouds are kind of nice and wispy today let's do a shoot so here's a tip if you ever see these nice wispy clouds and a nice blue day shoot them the nice thing is there's no direction to them there's no directional light source there you can scale him, you can get away with murder if you see whisp e beautiful clouds shoot them because they're great to add in to add a little pop to a scene so there's another little tip ok, so I've got this little girl here and basically what I want to do and we'll turn off that background is take advantage of something that has also been in photo shop for one hundred years and especially when you get into this little thing of you know, wispy hair, especially blond hair on a blue background, you basically end up with blue hair if we zoom in on this, that hair is blue, especially if it there's, you know, not the sharpest photograph in the world. So how do you select hair? How do you do subtleties? How do you do that? Photo shop is a bunch of ways of selecting and there's some great new features and photoshopped that came in with c s five six a cz well, azzan sisi, but I'm going to come up and use something that has been around like I said forever and it's known as the background eraser ok, so let's zoom in on that the background, a racer and the reason why I like the background eraser is that it's one of the only things in photo shop where you can say I want you to work on this but not this the subtleties on something like hair where I want you to say race this blue but this blondish blue don't touch it's a really challenging selecting procedure and there are third party filters that do a great job and they've spent time just doing this one thing but it's actually it's something that's been in photo shopped for a long time and we turn off my green thing here so I've got my background eraser I've got my layers selected gonna make the size of my brush bigger and I'm going to change the settings because the default settings for the background eraser in which happens to be this one right here, which is sampling continuous, is basically why people haven't used the background racer it's a bad regular eraser that's not even a good regular racer it's a bad regular racer so again, if you stumbled upon it like that advanced blending slider, you go that's great! And maybe you did that ten years ago and you've never been back because you know it's not a tool that you can use, but if you change these settings up here in the options bar it actually goes from being not the most useful tool to also just like the advanced blending sliders becoming mind bogglingly powerful so rather than this sampling right here and it appears that you do it sampling continuous I want to come over here and you want to say sampling once and then what that means is whatever you click on it will a race and it will only erase that ok I like that so I click on blue it only a race blue okay you come over here this other thing contiguous okay and that means that it's only going to raise things and when it gets to an edge won't jump across pixels to another one they have to be touching which is nice it won't help us with hair where you've got blue inside and outside of this hair so you have to change that default two discontinuous in other words you khun race blue wherever it is in the file we just made it twice as powerful actually a million times more powerful tolerance is how close to what have you click on it will a race so well then just exactly that pixel that you click on that pixel and a tolerance of fifty percent we can leave that they're at fifty you can take that down if you want but we'll start it at fifty the other thing that makes it ridiculously powerful is this option right here protect foreground color so what we're doing protect means don't erase okay you're gonna going where's the margarita I don't need this right now protect foreground color and what that means is that you're telling it whatever you click on this sample once is erased this color and don't waste don't do anything else within this tolerance protect foreground color is whatever you do don't erase this color I don't care don't erase it I'm not giving you permission to raise that color and it's doing it based upon the foreground color the cool thing about that is that it's really easy to set your foreground color in photo shop? You simply hold down your option key and the tool automatically becomes the turkey baster all right so you can automatically click and sample of color what this means if I come up here to this little girl's hair and you can see that it's a light blue I just held down my option key and I'm telling photoshopped whatever you do don't erase that light blue I'm about ready to click over here and click on this blue and I'm going to ask it because it's on sampling once do race this blue what that means is I can do this okay? I said we get into our little girl's face we don't need to do that so it is sampling whatever I'm clicking on and protecting this in this case this light blue so I can't even come up here and sample now it's going to be doing this blue I want a little bit more of that blue so I can that's a little bit too much so I can come over here and as I get closer to the little girl I can tell it what to a race and I can also hold down that option key and I say as I get closer to a little girl I can say don't erase the actual blond and component of it as I get down into something like her skin tone aiken say click on the skin tone and now I'm coming up here and now I am a racing around her arm and whatever I do I'm not getting her racing of her arm because I sampled her skin tone value I go down here and she's got some green or blue or anything else like that whatever you click on it will not erase again I'm gonna come over here and sample there's a little blue ambient light on those fingers so this feature and again as I shift over the blue is darker blue up here as I come over here and erase this area it's going to come down as I get closer to the lighter blue since it's on sampling once it's only doing that so you just simply pick it up and now let's say we don't want you to get that red now it is you know getting this blue here because that tolerance I can actually get away with a lot inside I probably actually race that palm tree because that's part of that distraction here so I can kind of come over here use the good old fashioned racer and you know get rid of that if I want to or I could tell it you know back to the background away sir ok and I'm going to say the green raised the green and now I'm doing the green whatever you do don't erase the skin tone hold down that option or all key back on a racer and now awaits the green so I can come over here and continue to do that we want that skin tone so what is that going to allow me to do let's come up here get a little bit more of this green and this is where that tolerance comes in so we've got a blue sky so I've got a little bit of forgiveness on it it actually came up here and did a you know a racing of that area let's actually do a smaller brush and make sure that we've got a nice soft brush it is a nice soft brush so again I'm going to come up here don't erase this and I'm gonna come up here and a race this blue so now still getting that hair I'm coming in even further for that hair depends upon how much subtlety I like. I like this, you know, in here, so I'm gonna keep some of this blue because we're putting it onto another blue sky. Basically, we get this in terms of our background, let's get that clear off the rest of this, so we're able to d'oh a lot, it is so cool it actually, even if you're only using it to clean up a mask. Well, even come up here and, you know, cleaning up a mask, if that was the only thing that you used it for was to clean up an area where you've done in the race or whatever it's worth, while when I should have done this is I'm actually erasing pixels, which normally don't like to do that's actually is a kind of a destructive process. What you could do is duplicate this layer before you get into the file, keep your original, and then actually use this transparency to make a mess that's probably something that I shouldn't cover right now since we're on two margaritas and other things right now, but, um, as an example, we could you know, the nice thing about another little feature of photo shop, and I needed to get back to those marching to this area I wanted to make a selection and not have it destructive can I give you a little tip for those advance users out there? If you command click on any layer that has transparency, it loads it as marching ants so now if I had had duplicated my original I could actually throw away this layer because I actually made my selection I was going to use I could throw this away and if I had a duplicate I would just click on the add a mask icon and now I would have a non destructive layer mask based upon this election so that's what that was more than I wanted to cover but the background eraser as a starting point for doing some fairly elaborate selection is neat, especially in this topic of working with light room because light room does not do compositing of images, so whenever you're talking about composite even images we're talking about selecting a cool hidden feature of photoshopped that don't people don't know about is the background to racer okay questions that do that go way over on our audience, our virtual audience? I don't know I don't think way over good I think switching gears and going back to light room I wanted to ask you about a question had come up from dotson about how fast everything is moving on your computer and if you could talk about the best way to optimize your computer for light room as faras having that's great question um one you need the system requirements for light room five are lying or mountain line in terms of the macintosh and its windows seven or eight uh any of your photo shop uh programs either photoshopped proper or photoshopped light room is going to take advantage of ram the more ram you have the better ram of course is the elbow room in which your computer applications work in it's quick memory as opposed to either flash storage our traditional spindle based spinning hard drive any time that you run out of this elbow room of ram your computer is used is forced to use virtual memory fake ram which is your hard drive any time it's using hard drive it's going to go slow it's mud so maxing out your ram chance so the question is the best thing that you could do oftentimes even more so than upgrading your cpu you know if you had you're going to need to maximize your ram even if you've got a new fast computer so maximizing your ram especially since ram is now so cheap is the great way that you can go the new processors new computers a lot of what adobe has done in optimizing its speed is taking advantage of the graphic processors what used to be only used for running the monitors are now being used for processing so a fast graphics card which almost all new computers going tohave is also gonna maximize your speed but light room five specifically has actually gone out of its way to increase performance and one of the main things that it's uh, done to do that is this quick load option when you convert an object do dmg or as we mentioned yesterday with these smart previews that it's automatically loading in this quick low data so it's ability tio what they call cash information quickly even if you've done a lot of adjustments or effects or whatever to a file is one of the main speed increases in light room, so that would be something that I recommend for your library one of two things either one on import convert your images into dover, his own file format tng because you'll automatically there's a default that's turned on the quick low data um or take advantage of those smart previous when we talked about it over here in the history graham we haven't image this one actually has a smart preview built into it, but if you had siri's of images that didn't have that, you can do it after the fact ok he's air all this has, um a smart preview you can see this right up here in the history graham if you don't have a smart preview again, you can click on this here it's actually a button and it says you can either discard when if you already have it or if it was one that did not have a smart preview from all of these seemed to have smart previous in it, then you could build a smart preview and you can select goat in there and select a million images and create smart previews. You can also go up under file and your previews actually edit uh, where is that and hope you can actually go into ed it again? It's slightly different between mac and pcs, we have that file, I'll find it. I'm also at the end of the day and I'm also in ready for a margarita, but you can also build your smart previews, be on the menu as well as using the history, and I used the instagram little button there, so those are things that I would do maximize your ram, take advantage of either dnd or smart previews and that's really what they've done a tremendous job in, like five to increase performance great photo maker asks how about scratch space requirements? What's your advice and can you show how to adjust that and that's really important in photoshopped, even more so than light room? Okay, the thing in terms of what a scratched his he is that's the fake ram I just mentioned scratch this when you run out of real ram, a scratch disk is fake ram so in photo shop, especially since that's pixel pushing that's dealing with these millions and millions of pixels because light room is procedural, and even though it needs load in your raw file, all the stuff that you're doing is actually being done to the original it's this little text file so actually light room doesn't need the same sort of heavy lifting hearts course power that photoshopped needs photo shop needs to have a large scratches because you will run out of space, especially when you start adding layers and things like that. That the possibility of having hundreds of megabytes associated with a file is quite easy and photo shop you won't probably have, you know, gigabytes and gigabytes gigabytes ram, and so the scratch disk is important going into photoshopped proper in terms of the provinces here and going into preferences and going into your performance. This is where you can set up how much ram is going to use and what discs they're going to be used for scratched disk. It is a very good point. A lot of people, because hard drives are so cheap nowadays, is to get a fast, hard drive and either dedicate an entire hard drive or partition of the hard drive just for a scratch disk because you never want that disk that's being used for scratched to be fragmented. So one thing that you could do if you buy a new three terror by dr hopefully it's going to be a u s b three or ah lightning based if you're using a lightning connector and you have the money to buy a new you know thunderbolt based hard drive for the mac if not all the new macs or like our u s b three which is ten times faster than u s b two faster than firewire you know used to be firewire was the fastest one so they're a thunderbolt uh dr lightning based bolt those air you know the connector in the drive itself or usb three so get a dedicated dr set aside a partition when you originally form at the drive you can partition it and what really cool people do is they partition a portion of the drive and you don't do anything to that except set that right here as a scratch disk that way it will never be fragmented it will always be available for photo shopped to use and you know give it a one gigabyte scratch disk and that way you khun use files and when you need that space hundreds of megabytes under file it will use that for the speed that it needs cool question from san cox in loveland, colorado are smart previews important or useful when you have the full images available? Aren't they used only when the full images aren't well, um, if the full images air available, then you're really not taking advantage of the smart preview in terms of the fact that you could unplug the hard drive and go away and continue to work on it. But you they are beneficial in terms of that speed increase if you haven't converted your images into d ngs, meaning that this quick, low data that's part of the smart previews will be used even if you have the full images available online, so it adobe has made this quick low data available that allows it to work with the file quicker. So, um, if you didn't want to do smart previews, you're always have your available images available online. You're not taking them off. You may want to not do smart previews, but I would then if you wanted a performance increase, I would either convert your images to dandi or as you start adding new images to your catalog, convert them into d n g because that d n g also has this quick low data as part of the file format, so one or the other, if you want to go back for speed, you're working on a project and you want to speed it up a little bit, you can actually take a project. Select them all go to that history, graham click that button create the smart previews even if you're not going to use them off line, it would speed up performance just because now the images are part of the catalogue that's the thing with smart previews is they're actually part of that database they don't it's not an extra little file that's outside the images that you're working on the smart preview and the database and all the sliders and everything else is all part of this big excel spreadsheet, so to speak, and that makes it very quick. If you're not using that smart preview, then w going to have to go to that original full reds file whenever it wants to do something. So there is that there is a benefit to using smart previews even if you're not going to take advantage of their offline capability. Yes, I'm just in reference to converting files to dnb deion the negative is what it stands, what are are there any disadvantages to doing that? Very good question ah it's actually is an excellent file format. The alternatives would be to not convert it and leave it in whatever the native for messages shooting in typically that's going to be the cannon cr two or the nikon neff um cannons file format as a default is not compressed and so they're big files, so one benefit of converting to a d n g is your files going to be smaller than the original cannon file? The nikon neff file as a default is lost, leslie compressed just like tng, so a lot of nikon shooters don't convert to de angie because you're not going to pick up a benefit of file size. Now, with this quick low data, the only reason why you wouldn't convert to d n g is twofold, either one you don't have the time you know you're in a hurry um or two, you were going to use something like nikon zone capture in x software, because if you convert to adobe's format, you can't use nikon software. The benefit of using the software that comes with the manufacturer that made the raw file format is, as you've probably noticed when you work on a file that you shot on your nikon, especially nowadays, when you have hdr and my seventy one hundred has sketch filter and cute sea filter and, you know there's all these different filters if you shoot in the raw file format that is, that cute sea option of sketch or even something like night cons, um, little kind of dynamic range active delighting is what it's called if you shoot a raw file with active delighting. In the night con you bring it over in a light room it says I cannot I don't speak active delighting so you're going to have to recreate what you saw on the back of the camera. What you saw on the back of the camera is as if you shot j peg and the fact that you have active delighting turned on its showing you what you've got, you've probably done that we have opened up a file in light room and you've compared it to the back of your camera you're going what happened? You know it's rich it's saturated you may have turned on vibrance inside the camera you may have done some sharpening you may be using s rgb color space which is rich and saturated you come into light room and some of those things like room doesn't speak active delighting okay as an example. So if you were to convert from nikon into does own file format, the only way you're going to see exactly what you saw in the back of the camera when you open it up is to use the software manufacturer from the camera manufacturer. In other words, night cons capture in next speaks active, delighting it was made by the same company, so the only way to see exactly what you saw in the back of your camera is to use the software that came with it to use capture an x in your workflow versus light room, I can get back virtually, you know, to what I'm doing, I'm seeing the back of my camera very quickly in like so for me, I no longer use our need access to nikon zone software, even though nick made that software and it's an excellent piece of software it it's not necessary for me so there's really for me there's no benefit to keep it in the native file format. I'll make the time to convert to the n g also nowadays, not only is it a lost leslie compressed format tng, but it has this quick low data which is excellent. So really from now on, I would say there's really no benefit to not I'm converting to dmg if you have the time, the only reason why you wouldn't is because you don't have the time or you really love something like capture an ex very, very good question that conversion me down on import and the conversion to the energy has done on import it's part of the import dialog box, and at that same time you can say use lost lossy compression if you were really needed to dhobi now has got you can choose a lossy one, which is going to save a lot of files space. Usually people only do that for archiving if you've done a job and you're you're done with it and what some people will do is they'll go ahead and they will say they lost the version of their filed to back up onto a dvd as a safety net it's going to have virtually everything that you had in the file but it's not exactly what you shot it's a lossy compression it's not the same as j peg but it is lossy so some people if you have us you're backing it up to something like a dual layer blue ray dvd which is what I do for back up you've got twenty five gigs on a single disk if a project will fit on there without compression great if you needed to put the smith wedding because you never want to see mrs smith ever again you back it up go ahead and use that lossy compression on adobes file formats and you'll fit you know an amazing amount on that dvd you'll have that they're for printing or doing whatever you need it's still is technically a raw file but that's where I would use ah lossy setting on it tonight and uh it's it's on import is that that quick easy d angie conversion is unimportant one of the easiest things how do you convert to dmg if you've already imported the files can you do that if you want to convert tng you can't you can't take your original. If it's a net file right now, you can't say, make that a d n g, you're going to have to make a duplicate of that so you can go back into those files, and this would be an export. Then, basically, you're going to export it. I typically wouldn't say, go back and do that for old stuff, because now you're going to take your entire one hundred thousand images and export it all and exported and make the ngos. So if you're already said what I would do is, start as you're going and start doing that d n g, because you'll get the speed increase, you get some file storage base, increase, stuff like that, but it's it's, part of the export, you can save it as a d n g.
Class Description
Adobe Lightroom 5. Master the tools needed to enhance, refine and even retouch your images using quick and easy non-destructive image adjustments! From glamour skin softening, to eye and teeth enhancing, to skin color unifying and special effects like luscious high key black & whites, selective hand tinting, cross-processing and even changing depth of field, there are incredibly powerful features in Lightroom that allow a huge amount of the polishing of your photographs to be done right there, without ever having to go into Adobe Photoshop!
Learn how to create magic presets and perform syncing tricks to quickly apply these optimizations and enhancements to multiple images (and now video!) all at once to dramatically increase your productivity. You'll leave this course knowing how to cut your processing time in half and craft even more stunning, creative, and profitable images at the same time.
Software Used: Adobe Lightroom 5

Reviews
Fantastic course, you will know Lightroom 5 inside out and upside down by the time you're done, and you will have fun learning all the features, a great workflow, and how to use it with both video slide shows and with Photoshop. Jack is a natural teacher, keeping the class flowing along. I've been using Lightroom for many years, and this course opened my eyes to features I didn't know were in there, taught me about the new features in version 5, and got me using Lightroom in a new and more powerful way. Thanks so much.
I've gotten to see about 2/3 's of the course so bought it. I just purchased Lightroom 5 so hopefully this course will help me really learn to use it effectively. I have been using Aperture and wanted to switch. My only big disappointment in the course is that his examples are almost exclusively portraits and I am a landscape photographer. Also, I don't plan to purchase Photoshop. I owned CS3 on a pc and never learned it. It frustrated me terribly and I just gave up.. I switched to Mac 3 yrs. ago and LOVE my Mac. Aperture has been okay but I want Lightroom (had it years ago) and hopefully can use Lightroom for my processing. I LOVE Jack's clear, calm teaching style. Thanks, Jack