Simple PR for Creatives
Develop Your Media List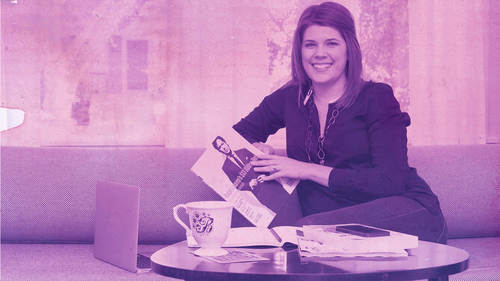 Simple PR for Creatives
Develop Your Media List
Lesson Info
Develop Your Media List
00:00:02.03 --> 00:00:04. Develop your media lists were going to take what you 00:00:04.5 --> 00:00:06. just did and lesson three we're going to take those 00:00:06.91 --> 00:00:09. ideas of what you want to be known for and use them 00:00:09.68 --> 00:00:13. to guide our research and of figuring out which media 00:00:13.13 --> 00:00:16. specific so we looked at media types in and lesson 00:00:16.53 --> 00:00:18. to write we looked at you want to do blog's gonna 00:00:18.63 --> 00:00:22. do websites you want to do local media and this is 00:00:22.01 --> 00:00:24. going to get more specific about what are the actual 00:00:24.43 --> 00:00:26. media outlets then that are going to make the most 00:00:26.7 --> 00:00:30. sense for you and you know working with the media 00:00:30.37 --> 00:00:32. what's really important to know is that your objective 00:00:32.9 --> 00:00:36. is always to be working with the media that air facilitating 00:00:36.1 --> 00:00:38. the conversations you want to be ...
part of so now we 00:00:38.77 --> 00:00:42. know generally speaking what kinds of conversations 00:00:42.06 --> 00:00:44. you want to be having what kind of conversations you 00:00:44.23 --> 00:00:46. want to be part of what you want to be saying and 00:00:46.41 --> 00:00:49. so what we want to do is leverage that information 00:00:49.31 --> 00:00:51. and use it to guide a search where we can find the 00:00:51.68 --> 00:00:55. media outlets that are already having those conversations 00:00:55.57 --> 00:00:57. so one thing that people can sometimes do when they 00:00:57.84 --> 00:01:01. start doing their pr program is they'll want to start 00:01:01.01 --> 00:01:03. their media outreach with the outlets that they really 00:01:03.8 --> 00:01:07. like right? You want to start with your favorite magazine 00:01:07.38 --> 00:01:09. um or you want to start with your favorite blogger 00:01:09.81 --> 00:01:12. your favorite website and this doesn't always make 00:01:12.46 --> 00:01:14. the most sense because they might not be having the 00:01:14.52 --> 00:01:18. conversations you want to be having um sometimes those 00:01:18.01 --> 00:01:20. conversations that they're facilitating for instance, 00:01:20.1 --> 00:01:22. our talking to your peers in your industry they're 00:01:22.69 --> 00:01:24. talking to other artists they're talking to other 00:01:24.85 --> 00:01:27. makers there talking to other coaches or designers 00:01:27.7 --> 00:01:30. when you want to be talking to customers and you want 00:01:30.01 --> 00:01:32. to be having the kinds of conversations that are really 00:01:32.43 --> 00:01:34. lighting up your customers and bringing them to you 00:01:35.27 --> 00:01:38. so it's important to broaden our search outside of 00:01:38.18 --> 00:01:40. what we would normally be looking at if we're going 00:01:40.74 --> 00:01:42. to have those kinds of results that we really want 00:01:42.91 --> 00:01:45. to drive our business so what I'll share with you 00:01:45.69 --> 00:01:47. our three techniques and then I'm actually going to 00:01:47.85 --> 00:01:51. demo one of these live for you three techniques that 00:01:51.23 --> 00:01:53. I use when we're building a media list for our clients 00:01:53.97 --> 00:01:56. and they're actually this like fun to me this is the 00:01:56.81 --> 00:01:59. fun stuff right? Because the first one what I'm going 00:01:59.9 --> 00:02:03. to recommend to you to dio is you take a half day pick a day this week or next week when you could take a half day and go to a bookstore it could be an independent bookstore it can be a barnes and noble you know, whatever it is, but if you could go to something that is a brick and mortar bookstore that has a magazine stacks and you could just browse them and when you're browsing ma'am think about from the perspective again the conversations you want to be having in what would catch your customers I you're not looking for the magazines that you want to bring home and read right you wanna bring the magazines that you think your customers want to bring home and read what kinds of headlines air catching their eye what kind of topics are they going to be drawn teo so what could be helpful here is actually bringing to mind a visual ization of who one of your favorite customers this and if you don't meet your customers wanna want that's okay I mean you can think about you know maybe there's somebody corresponded with on social media somebody who's emailed you and just make some assumptions and knowing what you know about them you know use that data that you have and just think about what is it that might catch their eye and make a note of those the other one is internet sleuthing so that's what I'm going to be demonstrating so we'll just get that one for now but thie internet research is really powerful and can get you started and then the last technique is scoping out your competitors so this is my favorite sneaky trick for building up your media list because there are other people we've talked about that you know there are other people already having these kinds of conversations maybe they're seeing something similar to what you are maybe they're saying those things that you really want to go out there and say that's that's leading all straight that's okay too but what we know is that if somebody is covering your competitors and talking about those topics then they're also looking for a new fresh voice is to come in so they're going to be looking for your voice and they're going to be really interested in hearing from you don't make the mistake of saying they've already covered that they've already covered that so there's no place for me because when they've 00:04:00.905 --> 00:04:03. already covered that what they're telling you oh is 00:04:03.13 --> 00:04:05. that that's within their coverage area that's in within 00:04:05.88 --> 00:04:08. the sphere that they're looking for and so we're going 00:04:08.72 --> 00:04:10. to be looking at something techniques of how to make 00:04:10.43 --> 00:04:14. yours a little fresh so if it's a good angle but once 00:04:14.14 --> 00:04:16. you see that is actually a very good sign for you 00:04:16.43 --> 00:04:17. and very positive 00:04:18.31 --> 00:04:20. when you're looking at media outlets some things to 00:04:20.39 --> 00:04:23. look for our that could've been me when you read it 00:04:23.13 --> 00:04:25. when you see a headline or when you see an article 00:04:25.08 --> 00:04:26. and you're like hang on 00:04:28.01 --> 00:04:30. tang like I missed my chance this is the perfect article 00:04:30.75 --> 00:04:33. for me nope you have a miss your chance put that puppy 00:04:33.44 --> 00:04:36. under media list you also like we said wantto look 00:04:36.55 --> 00:04:39. at headlines that grab your customers attention so 00:04:39.04 --> 00:04:41. that's the most important were going to say that again 00:04:41.07 --> 00:04:43. again keep your customer ahead of you you know that's 00:04:43.48 --> 00:04:46. why we're doing this actually write to reach more 00:04:46.27 --> 00:04:48. people to sell more product to sell more services 00:04:49.25 --> 00:04:51. on dh then you also want to have that feeling that 00:04:51.56 --> 00:04:53. you found a really good for it so some of this is 00:04:53.83 --> 00:04:56. just kind of intuitive doesn't feel right you know 00:04:56.61 --> 00:05:00. it's it's not a science it's really an art and so 00:05:00.22 --> 00:05:03. like any art there's just that little bit of ability 00:05:03.64 --> 00:05:06. teo be intuitive about and say I think this might 00:05:06.4 --> 00:05:08. work for me let's try it out and not feel like you 00:05:08.86 --> 00:05:10. have to be super richard about it 00:05:11.45 --> 00:05:13. so what I'd like to do actually is pull up the web 00:05:13.65 --> 00:05:16. now and maybe we have time for two of these where 00:05:16.89 --> 00:05:19. we can do some media research and find some outlets 00:05:19.26 --> 00:05:21. because I think it would be fun to start with you 00:05:21.57 --> 00:05:24. and actually in the last lesson we were looking at 00:05:24.42 --> 00:05:27. what your messages are and so to bring you up and 00:05:27.95 --> 00:05:29. look at some of those terms and see what might make 00:05:29.83 --> 00:05:31. sense for us if you want to sit on this stool here 00:05:32.75 --> 00:05:35. fist are over here that's right? Yeah 00:05:36.93 --> 00:05:37. okay 00:05:39.39 --> 00:05:42. and we're just going to do a little bit of sleuthing 00:05:42.41 --> 00:05:44. and what we're going to do is think about so if if 00:05:45.0 --> 00:05:47. I am somebody who wants to train to become a chef, 00:05:47.76 --> 00:05:51. what kind of information am I coming across what am 00:05:51.04 --> 00:05:53. I finding because those are the kinds of places that 00:05:53.34 --> 00:05:56. you probably want to break into. So can you just remind 00:05:56.09 --> 00:05:57. us, what were some of those questions that people 00:05:57.96 --> 00:06:03. come to you for from lesson three? So, uh, male planning 00:06:03.12 --> 00:06:06. for personal chefs or pricing howto price your services 00:06:06.94 --> 00:06:10. as a personal chef. Okay, let's, try that one. So 00:06:10.5 --> 00:06:12. I'm just searching. Howto price 00:06:13.32 --> 00:06:13. started 00:06:15.12 --> 00:06:15. it's. 00:06:17.72 --> 00:06:18. Oops! 00:06:20.46 --> 00:06:22. And we're going to see what comes up here. So you 00:06:22.95 --> 00:06:25. can see that there's. Some people that actually have 00:06:25.6 --> 00:06:29. their pricing right away. So that's a little bit trickier. 00:06:29.78 --> 00:06:34. Um, what about just something so simple as how to 00:06:34.47 --> 00:06:37. get started as a personal chef or how to become a 00:06:37.16 --> 00:06:39. person? So sometimes you have to. If you have something 00:06:39.69 --> 00:06:42. that's really specific, get back it off a little bit. 00:06:48.72 --> 00:06:53. Okay so then here you see a new association chefs 00:06:53.45 --> 00:06:56. played dot monster so it's actually a job listing 00:06:56.85 --> 00:07:00. this looks like it does training you know sometimes 00:07:00.18 --> 00:07:02. you have to do a little bit of ah ah a little bit 00:07:02.71 --> 00:07:05. of searching which is normal okay but here wow. Usa 00:07:05.9 --> 00:07:09. today personal chefs fill a growing need so this is 00:07:09.85 --> 00:07:12. like a pretty big deal here that we have similar lebron 00:07:12.43 --> 00:07:15. I like it so what I would do next is if I were building 00:07:15.78 --> 00:07:17. your own media list I would just click on this and 00:07:17.75 --> 00:07:20. take a look at it what you can see here is usa today 00:07:20.22 --> 00:07:24. how this article in april twenty fourteen and it actually 00:07:24.57 --> 00:07:27. talks about you know specifically becoming a personal 00:07:27.82 --> 00:07:30. chef and why people are doing it and how they're attainable 00:07:30.9 --> 00:07:34. services so I feel like if I were you I would definitely 00:07:34.56 --> 00:07:37. what I would do next is I would put this down I would 00:07:37.23 --> 00:07:42. market town um you know right out what you say today 00:07:42.06 --> 00:07:44. you know their names put this nina rizzo's name and 00:07:44.97 --> 00:07:46. your media list and put the name of the headline on 00:07:46.96 --> 00:07:49. the link if you can into a spreadsheet and then you 00:07:49.89 --> 00:07:53. can go back to it later after we've looked at the 00:07:53.19 --> 00:07:55. third segment and make sure it's a good fit for you 00:07:55.66 --> 00:07:58. so that's where I would start um and then I would 00:07:58.63 --> 00:08:01. just kind of keep to a mess so some of the other things 00:08:01.31 --> 00:08:04. you were talking about is like how to x extend or what prat what foods last the longest rights right so how people ask that question words they used play ludes last in fridge yeah without well meals or what meals so their storage times still tasty there is the kitchen so um here guided refrigerator safety so we're thinking with that is you know something like this we have the kitchen or here's how long your food will stay safe in the fridge of the huffington post the's might also be talking to people who are looking for personal cooking information so might not be targeted but I think that if I were a personal chef and I was searching these things I would also read these articles so you know sometimes there's a bit of a balance in doing your media outreach is how wide of the net are you gonna be casting right and if you feel like you know the kitchen is a great fit because they talk about a lot of food issues then it could be ok to cast a little bit of a wider net sure same thing was something like the huffington post you know what I would do is I would go to their website and see like we just did before you know who is writing the article and then I click around and see this person like what other kind of articles are they writing? A lot of food articles and see if they make sense for you. So the food editor so really, really great contact for you. I'm gonna you follow around sooner and connect with her so literally. That is how it's, that simple of just taking those things that your customers are asking you and then typing them and doing some searches and thinking about from their perspective, when I click on this, when I open it, and if so, that's probably the kind of media outlet you want to be running out. Okay, thank you so much, him, that we would do another one. And, um, I can't for you to do with your mind. 00:10:02.552 --> 00:10:07. Come on up, come on up here, okay, okay, now we know 00:10:07.01 --> 00:10:09. we have some new people maybe turning for this segment. 00:10:09.56 --> 00:10:12. So your name's tash and you have coaster matt and 00:10:12.15 --> 00:10:15. have coast dramatic and coast dramatic is a instagram 00:10:15.0 --> 00:10:17. to coaster service. And so you go to costa mac dot 00:10:17.4 --> 00:10:19. com, and you can log in with your instagram user name 00:10:19.87 --> 00:10:22. and password and pick up to four different images. 00:10:22.76 --> 00:10:25. And then we print those on a really high quality coaster 00:10:25.99 --> 00:10:28. that super absorbent and doesn't like. Stick to your 00:10:28.08 --> 00:10:32. glass when you pick it up. Um, yeah, okay, awesome. 00:10:32.32 --> 00:10:34. So what air? What were some of those things that you 00:10:34.22 --> 00:10:36. did in less than three? What were some of those things 00:10:36.0 --> 00:10:38. that people are asking are looking for when they're 00:10:38.99 --> 00:10:41. coming across your product. I think lots of people 00:10:41.0 --> 00:10:42. are looking for, like a personalized gifts, something 00:10:42.95 --> 00:10:45. that's really special. Okay, so let's, start there. 00:10:46.56 --> 00:10:47. Personalized gift. 00:10:50.96 --> 00:10:53. Okay so here again you have one of those issues where 00:10:53.85 --> 00:10:56. thes air a lot of competitive websites selling their 00:10:56.81 --> 00:10:59. own products and and this is something that's home 00:10:59.19 --> 00:11:01. une makers come up against it's a problem that people 00:11:01.53 --> 00:11:03. have a lot and I think a lot of people start googling 00:11:03.82 --> 00:11:07. this and get really frustrated and stuck right one 00:11:07.29 --> 00:11:11. thing we might do is think about who is the gift for 00:11:11.36 --> 00:11:13. because when you think about gift guides and you'll 00:11:13.72 --> 00:11:15. start to notice these things from memory said like 00:11:15.58 --> 00:11:18. check out the magazines at bookstores and and check 00:11:18.4 --> 00:11:20. out websites and see what you notice you start picking 00:11:20.83 --> 00:11:23. this up so they usually have like a personal angus 00:11:23.12 --> 00:11:26. for thereby recipient or personal gifts under there 00:11:26.66 --> 00:11:30. by price so let's be a little more specific okay who 00:11:30.56 --> 00:11:32. are they looking for what kind of price range might 00:11:32.55 --> 00:11:35. you work under um so maybe like a gift under fifty 00:11:35.35 --> 00:11:39. dollars or for mother's day oh I love that so let's 00:11:39.12 --> 00:11:41. go to um gifts 00:11:42.66 --> 00:11:43. for mom 00:11:45.46 --> 00:11:46. start there 00:11:48.77 --> 00:11:52. okay so here you have gifts her mom gives dot com 00:11:52.35 --> 00:11:55. of course is a vendor but then you have uncommon goods 00:11:55.49 --> 00:11:57. okay which is another vendor and the new of seventeen 00:11:57.92 --> 00:12:01. perfect sixteen best holiday gifts for mom so it depends 00:12:01.95 --> 00:12:03. I mean it's seventeen is that going to be a buyer 00:12:03.98 --> 00:12:08. for you like a teenager could be would be but maybe so you know you want to think about something like that and say, like it's, not really my ideal customer there, maybe not. I mean, maybe so right, maybe not, but you keep looking there and you see good housekeeping. That would be a good a good place, but it will be a great place to be looking. So country living, right, there's, another one. And then I think gen had that idea of photo gifts, so let's, see what that does. And it doesn't have to be for mom but see see here again you're having that little issue where you're having competitors coming up although if you keep scrolling you do see better homes and gardens and mother's day gifts mothers say photo gets regular pardons so then this sounds totally perfect really perfect so you know, the next thing you do is of course you want to click on that media and see you know what are the kind of coverage that they have here so you see mother's day photo gifts celebrate your mom by turning loving memories and heartfelt mother's day gifts jen this is a great one for you too is this perfect? So now you any any photographer anyone with customized gifts might be able to work with this on and don't worry that other people really pitching it tio s so what I would do is actually, you know, take down better homes and gardens take down the actual name of article that's going to help you later, okay as we're looking at your story ideas and you can kind of click around and look at it here there isn't a name of somebody right? We're going to come back later and figure out who the name of the people are that we're gonna be reaching out to so I don't want to worry too much about that right now. It just gets information down there and actually I don't even think that jake hey or anyone here knows about this because I have a special surprise in here where there's a link tio media list template there's a spreadsheet length so it's in a shared google drive folder that you can just open up and if you have the workbook and you download it you can click on this link and there's a temple it media list spreadsheet you can download or copy and insert your insert this information into there too so don't be so helpful yeah I just said what else reading the workbook together I thought you know people could really use a spreadsheet definitely definitely templates always hope yeah so you can write it down in a notebook but I think it's easier as you're going to track it in a spreadsheet okay great okay awesome thank you very much you're welcome we've got a good start you've got a good start just what I wanted to call you up too and do one do a quick search for you we were talking a little bit before the show when you were saying you weren't quite sure what media outlets to go teo so and we have enough time to do one more okay so tell me a little bit about what your customers were saying they're looking for um you know, they come to me because they want to remodel their home, but they're really confused about the process and they're hoping that I could just sort of helped him with everything because it seems very overwhelming okay so when they're starting the process they're thinking of like something like starting a home remodel right? We want to be really basic like people put things like really think about like what are the kinds of things that people who would usually search here and started kind of basic places oh it should be getting your homework model to a good start fres fresh home missing in h ten things not to do on remodeling your home home guys that sf gate what you should do when you start or what should you start first when renovating a house so your local so this is like so awesome so that's exactly what I do is you know I would have clicked on all of those s o when you're back home you know definitely you can click on all of those and folks at home right now you know you can start doing this search and just do some really simple looking to see if you're finding anything with those terms is we're showing this because it's it's just this amazing opportunity so here you can see that they're running different home gate home guys indifferent content here and so this would be something that I would absolutely be putting on your media list too does that feel like helpful way to get started yeah it does I can't believe it seems so easy yeah thea for great is I merge it definitely giving you the simplest tips to do this but honestly when we're working of clients we can pull it back up this lights I think we're good with the demos thank you so much for joining us up here you know when you're when you're pulling together your media list it really is that simple this is how we start the research when we work with clients when clans have with me on a retainer this is the one of the first things that I do for them you know I spend that time playing those things together so it's a great technique that you can use yet jenny in question would you say that it would be helpful I have a client who's also a friend of mine and sort of instead of assuming what my client reads or once or is interested about asking them maybe what they read what they know those kinds of things would you yeah so what I would do is actually go back and ask some of those questions that we did in less than three like what were you looking for? What attracted you to me because sometimes your clients don't always give us the best information um it's really hard to extrapolate like a big picture off of anecdotal right of the case study of one um the other thing is like one person you know, their habits might not extrapolated everyone's so you can ask that sort of thing but and they tend to say like all I do really reach her there from a lot of people I don't really read I have friends I don't read any blocks you don't read the huffington post are you serious on dh I know that you read what's that guy who makes all the nasty pictures on celebrities whatever that website is prez health I know yuri press hilton because you sent me links all the time you read blog's you just don't know that they're walks so it's sometimes you're not gonna get the best answers from people because they're not thinking about it in the same way that you are but it doesn't hurt those questions you have in the third lesson will be more helpful there so your action now is to uh research and find three to five media outlets you could go up to ten if you want but three to five media outlets that you'd like to pitch who were the people you'd like to get started with try out these research techniques you know go to the bookstore, do some internet sleuthing, check out your competitors and just shot down the people that you think you want to get started with if you put him into a template that's great and put some sample articles because you'll be coming back to that later as we go and this will give you a great head start as your brainstorming exactly what your specific angles are so that's really a rapper for segment we have your ninety minute pr plan we did it we put it together you know what your goals are you have your messages you know what kind of media you want to reach out tio and you have all the tools you need build a really top notch media list so I think we're ready to wrap and go on I'd love to know is there a media outlet that you know right now that you want to put on that list parent magazine parenting magazine working mom both magazines and online especially if they have the local ones as well absolutely absolutely perfect melissa there's there's a as my creativity with my creativity instigator cap on mind body green and with my artist cap on somerset studio magazine create one great one I know that's something that a lot of people are probably interested in tash you had your hand up to a real simple magazine ok fabulous one of my favorites favorites now donna berland has been following along and following your your tip here bridget and she says since she designed and make clothes for women who travel for business she simply googled women traveling for business and she's already got some of the answers I mean simple is that it really is people I share this tip with people who do from my other programs and they come back and say I don't know what to put in there I'm like did you try this did you actually try the goodwill technique because it really does work and it is such a powerful way to get started and when when you start your media outreach you know it just takes that one great so all it takes is finding one really good fit to create that amazing momentum in your business that was worth the cost of this class for sure I mean seriously and it's just in the first ninety minutes so not not bad has some I hope I give you somewhere that everything I'm interested because neha gandhi's joining is the chairman and they're saying they're three they need to contact yusa today the record on the new york times magazine now when I read those names there's a very high profile publications and I really admire that she's got that goal do you feel people are often intimidated by reaching out you know they'd like to start local or something smaller or should people just go for it say I want to be in usa today so I'm going to go and go for usa today yeah there is no I mean there is no harm and going for it and actually I know a lot of people that have had breakout success with big media like that so there's something about the media that sometimes they really like to discover people like that's kind of their business, they like to tell good stories. They like to break something new. And as we go on and we talk about what the pitch ingalls are in the pitch, templates are you are going to be and such a better position than ninety percent of the people sending pitches to those outlets that are just sending things that aren't customized, that are really general and vague. You're going to know exactly how to fill what those kind of outlets are looking for that that's great were also in the next segment, though, going to be looking at specifically how you qualify, that you're a good fit for them. So there is a little bit more work to do of digging on. Is that exactly the right match for you? And I'm gonna show you exactly how to get under the skin under the hood of the media to make sure those of the right outlets.
Class Description
When it comes to your business, pretty much all press is good press. Mentions of you and your work in blogs, podcasts, magazines, on TV, and elsewhere raise your profile and puts your business in front of a whole new audience – for free. But hiring a public relations agency can break the bank, especially for creative freelancers and entrepreneurs just starting out. In Simple PR for Creatives, Brigitte Lyons will show you how to harness this powerful tool yourself.
Brigitte has lived and breathed PR for more than a decade, and she specializes in working with creative professionals. In Simple PR for Creatives she'll teach you the PR basics and offer a step-by-step approach to generating buzz on a budget. You'll learn how to get real press attention using tools tailored to the needs of freelancers and small business owners. Brigitte will show you how to:
Put together a media contact list
Get journalists to write about your business
Earn important endorsements
Create an effective editorial calendar
You'll learn insider tricks for fitting your product or service into the editorial mission of your target publications and increase the likelihood of your pitch getting picked up. You'll also learn the most effective ways to pitch and the perfect times to do it.
PR isn't reserved for other, more successful people. It's a great option for enterprises of all stripes and sizes, and it's easier than you think – learn the ropes in Simple PR for Creatives with Brigitte Lyons.
Reviews
This is one of the best CreativeLive classes I've taken. I knew nothing about PR before this class and after taking it I was able to send my first pitch within a week. If you follow along with the workbook provided you really can come up with a pitch template that can can be tweaked to work for just about anything. I really appreciate how simple and enjoyable Brigitte made this class. No fluff, just great straight-to-the point actionable information. It's obvious she cares very much about helping creative people use PR to grow their business. Thanks Brigitte!
I honestly started watching this class thinking that I didn't need PR for my business. I know Brigitte is super smart, and I wanted to check out the live stream to see if I could pick up any tips for my own clients. I was so wrong! I loved this! Within the first 30 minutes I had taken so many notes and gotten so excited about the possibilities- that not only seemed helpful, but relatively easy and FUN- for my business. I ended up purchasing right away and I know I'll be referring back again and again. Thanks for the great class!
What a terrific, informational and inspiring course! We now have a solid plan to move forward with our PR, and the know-how to accomplish our goals, only 8 hours after logging in to CreativeLive! Thanks in advance to Brigitte for making the murky world of PR crystal-clear and accessible. Best wishes, Lori Covington, Writer, Jeanette Walker Jewellery, Prince Edward Island, Canada