Pitch Ettiquette
Brigitte Lyons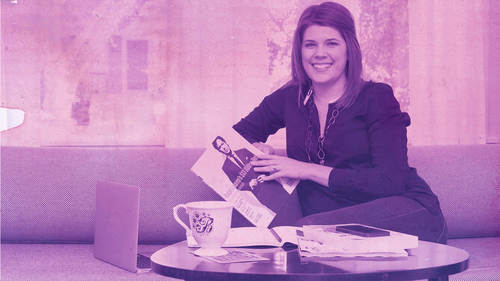 Pitch Ettiquette
Brigitte Lyons
Lesson Info
17. Pitch Ettiquette
Lesson Info
Pitch Ettiquette
So let's move on out to a little bit of discussion about pitch etiquette so we're ready to send out our pitch and there's just some do's and don'ts of working with the media that we should be talking about so remembering back to this day in the life of the journalists they're very busy but they always want to hear from you so just keeping this in mind can help make sure that you're not stepping on any toes that you're not getting in any you know annoying people which is not what you want to do but you're actually showing up in helping them so some of the common questions I get are you know when do you email your pitch so it's usually best to send during normal business hours although if you're if you're pitching somebody that you know you know if they have a morning show and it's at four in the morning five in the morning so you know engine e if you're pitching tv and you want to do a tv segment you won't want to look at one or the producer's going off air it's great to pitch them abou...
t thirty minutes afterwards so you don't have to get up at three in the morning and pitched them first they've got this show to dio but because by four o'clock in the afternoon there home by six o'clock they're pulling in bed because they're getting up to tigre their next show, so just looking at when they're working and working around their schedules so again if you're live programme fifteen minutes to an hour after they got the air is a great time to time your email and just think about your own preferences when do you like people to follow up with you don't see people emails about work on the weekend right like if you if you want to write on the weekend that's fine we're workaholics or maybe I'm just talking about myself uh but you know save it don't send it to them in the weekend think about are you interrupting their day or are you making it easier for them so well generally center pitches out to stays there fridays because you know monday's so just think about what do you like and that's a good rule of thumb following up is critical it is so important so sending out your pitch is not going to do it alone you almost always should at least send up one follow up email and so you want to follow up a week after you sent out your pitch this could be you know seven days ten and days and it could be a simple as replying to the initial email and saying like hey did you have a chance to look this over well do you think this will work for you it doesn't need to be complicated you can also send them you know I just read you did this other article and here's another idea for you or a new study came out here's here's some another tie in but you don't have to do that it is so important follow up though we almost never get our clients coverage without following up it's just very really happens so you want to make sure that you're not just sending these out and then moving on now if you feel look once and you don't hear back then you could move on so the rule of thumb is if you're if you're sending something that is exclusive you know if you're sending them an article if you're sending them kind of an expert idea like we just looked at with jessica then you you want to wait maybe ten days and then you can take that article to somebody else what you don't want to do is send one person on how to and send their competitor how too at the same time and have them run because then you're gonna get in trouble so you wanna make sure you're doing product it's a little bit different right? Because you know people are different people are covering the same product it's not usually is awful is when they're doing an advice piece or article piece some people will say like I don't want to see I don't want you to do that but everybody does it it's not that big of a deal now if you gotta know if a journalist comes back and says no, what you just know it's not personal it doesn't mean anything about the quality of your work it doesn't mean anything about the quality of your message your idea your product it doesn't say anything about you it's not personal, that person you're reaching out to has a job to do and you might just not fit with their covering right in that moment they might give you some feedback they might tell you why it's not a fit we actually have some people you know sent us backs and feedback of like I don't think this is fresh enough and it kind of stings but you're like, wow, they just gave me a gift they just told me I need to work a little harder the fact that they read it and took the time to respond tells me they're open to getting another pitch so unless they say, don't email me, I'm the wrong person don't read into tonight take any feedback that you happen to get as a gift when you get a yes it is so critically important that you actually deliver on the ideas that you've sent don't send in your pitch and disappear make sure that your reachable don't send a pitch out and then head off to europe you know don't go on vacation right after you send your pitches so plan your peer outreach in a way where you have time to finish that cycle of sending your pitch following up and then delivering as much as possible be friendly and helpful so when you get those kind of pieces of feedback or if somebody edits what you're doing or ask you to modify you know just say okay great you know I'm happy to help I'm happy to do that I'd be happy to change this piece for you and just be friendly and helpful in putting that content together that's going to build that relationship for you over time make sure you monitor for your own story you will not always here that your story's gonna get get run so you can either set up google alerts for the stories you can set up a spreadsheet that will help you remember to go back and look for your stories whatever is easiest for you wanted things sell sometimes do is all set something up if it's going to be an online piece I'll just subscribe to their feet so I can scan the headlines and see if if the story's ron so that could be an easy way if that works for you and then send a thank you note when your story does run this is such a great one you can send an email or you consent a hand written note if you want but when your story does run it's always really nice to senate thank you know we've actually gotten thank you notes from journalists who've gotten our thank you notes, they thanked us for the thank you. So that just goes such a long way you know tio building that relationship I do recommend you email or mail thank you know but you could also send a tweet right? You could tweet the story and say thank you so much for this and give them that public acknowledgment to that can be really sweet to do but that should be supplemental to your private no make sure though that you don't puts them in their idea on that note should be a pure thank you not a thank you plus but you know, speaking of pitching them on the other idea you can keep the relationship alive you could go back to that same contact with another idea so if you're pitching twice a year if that's your idea like I'm going to do to pr pushes a year or I'm going to do for pr pushes a year you know megan almond mentioned that she thinks it could be a good idea to two quarterly although really she does twice a year whatever works for you you can actually go back to the same people with more ideas now a lot of them will only run something from you a couple times a year depends on the meat outlet how much content there filling like if you look at a magazine twelve issues right, they're probably going to cover you once in a year. You look on something online and they're creating tonnes of daily content you could have opportunities every month so it depends on the frequency of which they're creating content and then journalists and bloggers they love it when you share their content in social media there's a lot of sights now that are actually converting over this structure where they're actually getting paid more depending on how many people click right that's kind of the gawker media model and it's it's really taking over a lot of different websites and so if you can share that content and have your audience clicking on it like that is such a huge way to thank you for giving them another thing if you think about why they do the work they have the pride of the work so even if they don't have an incentive they want their stories out there they're really proud of the work that they worked with you on and so it could just be really nice make sure that you're sharing it you know sharing their stories not just the ones you worked on together that's a way to keep it I've got ten when you let's say you you they used your article and put your name in there and six months later you go back with another pitch would it be okay to say you know we worked together six months ago and I'd really love to give you this idea you're the first person I'm sharing it with let me know if you're not interested. I I'm you know or however you want to or is that not okay yeah that's great actually that's something that we do a lot is we'll call it specifically that we're giving somebody exclusive so we'll say you know, we have this article for you it's an exclusive piece of content so we'll say that our client developed for you so you could say you know, I've been reading what you've been covering lately I you know, I've had this idea I think you'd love this exclusive article I think you love these exclusive tips okay? It could be great weight I'd love I'd love questions on this because I know that a lot of people have questions on the etiquette of how they should be reaching out to bloggers and how they can be building their relationships of the media. So any other questions we've got a little bit of time that we can we can take those jessica a little bit more information on following up. So would you just like reply to the email you sent to them and then just say hey following up here or yes, so it would definitely, you know have you had a chance to look at this? Is that something you think you can use that's a great line. This is something you think you can use. It would be a great one to you. I'm so worried about like, you know, stalking people on bothering them. Yeah that's why you know I think one follow up is usually pretty typical and you know we looked at some media outlets that have bigger staff and there were some questions before about can I reach out to more than one person at a time in a media outlet and catherine said sure it's actually something maggie who works with me and I kind of argue about because I've gotten in trouble I once called looks like the chicago tribune or the chicago sun times really early in my career I was working in an agency and you guys if you think that people at top npr agencies teach the people that they're pitching what I'm teaching you right now you are just kidding yourselves like I learned all of this on the job figuring it out myself nobody takes you that is a sinker cem industry when you when you start and you hire somebody for these tens of thousands of dollars ah lot of the people pitching your stories do not have any of this information I've just given to you I used to go into a booth you know close the door and make phone calls and I have a media list of a hundred people and I would just go down the list and oh my god oh my god so back to the story here there is this one experience that I had where I'm calling and it was chicago newspaper and I will never forget it. Camero does pitching but I'm in this stupid little booth like call it a phone booth on I'm making these calls and his pitches and I call this guy and he's like you know jim is sitting right next to me there in an open space they don't have offices he's like he's sitting right next to me I heard him say no to you and it was like oh my god s so you know, if you're emailing and not calling, you're not probably going to run into that but I'm a little gun shy about doing that so what I recommend is you do your follow up will this work for you if you don't hear from them and it's a media outlet you think is a really great pit really great fit for you then you can go ahead after that ten days and reach out to somebody else yeah now actually just touching on that actually roxana is asking no I'm sorry it's not roxanne I got that wrong dj arts apologize did you ask is saying so if you do can pitch to competing outlets but one of you gets back to you to do them sort of have to let the others know and then someone comes back a week later you have to say no I've already given it to somebody else is that really bad etiquette he's generally it shouldn't be in the position where you have to do that because you will burn that bridge with the other person so there's some things that need to be exclusive you know if you're sending over an article a lot of places will want an exclusive unless they do something that's called syndication in which case they're republishing things that you have and so that's a very specific term huffington post does that lifehacker does that you could tell right away on the sites because they'll tell you on their sites that they accept syndication and they do those articles so generally speaking though you don't want to be in that position where you have to pull one from another but you know what I wonder what kind of business it is and what's being police tell us that they called did yards but let let's find out let us know when they know we will follow up on that as well so roxana is asking what do you do have a lot of people voted on this what do you do if the writer gets details wrong is it appropriate to mention it to them especially for an online article yeah, absolutely online audiences and we've had to do this for our clients where they get the ural went wrong or if you're interviewed and they misquote too a little bit that's a little bit harder but if they get something wrong like your name your company named your product name you're you're well you can absolutely request a correction for that if they if they're quoting you in a way that you feel like it's out of context it's a little bit harder you know to go back and ask for something for and if you do that they might not work could you again so it's just there it's like how damaging is that how damaging is that? But if it's factual and they're citing you're on you should definitely request a correction and you would just email them and say hey like you know this link up here on the site is wrong can you change it for me and we've done that for clients before cantrow actually be very happy to change because they want the right information to be able to get to credibility to the article that they've published yes absolutely now one of you is asking about guests blooding block logging blogging do I have to have a post ready to run if I picture blogger yeah the rule of thumb that I always uses that you should be able to turn an article in one to two weeks so some logs will say on their contribution guidelines that they actually want you to include an article in the pitch that's pretty rare so is long as you feel like you can turn an article when they say yes I want to see it back to them one to two weeks the reason I don't always recommend writing the article up front is because they might come back to you and say, well, you know what? That doesn't work. But do you have any other ideas for me? And you can send them some of their ideas? Or if you're actually doing a blogger outreach, we looked at the template and how you can customize it. So I what I might do is give a headline and an intro and then give them three other headlines that they can choose from because they might not like your initial idea. But be interested in it and want to see what else you can offer them. Any other questions? Warriors before we move on. Good, good. So you're feeling pretty confident, like you're not going to step on any toes. So what I'd like you to do is just commit teo a step you can take right now to start relationship building. So you've got this amazing media list we've talked about using sites like ma crack dot com, where you can actually find people's twitter addresses. Maybe you want to re tweet an article like, what is one thing that you can do right now to start relationship building with the people you want to be reaching out to? So I want to hear a couple of commitments working on my twitter lists, wonderful creating those twitter lists of media and influencers that then you could be sharing their pieces. Let's get another one. I'm gonna be doing research on the parenting magazines and working mom that we looked at and getting a just a clear list of names and sections in their area that I can do work for absolutely fantastic! I already have a pitch. Thank you. Yes, you are ready, teo that's. Fantastic it's making these commitments he's really small steps you can do to start their relationship building now as you're putting your first pitch together.
Class Materials
Brigitte Lyons - Blogger Outreach Bootcamp.pdf
Brigitte Lyons - Pitches That Worked.pdf
Brigitte Lyons - Workbook - Simple PR for Creatives.pdf
Brigitte Lyons - Brigittes Fave Free Media Resources.pdf
Brigitte Lyons - Magazine Contact Cheat Sheet.pdf
Brigitte Lyons - Simple PR Course Syllabus.pdf
Ratings and Reviews
This is one of the best CreativeLive classes I've taken. I knew nothing about PR before this class and after taking it I was able to send my first pitch within a week. If you follow along with the workbook provided you really can come up with a pitch template that can can be tweaked to work for just about anything. I really appreciate how simple and enjoyable Brigitte made this class. No fluff, just great straight-to-the point actionable information. It's obvious she cares very much about helping creative people use PR to grow their business. Thanks Brigitte!
I honestly started watching this class thinking that I didn't need PR for my business. I know Brigitte is super smart, and I wanted to check out the live stream to see if I could pick up any tips for my own clients. I was so wrong! I loved this! Within the first 30 minutes I had taken so many notes and gotten so excited about the possibilities- that not only seemed helpful, but relatively easy and FUN- for my business. I ended up purchasing right away and I know I'll be referring back again and again. Thanks for the great class!
What a terrific, informational and inspiring course! We now have a solid plan to move forward with our PR, and the know-how to accomplish our goals, only 8 hours after logging in to CreativeLive! Thanks in advance to Brigitte for making the murky world of PR crystal-clear and accessible. Best wishes, Lori Covington, Writer, Jeanette Walker Jewellery, Prince Edward Island, Canada
Student Work