Simplified Studio Lighting
Blair Phillips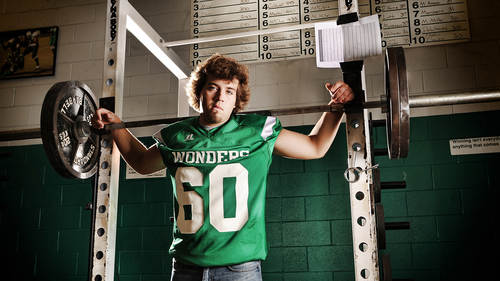 Simplified Studio Lighting
Blair Phillips
Lesson Info
8. Simplified Studio Lighting
Lesson Info
Simplified Studio Lighting
simplified studio lighting. We're gonna make it simple. I'm gonna show you just how easy it can be. And again, I think a lot of times our fears keep us from getting to our successful moments that we could have in life because we're too scared of what we're gonna have to go through to get to that level. That was this back. So I'm gonna show you how easy this could be. I'm gonna break it down into layman's terms. And even if you are a seasoned photographer, I'm going to share with you some of these things that to make sure that you're not losing sight off, I'm gonna talk through some ratios how to create ratios in a way that anyone can understand it. You don't have to be a mathematician or Einstein, because trust me if I can figure this stuff out, you guys are way ahead of me. So you're gonna be in great shape. So let's talk about seeing double. This is something that I had to learn early on. And when I first started, I made enough money to buy a light stand, and then I made enough money...
to buy a light and that would work for a few more weeks. And I made enough money to buy a soft box. And then I made enough money to buy a transmitter. So when I started my business, I wanted to be virtually debt free. I didn't want to go out and take these huge loans out and bet the farm is. They would say in the South that this thing was gonna take off. I didn't want to bet the farm if it didn't work. I wanted to have something to fall back on. So I didn't put all my money in one thing. So I would work, work, work by equipment, work, work, work, work, work by equipment. And one thing I learned early on. Waas seeing double you really need to have two of everything. And that may seem kind of foreign to a lot of us, but it's really true, because imagine going to shoot your descent. Awesome session on the location that you had set up and you get there and you pull out your light and it's broken. You broke the flash tube on the way there. Oh, my goodness. The whole day is ruined. Everything is completely gone, right? We'll know if you would have saved a little bit of your money along the way. Stashed. I don't care if it's even $10. Stash $10 aside each week. Buy you a backup, have two of everything. Even when I'm photographing in the studio, I normally sometimes I'll have have aggravations with transmitters and I'll have to transmitters only delight in case one starts to fail. And it's just not picking up the r F signal. I just go over to turn the other one on, plug it in and I'm done. It takes the aggravation that takes the fear away. Wedding shooters. Could you imagine going to a wedding and not having an extra camera? What? Your camera malfunctions. What you gonna do? You just say I'm sorry. No, you can't make excuses. So get you an extra one. I'm going to share with you guys. The equipment that I use a lot of people are a lot of the tech gather. They really want to know what type of equipment you're using. So I'm gonna try and answer a lot of these questions. But if I don't cover something or you need more specifics. Obviously feel free to throw it out there in the chat room, and we'll see if we can get to it in the studio. I use photogenic 12 50 d ours. That's what I started with. So I've already got the equipment. I'm not going to invest in something else just because I want to change just just for the fun of it. So 12 50 d ours, That's what that's what I like. And the reason that shows those I listen to my peers. When I first started, I reached out to an older gentleman and he said, Look, this is what I've been using for years. I've had these lights for years. I've never done anything to him and we're good to go. So I went invested the money that it took to get those, and now that's what I'm using it. Even to this day, I've never really had much of an issue out of one of them. One of them fell over and broke, but it was because of my own, you know, stupidity. But I had a back up. There was no big deal. Life kept rolling, so the 12 50 d ours are awesome. Recently I started working with some of the Westcott products that I'll share with you in a little while. So in the studio I have Franjieh, Knicks as well as the Westcott products. I use a lot of continuous lighting law of the TD. Six is those are daylight, fluorescent balanced bulbs and love, love, love those things. They recently came out with a product that to me, I think, is even far superior to that. And it's the sky looks like from Westcott, and I'll show you a little bit of that hearing a little low on how just how universal it can be and how multi purposed it is. And for May, I learned early on, obviously the larger light source softer like it sounds really crazy. Like I don't get that seemed like would be a lot Salter's. It was much smaller. Well, that's not necessarily the case in the studio. When I first started, I bought Larson soft boxes for by six. That's generally my main is a four foot by six foot soft box. It's a little big, but the closer I can get it in, the better my subject looks, and I love, love, love, good soft lighting and for strip lights. I use a lot of strip lights that I'll show you here in just a few minutes, and I use the 14 by 48 Larson shirt boxes as well as the Westcott Strip boxes. The West cots are 12 of those 12 inches by 50 inches, and I really, really, really, really like using the grids, and I'll share with you in just a little while. Why that is so important. And another piece of equipment that definitely could never live without is planning simply, just a good old reflector, super silver reflector got toe. Have a reflector that's a must have situation for me. Even it forces me to turn off the lights sometimes and really crank the eso up a good bit and use something that use a piece of equipment in a way that I normally wouldn't would never use. You know, pretend that my light and fallen and broken and my backup is gone. I forced myself to find light somewhere and use a Plano reflector, so I'm forcing myself to use different things throughout a session and not just sticking with that one particular thing. One thing I want to talk about this vital to me. This is basically my assistant right here. This is my assistant, and it is simply just an illuminator arm from Westcott. And what it allows me to do is it allows me to position my reflector in a way exactly like I need it and then lock it into place, and then I can let go of it. And it stays right there without having to pay for an assistant. Because obviously an assistant cost us money. And I'm trying to make money and not spend a ton of money. So a lot of the Westcott eliminator arm that is the one product that you would have to pry from my cold, dead hands if something happened to me. Love this product and even outdoors. I use it with a little sandbag on the bottom. And this little baby will stay right where I want it. Lock it in place. We're good to go. Could imagine going out on a You know, this even even a beautiful day. You got into the garden of the park or somewhere and is there's beautiful light everywhere. But light comes from above. It always comes from above, and you get those dark circles up underneath your eyes and it's just not very pleasant. It's not beautiful. I saw a picture last night actually on Facebook, and I wanted to use it, and that is an example today. But I didn't want that person to take it on the wrong contact, so I did it. But it was a beautiful picture of a lady holding a dolt, a little tiny dog. It was perfect. It was a beautiful image, but her eyes it looked like a bird had picked her eyes out. They were completely black because there was no light in them. And if you bring something like this with you on your jobs and you're good to go, this can make even me look good. And you know what's a good product that makes me look good. So moving forward with that, you have to think about liabilities in the studio setting all the time. You never know. There's a friend of mine in Long Island. He got sued for like, $3 million. A little old poor lady tripped over his camera bag at a wedding. Poor thing, she got hurt really bad. She I think she broke her hip or something are playing Clay. I'm sorry. She claimed that she broke her hip Well, after months and months of litigation and research, his attorneys found that she had pulled this same type of deal several times before and it got thrown out of court and everything was fine. But you always have to be aware if there's cords on the floor, you have to think, What if someone trips over these cords? My client would never sue me for trip in a court. I mean, why would she do that? Well, you have to think about everything. One of the things I've done in my studio where I plug all these lights into, I never have cords on the floor. I have heard me say it several times today. If it raises a question, get rid of it, get rid of it. So I have these drop cord reels you'll see here on the monitor. I got tired of tripping over cords. I got tired of telling my clients. Watch that court Watch that core. Be careful. I know you're holding your drink, and if you fail and busted your face on the floor. I wouldn't have to pay for all your reconstructive dental surgery. And I'm You have to be really careful. And I hate that our society has turned into that. But that's just that's the nature of the beast, so to speak. So any little thing you can do in your studio remember, I talked about being tidy. That's part of being neat and tidy. Put your stuff up so there's not cords all over the floor. You have a guest in, They fall is gay. It could be game over. They look at you and say, Hey, you're making a lot of money. You're charging me a fortune for these pictures. You do that times 10 people a week. You're making a lot of money. I'm gonna go after you were gonna get into talking about some insurance and general liability things later. So there's a lot of stuff you have to think about. We're all very, very vulnerable studio lighting. It doesn't have to be a hard as you think. When I first started, I didn't have 45678 studio lights. That's what I thought you had toe have to be really successful. I was like, Well, you've gotta have at least 45 studio lights running If you want to take a good picture I mean, there's just there's just no way to do it right? No, There's tons of ways to do it now, as you're using your studio lighting, it's very easy to get complacent and to get really comfortable using one particular set up. I found myself doing that as well. It's very easy to do that. But for every single session that I do in the studio, or even outside the studio, they come in the studio were automatically given go outside as well. Push yourself to use six different lighting sources. Six different types of our six different lighting sources patterns types used six different ones for every single session. And when I say that, pull out one studio light, Why would you just use one studio like that's gonna look terrible? Well, now I'll show you a little while. We will force you to do something different, you know, force you into a different way and then turn another studio light on. And then when you got to start incorporating those ratios and say, Hey, let me throw three in there. And then when I'm done with those three, why don't I pull out my ring light? I use that for. And then I got this reflector. I can find some lighting somewhere. Why don't you? Some natural light don't do that. And then while I'm there, I could give a whole another look with continuous like right, I could I could use all of those. And what I'm doing is I'm validating my pricing by showing my client and their parents that hey, this guy, he did all kinds of stuff. It's gonna validate me. It's going to set me apart because the person is gonna take her outside him or her outside and Onley photograph in the park, using natural light with no reflector know anything. I'm gonna look away, more advanced and their images air, quite frankly, Probably gonna be a lot better. And as I'm using these lighting this list lighting, I'm not just using and being quiet. I'm talking to the parent of my senior and I'm say, listen, OK, Margaret, What I'm gonna do now is I'm gonna use the one light set up and this is what I'm gonna do it and I'll explain toe educate her as we're going on what I'm doing while I'm doing it. And again that just validate validates my pricing, and it helps build the sale. And by using six different light sources, it allows me to sell an album which we'll get into in the pricing portion. I sell an album for, quite frankly, generally every single session that I do Bison album because it's working around pricing structure as well as we give such a variety in our lighting and posing, they really don't have a choice. That would be kind of an idiot not to buy. They're not gonna leave it on the table, but you can overshoot as well. So be real careful with your over shooting. Don't get too crazy. So with one light, the reason I use one light is because when I first started, that is all I could afford. Young ladies and gentlemen is one light. So I learned how to use one light, and when I learned of one light is it created a lot of drama, and it was just a way that I could evoke a lot of emotion. from my clients, and it allowed me to say, Hey, bring something very personal with you when you come to your session and with when you bring that something personal Just say if she has, well, a guitar that's something very personal to her, her and her father. He taught her how to play the guitar. So I have her there something personal, and then I use camera that's are used lighting. That's very dramatic. It's not. It's not something you want to enter into a competition. It's not competition lighting, but it's something that's going to evoke emotion and something that I can pull some emotional to get her to buy it. So every session I tell my clients to bring something that's very personal. It could be something as simple as all of her cheerleading uniforms from years past. And instead of having her stand there and hold her cheerleading uniforms, I pull an emotional time. I hang the cheerleading uniforms up and I have her holding her very 1st 1 kind of looking off to the side. It's very emotional and emotion, sales, emotion, definitely sales, especially in my studio. So the key to this one is turning the face into the light. And we're gonna demonstrated here just a little while and showed exactly what I'm talking about. You can see in this next image you see a lot of light fall off here. There's a lot of light fall off in a lot of people, print judges and things will look at that and say, Whoa, do. That is I'm not even gonna score that That's so terribly lit. But again, don't get wrapped up in shooting for competitions. I get wrapped up in shooting for my clients. I get wrapped up in shooting in a way that makes me money Now. That's not to say that I still don't enter competitions because I think it's very important. It is very important inter competition because a lot of times I can get my rear end handed to me in the competition and it says, Whoa, Blair, how did you miss that? Look at your key lighting Here is way off your two stops. Overexposed. Why did you You've got to tighten up a little bit. Gotta tighten up. So one light very, very pretty love one line. You can create a lot of cool things with one line. So if you're one of the studios that you know, you just don't have a lot of equipment at your disposable. Are your disposal not disposable? You can put it in your disposable and then shredded up and you'll never see it again. Um, now what changed for me? As I said, You know what? I'm kind of tired of this very dramatic. Look, I want to add a little bit more feel light on that other side. So they've got main light. But I want some light over here, but I don't have one. What I do. Well, that's when you just use your reflector and you take the lighting that is coming from here and you redirect it back into the face. Very simple, right? That's a simple concept. And you can get some really pretty pretty lighting with just one light. And a reflector doesn't have to be anything like really, really, really crazy. Here
Ratings and Reviews
As an experienced photographer myself, this class was both helpful and inspirational…we're never too experienced to learn from someone. Blair is really a lot of fun to watch and listen to. He has a way of making things fun with his high energy and dry sense of humor. To be completely honest in my review of this class, the lighting and posing sections, while VERY good, have been done over and over again by lots of photographers and didn't offer much in the way of new ideas. The real value was in the customer service and marketing techniques presented here. Blair's use of video as a marketing and communication tool with his clients is very unique and sparked TONS of ideas I would like to implement in my studio. His simple pricing structure and the way he presents it to his clients is also unique and has helped me rethink some of my own methods. "That being said" (Blair should appreciate that phrase) this class is totally worth the price and will continue to be a good reference for me. Some photographers are excellent at their craft but are dry teachers; others are great teachers but their "real-life" work doesn't live up to their classroom presentations. Blair is the real deal and makes this class very exciting.
Blair is great. This class is packed full of great info and is a genuine good hearted person.. Really like his approach with high school seniors. I recommend it.
This has been my favorite class on Creative Live. I loved how Blair explained exactly how he landed dance and sports contracts. This class was packed full of ideas for marketing and selling products. There was just so much great information. Thanks, Blair!
Student Work