Fuji 400h Plus Rich Matte
Pye Jirsa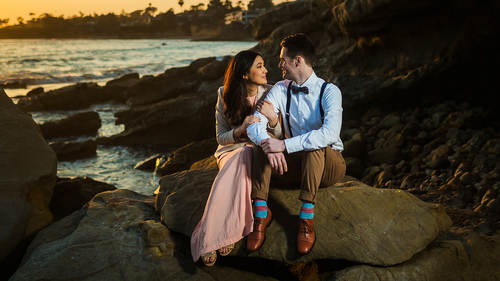 Fuji 400h Plus Rich Matte
Pye Jirsa
Lesson Info
22. Fuji 400h Plus Rich Matte
Lesson Info
Fuji 400h Plus Rich Matte
with the Fuji 400 age rich Matt, Time lives do this. We're going to creating a mixology to get from this image here to this lovely final image. We're creating that preset in just about 10 seconds. And then we're gonna be applying it to some other images that just to show you what kind of scenes I like to use this preset in. Let's select our images, press control a shift our to reset them out. We'll go ahead and just choose this image as our sample image to get started with. And what we're gonna do is be creating this preset that's included in the preset system. Food you've ordered age plus Rich Matt. So what basic going on here is we have Fuji for her age? Toning. We have the more rich color version that toning and we're adding a mat. Uh, don't so you can see that I'm naming my presets based on kind of the look and the definition of those presets so that I know exactly what they're doing. Before I click them, I'd recommend the same thing for you all. Give your preset names very intuiti...
ve Name ing's name ings name ings I think that's the right word. All right, so all we're gonna do here is let's put 10 seconds on the clock. I'm gonna open up my panels so that my crew over there doesn't, like, penalize me for going over. Let's go and select Fuji Foreign Aid for our rich tone. This is our foundation. And ah, you know what crew? Hold on to that for one second. I'm just going to adjust my white balance and my my exposure for one brief moment before we get started, I'm gonna go to something more neutral just so I can get closer to where I want to be. Now put the 10 seconds back on the clock, make the editors lives more difficult. I love me. Okay. Food, UNH, rich tones. And now we're gonna add that Matt neutral Matt, which is gonna give us that nice, subtle fade in the tone curve and then I'm gonna do from here is I don't want it to be as light in the contrast. I'm gonna reduce the shadow lift to just that is the standard film lift right there. And that's it, folks. That's all she wrote. Actually, I might add a little bit of contrast. Sorry. That's it. Okay, So this is what I would call the Fuji Foreigners. Rich tone. Matt. Okay. It's saved out right here. And hopefully we got it right. Let's make sure we got it right. I'm gonna select that. Yeah. Hey, we got it right on. I think it was three or four clicks to get there. And what I love to use this preset four is images like this where it's shot in a natural environment where I wanna have a filmic quality to it that has mawr definition to it, more detail and more contrast. Yet we've clipped a little bit the blacks and a little bit of highlights to create that Matt look. So we look at this, and what I'm gonna do now is now to have my preset done, I will dial in my correct temperature. And this is what we do just after we created pre start. You know, whenever you apply it to images, you would dial in your temperature and everything. Okay, So right about there, and I'm gonna bring up my exposure just a bit as well. That looks really cool. I'm gonna press backslash we could see the before and the after way this beautiful kind of bright, filmic quality image I love. You'll notice that when I shoot for film, I kind of shoot with imperfections in the image because it really makes the image look more natural and mawr kind of, I don't know. It gives it that quality to it, that when you apply the filmic toning, it has a very whimsical and kind of old school. It just convinces me that it was a kind of old school image, like a very natural type, candid image. I don't know really what I just said right there, but hopefully it made sense. Deal. Now what's going on here is we decrease the amount of shadow lift so we're pulling the highlights down in the white sound a little bit, adding the shadows in the blacks a bit, but not as much as standard. We have a tone curve that's again adding our matte finish. A little bit of contrast is being added. But then we're pulling up in the shadows, pulling down on the highlights to give it that Matt look. We use rich tone color toning again. If you want to tweak that you could go down to the A. C s portion, the advanced customization system and under the color toning, you can select whatever color Tony you want under filmic. So what selected right now is the food you wanted H rich. That gives it that rich Tony detail again. We have standards Scharping pulled all the way down. We have noise reduction, added a little bit. And we've also added a little bit of grain, which gives it that kind of fine detail reduction. This image was actually a little bit even soft focused, which I think works even better for the filming. Look, we also have a bit of camera calibration tweaks here, so we're adding a little bit of hue and saturation to the Reds. We're pulling the greens, and what's going on here is we're pulling that Hughes kind of on the red, just up a little bit towards I guess I would be more of the orange side and then the greens are going towards the teals and blues air going towards the teals, and we're making a little bit of saturation adjustments in those as well. So that's what gives this preset it's Look. Now again, it's already saved out. But if you want to make tweaks to it and then save it out as a new preset you're welcome to We've gone through a 1,000,000 times how to do that. So I'm gonna skip it in this video. All right, let's go ahead and move to Are the images another time that I like using the type of a preset is for four clients that love that kind of soft Matt and vintage look to images. It works so incredibly well in night time scenes like this one. And so all I'm gonna do is just apply the food you for the rich, Matt. And then we're just gonna tweak our temperature. Okay, I'm gonna adjust the exposure a little bit and then give it a little bit more temperature. And I love the look in the quality that this has to. It just has this beautiful soft look. Tiny bits of film grain. It just looked very soft. Very beautiful. Yeah. It maintains this rich kind of tonality and color while giving a little bit of ah, kind of that shadow drop. So we're losing a little bit. That shadow definition over here. And it has that matte finish that pulls out some highlights, pulled up some of the shadows, and it looks, I think absolutely beautiful. And scenes like this one. Okay, so let's go and do another scene. So let's do this one again. Natural type scene. We have this beautiful kind of very whimsical pose and kind of scene going on on it looks great. I think they look really well with this food. You forward h So I'm gonna do is brighten this up and then simply pull back my temperature and get that dialed in again. I shoot everything on the warm side. So generally I'm cooling things down when I when I want to go with one of these more pastel looks I have to cool down to get to it. Okay. And that looks again beautiful. Love that really cool. So hopefully that all makes sense. And you enjoyed this tutorial. Let's go on to the next one
Class Materials
Written Installation Guide
LR Preset System Exercise Files
Ratings and Reviews
Cool presets, but the course is a little slow...
The importing by copying and pasting the presets into the directory doesn't work for me in Lightroom Classic.
Pye and his website courses newsletters and teaching style and education are 2 nd to none! I have his presets and some courses Brilliant stuff !
Student Work