Kodak Portra 800 HDR Fade
Pye Jirsa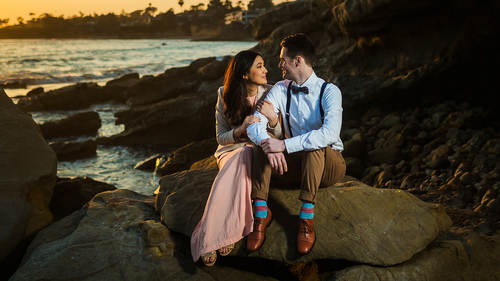 Kodak Portra 800 HDR Fade
Pye Jirsa
Lesson Info
24. Kodak Portra 800 HDR Fade
Lesson Info
Kodak Portra 800 HDR Fade
it's time for Kodak Portrait 100 plus 80. Our fate is this preset that you see here we're gonna create the mixology in less than 10 seconds or roughly around 10 seconds. They were in apply to this image to get from this lovely before to this lovely or even more lovely after image. And then we're gonna plan to some other images. We're gonna talk about what types of scenes we like to use these kind of presets in. And also, we're gonna go over some of the settings that make this preset tick when it comes to the developed settings in the right side of the panel. That's just for those who that might not have the preset system. And really to convince you that you should have the preset system. If I might so shamelessly ad, let's jump right in. I'm going to select all my images and reset everything out by pressing control. Shift our or command shift. Are you on a Mac now, in selecting this preset, let's go ahead and select the ah, it's Kodak Poor trip 800 plus hdr fade. You can guess what it'...
s gonna do is gonna add dynamic range and also feed out the image. All we gotta do from here is adjusting their exposure and then raise the temperature to your liking. And basically right around here, I'd say it's good. Now, the beautiful part about this type of a preset is that it retains tonal values. So we have total value over in the highlights and in the shadows. And we have this beautiful Matt finish and has this Brighton area look to the image and then like it and not. So how do we go about creating this look? Well, let's create the mixology. First, I'm gonna reset this image out, and we're gonna go ahead. Actually, let me undo that. Reset just so we can see, I want to see where at 0.64 and 87 50. So let's remember that 500.64 we're gonna go 87 50 and 0.64 That way we can have a before and after and compare apples to apples. I'm going to the history it right clicking, selecting copy, history steps setting to before. So that way, when I click the before button back slash it shows me that version of the image that I just did right now. Okay. So from here, what we're gonna do is go to our foundation and you can put 10 seconds on the clock, if you like. Editors. I'm gonna show you all how it's done. We're gonna get to let me just check one thing here. HDR feed. That's what I thought. Okay, Now I'm good. Let's undo that real quick. Okay? So what we're gonna do is select Kodak. Poor Tra. I think we were on the muted tones, right? So, yeah, let's go. Portrait, muted tones, bass tones. I want some hdr boom. Yeah. Now, under definition, what I need to do is kind of soften things a little bit while also adding contrast. I want to go up to me about plus 75 I might even soften a little bit more, and that's it. If I went over seconds, I'm gonna kill you. Editors. Because that was pretty doing quick. And pretty much the only way to get quicker is just not talk, which is something I can't do. I'm sorry. I just have to talk. Okay, so let's go ahead into select our mixology just to make sure that we got everything right on with that. Let's see here pretty close. I had ah had a slightly less clarity built in the preset. Usually what I like to do is build in a little bit less of something just so that it works mawr overall with everything. The other thing I forgot to do was a stylization. But you know what? That's okay, cause it kind of gives me an excuse to talk about the difference now between the two. So with the actual priest that we have is a fade right? Says hdr faith. So what we created without that was just the neutral punch. And you can see that this is just, um, or basically bright and high contrast version of the same image. All we did was at a neutral matt to this preset to give it that soft fade to it. So just an f. Y I. That's the only small difference that I forgot to select their But that's OK. You can select and choose another cool option for this type of images. Just a bright map, because that's gonna automatically brighten the image. You just need to pull the exposure down the difference here, though The reason why I didn't go with Bright Matt in general is because Bright Matt is going to really punch up the highlights quite a bit. Whereas a neutral matte is gonna leave everything a little bit more unbiased. So with a neutral Matt, we kind of preserve a little more shadow and little bit more highlights overall and have a softer look to the image, whereas the highlight or the bright man is gonna have more contrast ing highlights. Okay, so this looks fantastic. Now, let's go ahead and look at the before and the after. You can see what's been done that before has Rimmer our exposure and our temperature adjustments already in there. So you can see there's a pretty big difference even between that, If we were to look at the reset version of the image, what I'm gonna do is go ahead and press control, apostrophe or command apostrophe to create a virtual copy. I'm gonna reset out the original, and now you can compare these side by side and could see there's a massive difference in the before and afters between these side by side. So look at that. Okay, so what this preset is doing. And let's go ahead and just jump into the develop module and lets turn the lights on so we can actually see what's going on. You press l by the way, to turn the lights on if you ever get confused. So what's happening is we preserved a lot of our dynamic range by bring down the highlights and the whites and boosting shadows and blacks, and we're increasing contrasts significantly to compensate for that. Okay, so we're raised. Contest A plus 75. We've dropped clarity a little bit to soften up overall skin tone, but we've have a standard contrast boosting curve but with flattened out highlights and flatten out shadows. That's the Met again for hs l. We have the Kodak portrait toning for Rhs l and also for our camera calibration and for detail. We have the sharpening pulled down a zero. We've added a lot of noise reduction, and we've also added a bit of grain that gives us that softening effect over the image that we were not preserving too much high definition look with which again, is that give away for a vintage image or that kind of soft film look. Okay, so let's show you other situations where I like to use this type of a preset. I'm gonna select this image right here. And this is a beautiful sunset image. And I love shooting images like this where we have almost all of our tonality from our shadows all the way to the highlights. If you look at his diagram and when you apply something like the po deck almost said po deck when you apply that Kodak 800 that Kodak portray 100 hr, fade, it gives you this beautiful toning, and I'll have to do is just adjust our temperature to get to this subtle warmth right here. Okay. And right here we have this gorgeous kind of natural image where we have all of our highlights, all of our shadows. We're not trying to blow things that I'm not trying to pull it up here and blow everything out in the background. I like it to be kind of more on this subtly dark. I'm gonna brian it just a little bit, but to be more a little bit darker and just have a little bit more of this kind of mood toning to it. I think it looks really great. Okay. And what we might do is just kind of tweak and bring our tent and temperature down into a range where get a little bit less magenta, gonna pull it down just a little bit and then add a tiny bit of warmth of the image. And that looks fantastic because I love that look, this is a perfect candidate to just to add in a soft little 0.5 exposure burn right over them. Just so it kind of pulls down the background and I think that looks beautiful. It's less likely before and after on that. So the before the after fantastic. Okay, again. Another image that works very well on is something like this. Where again we want to keep a little bit of the color, want to preserve some of dynamic range, but a little bit of a fade. We're using the same type of situation that we would the Fuji 400 hdr fade. The only difference is just the toning whether you want the slightly more warm toning. So what I'm gonna do is just warm this up a little bit. And that's beautiful, right? there looks fantastic. OK, here's that before and the after Looks gorgeous. If I do say so myself. All right, so we're done with the Kodak portray 100 hdr fade. Hopefully you enjoyed. I'll see you on the next video.
Class Materials
Written Installation Guide
LR Preset System Exercise Files
Ratings and Reviews
Cool presets, but the course is a little slow...
The importing by copying and pasting the presets into the directory doesn't work for me in Lightroom Classic.
Pye and his website courses newsletters and teaching style and education are 2 nd to none! I have his presets and some courses Brilliant stuff !
Student Work