Smart Style Shopping
Tobi Fairley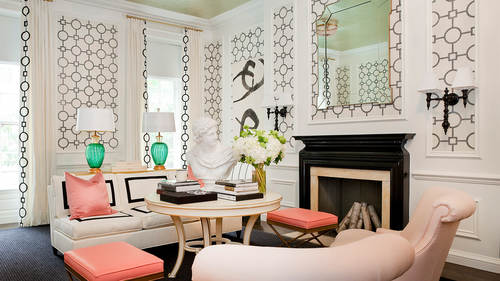 Smart Style Shopping
Tobi Fairley
Lesson Info
33. Smart Style Shopping
Lesson Info
Smart Style Shopping
I really would love to hear from so many of you and hopefully the online audiences out there tapping in, typing in all of their favorite places to shop because I think it's really learning new sources that's so important. And there's no way that I can know all of them on. Certainly, hopefully there are a few that I've brought to you. Maybe that you won't have heard of before. But I want you all to bring ideas to the table to. But let's talk about how do we start to shop smart to bring our styles into our own home. So how do we do that? Well, where should I shop? So where do you typically shop? Not necessarily being a store by name yet, but like, is it a big box retailer? You said you love to go looking for vintage, finds Jackie s O. Tell me some places that you all love to shop from a category standpoint. Antiques, vintage antique stores, garage sells, my friends basements, treasure. So see, you could do the same thing for your friends. All those things that you're not using were put h...
im in your basement. They can all come over and started shopping online boutiques. You have one said. You shop another online boutiques. I do as well. How about you, Theresa? Where do you like to see? Oh, definitely a flea. Antique markets, particularly the Alameda one that happens once a month. Okay, so it's once a month here in San Francisco. There's Alameda Point, flea market collectibles. I don't know the exact name of it, but, um, again, yeah. So there's a certain week of the month. There's the first Sunday I believe of every month. Yes, it's well in my court. All my courses have been at the end of the month. I was thinking the next one. I'm need to get to the flea market now, so come back. But like Jackie, I loved to do vintage shopping and that sort of shopping, Um, and etc. Of course. That's okay, Alicia. Antiques, etc. Definitely. Um, garage sales? Definitely. Um, but I like very exclusive small stores to get like you were talking about quality. And it's a good investment to buy really good pieces and just have him for a long time. Okay? Anything to and I actually agree with you like I love boutiques and more local stuff. Or like original. Well, there is not last produced, right? So, Dio, do you feel like I feel like the trend of flea marketing and garage sailing has really hit an all time high? Do you all feel like Did you always do this for these things you did as a child with, like, your grandmother, your mother? Or is this something that that's new to a lot of you? You know, my mom always like thrift storing and Grodd cells. I did not like him as a child and she dragged you along. You have to go and you're miserable. And like sitting in the car reading a book or something. Have you always done that? I actually haven't. I think, you know, thrift stores. I forgot about thrift stores and consignment shops on gets interesting because originally it came out of a need money need. I didn't have the money to shiny new buy new things. And even as I've had more money over the years, I still gravitate to the most unique treasures. Yeah. Do you guys both goto? No, I e o Yours. Yeah. I really am. I I have a big issue with second times? No, no on the opposite. I actually, I so far prefer something that's been used by someone else first, like even clothing, Pretty much not clothing, most clothing. But my granddad was a big a state shopper and garbage, and it went through, you know, and we had Finkel council clean up. I guess that's similar. Here were once 1/4 time you could put away your stuff out on the pavement on they pick it up, and I would go in my granddad, get some of the best furniture and has been Dumpster. Did the Idol Dumpster dive do that thing? I love it and my mom does it, so we have. We have a family tradition. In fact, out Christmas to within the family is you have to find each other pre use thing under 50 bucks. And I've always been like J. K O in this category until recently, because as a designer, to really find unique things and start to really build these projects with stories, I really had to develop this interest in going out and digging for treasures, and I've actually gotten where I really enjoy it, and Mom has to. She was not a garage sale person. She was by new and and maybe maybe it was somewhat generational. Ah, lot of baby boomers. I think we're certainly in the buy new things. I didn't really love the older things this much, so I came from that school of thought. But I certainly have changed in many ways. Or at least it's a part of what I do now. So I can understand all about both schools of thought there. Um, So where should I shop? Well, you've mentioned a lot of these. One of the things we've said online boutiques. But do any of you use flash sale sites and have any of you purchased anything on one Kings lane? This is your favorite sites. And so why is it your favorite site? Because every day, if you go on the computer every day, they always are popping up things for a great price. I mean, great accessories, great blankets. I mean, you get some really good deals on this. So amazing. Do you ever shop? So there's an example I just had I've had, I think, force tag sales with them. But this is where the idea of taste maker comes into play every day. They're running a taste maker tag sale. So it's someone like me. There's an example of the one I had recently on. When I was moving, I actually I just moved to a new home, so I sold those green lamps. I sold some things from my house, but a lot of designers have collections of things that either where there's or didn't work in a project for a client, and they sell on one Kings lane every day. So if you've been loving some of those taste makers that we learned about this morning and you actually want a piece of what they sell, you might even find some of the things that we saw in some of those images for sale in a taste maker tag sale. Have you shopped any of these? The taste maker sales recall. So the interesting thing about flash sales is that it is only for a short period of time, hence the name. So it's two or three days usually, and it's a great way to find a lot of one of a kind item. So some of the items are mass produced ourselves you know a group of things when I have a sale. Some of them are antiques, some of more brand new. Some of them were custom made, like those crazy window treatments I made three times that kept not matching the show house. You know, it's a great way for a designer to move some of that merchandise as well. So if you're looking for designer looks and custom things at a great price, this is a really good source for it. And if you're not a member, it's It's free to be a member, but they just want to obviously collect your information so they're able to get in touch with you. So certainly one toe think about another one is joss and main heavy use dress of mine. So what do you think about obviously staying positive? Because I love both sides. But But what do you think of the pros of vs Justin Main versus One Kings Lane? The pros? Well, I think they're both almost the same to me. I like both of their stuff. The thing Um, I also get a lot of ideas when I'm I'm looking at these sites as well, so the way. They style? Yes. So I like that too. Um, So the interesting thing I happened to notice about Johnson Main. They've been a sponsor of several of my own live events, and they have a whole crew of people in house that does the little styling vignettes with their products. So they'll put together a you know, a styled version of a room and show you how to use things. So you're saying that you could even take design tips away for yes sides? Yeah. Absolutely. Yes. So they're great, but you have to be on there. It's kind of, like arrives sale, shopping and the fact that you have to get on their often to Greeley, find the best stuff and to take advantage of them. So it takes a lot of time. In a sense, I think t stay on top of the best effort, will go look for things, and they're already sold things that you love. This it sells out very, very quickly. Have you used these any of these sites or any other flash sale sites? Yes. I have used them. Have experience, like really wanted something, and it being sold out on being disappointed. Is there a different one that you prefer over in either of these or Johnson? Maynor. One. So I really like both with him, and there's some other. So here's a few others. Lab I love Fab Fab Lalla guilt. A lot of people are familiar with guilt dot com, and you can buy other things on some of these fashion and other items on some of them. Um, so here's just that there's there's several that are really great and they have different types of merchandise sometimes or different, almost a different style personality, depending on the site as well. So there was probably one that resonates with you more than the others. But I actually really like to use these sites and and I find myself using them more and more. So what about major e commerce sites that are, Of course, there's the obvious ones, like Amazon and even Overstock on. And then something like Wayfair, which is a huge, huge company. They're actually the parent company of Johson Main that we were just looking at. But how many of you used a lot of e commerce sites now, or are you buying more local do you need to put have your hands on things to buy design items. Are you willing to buy online? I put out online. I shall put rugs online, too. No, I like to go see touch. Feel usually how it works, how it feels. So for someone who's a designer, do you find? I find that my clients are getting mawr and more comfortable all the time with buying online? Have you? Have you noticed that about your own customers, even buying? Do they just buy inexpensive things, Or do they buy more expensive things? No, I don't buy more expensive things on. I have had the same experience and you don't hit. My boss buys everything online pretty much, and that's when I can emergency when you get a tower. Do you do this in your own part? So for your own personal style, like your clothing and other things, how maney, What percentage of your shopping happens online versus in person? Anybody? A big, really big online shopper night? You know, I use Amazon and sites like that for things like electron ICS, books, that kind of thing. But I don't think I would ever buy a piece of furniture I bought, like accent tables, lamps, things like that, that I pretty much know what they're gonna be like when they arrive. But I I couldn't imagine buying a couch or chair. I just couldn't imagine also the idea of sending it back right. If you don't like it, it's It's a it's a job, is it? And where is it going to get delivered and can't get delivered to your house? Or I have to have a loading dock? Can they really drop off a large piece of furniture on your front door? A lot of these places can, but how does that work for you? Another interesting thing that is happening for which is a little bit controversial, I guess. Um, with retailers that I think is interesting is more and more people are doing what that is called show rooming, going into retail store, sitting on the furniture, trying out the furniture and then going and buying it online, which is really tricky because the retailer's air spending money to inventory all of those things and then other people are going out and buying it online to try to find a better deal or that sort of thing, which is it's something that's just one of those cons that comes with the pros of technology. I guess so have is heavy all seen that happen or experienced that sort of thing, and you don't really think about anything being wrong with it. But if you take a step back, you think, Well, actually, that local store did spend the money to bring all of that, and so it's a little bit. It's a little bit tricky situation and even some I've read many articles on this and even some retailers air charging people to come in. If they're going to be test driving the furniture on, maybe if they purchase something, then they get their money back. But toe keep people from just shopping there, their stores and then not purchasing from them. So really interesting. Is that the case with places like Creighton Barrel or Restoration Hardware? Pottery Barn, for example? Because I know I've done that gone into creating barrel and looked at something, and then if you're buying it from them, it's not a big deal, so you can totally go into Creighton Barrel, try out their sofa and then go home and buy it from their online site, which makes perfect sense. They still still, of course, I guess the the If you have a sales person that's on commission, they're probably not gonna love that. He bought it online, right? But, um, a Sfar as it's still coming from the same company that's not quite as controversial as, say, going into a local, more of like a mom and pop are a little boutique or something in a local store that you know, carries a certain brand and then going out and buying it in a major retailers. It's just something that we have to deal with. It's an interesting conversation that's going on right now as far as technology is concerned. But did you have something to share? You know, there's been in the last few years that whole phenomenon pop up shops where people have either going overseas and come back and then put on something for a limited amount of time from a small up, or, you know, you're getting in drugs and things, but actually bricks and mortar. Is there any way to sort of monitor how they coming up? Do you know there any websites that then point you to that is more temporary. Bricks necessarily found a specific website, but I do know that there are a lot of people like the taste makers that we've looked at today that have had those pop up shops. Bunny Williams had a great pop up shop in New York City. Um, around the holidays, there was one with a designer that's that's very well known named Celery Kimble and I, an event planner that partnered together and put this really neat shop together. And it was featured in like The New York Times and some of the newspapers. But if you start following some of these personalities in particular, like we were talking about this morning following in their websites or blog's or on Pinterest, a lot of times you can get information about what they're doing. So I think pop up shops are interesting and fun because they're essentially the brick and mortar version of the flash sale, right? So for all the people who think one Kings Lane or Johson made or some of these other flash sale sites are really cool, but they're like JK was saying interested in touching and feeling and handling it. But the the seller wants that sense of urgency of hurry and by don't come in for six months and not make a decision. There's that sense of urgency cause we're only going to be here for a limited amount of time. And when it's gone, it's gone and we don't have any more of these items. And so it's really and plus it's just exhilarating and exciting for people who love the shop. There's that thrill of the hunt, and you have to buy it now before someone else gets it. That's a fun thing about those pop ups. I found the opposite that I will see something online. I think so. I really like that, and I'll go down to the store to see it. I don't like it all. The fabric just doesn't feel the way. All the color isn't quite the way was represented, so I would never I don't think I've ever trust anything to buy online without having seen it. And I think to Theresa's point, the trickier part of that is the fab things that are upholstered knowing but also color color rendition, someone said in one of our dilemmas, didn't they that they ordered something online and they got it and it wasn't at all the color they thought I was going to be. So that's our gray or more pink. And that could totally happen. And it may not be even the photography online. It may be your Web browser isn't calibrated, right, And anything can happen here. Yeah. I mean, what happens in a strange thing to make this, I imagine, by dress back in the box than it is to put a sofa back in about because I find that I my mom and I both we laugh about this to more and more shopping online. It's just so much easier even getting ready to come here on the clothes. You know that I was unaware us again. I'll pick up a couple addresses, go online, having shipped to my house and have them fitted and tailored. And then I'm ready to go and I don't cause I just don't have time. So many of us don't have the time to go out of shop. Yes. Yeah, I was going to say, um like, I feel, if you know the brand like and you've bought their I will feel totally comfortable buying online. But I've had, like, not good experiences buying online like the stuff gets to my house. And I'm like, What is this? I think another great thing that people like me can offer to our audience of people that follow us is I give a lot of information on my blog's or even in courses like this s far as companies that I love that are great quality. I can show things that I've used in a room and what else it went with. So you can get a perspective on what color things were, what size things were, what skills things are because I agree that one of the trickiest things is really that is it. Is it the same color? But also is it the same scale that you think it is? And years ago, when I had a retail store, I would have sales people travel through to sell product to make you only go to market twice a year saying so in between. They would bring stuff to you, and they would show me a picture of something and I would not read the description or not read the size and it took up the whole picture. Some thinking of that lamps, you know, like 30 inches tall. And it shows up, and it's like this big. And it was my fault because I really wasn't paying close enough attention to what the details said and really understanding, size and scale in that sort of thing. So that is also a tricky and a lot of times when things are less expensive, there are also smaller in scale, so keep that in mind. So if you're finding a lamp, either go. My gosh, this is too good to be true. It's one of these fabulous Gord lamps and a fabulous color wise, this one, you know, $45 all the other ones have seen or $300 be careful toe look at the size because, ah, lot of things that are coming met, mass produced or imported made overseas. The reason that they can be a certain prices because there a certain size and they fit in a container and they're less expensive to ship, so always be wary if it's really inexpensive. So is this really small? Because I have gotten even. I've got tripped up on that one before any other major e commerce sites that that anyone thought This is true that Amazon is actually now the biggest furniture seller in the U. S. Isn't that an astonishing? I'm not sure. I even knew they sell furniture are they are the biggest seller of everything, right? That makes sense. But it's just so easy because they already have your information. I shop at Amazon all the time, and it was originally for books and then for e books. And then it became my daughter's Christmas presidents because she'd want a certain toy and I couldn't find it anywhere else. And they always had it, Um, and that's that's what they do so well. And so once you get accustomed to using a brand their company like that, it's just easy to continue to shop with them. Another one that I like to use often is art dot com, and you even see that they do licensing. There's Jonathan Adler. So a lot of these companies are having designers as their taste makers that air really helping them extend these styles that we've been looking at. It was gonna say about our dot com. They have, like a pop up shop here in San Francisco Company. They have a huge headquarters just over the bridge in Emeryville. Major, I went to one of their events and it was amazing. I was like, All right, take your prize way the beautiful merchandise they have. I love to use this company, and I don't know how many of you are familiar with the service. I have called Inbox Interiors, which is like a design in the box. So you email us. It's how to get a version of Toby's design, but at less expensive prices than my full service luxury design. So if you purchased this option from us, you send images of your room and measurements, and people on my team put together design. They bring it to me. I get it just right. So it's not me doing every piece, but I tweak it and put my stamp on it. And then we mail it to you in a box and have swatches and samples, and then you go out and do the shopping on your own. So it's like Toby in the box, but you go out and you buy it. And so what we have to do is we have to go out and find great sites because some of the people like here, we continue to local stores and you could go locally and by. But there are people buying this product from us and all over the country. And we've even sent one or two to Canada and one or two to London. So people are buying this really from all over the world for us. And we have to be able to source things that people can get all over the place. Aaron very rule places or even in small towns in Arkansas where you just don't have this. And this is one of the companies that I've had really great look with for the art for those in a box interiors projects Now, just before the break. Actually, Aaron a asked a question. They just had hanging pictures, exclamation, Where the spacing, Everything. I think this is something that does intimidate people. You know how to go banging one of your tips? Well, I teach a whole lot of tips on that in that design for mated Zeke, or so she needs to make sure she's signing up for that freak. Maybe the win that free find out to come to that in Dallas, but there's several rules of thumb. But what most people do wrong with artist, they hang it too high. Eso really thinking about eye level. And so it's about six. Around 60 to 65 inches is most people's eye level on the wall for the center of the piece of ours and not the bottom, not 5.5 feet up, but really the center of a piece. Another thing to think about. You know, when we were looking at De Marie's, she had the the flag, the framed flag and I said one of the issues I saw with where she had a place was not where it was hanging on the wall, but that the pieces of furniture around that weren't really relating to it. And I don't have an image to pull up right now of my last family room with the black sofa, with all the shell art over that we've looked at so many times. But what makes that work so well is the art and the sofa underneath really read as one cohesive unit. So if there's way too much space between a piece of furniture and a piece of art. They really become disconnected. And we saw that in the scenario with the little Demi Lune table and the panelled wall, and the art had to go way above the panelled wall. And so you have this Demi lune table down here and you have art way up here, and they don't make any sense either. So really relating those two things together where your eye takes them in as a whole unit as a vignette is a really helpful, helpful tip. Hopefully. So if she's hanging over desk over a sofa, um, think about that if it's just a stand alone piece on a wall. Remember how I talked about yesterday? The narrow mirror fitting in a really narrow wall space? So think about your art relating to the architecture. So if you have a long, skinny wall Ah, long skinny piece of our If you have a huge wall, either an over scale piece of art. Or maybe that's when you have to do a collection of things or a gallery wall to really use that space because of its floating there by itself, it consume lonely. And then we had another tip that helps. You could put wallpaper behind a piece because it really becomes the art on the wall. Er fills in a lot of that blank space, so there's lots and lots and lots of tips on how to use art well, but those were just some of the ones that come come to the time myself. I'm sure you agree with this, and that's a very simple world measure. I'm amazed the number of people say that looks like the middle and they start banging the nail anything. Yes, So you did they say to me quite often, Your stuff. Always on the right place? Yeah, that's cause I measured the ball before I started. I e a great little laser level measuring tool. And then one of my clients have the niftiest little tool, and I think it just comes from like a home hardware store, like a Home Depot or hardware store. That's a little tool you hold on the back of a piece of art, and when you hold the art up, you just press in slightly and it makes a little hole right behind the art right where the nail needs to go. So when you take it down, you're not trying to put a pencil mark back there. It makes a tiny little coal in the wall, and you can come back and put on. And I think I looked it up because in one of my courses I was saying, Oh, it's this nifty little thing. I'm sure it has a name. And I think the name was something like Picture hanging, too. So go out and look for a picture hanging tools. Uh, and it will help you. Yes, we have a couple of questions about shopping online, and a question relates back to the last courtside. Bethany was watching your color class. This is just a quick one. She mentioned you were involved. You mentioned then you were involved in something big but couldn't say what it wasn't. Bethany wonders whether we're allowed to know yet what that love. Now we're not I don't remember what we're doing several things right now and so I don't remember which What thing that exact that will be in the function workshop. We will come back to obey things. He is doing a big announcement my mom will probably wait. We have a lot of things we're working on. We have a lot of relationships we're working on with licensing. And yeah, I'm pretty sure it was. A licensing will come back to that. They're still. It takes a long time to get all of those little details worked out. All right, Well, then let's talk about buying fabric online because there have been some, you know, some hesitation expressed Crimson Hope. Is it wise to buy fabric online when you can't see or feel, or do you suggest swatches? And then Kim s says, Do you have any suggestions on where to shop for fabrics? I don't have a degree in interior design, but I love beautiful fabrics. Yes, so definitely if if the company's gives, since watches for sure ask for them in A lot of companies do so. Even furniture companies, even if you're buying even for our inbox interiors will buy, will suggest that people buy sofas from a crate and barrel or drapery from, um, Smith and Noble or some of these other online sources and almost every one of those that have ever encountered Ballard designs. They will send swatches for the fabric, so definitely request them. And then there are some other great sights, and I may have slides about him. So if I do, will move quickly through them when I get to them in a little while. But there's some great online resource is for key designer fabrics that you're seeing in a lot of designs, and it's frustrating to designers. Unfortunately, because you confined it out there, it is supposed to be to the trade, but they're still out there. I think there's a source called fabrics dot com, but you can just google or search on whatever your search engine is designer fabrics or even the name of a fabric. And if they're out there available online, a lot of times you confined them. So if it's a Kelly Wearstler fabric by Schumacher, some of those are online. And from what I know of my friends that at different fabric Cos I work with all kinds of fabric companies Dura Lee Fabrics, Krabat Fabrics, Schumacher. There's a lot of great designer fabrics companies. Several of those have certain divisions of their companies, particularly the less expensive fabric lines that are available either online or at places like Calico Corners or, um Hancocks or major fabric chain stores. So you confined even through those sources online as well. So there's a lot out there, but I would always get us watch. I don't take chances with anything. In fact, in fact, I drive my staff crazy because if we have to change one fabric and they come to me and they have the old fabric in the new fabric and I say OK, this was discontinued. Here's a substitute. I make them go back and get every other fabric that's going in that room, and we lay it all out again, and it's so frustrating to them. So now they don't even come with these two. They come with the whole box and go. Can I have 15 minutes of your time? Because we need to look at all these again, because machine that we there's so many things that you can look by the next each other and think, Oh, these work great together. But you put it next to something else. And as we talked about in the color course color studies of things next to each other, they can change colors. You can have something, although that's just a beige, and you put it next to another car, you go, Oh, it's really pink or it's really yellow, so always get a sample, but I'll keep living through some of these. But I'm glad that you all love art dot com, and we'll get some toast, some more questions in a moment. Lips design within reach. So for those of you who absolutely love cool urban design and these iconic pieces that are mid century, this is an amazing, amazing source for this. And, of course, they also have brick and mortar stores. You're shaking your head over there. Have you Have you purchased from this company? Walk. It's funny. What? Well, I have to admit here now. No, I don't because their prices are quite ridiculous, and you can always find what they have somewhere else. Excuse me. They used to sell a light that I designed, and you could not find it anywhere else, but generally means some of the more classic pieces you can. So it's a great it is a great store, but I find it ridiculous. It's expensive, but what you're finding somewhere else is probably a knockoff Virgin, and they actually of the licensing to a lot of things like the knoll tables and no chairs and some of those things. If you want the real thing, yes, and of course, the real thing often really is a better quality. Then this is the source for those who wanted the color. Yeah, come from seven chairs in this small see anyplace that have covers authentically. So I did pay huge, right? So there is when you have to go here. And then there are other people who who do replicas of some of their pieces. Actually, the owner of design within reach, John Eidelman is a good friend of mine, and he's it's a it's a fabulous company, and they have great people that work for them. So if you're really looking for the authentic pieces and some of them, I think it's worth investing in some of those iconic pieces, sometimes it just doesn't fit in your budget. But they're a great source for that. In the very least, they're a great source for inspiration for these, and and then they carry the Philippe Starck chairs and a lot of the things that sometimes there are some less expensive buys here. So cartel makes a lot of the Philippe Starck things to K A R t ill Ill. And it's a great side as well. They have online and, um, brick and mortar stores all said, and actually call tell, have a store in the San Francisco areas They did. I love cartel. They have some great great prices. And so one of the things here, I'll go back. So we're not distracted by this, and they will come to the next. One of the things that I find to be most expensive in design projects for interiors is bar stools. Do you will find that barstools air really expensive? Not just like, you know, basic Marcel's, but like the ones that you see like I using a lot of my project like fully upholstered Marcel's. It's like buying a fully upholstered dining chairman. You can spend 1015 $100. Even some of the less expensive ones and as far as I'm concerned, are five or $600 they can get really pricey like things like front gate there barstools, which were pretty good in a lot of instances, particularly depending on the style you're looking for still five or $600. So I love cartel because you can do the Philippe Starck if your interior will support it on and they have all of the fun. Plastic Philippe Starck barstools in colors, molded plastic. You can get the clear acrylic ones and their two or $300. And so sometimes, even if we've had a nice budget, we run out of money at some point. And so it's fun to just use those invisible bar stools at a great price and and really wait until later, when we have more money to come back and do the fully upholstered version. Is there anything else that comes to mind for all of you that you have a hard time sourcing as Faras Price goes like that, like bar stools? Are there other things, like lighting Fixture? Is there anything that you really haven't have trouble finding since we're on? This topic of stopping board is another story. Think that's become popular and you guess you can get some quite edgy pieces in there and it does very in pricing, but it's usually some really surprisingly inexpensive pieces as well as they do sell some very high end pieces as well. But it's an interesting story. I agree. Women board. So they even have things that have this kind of mid century flavor. They have other things. There has a low over the place. There's no definitive style about that store, but you can usually find something of interest a Greeley's room and board a lot for our inbox interiors. We also use it a lot for kid's rooms and kids spaces. We've ordered headboards, and so we'll have like a little fashionista. That's like a 12 year old girl. And she wants it a really, you know, fun shaped headboard. And we've ordered things like that for Merman boredom. We always have swatches sent to us. So again, there another company who will send the fabric swatches to match the pieces that you're just is just telling us that everything a reward is made in America and actually a lot of the design within reach. Now that the local stuff that my king is right in America to be pushed, it's great to know that if you have here, if you're an American and that's important to you, it's kind of like that whole green sustainability. Think some people. It's really important. Calling me yes, eso What about local artisans and shop? So this is just an example of a company of a guy Eric billing in Austin, Texas. Concrete and wood there, so many artisans and artists across the country and all over the world that are due Munich things. Are any of you really using and supporting local metal workers or woodworkers? And how are you using that as an option? Three. You're saying that you do, Jackie, my next door neighbor, is a furniture maker, and I'm always collaborating with him just on some projects he's doing and what kind of fabric to use for the questionings for them. So it's always fun to work and see how they work and how the brain works, and it truly is a craft, and they're worth everything You pay for them. That's right, and you can send them to get some really good deals of people are up in coming are they haven't really been discovered or they're making their able sometimes depending on their process, are able to keep their costs low if they're not having to buy a lot of inventory of materials and things, so it can sometimes be a cost savings. But certainly the most important thing about it is that it can add that unique design personality into your space. H D buttercup. So it's a It's a large store. There's one and I don't actually know them just cares. There's there's and I don't know if there was one in San Francisco, but there's a large h D buttercup in in L. A. And it's a big store, kind of like maybe sort of like Z gallery. Or have you heard of Zio? So it's kind of that I'm busy gallery online, so I haven't been in a lot of the galleries, but it's what I would imagine have a wide mix of styles, kind of Crichton Barrel esque, with a little bit more unique. Mix it. Actually, buttercup, they have a lot of things. When I was there, the last time I was there was probably a year and 1/2 ago, some bohemian kind of things. That artistic traveler, definitely there and then also the urban kind of look, some glam to actually so, uh, things like a lacquered pieces. So Yeah, that's a It's a It's a huge store, huge brick and mortar store. I don't know. Did they have the same way? I did have an online do H D buttercup. OK, so that's one to check out to soas faras local artisans do you tend to about the You tend to find that you use local artisans more for furnishings or for things like faux finishes or wall treatments or other things that are attached to the to the building itself. Do you all use finishers? Any of you have you used an artist in the paint? Murals you have is a designer, and I have to have ah, friend. His name's Eric Sener, who is an artist, so I like to support people in the business. So when I stayed your home, I'll either rent a piece of artwork and put it in a room and help him sell it. I love to use artists work to. In several of you had mentioned those pieces in the black and white room that that we've been looking at. I have a favorite artists out of can. She's had a Kansas City named Jane Booth and that put her abstract working lots and lots of my projects. And she's so great to work with it and just feels so good to support people that are really building a business and that are so creative. So I love to do that as well. Yes, they have this ah store actually very close to here that is called the new The New Black. And it's just like this warehouse and different designers. They could be fashion designers or, like furniture designers, go there and display their stuff for, like a month or so. And they have really like they don't let just any designer go in like they really pick it is curated there, they're vetted or that you have to apply for it or something. It's called the New Black, but it sounds like it's kind of the idea of like an antique booth, in a sense, like you set up a little shop or it's like into bit visual pop up shops, but all under one roof. Innocents. That's fun. So that's like there's certain parts of market. If you're a designer and you go to say, hi point market or market in New York City, there's always certain parts of the market like a certain hole or certain area exhibition hall, where they'll have all the latest new designers like hot new things that you've never heard of, that they can't curate for you as well. So that's kind of funds of this sounds like this. And is it open? Is open to the public. Did anyone? That's great? That's the great thing about cities like larger cities, which we lose a lot of times in places where I live that we just don't have access to those sorts of things. Is there a way to know what we're in San Francisco? Where do you find out things like that? Where do you find out about art exhibitions or all of those sorts of things that could be happening? It's lots of local medium in office TV of you listening to any of the radio stations, but there's there's plenty of weekly produced newspapers Metro and SF weekly and things like that. A lot of that stuff is announced in there, and it is good way of finding out. But a lot of people just do it by word of mouth and produces also said There's wrecked that have belongs for a lot of cities. I'm another one called three list ahead of a hit of Wrecked and I've heard of a a site called and I think they make a publication called Scout Guide. Have you heard of that? Where I think it's more high end. They only will have, like one person per category in the city. But it's in guide to kind of like a shopping guide or a city guide to some of the top things all over the, and they have them in different cities and, sadly, candy I'd forgotten about early can. He is one of the originals. Wasn't whose? Yes. Oh, that's a great you know. So I'm just thinking I do this in my own town. I go to art, you know, exhibits and other things that I know. If there's plea markets or sales or other things kind of the same way you look for farmers markets if you're into your affinity or you like to cook, but it would be great for I would love to get in the habit of when I travel here. Other places being really good at knowing what else is going going on in a city because as designers, some of you like me in the middle of Arkansas. I really do come to bigger cities. New York L. A. Other places to source unique things. And then there certain times a year where there's open studios. So when all the artists in a certain community will open up their studio to the community and you can see tons of new artists that you have never even heard of. And is that, like in a city like this, is it concentrated kind of like where we are in, like the design district? Do you see our art galleries all over the city? There's live work spaces all over the city. That's changing. But there still all over the city. That's interesting. Here's another. Just another example of a metal artisan in Maine, and the interesting thing I used the embroidery work room that we saw the M bordering on the dry pre what we talked about yesterday. I think that that, um, person I use his name is Michael Savoy. He's amazing, and I think he's in, like Indiana, Indiana or Illinois, so it doesn't have to be in your area to use Ah, local artisan, you think local, but there's you can. Still that will ship to you, though. Where way male things to people we ship things to. People have metal workers make things or custom pieces of furniture of using many custom furniture designers throughout the South, some in Mississippi. So you don't have to think that just because they're not in your area, you can't use someone that's just a more of that mom and pop shop or local artisan in their area. So you can find out about these a lot of times that I get great sourcing from the design magazines, like a house Beautiful. They try to be really diligent about sharing sources in those books. Some designers don't like to be so open, but when they're published, usually the magazines really encourage them to share their resource. Is what anybody been to the store in L. A. Called downtown. It's a really cool shop. They have a little bit of an online presence. I think one of my favorite things to buy from them is, um is lighting have a whole separate building in the back that is lighting, but they're located on La Cienega in L. A. And for those of you know, L. A. At all, it's lost. Cienega is the whole design district. But if you're into mid century and vintage finds, this is an amazing place now, like design within reach, it's not inexpensive. It's not flea market finds. But if you're looking for that wow piece, they also have, I think, a president representation. A presence on first dibs to any of you use first dibs. Or at least go on there and look again. First dibs. It's it's the number one s t the abbey s dot com Not inexpensive. So you're probably not gonna fill your whole house with this. But if you're looking for some of those key statement wow pieces like those green lamps that we saw in my show house, if you want something really amazing vintage like that, this is a great source for that. And First Steps is a great source for that, too. S. O n. Handmade, vintage, etc. You mentioned at Sea Theresa, right? What a bio. Nancy. I actually haven't really bought furniture, but I bought some stuff for the yards and metal sculpture type things, um, and buy gifts and jewelry and station air more, more, you know. So see more household things about vintage textiles on, etc. Before and used him like a bought a vintage textile for a client and used it to a pollster. A ah pennant board in their office. Do you sell on Etsy or have you ever You have your own shop, you're on long shot. But, um, some of the designers I work with sown at so etc has and also have any, any of youse you use eBay. I buy a lot of the cake plates that I collect from that collection I buy on eBay, which is really fun. And I have an apple, my phone for both, etc. Any bay. So if you're shopping and you're trying to watch a sale on a bay that's going to, you know, be time sensitive, then you can even have your phone alert you that someone else's bid on it. Or but ask me, I've gotten really great deals and really cool finds on for jadeite and various kinds of vintage glass cake plates and other things. A lot of those on eBay. Any eBay shoppers over there? I haven't asked you know Ethan hasn't come up interesting. Here's another version of etc. So, etc. Isn't You know it's handmade, but it's not just older, antique looking things. And by the way, just in case, um, it means anything to any of you both of these 1st 2 pieces or campaign style. So you know how we've talked about campaign style through the week. This is campaign hardware and then the little brackets on the corner. So if those appeal to you, that could be all would and be very traditional. But these obviously look more either artistic or, um, you know, vintage, maybe even a little going glamour there. So for what it's worth, those air campaign style. But here's another version of something on that see, so there's a wide range of style. So all of these sources we've mentioned so far I feel like other than maybe design within reach in downtown, which were both very much mid century. Most of the sources we've mentioned so far would have a representation of all four of the styles that we've been talking about today. Anybody used, um, this is fun to This is another Etsy shop, and this is much more modern. But have any of you purchased very traditional things from any online source or antiques from any online source or know of one? I know of a source for antiques. Savviest. Um um, one Kings lane. They have some antique things, a lot of antique things. First dibs also does. But anybody know another great source for antiques online on and then another. Another Etsy shop that's lighting. So there's almost nothing you can't buy online anymore. Fun Times is now saying they did find some vintage Drexel dining furniture and some Danish bond chairs and vintage crawler stuff all on eBay on, Blatter said. They got some Chandler's off that as well. But most people using, etc. Etc. Fun at CES very people love, etc. Is basically like supporting local but doing it online because their handmade. So there's a little bit of that feel good that comes with supporting local by supporting people that are making these things in their own home. And, um, Sally, you even mentioned Craigslist Earlier. We were talking about this. So what? What did you all find? The differences between eBay and Craigslist crisis is more of a one on one thing. It tends to be local. You just go and pick it. I have to pick it up. Is the case. So it's in your area. You have to buy it in your area. So if you're area like you know, so here there's a lot of really good mid century modern stuff and, you know, And if you're I guess, for the down on the Peninsula, whether a lot of executives coming and going, then Apparently there's quite a lot of Bailey used. Quite cool women room aboard stuff and things. And then eBay is really they will. They will ship to you anywhere seeking buy on eBay and really could be anywhere You don't have to be in the area that are already on. EBay is also traditionally more of an auction site. You may be reading against other people with Crixus. You just say, Can I have this and they'll say yes or no? Okay, Yeah. I haven't really used Craigslist that much. I know my husband use it for a couple of things that interesting that even people put like property on there and rentals and all sorts of there's just a Y game, you know, interesting for movement just quick because Jamie's are seeing What about your suggestions for lighting companies that you love? Where do you buy your lighting? Eso some of my favorite and I can't remember if we have all of these retails in here in a minute. You know the last segment on Day four. I can't remember what every slide looks like, but just off the top of my head, some of my favorite brands for lighting There's a company that a lot of people are familiar with, called visual comfort are the online version is circa lighting, and it's the same product. But they're online. Bring the C I. R C. A lighting dot com or circa dot com said the silver pendants that we saw over the kitchen bar earlier that I said when I said, Don't forget about dramatic lighting. Those are visual comfort. Aaron Lauder, who he said was a taste maker, has a whole collection for visual comfort, which would be available in circa lighting dot com. Also love a company called Robert Abby, and you can find them on several online boutiques. I don't remember if they have a direct I don't think they have a robert abbie dot com cause there to the trade, but they're on online batiks or through a designer and in a lot of retail stores. Jonathan Adler has some great lighting as well, and he sells it on his own website, Jonathan Adler dot com, and he sells it in other stores, like in Arkansas. Even J. C. Penney has Jonathan Adler, which is interesting. So those are all great lighting, so it depends. And if it's Chanda Lier versus Layup. But Robert Abby does those great color for colorful Gord lamps in great prices, and then cartel even has some cool lighting and some iconic midcentury like the acrylic light. So some really good stuff Thomas asking. I think I know when you go into a design store, you can often ask for designer discount. Do you find online Stores will offer a designer discount, some of them dio, you know, even like a pottery barn. Some of those they would give maybe a 10% discount. So not a lot. But if you want to, either keep it for yourself or pass it'll until Klein it can make a difference sometimes. So, yeah, a lot of them will. William Sanoma, home pottery Born. All the people in that, um, arena. I think design within reach does give a designer discount. And so there's. There's a lot of designer friendly online stores out there that really will work with you. If you're really a professional designer, that's a good question.
Ratings and Reviews
I was happy to get this class on sale at a time when I needed it. We were painting and replacing some furniture so it helped me get some clarity on what is most important to me. As a photographer I can appreciate most styles and colors so the class helped me hone in on what my design personality is (eclectic mostly) which helped me focus on things to inspire me.
What a generous offering. I got so much out of this course. Sure, some of the style references are a little out-moded, but it's incredibly thorough. Tobi is so knowledgeable about all of the styles and is gifted at helping students ensure style and functionality. Dive in! You'll learn so much about your own style and how to make your home flow in a way that you love.
Clear, informative and inspiring!
Student Work