Your Interior Working with Exterior
Tobi Fairley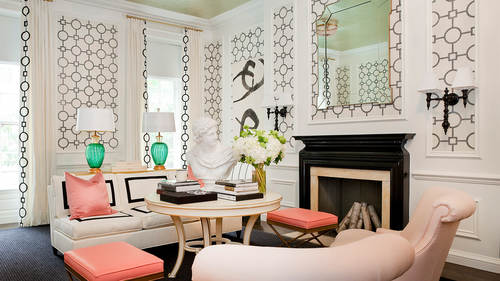 Your Interior Working with Exterior
Tobi Fairley
Lesson Info
21. Your Interior Working with Exterior
Lesson Info
Your Interior Working with Exterior
So what style of whom do you all live in? What, Sally you live in? Do you know it's a 1930 stucco? And I don't know. Is it a little bit? Is it Mediterranean? Okay, look and say we might recognize this. So this is official justice. Hard to sometimes describe your architectural style as your interior style, isn't it? What about you? I live in, like, the typical Victorian style building San Francisco. Okay, so but isn't an apartment condominium? So do you have in the inside like the architectural detail ings? Is it very classic, like Mona things? Or is it really modern? Yeah. It's actually pretty modern. Pretty modern. Um, yeah. There's not a lot of details. OK, mine is a 19 fifties boxy stucco home that's been added on to the outside is actually aside from the landscaping, which is lovely. The outside of my house is probably the least attractive. It's just very like a ranch. A ranch ranch. It's built on a hillside. And so, um, and the roof line is mid century, though. Yeah. Turn looking.
Yeah, Yeah, not my style at all. Lots of horizontal lines and windows and OK, interesting. and you describe yourself is very traditional. So yes, interesting. How about usually? I live in a sixties. I called the mad Men houses, and I hate it. Next week I'm moving to a bungalow and I'm very excited next week moving to a bungalow by my mad men, which is my favorite place to live. OK, in little bungalows, Devin, I don't know. 1906 shingle, I think. Originally, it was probably considered more of ah, like a little bungalow, maybe. Okay, Jenny, but I'm in a 1990 new construction will. Newer craftsman style. Um, Brick walk up rowhouse. All right, so, um, really tall ceilings. But they left out all the major details that would make the house beautiful. Sort of trying to add. That happens. A lot of new construction isn't. Yeah, So I'm in the midst of adding in all the molding that I like to see because I wish I could live in a 100 year old place. Okay, So how many of you don't you don't like where you're living, but you're excited about where you're going. You don't like your exterior? Sorry. So any of you love the exterior of your home. Yes, you do. OK, so it's all about half and half. Is that what drew you to that? What? What made you buy your home? The exterior. The in term, it's all about location, Location, I think in Marin County, nobody really lives in the house of their dreams. You kind of work with what's there is very costly. And this house, when you enter this space, it's in the redwoods. So it almost has a really calming feel to it. Yet you can walk downtown and the house is a shingled. Very welcoming. Uh, it was more about mood, about feeling about, but maybe not necessarily just the architecture, but it gave you the emotion or the some of those things that you wanted to accomplish. Its a nice space. Okay, good. Well, let's think about this and think about what? So some of you already have been trying different techniques and tricks, hopefully with success, because I'm hearing people who don't love their exterior, but you're living there and you're making it work for you. So I hope you'll share some of the things that you've done. And if there, along these lines of how to make the style of your homes exterior relate to the interiors. But let's think about a few a few guidelines or a few thoughts to sort of set the tone for this this concept. So maybe. And this is what you were saying, David, maybe you need to think of your home as, ah, as a whole, and that doesn't necessarily mean get too attached to an exterior style that you don't love but you. You love the style of your home because of the mood that it brings. Maybe it's not such beautiful architecture to you, but at least brings you this relaxing, serene kind of feeling and and the surroundings do the same for you. So a lot of times the things we fixable and that drive us crazy are really not that important to the grand scheme of having a successful interior exterior situation or blending of the home. You know, as a from a holistic standpoint, and it doesn't mean by looking at something as a whole that it all has to match. Your interior doesn't have to match your exterior, although I love to speak to the the exterior in certain ways. I love toe have elements again that tie the interior to the exterior. I think it's just a little more cohesive. It makes more sense to people. It's less abrasive, less shocking when you you go into, say, a very traditional exterior and find that it's really minimalist on the interior unless you're going for shock value. I think there are ways to transition that aren't quite so stark. So I certainly love to take cues, but not necessarily match. And that's the same approach I used for many things in design, say collecting artwork. I love to bring in artwork that blends with my style but isn't necessarily match to it. So the exterior home of your home is really the same. So although in just a second Teoh to the Pinterest sport and we'll look at some of these styles. But I think I'll go ahead and give us some points of reference of some of these different types of style. So there's a 1,000,000 different styles of architecture, just as there are interiors. But let's touch on a few of the most popular ones or things that we would recognize. So maybe a Cape Cod home house style. It's some of the features that really make this style noticeable. Recognizable are a pitched roof wood shingles. Many have dormer windows inspired by homes from the hundreds. Actually was a very popular style, also in the 19 thirties, and it's still popular today, and we think of this geographically, a Cape Cod home. But we also see these and other parts of the country just because people love it. Certainly there's the cottage, inspired by medieval and English styles. They have steeped roofs. Storybook details would usually sometimes they're stucco, rarely their brick and casement windows. So use everybody know what a casement window is, as opposed to a double hung traditional window, a casement window that usually has a crank opening. A lot of times, that's interesting. Cottages. I think I've also have. I mean, traditional cottages in America have more of a double hung window sometimes, but that's one of the things that historically is associated with a cottage style house with small pains. Classic colonial, most popular style. In the United States, 2 to 3 stories would or brick most windows, have riel or foe shudders and often have fireplaces. Anybody living a colonial, I just purchased a house that would be considered colonial. And then there's a difference in this and the Dutch colonial. So these air those houses that people say I look like a barn, the way the roof style is this what is really the key recognizable trait of a Dutch colonial? We'd see a lot of these also in the East, in the Hamptons. A lot of times you see these distinctive curved eaves. Gambrel roofs, overhanging eaves. Fireplace chimney is often wider at the bottom than at the top, and can be clapboard, shingle style, brick or stone. And, of course, there's all kinds of hybrids of a lot of these styles and materials that have been used. Historically speaking, these are some of the key style points of these different styles of home Queen and her Victorian. Usually l shaped two or more stories, sometimes with a turret wrapped porches, supporters that wrap around the whole house of formal interest entrance and lots of ornamentation. So the little gingerbread that looks like a dollhouse or a gingerbread houses are often seen, and queen and her Victorian style homes. I think that we have, most of which I don't think is necessarily authentic. I think a lot of it has been constructed to make it look look like faux Victorian, clean and style Victoria, the Tudor style or two to revival. Mock Tudor Decorative half timbering is the most distinctive piece of this. So the white homes with the dark half timber would brown timbers on a white background. Steep roofs, usually stone or brick on the house and very, very narrow windows. Often then we have the bungalow, which we talked mentioned here, definitely popular in California, can include arts and crafts or craftsman style natural materials. Shingled work in stones. Several of you have said this may fit your home style, usually asymmetrical Steve ST pitched roofs. So a colonial, you see, is very symmetrical. Something that's really traditional in this style is more asymmetrical, different types of roofs and then also knee braces in the eaves. And so you see a lot of the columns or short that are bigger at the bottom in the craftsman style. Sometimes those tapered columns that sit on brick Bryce is to our brick, um, platforms and exposed exterior beams often and and sometimes smaller, often smaller. The ranch style, which is very popular in our area, from particularly from the fifties and sixties. Long and low. Single storey, usually garage or carport, sometimes usually built as a seamless part of the house, can be rectangle ill shaped or U shaped lots of sliding glass doors and patios or common. This is very much the Brady Bunch era. Split levels are known as a raised ranch and have 1.5 stories. We're nodding these air, you know. We've heard all this before, but it's nice to come back and remind ourselves what the's styles are because we forget in this way when we go out and look at thes and look that at them in conjunction with our interiors will remember matter. Mediterranean style stucco with terra cotta tile roof, Spanish inspiration with arches and grillwork. Minimal eaves. No overhang. Also known a Spanish Revival or Mediterranean revival. There's some Spanish revival a lot and at least in L. A. Right. But in this part of the country in California neoclassic very symmetrical box. Steve's grand facade front porches usually supported by two story classic columns and balustrades often included on the porches, dental mold and cornices. So really probably my home falls into this neoclassic style. But Colonial. There's some common things between colonial homes and neoclassic, home, contemporary or modern. We all Would you dude, over that contemporary house yesterday when we were just finding your style, But simple forms, geometric lines, open floor plans, lots of glass, including full glass walls, flat face exteriors. No ornamentation, definitely the mid century modern home sometimes notice space Age isn't that funny, because these now have been around many of them since the fifties, and we still look at him and think that they represent that space age type of look farmhouse like I Love a farmhouse rule modeled on Victorian or colonial style but with less ornamentation. A lot of Greek Revival farm houses in in our areas to, um, where I live, functional and informal always feature a porch and usually simple columns, the federal style whom recognizes the first purely American home style. Most others were modelled on European styles. Most other styles that we have. So this was really the first American style, almost always brick, often red brick fan shaped windows over the front door and usually no front porch on the federal style French provincial romantic based on on homes in the French countryside. Made of stucco or stone. Very steep roofs, usually made of slate tall, second story windows and again we see a turret in this French provincial style. There's the Greek revival style, and I mentioned this in a moment ago with regard to farmhouses but very large grand homes, distinctive fluted two story columns, sometimes all the way around the house, painted plaster exteriors and horizontal transoms. So those air most of the cattle, the broad categories that you see. I'm sure there's some other styles that we haven't covered. But let's take a look at some of these, and particularly some of the most common ones in the US. I'm gonna go to AARP Intersport, and we'll take a look and get a reminder of what some of these look like. So if you didn't know what your style was, you may recognize it in some of these exteriors. A little history lesson here, too, So this one is French provincial. You see the turrets on the front, very steep roofs. Um, you know, lots of I love this Look, I love the I V of this so you know, very historic looking, but very French, right? Do you think of this? The French countryside and has some details from the chateau, like the tourists and the fin eels. I think this was the one that said Slate roofs. Often you don't see a lot of this in the US except for maybe people have fallen in love with the style in their travels, and they bring this back and recreate it. Another French provincial a little bit different. So this is a more modern interpretation of the French provincial. I think it's definitely lacks some of the charm of the 1st 1 that we saw. But we see this happening in newer construction, where people take details and try to replicate some of their favorite styles. And this has that type of a feeling to me love this one. So this is also considered a French prevent French provincial style home. This becomes much more classic, though in its detail ng I think really pretty. The neoclassic home saw. This reminds me of lots of homes. Lots of historic homes in America have this style. Also, I think of homes in Virginia. I think of southern homes implantation. I've seen this all over the country. Do you see this at all in this area of the country? Is there any representation of Well, you might see something like this somewhere like Palo Alto Atherton, somewhere like that where there is a lot more space. Actually, when you first kick that picture, I thought you were showing us The White House has that has been feeling. I think I particularly love this, but I'm also a classic traditionalist. So really drawn Teoh to this personally and indefinitely and associate ID. Even that wasn't its origin. It's definitely at home in the south. You see a lot of these in the South. We have plenty of room to have these grand facades. Here's an example of a cottage, a very small cottage with shingle style exterior, which I think is quaint and fun. And I would love to have a neoclassic home and a cottage in the country or a farmhouse that's hard for me to decide what type of home that I want. I think I just need about five homes to get all of my personality and style. In another example of the cottage, whimsical storybook Greek revival, which is very akin to that neoclassic style in many ways. But a lot of times the Greek Revival style has the porch that wraps the air all the way around the entire house. So lots of historic, uh, we think of, you know, even Palladian style architecture that famous buildings. Details come from things like the Parthenon with the columns and replicated in a scale appropriate for a home. Almost very grand scale again. The cities in the South a lot. Another cottage style, interesting stone, their use of stone and stuck up the U. C. Stucco used this way in your in some parts of California Dhoni like a really textured stucco. Is it also on the bungalow style that you have stucco on those bungalows or they typically stone or brick? I can't remember what the minds of shingled would, but I think maybe minds more craftsman now that I'm looking at it, and that fits under that category for sure. Another neoclassic want to look at which I love. Usually you don't see the neoclassic with the brick as much. This look, this makes it a little more casual looking, I think. Then, then the wood from the others that we We're just taking a look at mid century. I secretly love that deal. Yes, I saw some nods. No, absolutely not. Could never live in that very mad men who would live in this? No, I'm living in that. Theo. Theo, this is Palm Springs. But you occasionally see houses like this in the Ashley and Orender. I've seen stuff like this where you sort of have really beautiful houses. And there's something like this stuck in the middle of anything old something like something like this beautiful mid century design. The classic neighborhood. It just sticks out. I think that is an interesting point because I always speak. Try to be careful to not offend, you know, because I do love that people have the confidence to create what they love, wherever they are. And you said that we Americans are famous for doing that things to our homes and having the confidence. And I think that we actually know this as well. But I find that the same thing happens in my area. And even some of my clients have designed beautiful homes for the style of architecture they've selected is not necessarily if it to the surroundings, to the climate to the, um, environment. And I I agree with you personally. I love when the architectures textural style is a better fit for the actual geographic region. So I think of something that's really popular, and we just came off of the trends conversation. So that's even trendy. It's been very trendy. Teoh have Mediterranean style new construction in our area, and you just don't think of a Mediterranean style really being appropriate for Arkansas in the middle of the pine trees. It's just really not, You know, it's not really cohesive. It doesn't mean it can't work. And again, if you love it, I think you should follow the love test and embrace what you love. But I am a little bit more of a traditionalist like you, and I like to see homes that are a little more fit for this. One, for example, fits perfectly with the palm trees in this Hollywood glam sort of setting for Palm Springs, California glam, but maybe not so much in this area. I've seen that happen with what other styles do you notice sometimes, and you may be there in your area that people bring in that aren't necessarily. If it it's hard to describe, is it all just depends on how the area works as a whole. And it's usually the exception that is the not the start of the Isil with one that stands out right, angry. So you were gonna say something, Julie about this only had No, no, it's just it's hard just because my furniture just doesn't look good in there. And I came from a bungalow which was just so cute on. And then I had to try to fit my furniture and try to get that cute nous, and it did not work, and it was just like, begging to be ugly. I I just could not do anything now. It's just sort of like learn to that's what it is. But I'm just so well, I did your very, very classic traditional style with antiques. This would be one of the hardest types of architectures. Toe ballooned with your style is definitely a challenge, because there's, I mean complete polar opposites. No ornamentation, no detail. The lines are so straight and so horizontal, it's it's exactly the opposite of the things that you were putting in it, so we'll see some images and just a bit. That shows some ways to blend these two styles. But I think that for someone who loves things and loves layering, it's still gonna be really, really challenging is the only way to really make very classic pieces work in a home style like this very well is to have a really, really edited version of that and almost a museum version. Use them quality version of of the classic pieces. But you know what's really funny is my husband's not into design it all, and I just love it and he even said, Oh my gosh, Julie, our office looks horrible in this house If it was so cute and our other out, you know, and it's so just so he even noticed. So I knew that I had. So what made you buy this property? Well, we were renting. Oh, and we're in Moran, and it's even to get a rental. It's very difficult. And so I just had to just snatch up. My husband was starting a new job in the city, and we just had to get what was available and make it work. And I knew the day before we even moved in that I wanted to leave way our way out of there. I secretly during about having all these different types of him because I really relate to so many different styles. Even the four design styles. In my perfect world, I would have, ah, home like this somewhere that I could live my glamorous life. And I could go out to the farm and have my farmhouse and then have a traditional house that I love. All of them, actually. But I would definitely design them and decorate them differently. This is a very Brady bunch. This is a split level ranch style. Anybody live in this kind of house? Yeah. Anybody ever lived in one of these houses? Yes. Your Seattle school. Where they were. They in California as well? No, in Seattle O. C. In Washington. The Northwest is full of houses that look like Well, here's an example of that Dutch colonial. So you love that you love the bar on. And you do see lots of these in the east and a lot of these in the Hamptons behind that One of the designs I think we've seen a picture of it. What? One of the show houses I did was in the Hamptons. And so I've spent time. If they're set on more than one occasion for design projects and Steve, many of these homes. There's definitely some things about it that I really like some very classic details. Another midst, but another mid century. This is really crazy. Artistic, modern house. Love it. You love that. Tell me what you love about it. Oh, I think the lines are beautiful. I love how they've left the cut out. So you can see this like, I think it works really well with its environment, the trees, the nature, having the wood with it. So it's not so stark and cold. Um oh, I think stunning. This would be a little bit of a stretch for me. This is outside of my I really think I mean, I could probably enjoy living there visiting there if the interior's But this is a home where I would feel personally like the interiors really needed to reflect the exterior of this because it's so yes, and really the interior could undermine this in a lot of ways. that could really undo it. What do you guys think about this to either of you like that? I do like it. But what I'm not seeing and this is what My problem with it? Where the windows. I thought you were gonna say where the sports cars? No. Well, because I would say it, wouldn't it? You know, I could tell you where they because that looks like most of the stuff. I designed thinus sound. No, not that one. But it says John, you know, it's a white, you know, you're in the when the windows to the view, and the sun is coming in along the line of the roof, and so the interiors will be super bright and they'll have a lot of glass to the sun side, right? And then less glass to the cool side. You, which is a side we're looking at. Yeah, it's, you know, because I do like you usually am. Assuming you don't like this one, I can appreciate it. I wouldn't want to live in it. But I do think it looks really pretty. And I do like the wood that's gonna say maybe it's the warm woods that that relate to the traditional. It looks almost like, you know, like I could go there for, like, a retriever. Yeah, could be varies in. This could be worse, then comes in Mediterranean style. Anybody loved this. They're eating. You know, I We built a house in 2005. It was Mediterranean and we designed the whole thing and it was just like that. I think they're perfect for this part of the country. I think they weren't great in California and in Florida and in warm climates. It's a little bit of a stretch to make them work in some of the other parts of the country, but definitely beautiful, very ornate, a little more ornate than my personal style. There's a California ranch style. I actually think that's charming. Do you have any of you who live here? There, there. Lots of homes like this here are more in L. A. There's more Northern California. Think that start. Yeah, a little bit. And I have seen things like this in the wine country region, and some can be very charming. Can imagine sitting on that front porch with my glass of wine. There's a federal house so the red brick traditional red brick. A lot of these don't have a porch, but if they do not necessarily a two story grand porch like the neoclassic style, this is the one that's an American American style more ranch, so definitely horizontal. I see lots of these types of things also in wine country, where I visited lots of mid century looking homes in that garden of arts and crafts in that part of California, for sure, A Cape Cod. I think it's super charming and Keat, very classic with love that have a rose garden will trail of growth to girls in the summer. I could go to my Cape Cod home and grow my roses, right. I'm a good dreamer, aren't I? This one is New England colonial. Interesting. Isn't it scary? I think it's pretty, but I will be scared and it looks very, very old, Samir. Maybe just because of the finish on the the exterior gets leaning because I do like about It is some of the classic details, like I love this pet oven so hard to understand how it relates to its garden. I think, especially living around here so used to houses that open to a degree to the garden. And then you see something like that. We just think again, the Syrian. You see something like this in the east, in Virginia and even in New York, Massachusetts, A lot of those very historic areas. Another cape Cod. So just reminding ourselves what some of these styles look like or if you didn't know what they were called, it's just great toe to really put a name to some of these. Like we did our design stoned, start understanding what you want. And then in a moment we could talk about, you know, best case scenario. We had our dream home. What would match our interiors better. But if we don't, which is the case for most people. How do you blend those two things? Let's see. So that's considered a bungalow? Is that what you're? Is that along the lines of what you love? So has a cottage feel to it, right? Who else said they had a bungalow? Somebody else did. I think Devin, did you say you did? Yeah, but mine doesn't look anything like okay, nothing like that. How about this? Like it? I appreciate that even if that's not my style, that we'll just want to be right now instead of in this studio. As much as we love creative, why wouldn't we all rather be laying by that pool right about cool in the man's you care? Does that glass and just the coolness of that in the clarity Just thing that's really something. Definitely. The background does look like Arizona doesn't Camelback Mountain that looks like that Very chic. But But this even also see this. Couldn't you see something like this? Also, many in Palm Springs or Azarias? Even in a Renta, you know, we're out in the hills and there there are homes like that. You drive out into the very nice private areas. So do any of you who are classic traditionalists like may still have a secret kind of love about this? Do you get excited when you see your now you just think couldn't do it too. Too simple, too sparse. Communication is more like a nice vacation. But now I wonder if you live in a place like that with you feel very exposed. So I wonder if this is her home. And if you lived in what seemed like a vacation home. If you want a vacation in a colonial neoclassic, go down to the South and Charleston. Here's another Victorian is this is This is very much San Francisco. All this is all the gingerbread or feeling very, very familiar. It probably is you. Maybe it's on. It's driven by this house 1,000,000 times, huh? Mr Anybody live in this now? Did any of you say you live in this style now? You didn't think Oh, no, really. This is farmhouse. Really? I would think this is even more of like a mountain style toe log cabin. Lots of this look in North Carolina and the mountains and Asheville. Certainly you could see this more. Is a lodge style in other parts of the country. So interesting how geographic most of the architecture, er is even in America. But in another place, your angles, think nor angles. Here's a classic Tudor style. This one happens to be greyish, but often these air brown and white. So I think the minute you see that white stucco with the brown half timbers, you know that's a tutor tutor home. Very traditional, but but not my favorite. I think it's a really a strong exterior. And then one more that we can get some oohs and aahs from JK. Yes, you see, That's very me. You understand you now and this great. It's really kind of fun that you now want to start giving everyone in your life these quizzes and see. Now we're gonna have to take this design quiz. I could know more about you. I can appreciate that one as well. So having looked at those any thoughts, any other people like me that dream about having any of these homes, is there? Yes. Which ones? I I would go for the modern one with the big swimming pool, huh? I don't see it. I don't think there's any problem with feeling like you're on vacation. Every that's a perfect scenario. Do a little yoga out on the porch in the mornings, the sunrise, some in the afternoon. I think I don't like about the modern house. Require less stuff. It's not about stuff. It's just about the structure and the clean space and not having to fill it with stuff. I agree, and that is that's a great example of how, even if you are a traditionalist that you you may want to take cues at least some cues, even if your interior furniture isn't modern, the way you interpreted executed present, it could be in a much more modern or edited way to make them work together cause you don't envision layers of things you don't envision. Layering Oriental rugs and lots of Chomsky's and Nick Max and that sort of options. I mean, if a collection, maybe in a really clean way, even if it's a traditional collection in a bookshelf, foreign floating shelves in the corner. And so again, that's where I call that sort of a museum. Look, that's really a curated. That word has come kind of overused, lightly curated. But in this instance, it's important when we're talking about collections about editing them and presenting them in a way that would work in this so you could certainly introduce. We're gonna see some examples in just a second of how you could introduce some traditional styling into some different sorts of architecture that aren't so traditional. But the way you edit it is important. Anybody else dreaming of any of these homes, anybody secretly want to live in terror or the White House pages and pages listed by People Online. Picture came up there being posting their comments. What would be the most common? Did we get more people responding to the modern homes or, more interesting, responding to the traditional way? Got a bundle of I Love that Tuto Victorians love that love that love that Richmond If and then we've got a few moderns down here. I'd like to be modern, but I'm not, but I wish I was, but I'm not. I think there's a lot of that. I think that's the same thing that made people say, I wish I was the artistic traveler. It seems romantic, It seems daring, It seems, you know, exciting a little bit of James Bond in there, but most of us don't gravitate to that. I just can't envision that that would work for our lifestyle on a daily basis. It's interesting because in the last session, of course, we're talking about trends and what's hot and what's not. I think modern architectural trends date quicker than older architectural trends live in that Victorian, and it will look classic for the next 200 years that really bottom house that I liked. I think in 50 years time you're gonna be thinking that's a really old house. So modern dates quicker than old. That's interesting, too, because, you know, we were talking yesterday and I was saying, If you have a smaller budget, it's easier to pull off modern interiors as opposed to traditional interiors. But from a standpoint of longevity and and timelessness, I think you're right that a lot of those Colonial India classic homes could have been, you know, in the 18 hundreds in America that could be something that were much newer than that. And you really can't tell a friend of mine who is a great This is a garden designer and a horticulturists, and many of you probably fired of him if you're if you love that, that part of the design landscape design. But his name's P on. Smith has several television shows, and he has this great Greek Revival farmhouse, and it's only like six years old. But you go to this property and you think it's been there for hundreds of years because there's 300 year old oak trees that surrounded. So he did an amazing job selecting an architectural style that fits to the land to the location and then the way they built it and the materials that they used in the way the paint flecks off the exterior. Most people think it's a historic home, and so, I think, to your point. It is a much more timeless, classic traditional exteriors air much more timeless than something modern 19 fifties or sixties, really brutal architecture. Everything became very almost boxy. Nobody wants to live in that sort of space right now, although at the time it seemed very innovative, very challenging. But it's just ugly now, and I can't imagine that's ever going to become fashionable again. Classics in Palm Springs, which paper like the toe, live in some blue gloss, really always a percentage of people that the ones that love the Jonathan Adler look, which is very, very popular. And there are people who feel so comfortable and happy and glamorous in those seventies interiors. But it take. It's a specific kind of person. I think it's a smaller percentage of the population than those who relate to the classic
Ratings and Reviews
I was happy to get this class on sale at a time when I needed it. We were painting and replacing some furniture so it helped me get some clarity on what is most important to me. As a photographer I can appreciate most styles and colors so the class helped me hone in on what my design personality is (eclectic mostly) which helped me focus on things to inspire me.
What a generous offering. I got so much out of this course. Sure, some of the style references are a little out-moded, but it's incredibly thorough. Tobi is so knowledgeable about all of the styles and is gifted at helping students ensure style and functionality. Dive in! You'll learn so much about your own style and how to make your home flow in a way that you love.
Clear, informative and inspiring!
Student Work