FAST CLASS: The Power of Habits
Approach & Avoidance Goals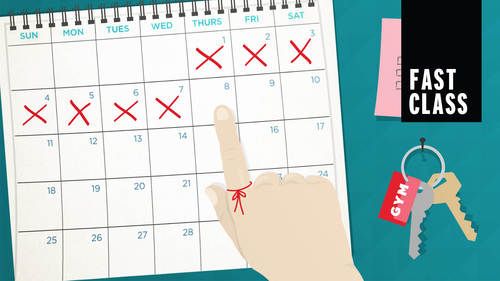 FAST CLASS: The Power of Habits
Approach & Avoidance Goals
Lesson Info
Approach & Avoidance Goals
we started by talking about how to learn effectively, right? That the idea of the role of three that you're gonna remember roughly three things about situations. And then we dove in tow habits, the formula for habits, consistent mapping and repetition. How toe how that motivational system works. The ghost system, the stop system. We talked about how toe create plans to do things that will help you toe get things done more effectively. Then we talk about your personality on day two. Um, you know, and we just had a little review of some of some personality characteristics, which was great. The idea is, now that you understand some of those individual differences about yourself, you can understand how to implement those habits in the way that's best for you, but also to interact with other people more effectively. That's where we went. And now we want to really put those habits into overdrive and use those to make us a Z, effective as we can possibly be in the world. So we're going to sta...
rt actually with an interesting topic. That's a transition. We're gonna talk about feelings. Well, it turns out that, you know, we talked about this idea that that, uh, that your motivational system involves this ghost system buried deep inside your brain, and it doesn't communicate that well with the rest of your brain. In fact, the way that that motivational system communicates with the rest of your brain is through the feelings that you experience. That's actually your best. Under the best way to understand the way your motivational system is working or not working is through the feelings you have. And so we need to use that to understand how it is that those feelings air affecting our ability to get things done, What it's telling us about the success or failure were having with our goals and how to use that effectively when we talked about goals. Right? We've talked about the fact that there are these two distinct kinds of goals in the world. OK, we talked about the idea that some of the goals we have or what we could call approach goals, approach goals of the desirable things in the world, the stuff we really want to achieve, the things that are desirable for us in our world. And they could be simple things, like making a friend or doing well when you're giving a talk somewhere, they could be succeeding in business. They're making money, but they're the desirable things. It might just be having a good ice cream, right? And then sometimes we have things we want to avoid. Okay? It could be, You know, I want to stay healthy, so I want to avoid getting sick. It might be that I want to avoid negative interactions at work. You know, sometimes you're working for a company, and the company isn't succeeding and quite the way you want. And you're just worried about Am I gonna lose my job or my colleagues gonna lose jobs? I mean, you know, that's an avoidance situation as well. And when you're in these approach states versus avoidance states, this can really influence the way that you act in the world. Now the problem is right. So So again, let me put the finest point on this. I can. Your motivational system involves these mechanisms right there deep inside your brain. We talked about the fact that you know you cut into your brain again. Those two boxing gloves, side by side, set the wrong way around thumb. You know the fingers of the boxing glove, all that gray stuff on the outside, you cut deep into the brain. You get that white matter under the surface and you keep cutting in. You get Maura of the gray stuff deep in the brain. That's your motivational, where your motivational system really has a lot of it's it's centers, okay, the circuits that are involved in motivation, because when you're trying to pursue these goals, your brain knows what it's doing. But the you that that that inner monologue that you have that that you're consciously aware of it doesn't quite know why you're doing what you're doing. So how can you begin to understand what your motivational system is doing? Well, part of the way that you do that is by monitoring the feelings that you have in the emotions that you experience, because that begins to tell you something about what it is that your motivational system is doing. And I've got this little table here to help you to understand that if you're stressed, that's a reflection that you are spending your work life trying to avoid disaster. And if you spend your work life trying to avoid disaster than you're spending all of your time in this avoidance mode. You're trying to avoid problems and you can't be happy. The best possible case in situations in which you spend your life trying to avoid disaster is that you might be relieved if I want to experience real joy in the work place. Though it means I have to shift from trying to avoid negative outcomes to really trying to achieve some positive outcome. I have to totally change my orientation. If I want to really be joyful and happy, I have to be focused on How can I, uh, what is some positive outcome that I really want to experience it work. So if you find yourself stressed a lot and you really want to be joyful, you have to think about what is it that I'm spending my time trying to avoid? What are those responsibilities that are weighing me down? The things I ought to be doing and shift yourself from those those responsibilities, too. What do I really want to achieve? What's that ideal outcome for me that I'd like to have? And if you focus yourself on those beautiful, wonderful, desirable things in your work life or in your personal life that you'd like to achieve. Then you open yourself up to the real possibility of having happiness enjoy in your life, as opposed to just stress with occasional pockets of relief.
Class Description
FAST CLASS:

Try a Fast Class – now available to all Creator Pass subscribers! Fast Classes are shortened "highlight" versions of our most popular classes that let you consume 10+ hours in about 60 minutes. We've edited the most popular moments, actionable techniques, and profound insights into bite-sized chunks – so you can easily find and focus on what matters most to you. (And of course, you can always go back to the full class for a deep dive into your favorite parts.)

Full-length class:  The Power of Habits with Art Markman
Subscribe to CREATOR PASS and cue up this class and other FAST CLASS classes anytime.

Setting a goal is one thing, but actually doing the work to achieve that goal is a totally different endeavor. If you want to hit your targets and make lasting changes in your life, join author and psychologist Art Markman, Ph.D., to learn what it takes to build and maintain healthy habits that will last a lifetime.
This course won't serve up superficial self-help tips; instead, you'll dive into the latest cognitive science behind behavior change. You'll learn how to build new, positive habits and break the cycle of existing negative ones. You'll explore what it takes to sustain healthy habits over time and increase your chances of maintaining new habits by empowering your friends and family to make positive changes, too.
Don't waste another day simply wishing you could make a change that really sticks — equip yourself with the techniques you need to transform your life in measurable, powerful, and positive ways.