FAST CLASS: The Power of Habits
Reusing Knowledge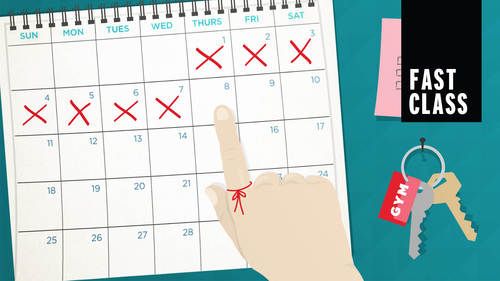 FAST CLASS: The Power of Habits
Reusing Knowledge
Lesson Info
Reusing Knowledge
Now we want to think about how we re use knowledge, because if we're going to do things in a more effective way, one of the things that we need to do is to be able to take all of that great knowledge that we've been learning all the stuff that we've learned when we've self explained and turn it into things that we use when we're doing something. And so we're going to start off by talking about how we ordinarily reuse our knowledge, and then we're gonna transition to how it is that we use knowledge in the very special circumstances in which we're trying to draw knowledge from one area of our expertise and use it in a new situation where it wasn't obvious that it was gonna be important and relevant. So how can we? How are we able to see similarities between some situation out there in the world and something going on in our heads? Well, in order to really understand that better, let's take let's play a little game OK and understand our abilities to ah, to see things is similar for a mome...
nt, so here's what I want you to do. Everybody can do this. Grab a sheet of paper blank sheet of paper, pen, pencil. And now we're gonna play a game for the next several seconds. I want you to list the commonalities that you can think of. Okay. Commonalities you can think of between. Ready. Ah, hotel in a motel. You ready? Go. Okay. So you did hotel in a motel. Hope you got a few there. Now, I want you to try something different for us. Now, let's take some time and write down the commonalities you can think of. Ready now between a shopping mall and a traffic light. Okay, So we did some. We said we did some similarities. Now we're gonna play a similar game. Only now we're gonna do it with differences. So I want to start with differences. I want you to write down all the differences you can. You ready between a car and a motorcycle and finally ready? The difference is you can between a magazine and a kitten. But here's why it matters. It turns out that there's a very interesting pattern here that that is a little bit unexpected, because if you think about your ability to see things as being similar and what it is that makes things psychologically similar to each other or different. You actually might assume that when there's a pair of things that are really similar to each other, that they have a lot in common and very little that's different between them. And the things that are very different have very few commonalities in an awful lot of differences. Intuitively, that makes a lot of sense. In fact, that's not the way that that that your system is designed. That's not the way the psychological system really works. So commonalities, more or less work the way you'd expect them to write. So things that are very similar to each other have more commonalities than things that are very different. Then we had a shopping mall in a traffic light, which largely elicited laughter. Um, so then that's a pair that makes you laugh. What, What? They have some things in common, but probably harder to come up with them. Right? Both have metal round. You're really stretching, right? Yeah, there's life, but it's hard it doesn't feel is easy, right? Hotel motels like Bang. That's obvious. You know, shopping mall traffic like not so not so easy now. The interesting thing to me is what happens with differences. So when you get to differences, you know, for card a motorcycle, how did you do with car in a motorcycle? Actually, pretty easy, right? It's easier to maneuver a motorcycle, particularly traffic than cars. Yeah, all kinds of things now notice that a lot of the differences that you come up with when you're listing the differences between a car and a motorcycle. Our differences where what you found is a point of commonality between them and then and then a difference that relates to that commonality. So they both have wheels, but they different the number of wheels They both have engines with a different the size of the engines. They both are maneuverable, but they differ in how maneuverable they are. All these things where there's a point of commonality that leads to the perception of difference. And so then when you get something that's really different, like a magazine in a kitten, what's your initial reaction to that? Right. Your initial reactions like what? Um, they're just different, right? That's the first. The first thing you want to do you like uh, just they're just different. And then if you force me, I'll go, OK, you know, you're pedicure on, but you know PETA magazine and you read a magazine. You don't really, really kidding, you know, And it was almost reluctant to do that right. The reason for that is because these concepts are what what is called non aligned herbal? Meaning? You can't find any correspondence, and as a result, there's no There are no differences that emerge out of what these things have in common. Instead, it's more like almost anything I know about magazines isn't gonna be true of kittens. Almost everything I know about kittens isn't gonna be true of magazines. So why bother? Now? Ask yourself, Why is it that the system is set up this way? Why is it that when we get things that are very dissimilar, we actually get nothing? Psychologically, there isn't. We don't get commonalities, but we don't get differences either. But when things are very similar, we get both commonalities and differences. Well, the reason is because actually, from a stent, the standpoint of what's relevant for us, there's very little relevant in either commonalities or differences when things are very dissimilar
Class Description
FAST CLASS:

Try a Fast Class – now available to all Creator Pass subscribers! Fast Classes are shortened "highlight" versions of our most popular classes that let you consume 10+ hours in about 60 minutes. We've edited the most popular moments, actionable techniques, and profound insights into bite-sized chunks – so you can easily find and focus on what matters most to you. (And of course, you can always go back to the full class for a deep dive into your favorite parts.)

Full-length class:  The Power of Habits with Art Markman
Subscribe to CREATOR PASS and cue up this class and other FAST CLASS classes anytime.

Setting a goal is one thing, but actually doing the work to achieve that goal is a totally different endeavor. If you want to hit your targets and make lasting changes in your life, join author and psychologist Art Markman, Ph.D., to learn what it takes to build and maintain healthy habits that will last a lifetime.
This course won't serve up superficial self-help tips; instead, you'll dive into the latest cognitive science behind behavior change. You'll learn how to build new, positive habits and break the cycle of existing negative ones. You'll explore what it takes to sustain healthy habits over time and increase your chances of maintaining new habits by empowering your friends and family to make positive changes, too.
Don't waste another day simply wishing you could make a change that really sticks — equip yourself with the techniques you need to transform your life in measurable, powerful, and positive ways.