Grinder Girl
Mark Wallace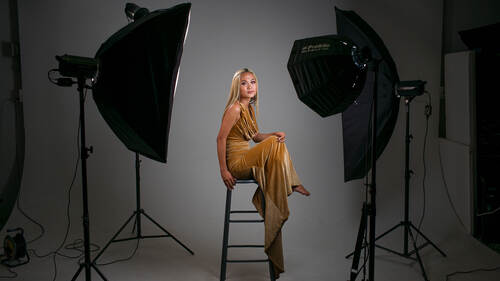 Grinder Girl
Mark Wallace
Lesson Info
21. Grinder Girl
Our model uses an angle grinder to throw sparks across the studio. Mark uses a slow shutter speed to blur these sparks and a short flash duration to freeze the model. This setup allows you to freeze and show motion at the same time.
Lesson Info
Grinder Girl
We are now gonna combine constant light with light from a flash so that we can do something really cool. We're gonna show motion and we're going to freeze motion at the same time. To do this, we have some really cool stuff. So Sheila back here is gonna be playing the part of grinder girl. She has got a grinding wheel that she can grind on a piece of steel, and that's gonna shoot sparks. And that's gonna go toward my camera. I'm gonna try to capture that. So what I'm gonna do, is I'm going to have my camera set to a one second exposure. So the lens or the shutters gonna open. And then for one second all those sparks are gonna make these light trails. So to do that, what we'll do is we're just gonna shut off all of the lights and when I take a photo, it'll show that. But how do we then see Sheila? Because she's gonna be in complete darkness? Well, we have over here, a studio strope. So this is an ELC 500 with a snoot on it. That snoot will make sure that the light is only hitting Sheila,...
nothing else. So nothing on the background, nothing around. And so that will fire and it's metered at 5.6 and that will freeze her. So the way this works is when the lights are on any lights that are on when this camera has its shutter open for one second it's gonna see everything. So to do this shot, we have to do it in complete darkness. Even the modeling light from our flash has to be turned off or it will show the motion blur. So what we're going to do is we're gonna use another trick. So all these sparks are gonna be flying. And so when Sheila is doing that she's gonna be moving around. And so the sparks are actually gonna light her up a little bit. So we're gonna see a little bit of motion blur but I've set my camera to rear curtain sink. My flash is on rear curtain sink which means that the flash is going to wait to the last possible second to fire. So right before the shutter closes, the flash will fire. That is going to freeze Sheila. And so, because it's the last thing to fire that will be she will be frozen essentially on top of the sparks. And so you'll see her on top of any blur motion blur that we see. So that's how that all works. Now, there are some safety concerns that I need to make you aware of. So the first thing is if you're shooting in a studio like this the sparks are very hot and if they hit the floor, they could damage the floor. And so we have some safety pieces of paper on the floor here to keep from messing up the floor. It just happens to match my pants perfectly. So we're just making fun of Mark and calling these floor pants. And so that's what this is. This is to protect the floor and all the paint and the psych. So we have that. I have an old UV filter that I've put it on my lens because the sparks are gonna be going right at my camera. You don't wanna do this with a lens that's totally exposed because when the sparks hit the camera, which they will it will damage the lens. It will damage your lens if you do this. It will damage your lens if you do this. I've said it three times now I think. Your lens will be damaged. So you have to protect it with an old UV filter, a piece of glass something to keep those sparks from damaging the glass. It will pit the glass on your lens. So you don't want that. So I've put an old UV filter on there. It sort of taped on the other thing. Sheila's got safety glasses on and then I will be wearing a full face shield because I'm gonna be bombarded with some hot sparks. Okay. So now that we sort of know theoretically what's happening here what I want to do is I first want to meter the light. We only have one light to meter and that's the light from our Elinchrom here from our flash. So what we're gonna do is Sheila get into your position as you're going to be grinding. We're gonna turn off all of the video lights so we can see exactly what we're getting. And you can see that this snoot is only eliminating Sheila. So when I meter this it meters right at 5.6. So right about 5.6. And so I have set my camera to a one second exposure at 5.6. So we're not gonna do any grinding or anything. I'm just gonna show you what happens. So if I take a picture with a modeling light on and I want you to sort of move back and forth when this happens. Okay? One, two, three move back and forth. Keep moving. There you go. Okay. So if we look at this photo you can see that we have a double exposure. So what's happened is the modeling light has shown Sheila. And because our shutter was open for a second she shows up and then when the flash fires, we get the second Sheila. And so we don't wanna do that. So, and we're gonna do this one more time. I want you to move like a lot. All right, here we go. Ready, go. And she's moving a lot. Okay. You can see even more dramatically when this shot comes up, that we have a blurry Sheila. We don't want that. So what I'm gonna do here is I have set my focus to manual focus. Because I can't focus in the dark. And then what I'm gonna do is I'm going to turn off my modeling light and now, move around a bunch moving around, moving around, boom, the flash fires. And now what you'll see is you can't see any of that motion blur. There was no light on Sheila to show the motion blur. We just saw when the flash fire at the very last. And so the key to that is when you are shooting you can turn your lights back on it's when you're shooting something like this and you're showing motion in the darkness, you have to turn off every single light that would show any kind of motion. So the only thing that we wanna see from our motion is our sparks. So I turned off the modeling light. So Sheila not blurry. We turned off everything in the studio so we don't see the studio. And then we should only see the sparks. The other thing that we have in the background. So if you turn the lights off again you can see that we have this Forza in the background that's this blue light. So this is a constant light. It's a Nanlite Forza 60 B with a gel on it. And I just have, it turned all the way up to max. I didn't meter it. I just turned it up, took a photo and it looked cool. And I left it as is. So the only thing I've metered is my main light. Okay. Lights back on for a second. What we're gonna do now is we're going to shoot. Now, the thing is, this is a lot of involves a lot of luck because we're gonna be shooting in the dark and what Sheila's gonna try to do she's gonna try to shoot the sparks just to the left of the camera. And so compositionally, that should look sort of cool. And then I have asked her to just go sort of crazy do some screaming, do some, not screaming, but like, and do some smiling and just be crazy with this. And so she's gonna be doing all kinds of things. I'm gonna be firing my camera. One second. Let that come in another and just keep doing that for maybe or 15 exposures because we don't really know what those sparks are gonna look like or exactly when the flash is gonna fire. Coz Sheila doesn't know when I've click the button. You, you get it. It's just some of the luck that we need. Okay. Are you ready? I'm ready. Grinder dural coming up. Okay. We're gonna turn off all of the lights. I'm gonna make sure my camera is in focus. So we have a good focus yep. And so ready. One, two, three, go (machine grinding) Yes. This is awesome. Grind. Yes. There's three exposures. Keep going. Excellent. Yes. I love it. Don't stop a little more. Yes. Keep going. Keep going. Yes, we've got, I'm so glad I have a face shield on. Okay, good. Let's just see what we're getting here. We're gonna turn our lights back on and this is sort of crazy. So let's go to the computer here and I'm just gonna step back and you can see that we've got some really cool stuff happening here. I like that. We're combining those things. It looks like when I positioned the snoot, maybe Sheila you've moved just a little bit coz it looks like the light is not hitting you exactly. But now that's so cool. That is so cool. We can play with this. So let me do one more thing. I'm gonna make sure that my light is exactly positioned. Cause it looks like I'm missing her just a little bit. So get down again where you were and try to make sure you stay in the exact same position and Mark if you could kill the ambient light and yes. So it was off a little bit. There we go. So we're gonna do this one more time. All right. Are you ready? I'm ready. Three, two, one go. (machine grinding) Awesome. Yes. Yes, that's it. That's it. Okay. We got I think this is it. Let's take a look at this shot. That is so cool. And that's the luck that I'm talking about that we needed but we got the right position, the right sparks, the right composition. This is really, really cool. Okay. I think that covers it. Just a reminder of how this was set up. Make sure you have protection on your lens. Make sure you set your lens to manual focus. A long exposure time. I have one second at 5.6, my ISOs at 100. So I don't see any of the studio. Eliminate all ambient light. You have to be in a very dark place. Make sure you turn off your modeling light. You can use a constant light to eliminate the background and gives a splash of color. Do whatever you want back there. Use a metallic background. Anything works have fun with it. Make sure you are safe, wear full face shield. Make sure your model has eye protection at the very latest. And also we did a bunch of training and rehearsal to make sure that you were okay. And then I think that's about it. And so what we're gonna do now is we are gonna go to our last looks. (upbeat music)
Class Materials
Tether Tools Pro Starter Discount
Tether Tools Pro Kit Discount
Ratings and Reviews
The class is comprehensive without being too complex! An all around 'how-to' guide with examples in real time with real people doing it for real. Showing 'What If' structured classes and showing 'Here is Why' Does not drag along but quick and concise. AND brought the support staff for deserved bow at the end. Nice Guy & Nice class 4 Stars at least!
Student Work