Vertical Contrast
Mark Wallace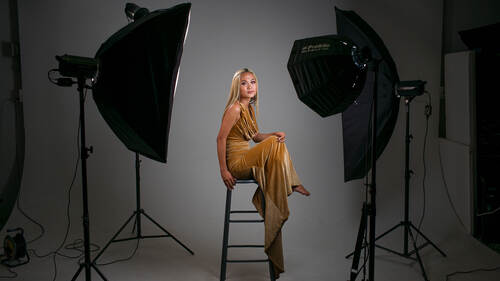 Vertical Contrast
Mark Wallace
Lesson Info
23. Vertical Contrast
Changing the height of your light will increase "vertical contrast," which is a great way to accentuate facial features for striking portraits.
Lesson Info
Vertical Contrast
We wanna explore vertical contrast. In other words, what happens when we take our light and start moving it vertically up and down. We've talked a lot about moving the light left and right and bouncing and all that kind of stuff. But vertical contrast can make just as much of a difference as moving your camera or moving the light in relationship to the camera. And so just to show you the subtle difference that this makes, we are gonna shoot some portraits of Sheila. And one of the things that Sheila has is fantastic cheek bones. And so I wanna show those. And so I'm gonna show you how not to show her excellent cheek bones and how we can really pronounce those by using vertical contrast. And so this is gonna be a medium headshot. So we're gonna be shoulders around there. And so we have this smaller octabox here, it's an Elinchrom Rotalux. So let's get started. The first thing I'm gonna do is let's just take a look at the relationship between the camera and Sheila. You can see that it's ...
just, to the side, a normal 45-ish degree angle and it is almost exactly the same height as her head. It's actually a little bit lower. So maybe I should raise that up just a little bit. But just to really show what this is looking like, I'm gonna leave it where it is. So it's just a little bit below her face, middle of that is around the chin level. And so what I need to do is first meter the light. Now, for this one I don't really care what it meters as long as it's somewhere between nine and 11. And so let's see where we are. We're at F13. That's good enough. F13 will work. So let me set my camera to F13. And I will take my first photo, and perfect Sheila, just like that is excellent. And now let's take a look. We turn off my tethering bar here. We can see that we have just a very nice soft look. But notice her cheekbones. Her cheekbones are just sort of flat there. We don't have a lot of definition and no shadows, nothing on here so we can really see that she has fantastic cheekbones. So what I'm going to do is I'm gonna take my key light, the only light in this setup, and I'm gonna raise it up. I'm gonna make it pretty darn high. So the first thing I'll do is point this down, then I'm raising this up pretty darn high without killing myself, about like that. So that's about, I don't know, eight feet, seven feet, something like that. I don't think I can reach eight feet, but it's about seven and a half feet. And so it's really high. So now I'm gonna meter this. Should be pretty close to the same. So it's F11. We just changed the distance a little bit. And so now let's take another shot. And so, yeah, Sheila just like that. Perfect. And now when we look at this shot, notice that we have more contrast, but we also have a shadow under Sheila's chin right here, this shadow right here. I don't know if I love that or not. And we don't have any definition under her chin where her chin starts and stops and where her neck starts and stops, so we might have to fix that a little bit. And we still don't have a lot of definition on her cheeks. And so there's a secret way that I can get even more definition on her cheeks. So what we're gonna do is, Sheila I want you to look toward this bar and then I'm gonna take one shot. And now I want you to think about something funny and give me a smile. (laughs) Excellent. There we go. So all I did was.. Oh, look at this, is crazy. Look what we did, by having Sheila smile, notice now we have shadows under her cheek bones. We can see that her cheeks are spectacular. So we have the shape that we want. The other thing that we don't have though is underneath her chin we have some issues there. Sorry, my computer is having an issue. Okay, so we need to fix these shadows underneath her chin. We need to fix where her chin starts and stops because everything's blending together. Also, her eyes are really dark. So Sheila's got these fantastic eyelashes. The bad thing about that is it blocks all the light coming into her eyes and so she looks like a vampire with bloodless eyes. Okay, so what we're gonna do, Krista is gonna come out for a second. And she has a reflector. And so this reflector here I'm gonna use that to bounce some light in to Sheila's chins. So Matt let's kill all the video lights, and then I can come over here. And look what happens when we use this. You can see how much light is going into her chin. And so just by moving this closer, farther away, maybe on this side, we can shape the light underneath. So this is vertical from below, vertical from the top. So it's essentially sort of like a clamshell light, is what we're doing. So we're gonna play with this to see if we can add some definition to Sheila's chin there, cause we need that. And so Chris is gonna come over here and she's gonna be my human light stand and moving that around. And then Matt, if you need light, you can turn that on. It's fine. And so I will take a shot, and then gimme a smile. Gimme a nice smile. There you go. And look at me with your eyes. There we go. Perfect. Okay. That is great. I just realized I can't really see (chuckles) what the reflector is doing because all the lights are on, all the video lights. But here we can see in this shot that we have now eliminated most of that shadow. We've added where this line is here on Sheila's chin. And it's just a big difference. Also look at her eyes. Now we have this catch light in her eyes. We can see that she actually has eyes and that works really well. So moving our light from straight on to very high, we add vertical contrast to show those cheek bones, show her chin, adding some shadows below. If those shadows are too much, we can just bounce a little bit of light to show definition from the other angle. And so we're working with light vertically, both high and low. And that vertical contrast can really make a difference in accentuating the look of your portraits. Okay, let's take our last looks. (upbeat music)
Class Materials
Tether Tools Pro Starter Discount
Tether Tools Pro Kit Discount
Ratings and Reviews
The class is comprehensive without being too complex! An all around 'how-to' guide with examples in real time with real people doing it for real. Showing 'What If' structured classes and showing 'Here is Why' Does not drag along but quick and concise. AND brought the support staff for deserved bow at the end. Nice Guy & Nice class 4 Stars at least!
Student Work