Ramit Sethi 'I Will Teach You To Be Rich' book launch with Chase Jarvis
Chase Jarvis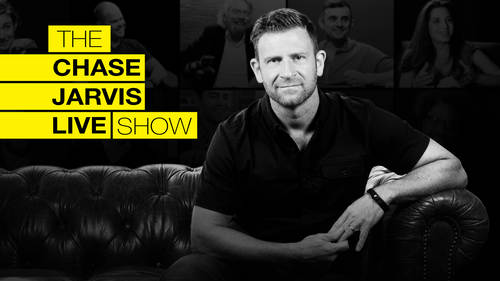 Ramit Sethi 'I Will Teach You To Be Rich' book launch with Chase Jarvis
Chase Jarvis
Lesson Info
122. Ramit Sethi 'I Will Teach You To Be Rich' book launch with Chase Jarvis
Lesson Info
Ramit Sethi 'I Will Teach You To Be Rich' book launch with Chase Jarvis
Thank you. I love you guys. Thank you so much. I wanna welcome to this special episode of the Chase Jarvis live show here on Creative Live. This is where I sit down with amazing humans. And I do everything I can to unpack their brains with the goal of helping you all and you at home. And these cameras from around the world live your best live whether that's in career and hobby or in the way live your best life. We want you to be awesome. And the people that are on this stage are amazing. And tonight's guest is very, very special. A longtime friend of mine, we've been friends for about a decade, so we're probably gonna go some special places in the conversation. He is the New York Times best selling author of I Will Teach You Be Rich, which is what we're talking about today. He's got a new release of that book. He also has more than a 1,000,000 readers to his blawg. I will teach you to be rich dot com. He's been featured in The New York Times, The Washington Post, the Wall Street Journa...
l. Pretty much everywhere I look, I see that guy's face? He is our hero and personal finance. My guest today, here on Creativelive is the one and only Meet safety. Let's give a round of applause. Yes, please. What a set up about it. I love it. Thank you for coming all the way here. Thank you for having me. I love being in this room. Isn't it good? Amazing. Yeah. Can we? I'm gonna were gonna go a little bit. So three months ago for months ago were having, uh, breakfast at the hotel. And you're talking about your tour? Yep. And you're like, no live events or start live events, but no broadcast of it. Yeah. So you named a bunch of cities and I invited you at that moment, and you were really hesitant first. No, it's not true. Share, if you will. You know what? I decided to go on tour, and I haven't been on tour in 10 years. So you look great. Thank you. And I come out and I realized the cities that I'm going to It is amazing to get in the room with people. And the people who come out are amazing. I mean, super fans, people who here has been reading? I will teach you Brits for more than one year. Okay, More than two years. More than five years. Wait a minute is unbelievably for your anybody. More than 10 years we got this amazing. So they've really seen They've seen a lot, and it means so much to me to be able to get in the room and to talk to people in different cities. But I also realize that not everybody can come. In fact, even here, this thing sold out. And so I appreciated that you allowed us to be able to stream it. So no matter where you live, no matter what your situation is, you can see some of this stuff and apply to your life. Awesome. And I'll just share a little personal sentiment before we get into the book a little bit. But ah, I will also go back. And I think it was probably years ago or so. 11 years. Uh, we were at the event that our mutual friend Tim Ferriss, your son's podcasts. I've been it's bias before. A great guy. He hosted an event and we got we were, like, literally got stuck writing in the city in the in the bus seat Next way Didn't know each other, So we were on the We're getting bussed to dinner. And I'm like, Hi, I'm Jason Leipheimer. Meat. And from that point forward, we stayed in close touch. For the next six months, I learned Mawr about you just dropped the book maybe a year before that other more about personal finance and how to automate a lot of the stuff that I was spending a an inordinate amount of time. And it was causing some stress in my life. And I was eternally grateful you came on this show. I think it was 10 years ago. Yeah, long time nine years ago. One of the biggest episodes to date. And then we were fortunate to have you here on creative lives about five years ago. Only course you've ever done outside of your own. That's right. Yeah. I mean, only you could have gotten me get up from my apartment share and come out here. So I I appreciate all those times and today too. Well, I'm going to start at this start, which is for pre the first version of the book. which is complete refreshed. I read it about 80 something new pages. But you in 2000 and four started creating this material. What started that obsession with personal finance? Because, honestly, I I just I'm curious. I want to go into your past a little bit. What started your obsession with personal finance and helping people get better about money? We'll tell you, the truth is, I don't wake up dreaming about Roth IRAs. It doesn't get me going. Uh, what does get me going is I never felt like I understood the rules of the game. Like somehow when I grew up, there were some things that I was just naturally good at. I was I'm indian. I'm a spelling bee champ. That's a give it all right? It was always going to be given it to give it literally a champ like you. I was number nine in Northern California. I'm a little bitter about it. So that sounds like a white ribbon where I come home and turn into a therapy session. We're going back telling me, champ. Okay. Okay. So but then there were other things, and I just I was like, everybody seems to know this, and the rules are not written down anywhere, and I just don't get. And I think all of us at one time or another have felt like everyone else seems to know. And maybe I was absent on that day of school. I just don't get it. And when I look at the pattern of my life, you know whether it was with money, weather is with fitness ones with all these different parts of life. I wanted to figure out how it actually worked. And money is a perfect example where there are so many people chirping in your ear. And yet when you actually understand all the stuff of how it works, the truth is very simple, and it's almost so simple that it's hard to believe So So when I started off, I took, you know, my college scholarship money. I invested in the stock market. Part of it lost it. I realized I wasn't as smart as I thought. You're glossing over this way. Too bad I took my college scholarship. I invested it and lost it. Okay, so back in 1999 everyone's a genius. Everybody thinks they're so smart picking all these stocks and the I got this one scholarship that wrote the check to me. Here I am 17 or 18 years old. That's a lot of money, you know? And so what do you do with money when you're 17 or 18? Put in the stock market? At least I did, and I had a e trade custodial account because my dad had encouraged me to open it up, but I wasn't old enough, so I put it in and I thought investing meant picking stocks. So how do you pick? So I mean, most Americans think that's what investing is like. You got to sit around like it's minority report. Oh, let left, right. And that's not what investing is. But I thought it was okay. So I picked these stocks and every day back then, stocks are going up 5% down 10% and I lost half that money pretty fast, and it made me realize number one. That was really stupid. Number two, man. There's a lot to learn. Yeah, And so for the next few years, I started reading all the books I could get my hands on, all watching all the TV shows and I was also studying psychology and technology in school, and I just realized that what everyone was saying just made no sense to me, you know, cut back on LA tastes. My friends and I did not want to live that kind of life, right? We wanted to go up and, you know, coming here. I want to go out and see what a great restaurant to go. Don't have to sit in there. So let me open up my Excel spreadsheet and see if I can afford $3. I didn't want to live that life. Also, the stuff I was learning about human psychology just made me feel like the Emperor has no clothes. You take any personal finance book and you open up chapter one. And what do they tell you to do in Chapter one? Find out how much you spent last month and people go. No, thank you. They put it right back on the show. You don't know how much we spend, but we know it wasn't good. And so I'm reading these things and I'm kind of dumbfounding. Why don't they understand how human psychology actually works? Why don't they start by talking about rich and what what we want first. And then we can worry about the tactics of how to get there. And so from there, even though nobody came to my talks in the early days, I finally started a blawg and then that became what it is. That's for 2004. August 2004. I was a college student. I started writing the block. You could go back. Those posters still live. No comments, nobody reading. But you know, I think sometimes we all feel like we have a message that the world needs to hear. And maybe even we don't even know that the world needs to hear it. But we have it. And even the tiniest bit of, uh, just a pat on the back, just from a random commenter. Who says, You know what? This is cool. Keep it up or a friend who says, Oh, wow, I got to check that out like the little list thing kept me going, and I remember when I got my 1st 123 comments from people I don't know, I would have never imagined 15 years later that it would be a room like this. Wow. All right, so you established yourself as someone who wanted to learn, which is a trait for all of the people that I've had on the show that we have on creativelive. That is a trait of wanting to pursue the thing that you love and wanting to know more like this hunger passion toe learn. So you establish that, uh, early in college you graduate college and you start writing your blawg. What? Like, how did you actually learn? Because you didn't What You learned it from blowing. You're blowing your scholarship money. Where you learned was that you're not very good investing, right? You you sink yourself into the industry. And how did you actually go? From what I think of it, in terms of those two groups of people, you go from 01 I mean, Jeff, just like start right, cause that's how many how many people here don't have an automated way to save their money looking? Yeah, this is a self selected room. Here are freaks, people watching. That's a better example. But the freaks in this room, there, like I'm automated, left and right, every person that most people who raise their dinner are in the cameras here. But to start is one thing. Yes, And then to go from, like, 01 and then from 2 to 10 it's just incrementally getting better. Yeah. So, what was your zero? One was your like, I know this stuff. I learned it and I could teach it. Okay, Zero toe one for me. Waas First of all, just getting some basic fundamentals in place, which is I'm making a little bit of money working summer internships. That money is just sitting in a checking account. What am I supposed to do with this? And you know I'm going to buy this lunch over here or this pair of pants. Where does that come from? Like real, basic stuff that most of us kind of take for granted. And what we mostly do is we have a pool of money in our checking account. We spend a little bit at the end of the month, we go. I guess I spent that much. That's pretty much the limit of what most people do with their. I started to go a little deeper. Oh, I can actually save $100. Okay, great. Oh, I can actually think like what Which one is actually worth is that we're spending a little bit more because the quality is better. Okay, great. 01 was me just getting my financial house in order. And then as I started to talk to my friends in college, I would hear them saying stuff like, I got 15 overdraft fees last year and I remember those. Yeah, everybody here who was in college and got an overdraft fee at 4:30 a.m. Knows what I'm talking about. And I was like, Why? Why did what's going on there? And what I discovered was that there were a lot of things I wasn't accounting because guess what? I wasn't getting 15 overdraft fees, so I started listening like a student because I was I was just learning. And I started saying, Oh, wow. So some people have credit card debt. Some people have this. Some people have that. So I started building it into the way I thought about money, and back then I didn't have as strong of a philosophy. It was just tactics. Right? Okay. I think that when you discover somebody who gets very good. When they go past one, they have a point of view. And so after I got from 01 people started, people started saying like, Oh, wow, this guy talks about spending extravagantly on the things you love as long as you cut costs mercilessly on the things you don't, that's that's a point of view. And that was the second part which has taken me to where I am today. All right, So let's that's from 01 and I'm gonna know we're not gonna go linear. They were gonna go all the way to the new edition of the book. Why put on a new edition? Like what? What? What was the inspiration behind it? Why? I mean, I personally took a ton of information from the original book. I think I told you backstage That's how my wife and I automated. Our finances was on the back of your book. But why? Why do a new version? I'm as surprised as anyone that I'm out here because when the first book came out, um, and that was 2009. Funny story 2009. I don't believe in market timing, but that was literally the bottom of the recession. So if you bought the first edition of this book and you just followed the plans in the book, you are set for life and that's crazy. That's crazy to think. In fact, one of the things I did this time around was I went back to those readers from the first time and I said, Tell me your stories and the stories are amazing. He's like, I'm I retired at 35 my wife is 36. We drive around the country in an RV that's my rich life. And to be able to capture those stories from men, women, different ages, different locations. To me, that's rich. So So the publisher came after me. They're like, Oh, this book hit number one on all of Amazon like What's next? And I was like, Nothing's next. I am done like it's all in there that I wrote it to be timeless because the greatest books that I treasure, I read, um, every year and I find something new, they reveal themselves to me. So I wrote this book for that. I wrote it so that when you're starting out, maybe you have $10,000 in credit card debt versus when you have $600,000 in an account, you will still find something here. Well, the publisher doesn't like when you say, like I'm good. So they kept calling. They kept taking me these nice lunches. Are they here where you need to be Nice work? No, they're great. I mean, I wrote the book because they're so great. So after several years, I finally said, You know, I'm not gonna do it. It's good. About six or seven years into it They said, Hey, it's time. 10 years is coming up and people want freshness. And that's really what surprised me. And I realized in retrospect, they were right all along. People were emailing me every day saying, Hey, I am thinking of getting your book, but like isn't outdated, and I'm like, out dated money. Yeah, but then I you know, I thought about it and I thought, You know what? If you're just starting out and you're thinking like, do these bank accounts still exist? Does remit still use that credit card? And some of it had changed, So I do check. I did change my account. I stripped some of the banks from the original version because they went dark. They went bad. I took him out. You don't get my recommendation anymore. A lot of new things Air out, Kryptos out. Fire is out. I got married. So my own personal life changed with money and with relationships. So the publisher was right. And this is the result of speaking of married. Can we go there? Yeah. You guys okay with this one? Okay. I mean, we've been friends for decades. Of course. I'm, like, so happy for you guys. Congratulations. And as I watched you travel, that was one of the most extravagant honeymoons I have ever seen. I took six weeks for mine, but it was like mud huts like, but And I want you to tell the story about what you kept doing in such a nice job on that. It kept reminding me what, like being rich is to each their own and your rich life. In that case, it seemed like this was ah, uh, experience of a lifetime. Yeah. So talk to me about your you're talking about saving money and helping people automate their finances, and then I won't say the names of the hotels, but I know the names of the hotels and their fancy. So how do how do you reconcile those two things? Well, I'm first of all, thank you. And, um, that was definitely life changing for my wife cast and for me. And it was life changing in so many ways. You know, what's what's amazing is that we sat down with some friends and we were planning to go on a safari for seven or eight days, and, uh, we talked to these couples. They're a bit older than us, and they said, Oh, that sounds amazing. When we went on our honeymoon, we took six months off and we're like, and then the next couple was like, Oh, yeah, we took a year off And I'm like, Who are these people? Thought they were just normal. They'll know you take a week and go on a cruise and you come back. That's work, whatever. So we walked out of that dinner and we looked at each other immediately. Did you hear that? And then we in my head we started. We went to this place of this magical place of what if? And it was crazy and so ironic that I teach people how to expand what they think is possible. And I had artificially limited myself to seven or eight days. Why? Because everybody else does. And that is an invisible script that I hadn't even realized was a script. That's why it's called invisible script. And these friends who turned out to be even more meaningful than they could have imagined had challenged me. So we said, What if and suddenly we went to a place of it scares you when you say, What if? Because you know I have a company. I have amazing team that runs things, and I'm there every day. But what if I wasn't there? Cast has her own business. She's a personal stylist. What if she wasn't serving clients? Yeah, but we started Say, let's let's just think about the possible. We lived in a place of imagination and we made a list of every place we wanted to go, and we suck at geography. So we put it on Google maps, and it's like this is the worst travel itinerary on Earth, like it makes no sense. So we started chopping it off and then we found the places that we wanted to go and and I said we should do We should find a way. And cast was like, Yes, what was amazing was independently We came up with the idea that, like, one of our core values is family and at our wedding family was was just It was so important to us independently, we decided to invite our parents for part of the honeymoon. This is very unusual. I didn't realize I didn't realize how unusual. I've never been on the honeymoon, eh? So what are the rules, Douche. So? So we did it. And it was so amazing. Are our first of all, Her parents didn't have passports, so we were really kind of like carving new ground together. And then and we thought about when we had travelled as kids. We never took trips like this. We brought him to Italy. We said, Just show up. We'll take care of the rest. And they got their, you know, her mom. We took her to the Vatican and this. So it's just this amazing experience. We did all these tactile things. Cooking classes. Why? Because we want to create memories that we will remember forever. To me, that is the core essence of our rich life. Money it was involved were very fortunate to have saved money to be able to spend it. But ultimately we never were thinking, Oh, let's calculate some Excel value. See Fort. No, let's create memories and the money was a tool to achieve. To me, that's the difference. Like when I prior to being introduced to your work, I wanted to learn a core artist likes and you know how artists and money. It's like oil and water and and what you have done to me. This the concept of a rich life is money as a mechanism for doing what you love. Yes, and what I loved, especially about your honeymoon, is that I don't know about you. But if I ever overspend on something, anybody in the room have things that they feel like they overspend on that they're passionate about show hands, like straight up it. Look at that. I love it. It's like 99% of the room. And that one guy who didn't raise his hand, I think he's got he's lined himself. But to me, I always felt guilty about those things and guilty about about claiming them. Yeah, and your honeymoon was just this beautiful living example of not being ashamed. You literally what you were you were broadcasting every day you're posting on social. Yeah, thank you. And I I believe that we should be unapologetic about things we love. You'll notice for anyone to watch that. It was never like, Oh, look at me on a boat. It was never that it was. Look at these beautiful experiences were having at a cooking class or in a mark, a crowded market in India. Or look, it were horseback riding with giraffe 10 feet away. The money part was not the primary focus. And in fact, if you're willing, I would love to ask this audience because I think this is a fun experience. So I believe that when people talk about money, a lot of times they start off and they talk about what you can't. I'd love to challenge everyone in this room and everyone watching Turn to the person next to you and take just 15 to 20 seconds. Tell the person next to you what you love spending money on what do you look, I mean, love, you can feel it. Tell them why. And if you are really bold, tell him how much you All right? Let's just take 15 seconds. Let's just go through quickly. 15 seconds for each person. What do you love spending on it? What do you got? Mine is travel and clothes. Oh, and couldn't Convenience? That's my number one. What's yours? Absolutely convenience. I pay stupid money. Yes. People do things that I don't want to do. There you go. Unreasonable. Yes, but like when you like, I can see actually from your company that it believes through everything. Being organist that comes from the CEO. Let's take 10 more seconds, but they're gonna love it. I love the energy. This Okay, let's bring it back. Let's bring it back. Everybody safe. Okay, So whether you're watching home were in the room. This is a very interesting experiment. Let me ask who's willing to share? What did you tell your partner you love spending on What is it? Come on, Go ahead. Music concerts. Okay, Great. What else? Yes. Travel Lovett Junk food I've never done. I love it. Okay. Yes, in the back. What's that. Oh, Sobs. Okay, cars. Great. Yes. Fitness. Okay, now, here's a question for you. Just think to yourself What if I could quadruple the amount I spend worst? What? We're because I thought this was finance. He has to you. What would it look like? What would it feel like? You see so many of us when I ask people What is your rich life? The answer that they give to me is usually one of two answers. One is a generic word. Like freedom or another is a number like a $1,000,000. And I like that. It's a good starting place. And I say to them, What does freedom mean to you? And the answers get really vague. Oh, I would be able to do whatever I want whenever I want. Know what? Tell me what a $1,000, cool. What would you do with that? Where do you live? What time do you wake up? And what I challenge people to do with this? This experiment is it works around this concept called money dives. And you can Google for money dollars ever in an article. Every one of us has at least one money dial something that we just love spending on, and you can tell every single person intuitively knows, right? Ours happen to be the same. They're actually relatively rare. We both love convenience, and when you tell people what you spend money on, I sound like a serial killer like it's it's insane. I'm like I had, like, a Kinko's print out something and deliver it to my apartment, and the entire cost of that was like 57 cents. Why don't you just go downstairs like I don't want to? Yeah, I love convenience. It sounds like a psycho, but I love it. Most people, the most common ones are food travel. And so when I ask people, if you turn that dial, if you doubled your spending or quadrupled your spending, what would happen? And suddenly people start to think their eyes go wide. They've never thought about the specifics. I've had people say I would go to every Michelin starred restaurant in this city, and then I said to them, Who would you take with you and their eyes? It was magic. They said I would take my parents with me. That's a rich life for me. I would go on the trip of a lifetime. I would my wife and I would planet together, we would bring our parents. And then what I didn't expect on our honeymoon happened on the last day. We're in Thailand. You couldn't have painted a better picture. There's a sunset we have. Our cocktails were watching it go down right in front of each and cast said to me, she said, You know, at the end of a trip, I would normally be set, she said. But now I know that if we want to weaken, come back any time and I thought to myself, There is nothing better then first having a sense of abundance for yourself. But second for your partner, tohave that abundance and for us as a team to know if we want to go back. If we want to take our parents, if we want to go to a restaurant, or if we want to save more money and donate, we can do that together. To me, that's a rich life. Dang, that's serious. It's give tactics for a second because that was very inspirational. But right now, if you haven't read the book, you're like OK, I want I want some of that s o I don't go deep way Can't do a 230 page book in ah, in 10 minutes. But give us just a tip of the iceberg on this idea, for example, the concept that you shouldn't splurge on the things that you love, which you've already debunked. But just give us a couple of of milestones or some markers along the way of how we should start thinking. I think that first off, getting the basics in order is about getting the right accounts. And it's amazing how resistant people are to changing their accounts. And we asked him why and like, Why do you stay at this horrible bank that's like, predatory and was fined by the government, which I call out by name. And the answer is, my mom opened it up for me when I was like, seven years old. I like what? Why are you staying with this shitty bank? Get a life so and people. So it's gonna be a hassle like, yeah, it's gonna be a hassle for one day, and then the rest of your life is amazing. So get it just just get honest with yourself. Get the right accounts, the places that I like to work with, people in places. And I'll tell you something, One of the I have this thing I wrote recently called 10 money rules. And, um, one of the benefits of getting your money in order for me is that I have a rule. Never worked with someone who I don't like and respect. And once I had more money, I was able to make that. So I believe you don't need a $1,000,000. You actually, you don't need that much at all. You choose the company's you want to work with. So I named the best companies. Get those companies. You can set up your automation system. The second thing is to start, uh, thinking about growth. So many people, if they feel like, oh, I need to save a little bit and they should. But that's not enough. Saving is not really, uh, success. In fact, saving is sort of the bare minimum, and that's what I want to challenge people. Lot of people are not telling the truth about what you need to grow your money, so saving is good. You got 500 bucks, 5000 bucks. Whatever the rial way, you grow, your money is through investing, and a common misconception is that I need to be rich to invest. It's actually the opposite. You get rich by investing, so we talk about simple ways to automate your money and invested automatically. And then I think the third and most challenging part is to really master your own mind. Sets about money. That's something I added this time. I realized that last time in the book, I had all these great tactics about, you know, used these words. Call up your bank and you'll negotiate your A PR lower or your late fees lower or even showed how to negotiate your salary. A lot of people get 5 10 $1000 raises. But if you grew up with a family who perhaps said something like, we don't talk about money in this house or easy come easy go or any of these, I'll never be a rich person. If these were the things that you grew up with, I can show you all the word for word scripts, and it will never hit you here in here. And so Now you have to master your psychology. And once you do that, the tactics air so easy. It's a six week problem. You follow it. I mean, it's easy, but the hard part is to look inside and say, What are my invisible beliefs that I have about money and what might be actually causing me to do certain peculiar behaviors that are a result of what I learned when I was seven years? What's the biggest hurdle like you? You You know, you've got millions of readers in the blawg, hundreds of thousands of folks in your email list. You clearly get a lot of inbound information, and I read everyone's email. In fact, I have my email address on page one of the book, and I tell people to email me because I want to know where they're starting their journey. That's crazy. And the last page, I tell him to email me again and I want it. That's my greatest dream is for people watching this six weeks from now. Go through the program and email me and tell me what you changed in your life. So I do get that data. Okay, so you have that But what's what is the biggest hurdle? Yeah, and I don't care if it's going from 0 to 1 just starting or that people overlook when they're trying to get better. Um, the biggest hurdle I've seen. If you boil it down, you know, people will write in different things. Some of the examples are must be nice to be able to save $100 a month. I can't even afford 50 cents. This is like a classic millennial thing. Like a race to the bottom. Yeah, I wrote victim culture like I have zero tolerance for it. Um, another thing that people write is like, I made a ton of mistakes when I was in my twenties, and now I feel like it's too late. Classic, right? If you boil it all down and if you see enough of these, you start to get the Eagles have. That's why I'm asking. The most common thing is I don't believe that I can do. And I understand why, if anything, over the last years, I've become so much more compassionate about money and so much less judgmental because I know I've heard every story under the sun right guys making a $1,000,000 a year. He's living. Check to check. 10 years ago, I would have said like Oh my God, so stupid. Now I'm like I get it. I know exactly how that happens, And I also know that with a couple of changes, you could fix it. So when people don't believe in themselves there, so many logical reasons Why? Um, probably they were raised with poor money behaviors. Why? Because their parents didn't read this book either. The parents are just trying to do the best they can. So you grew up playing a game of telephone from what your parents had learned, and then you pick up certain behaviors and then you have Wall Street tripping years saying You need to buy these bullshit annuities and all these things that you don't need. And finally, you've got your friends right who are saying they're not trying to lead you astray, but accidentally, friends will say things like, Oh, wow, that's a pretty old IPhone. I really like that. That little thing can cause you to completely change your money being because what random person said to you are, Or how about this one? Oh, Wow, you own a plate. You own that place. Oh, that feels good. So suddenly we believe that real estate is the best investment, which it's often not. So these little things we pick up on right, we're like we sniff around, and especially in parts of life that we don't fully understand. We're looking for cues that tell us what's right and wrong. But that's not a good way to go about life, especially for something like money, which is core to life. It makes sense. Toe spend a weekend, read a book, etcetera. So when people don't believe in themselves, there's a lot of reasons why. What I try to do is say, you can believe in yourself. It doesn't matter if you're $235, in student loan debt, like somebody I just talked to recently, or you're making $400,000 a year. But your money is all sitting in cash. Either way, there's a lot of a positive future for you if you believe that, you could do it. So thank you for that. Can I confess something, please? We want to talk money confessions today. Yeah, so, um, I know you did this on a different stop, and I was inspired to know that we could all confess to re meat. We could go to Rome, eat like the school, even fix our problems. So I was raised with, um, both parents. I grew up very fortunate that currency together, middle lower middle class. I didn't want for a lot, but it was because my parents were very, very frugal. And my dad was largely like your mom got this unlocked down and two to, um to her credit, I was never hungry. I, you know, I could play the sports that I wanted to, and I didn't didn't. I did have Nikes with upside down swoosh. And I had a devious with four stripes. True stories. I was like, How come my Nikes have two eyes, but, um and so that there's a frugality. My like, the heat is on. It's 62 degrees yes, in the middle of winter and doesn't if you're cold, go put a sweater. And knowing that I didn't want for much, I could look back and say, Wow, that's amazing that that, um I was raised like that, but it created a set of behaviors for me personally. Like what that are were very antithetical to that. So the fact that we, you know, saved all our money and that the heat was on 62. What am I? I'm like, opposite guy. Really? Whatever. Like what? All I'm not frugal. Yeah, well, it created some very expensive spending habits younger in life. Okay. And so there's a little bit of a reaction to the way I was really like time. I was raised this way, and I'm gonna do everything I can to avoid that. And despite, like, I had a pretty I had it pretty good. Yeah, but there is this something in there that felt like it didn't feel like Abundance. Yes, and but with abundance when you don't actually have the money, that's the problem, right? So that's like half the people on instagram. Yeah. There you go. So So, like, if if this is my confession Yeah, and I guess the extension to that confession is that I carried that into my married life. What does that mean? So my wife, Kate, is, uh, awesome. Of course. She's amazing, you know? You know, Kate, she and I, ironically, 10 years into our marriage. So we've been married 20 years. 10 years in. We had this conversation. Wow. And I'm like, Why are you freaking out? And she's like, Why are you spending all our money? Eso so 10. You'll I got a couple questions. Okay, so you're married for Was worried about what is amazing. Okay, so you're married for 10 years, and everything is super good is good. Super good. Had you talked about money before? Wow. And did you think that was normal? Um, yeah, because I think to me. And maybe that was because of the attitude toward money that I had when I was raised that I didn't It wasn't something. It was just like it was on lock down. It was controlled. It was very It was very certain narrow, focused mindset. And so, to me, it was just a thing that happened, and you didn't really it was not something to be managed. So and then you grew up this sort of frugal slash ultra frugal life. Then you were reacting to what you said. I'm gonna spend a time. So now, in this 1st 10 years of marriage, what are you doing behavioral e with money. Um, I just I think that will two things. One, we hadn't really had real conversations about it. We pulled their money and it was fine. And we did. The only thing that we did do is decide the things that we were Okay, like health? Yeah, spend whatever on house. But besides that, we didn't have a lot of guidelines. And so, like, when we did have the conversation and Kate brought it up and she's like, I basically that's scary behavior to me. And I know it was like speaking real estate. I want to invest. I wanted to get aggressive, growing our business which turned into great of live and and to me, that was just a I had I had confidence that I could earn money, but I was worried only about this new reaction that I saw from my wife. So I know in the book you also talk about having money, conversations well cast. Well, that's my confession. I mean, it was like there would be here. I know. Um, first of all, I think I just think that's amazing. And I think your story is so surprising, but also so unsurprised 10 years in the fact that you were having these conversations for the first time is amazing. But then I think that most people who I speak to have never had that conversation and, um and I appreciate you being candid about it. I mean, you also come from a very unique background, which is frugal, and now you're an entrepreneur. Were, by definition you're creating abundance. So it's no surprise that any partner would find that challenging. And there's a certain psychological mindset there. Can I ask? So you're saying it's It's not all that weird, but it's weird how many people haven't had, like, a really sit down. This is how our money works with their partner. Significant other hands up. Oh, man, I'm a freak. So there's, like, five of us, So we're gonna hang out later, okay? I mean, I'll tell you that the people I talked to, um, they don't know how to talk about it. It's hard to have an uncomfortable conversation with someone else. We talk about lots of other stuff, but it was like money was the It didn't feel taboo in any way. We weren't We weren't super poor, but we weren't. You know, we're wealthy like Yeah, I know. Yeah, I get it. It's just you also don't know how to have the conversation someone else, because you're not even sure what you think about it. If you don't have a point of view on some, going goes back to 20. Think how are you gonna you gonna talk to the only place it can probably go is bad. So, like, that's fine. Things were good enough like let's let's just keep doing. I mean, I remember cast coming to me years ago when we were dating and asking for some help with her for one cake, and I said, uh, read this book first sold, I gave her the first. Additionally, $2 go by this. So she came back and we started talking more about it and and I thought that was that. Like I helped her. I helped her solve the problem like check. And then I think, boy, like, a year or so later, she said, You know, I don't really feel like it's fair because I shared everything about my finances with you, and you didn't. I don't know anything about your and I was like, Oh, shit, number one. Not a good place to be Number two. I violated my own advice, which is to talk about money, and and that made me feel it made me realize putting myself in her shoes, that that is not fair. It's not fair to feel like you've opened everything up and the other person has not. And so we had that conversation that day that day, and I remember being actually an amazing conversation. So my I think I'm I have to admit, I didn't take my own advice on that, and I regret it. And I as I had that conversation as we had even more difficult conversations as we started, put our money together, think about getting married and to get married. I realized men the advice out there on couples and money on love and money is so generic, they say stuff like have the conversation. I'm like what conversation? Like Tell me the words. I need to know the words, Tell me what she's going to say or what he's gonna say. I want to know, because that's what I did with the negotiation stuff out of the script. stuff, but there's nothing like that. It's just this generic stuff. And when you're trying to do something that's uncomfortable, you want At least I want as much guidance as I want someone who done it to tell me this what you need to know, right? In fact, even backstage, you're like, OK, you're gonna come up two stairs dedicated. I'm like, Yes, tell me everything. I love it. It's a certain type mystery. We all just confess we went through that little thing, like three times. No, here. We're gonna do this. But it's cool. It's interesting that you like you. Do you want a script you want some guidance on, especially things that are taboo or weird or new for you? Yeah, Maybe stuff was new for me getting on stage. I've been on stage 1000 times. He's been on the stage once, so I get it. Get it totally. And I think part of part of my rich life, for myself and for my students and people watching is to de mystify what it takes to be successful. Like if you didn't know, you would think that Oh, everyone else is just having these conversations with their partner and like they just know. And I just feel horrible, like it's not just you. Everyone else is struggling through it. And so what I wanted to do in Chapter nine was to shine a light on the things that are not talked about. In fact, the things that are often taboo things like signing a pre nup, things like talking about money with your parents. I mean, how many of us have parents in this room that you're a little concerned about? You might have to talk to them about their financial situation. Anybody like that, it's going. It's going to get bigger and bigger, right? And it happens with so many of us, does anybody know how to have that conversation? So I wanted to shine that light in this book, and I think just like the overall message is, if you feel alone, if you feel that you're uncomfortable, I wish now that I have had that conversation earlier with Cast, and that's in the past. Now we focus on what we can control. And so for everyone watching, having that conversation, whether things are good, whether they're not, there's always a better place. You could go to awesome. So speaking of scripts, uh, one of the things that one of our original conversations was script about, um, the psychology of money and you, your background is is the behavioral psychology is that right? Social, social psychology. So what are some social psychological patterns that again, this is not the hurdle that we need to get over. What are some patterns that are the most common that you've seen that, uh, that your book or your teaching you're trying to get people out of that pattern? Psychological pat. Oh, my God, it's so it's so funny. Because just today I posted on my INSTAGRAM account some psycho, some psychology of money, things. And one thing that we love to do it's in our human nature is to feel superior to other people. I'll give you, I'll give you a script. Um, I'm in $3000 of credit card debt, but at least I don't have $15,000. Like Michelle over there makes us feel so good about ourselves. Doesn't matter where we are in life. We can find someone who's worse off than us, and it makes us feel good, and you might find yourself doing this in surprising ways. For example, Hall, I have, ah, 34% savings rate. That person just blows all their money. People actually feel superior because of how much they say, And my message to people is like You're not superior to anyone because of your savings rate or because of how little credit card debt you have or how sophisticated you are. What I want to challenge people do is to show those scripts that we all have. And that's what I found out after 10 years of research. The scripts that people have about their money, some of them are. It's too late. I'm 50. Will this work for me? Well, the answer is 51st of all is pretty young and second of all, absolutely there things. Now I will tell you, if you're older and you haven't taken advantage of all the things that you could have, it's going to be hard, and I'm not gonna blow smoke up anyone's anything. It's gonna be hard, but there are things you can do at any age. There are things you can do if you live in Spain or Iceland. I get those questions a lot to you called Special Snowflake Syndrome. Hey, this book sounds great, and it's helped hundreds of thousands of people, and you have a 1,000,000 readers a month, but I'm left handed. I'm albino. I live south of the equator. I don't think it's gonna work for me. That's that whole thing about believing in yourself. If you're looking for a way to not believe in yourself, trust me, you will find. But if you believe you know what is the way that my students and that top performers I've seen do they say You know what other people have succeeded, so I can Too simple. Is that all right? Play a game. Okay. I'm gonna flip to a random page wear. What is this reviewing your credit card bill? Okay, tell me what I need to review. On my credit, this is like a quiz to see if I actually wrote the theme. Good news is I did write. Ask. Okay. I'll tell you. I'll tell you about that. So this is a fun game. Yes. I can't wait. I thought you were gonna make me come. Like, like repeat the joke on whatever pain. So here's the fun thing about reviewing your credit card bill. I used to review every single charge at the end of the week. Why? Because I was looking for some waiter or waitress that unscrupulously added $5 to There's anybody here, do this. Wow, A lot of people. Okay, here's what I learned. And this is this a bit surprising? Funny. Okay, it's funny. Now I don't and doesn't mean that I've missed maybe getting ripped off for $10 or maybe getting charged for a subscription that I meant to cancel six months ago. Yes, maybe it does. But what I've learned is, the more successful you get financially, the less you need or should pay attention to certain things. For example, when somebody comes to me and they say we meet, you know, I'm really debating whether to buy this scar for something like that, and it's, you know, $50 their household income is $280,000. I say, Why are we talking about this? We shouldn't be. We actually should not be talking about things that are below our threshold. If it's below us, do you talk about the pennies you found in your couch? No, at a certain level, something that may have been really important to you, to me was checking those credit card receipts. It's just not. And the truth is, the more you grow financially or whether it's athletically or whatever, they're gonna be certain looseness in your system. You might waste a little bit here and there. I'm not saying be totally wasteful. I'm staying focused on the bigger things. Instead of asking $3 questions, ask $30,000 or $300,000 questions. What do you do if your partner spends money irresponsibly? Okay, I got I got an amazing instagram d m from a woman who said, Ra, meet my husband spends way too much money on ice T I was like, This is what I live for. So? So I had to play. I go, really, I go. How much? How much does he spend? And she goes, He buys it like 20 times a month. I said 20. How much? How much is this iced tea? And she goes 1 50 each time I said, Oh my God, I said, Hey, had a curiosity. What's your household income? What do you think she says. Any guesses on what your household income is? 60 grand? What else? 1 50 She lives in New York with her husband. Okay, 600 Grant. Now listen. OK, so all the gasps in the room now? Why? Why? What's going on here? The $20 a month on the iced tea is not the point. In fact, it's literally a rounding error for their household income of 600,000. We should not be talking about it. And yet she took the time her first d m to me. She came out of the blue two DME and complain about this. Obviously, there's something going on now. I don't think she's stupid. I think that they have different money values, and I think they've never had the conversation. They're playing walkable. She's playing Whack a mole on Ice T. Why? Because if I were to ask 10 more questions, I would find out. I'm sure she grew up in a household that was frugal. They made their own iced tea. They never ate out at restaurants. All this sounds familiar to me. That's pretty much how I grew up. And it's wasteful. If I talked to her husband I would find out that he works in finance. He and she both earn a lot. And he says to himself, I It's the one thing I have in life in the morning that makes me happy. And so I'm gonna spend it. And why are we even talking about there having different conversations? They're operating at this level down here. They're never getting up here and saying What matters to us? What is our rich life? Where do we want to go for a trips, Our values? And so they will spend the rest of their lives arguing about a $1.50 purchase, just like many of us argue about lot A's or whatever it is we argue about with our self signed by this jacket. When we never take a second and say, What are my values? That's where we should be living, not done. So you said in your honeymoon, for example, I'm gonna push on this a little bit like I value great design. Remember, you saw the leather, it went to the leather crafting place in Italy, and so is that a thing? You had a conversation with CASS, and you realized like I love design, and I'm gonna overspend on having designed things in my life. And you talked a lot about space is one of the reasons that we're here because this stuff matters to you. Yes. So talk to me about about how you choose your values less about your specific value unless you want to go into it. But mostly, like because what do we value? You don't actually understand that stuff unless you take the time to ask yourself the question and maybe even write a day. Absolutely. Um, what I've found is that most of us don't think about what we love because we're so busy thinking about what we can't do. I can't do this. I'm not allowed to do that. If my rich life is just to pay off debt, that's what a lot of people say. I said, What a dim dream. If that's your rich life to be debt free, it's no surprise that you have debt because who gets up in the morning to pay off their debt? I want you to pay off your debt. I show you how to make an aggressive plan, but there's gotta be something beyond that now, How do you find your values? I think first of all, we all have the things that we value inside. But carving them out past all these invisible scripts that we have is very difficult. I love a beautiful, uh, leather jacket or dress or whatever it may be fashion, fashion, but society tells me that show. And so that's an invisible script that we have to confront. Right? I spoke to another woman who told me She said, We meet. I'd like to know how to find out what I should spend more on. I said, Well, tell me like, What do you do? She goes. I go to Starbucks once every couple weeks with my husband. We buy whatever we want. I said, OK, that's good. What else? And she goes, I don't know. I don't know what else to do. So I was in a chat room with some other people. I said, Hey, guys, what do you think that she should spend on? And they gave her these predictable, you know, things, massage, facial data. And she wasn't. She's like already do all that stuff. I'm like, OK, first of all, that's cool. And what else, and then she said something to me. That's very interesting. I said, Tell me about your life. What do you wake up? Does your house look like? She said, I have three kids, my house, You know, there's a lot of stuff going on. I said, Okay, what does that feel like? She goes, It feels like constricting. And to have all this mess around, I said, What would it feel like to have really clean house? And she said, Oh, my, it would feel amazing And I said, OK, what what would that entail for money? And she said, I guess I could hire somebody I said, Yeah, tell me more. She spent the next two minutes telling me, Well, I could hire someone to come clean my house But I have three kids and I'm teaching them to clean So they clean and they do this and then I say, How does it work out? She's like, It's not that clean. But on at the end of the two minutes I said that I said, Congratulations. You just told me something you would love to do and then you spend the next two minutes talking yourself out of it. So many of our values are inside of us. She already knew that her dream, which is such a modest dream, to hire someone to come in once a week, once every two weeks, she could pay for she had the money, but she talked herself out of it. Why? I'm not the kind of person who needs that. That's shallow. And every single one of us has done something like that. So for your values, I would say Just close your eyes and imagine if I could spend anything and nobody would know What would it be if I could spend anything and everybody would know, What would it be if I could spend something and somebody I respect could say, Wow, that is really amazing. What would that feel like? Now you're gonna have some clues as to where to go next. Huge, Awesome. All right, so we've talked about how it's not about saving $5 a day on lot is that's a fool's errand. Uh, you talk about in this book about the big things, and that's really where you're going to find a way to save money. You earn money, earn money, you also earn more money rather than save more money. Um, but you also for example, that common go to you already mentioned ones is real estate. Talk to me again. This is that same game here. How to save big has a thousands rather on big ticket item. Okay, most of us spend too much time on little items and we spend entirely too little time on the big guys. So if you think about it, we spend a lot of time going on yelp and looking for what restaurant we should go to for sushi. And yet, when we go to buy a house or get Mary or buy a car, we just kind of go with the flow like we're floating down a river and what I want people to think about is in my life, I picked a few restaurants or a few coffee shops. If I have a meeting with somebody, we're going to those coffee shops. It's simple. And if I need to go to them, I'll go to them. But otherwise I don't want to think I don't want to spend my limited time picking coffee shops and sushi places. I picked him. I know him good. When it comes to buying a house, I want to challenge people to think. First of all, should you buy a house? Just a za, an interesting counterpoint to a lot of American culture. The American dream, supposedly, is to buy a house. I rent on purpose. I live in Manhattan, and when you tell people that you rent when you could afford to buy their like what are you talking about? And what I talk about in the book is that real estate is not always the best investment, and I challenge people to run the numbers and to realize there's every incentive in this country to get you to buy a house. Everybody wants you to buy a house because they get a little piece of your money, all right, but nobody's telling you what the truth is and challenging you to run your own domes. When it comes to these big purchases, you should be fairly close to being an expert. You should have your own model. You should have talked to people who are 10 years older. You should say, Tell me what you wish you knew when you bought a house. Tell me the expenses that nobody told you about, that you've had to say, Oh, my God. Your roof, Your fridge. That your walls? Okay, well, I got a factor that in. If you're not doing this because it sounds hard and you're not ready to buy a house if you don't have 20% down. If you can't commit to living in that city for at least 10 years, then you're not ready to buy a house. These little rules and guidelines are the kind of rules of thumb that you should be setting up for the biggest purchases in your life. And if you get those right, that's worth 20 $6300 which is more than any amount of Lottie's. You combine your entire life a lot of lot, man. I get a little passionate because I hate liars and I hate bullies. I just hate him. And when I started this going through the financial industry, that's what you find a lot of is bullies telling you you're not good enough because you haven't done this. This this, and liars telling you you need annuities. You need this account. You need that you need to buy a house because it's the American dream. That's a lie. The American dream is your dream, and your dream could be buying a house and 2.5 kids in a white picket fence. It could be no kids traveling around. It could be doing whatever you want. So that's what my challenges for people's your rich life. Whatever your dream is you can create. But don't listen to somebody telling you. You need to do this. No, you need to create your own rich. What's changing the fastest right now? Obviously, uh, you know, politically, it's a very charged climate right now, the globalization movement, but things like crypto and finances and air crypto and savings And how like apple. Now you don't have to have the apple credit card. You don't even have to have a credit card, right? It's just your phone. You are your credit card. Yeah, So what? What's changing the fastest that put like a radar item on your radar that other people might not be watching? Uh, this is a is a great question. Everybody professional, I think you know, I think I might have an answer that might surprise some people So, um, 10 years ago, when this book came out, there were a lot of people who were in challenging times. And I remember going around to these local newscasts and the anchors were like, Why are you talking about investing? We have 10% unemployment. Like people want to know how to save money. They wanted me to give him tips on laundry detergent. I like. I don't want talk about this. Let's talk about growing and all that stuff. And time has proven that to be, fortunately correct. But now there is a change in the culture that I've seen. Which is there some real systemic problems that have come about right? Inequality, student loan debt. These are real problems, 100%. And I talk about those to some extent in the book. But my place on this planet is not to solve those problems. It's to work with people one on one. That's why I'm in this room today. Okay? My I can't change those systemic problems. I can change you and you and you and what you do with money. And you can model that for your communities. So I've realized now there's an increasing movement where people victimise themselves. They say There's no way I could do that. Must be nice. I can't do that because of X y Z and I have zero tolerance for it. I really don't. I will say there are systemic problems. We should work on those. We should address those. And we should also focus on improving our own situations so I would challenge everyone. Be careful about the echo chamber you surround yourself with. For example, creatives love to complain about how hard it is to raise their prices. Be mindful if you're getting together with your friends and only complaining about how hard it is. Maybe it's time to add a new group of people you hang around, whether that's on YouTube comments. Read it your friends when you're having Happy Hour, be mindful because there is a group of people like the people in this room who said, I want to create a rich life and I'm going to do it. And these are the people you want to be hanging around you. In a previous episode where we sat down for 90 minutes or it may have been in your creativelive class, you gave uh, a script. Yeah, Teoh, I think a question that I had taken online and earlier we did a little instagram live just hanging out, and I got a bunch of questions, One of which I want to revisit right now. Which is it? Is that script that again? One of the reasons we come to you is because you've given us this insight like I gave you how to walk up on the stage here. Thank God. What? He made it. You say you're safe. Um, let's just go down one script for a second around increasing your salary. I love the abundance mentality. And I think most people were caught in. I signed up for this job, this job as a certain pay. But I remember so vividly you unlocked this particular challenge for someone and they came back with a report and I think it was $22,000 raise. They got by using a script. So let's ask the people in the room here who here has used any I will teach you be rich material to increase your earnings. Look at that. Amazing. Okay, so give us a script and this is a test piece for the people at home, please, for whom this might be new love in the new new territory. All my material is field tested. So by the time you ever see it, it's been tested by hundreds or thousands of other people, right? And that's that's our philosophy when it comes to increasing your salary. The common belief people have is I got a kick down my boss's door and say, Give me money and then my boss is gonna say, Get the hell out of here. You're fired. Of course you're gonna be fired if you do that. That's not the way you asked for an increase. A different way is a multi step process. So let me break it down rapidly, and then, you know you condone search online or look in the book for the more details. The first thing you do is you send an email to your boss and you say, You know what? I'd love to sit down with you and talk about what it takes to be a top performer in my role. Would you be willing to chat next Friday at 3 p.m. Of course you go in the meeting, you say, You know what? I don't want to just do an adequate job here. I don't even want to do a good job. I want to be amazing at my job. I want to make your life easier from me doing my job. If I know this is a really good lined the bosses loving it, no one's ever come into the Boston said this. So you say, You know, I have a few ideas of what might be excellent, but I wonder if you'd be willing to share some of your ideas. And of course, you have a piece of paper that you've already brought with notes on it. You theatrically pull it out of your briefcase or whatever bag you've got. Uh, and and your boss is already the boss has even said a thing. They're impressed. So, you know, maybe you end up concluding Oh, instead of going for 4% improvement on this project, I need to go for 7% and x y z, you write it down. It's a great I'll tell you what. I'm gonna work on these. I feel confident about it. I feel good. I have The resource is if I can exceed expectations on all these three things. I'd love to come back to you in six months and discuss salary just But let's not talk about the salary part until that happens, would that be okay with you? Notice that at each step I'm being super gradual. Can I come in for a meeting? Can you help me walk through? Can we talk about it? But later, boss, like Yes. Yes, yes. See you later. You go back to your desk. You document it all sent. I'm excited. Did it under. I'll update you in two weeks. Great. Now this the hard work. You got to actually do it. Yeah. You have to be awesome. There's no secret trick to suck and then get a $10,000 raise. You need to be good. So you have to exceed the expectations. You update your boss. I would say every week. Some people prefer every two but every Friday note. Just want to summarize. We talked about these two things. Here's where I am. Here's what's coming next week. Boot bosses Lovinit Feeling good? Let's Let's fast forward to the end. Six months later, eight months later, you've hit your numbers. Okay, Now you're going in now You're going in for the real meeting. Okay? This is where when I say 85% of the work is done before you ever set foot in the room. This is what I'm talking about. The end result is just details. You've already done all the hard work. So you've researched your salary now at salary dot com payscale dot com. Whatever places you've documented, all the work you've done, if you're really smart, not only have you gotten feedback from your coworkers, you may have even asked one or two your coworkers to quietly send a note to your boss and say, Hey, I know that ramidus coming in there to have a meeting with you on Friday. I just wanted to let you know that he has been an absolute privilege to work with, by the way, he single handedly improved conversions. 4%. All right, You've engineered success for yourself. You walk in, you say you know what? I'm so excited to talk to you. Six months ago, we sat down. We discussed these three things. I'd like to actually share the numbers, although you already known, but I think it's fun. Boom briefcase. Pull it out. One crushed it to destroy it. Three. Awesome. And you know, you're getting excited to boss getting sites. And how do you feel done? Another. You're celebrating, right? There's just one other thing. Six months ago, we also discussed a salary adjustment. I'd like to have that conversation, and I brought some information to make it easier for us. The rial briefcase. Now boom. Pull out a document that shows how much you are paid in your role. Let's just say for easy math that your current salaries 50 k you discover that you should be paid 56 to K This is a very common thing. People find their underpaid by 6 to 12 k and you say, you know, based on my role and responsibility, it looks like the rain should actually be X Y Z. And based on what I've achieved in the last six months, I believe I should be at the top of that ridge. What do you think your boss is going to say at that moment? Your boss loves you, wants to keep you. You made his or her life much easier and they want you focused on the next thing you're going to do so they can keep exceeding expectations in their role. You're gonna have a conversation about the plan. You will very likely get a large race. You may not get everything you want, but even if the boss says, Well, I can't do that. I could do this or Hey, we're gonna have to wait X months. I show you how to negotiate that stuff right there. This is how you negotiate your salary. This is also how you negotiate higher rates with clients. It's all about doing the work that others will not do and you can see. Ultimately, I gave you the perfect words to use. But there's no tricks and no secrets. This the real secret, is actually out preparing everyone else and then getting paid at the top of the range. That's how you do it. That is just one little sample. Why we love this man. Thank you so much for sharing the tactics. I was very inspired by the values conversation. Anyone else gonna walk away and think about what they care to spend money on what's meaningful to them, where they want to overspend by four times that. What was quadruple? That Spending eight sobs for you in the back. If we could please give a super warm thank you applause. A creative life. Thank you. To our dear friend and a guru of finance, Mr Remains 80.
Ratings and Reviews
By far the best classes on Creative Live!! Thanks Chase Jarvis for bringing so much greatness to the table for discussion! Just LOVE it!
@ChaseJarvis - love chat with Gabby about hope and the "relentless optimism" you share at the end of Creative Calling. Many thanks. -- René Vidal McKendree Tennis
Excellent interview with thoughtful questions. Thanks!!
Student Work