The Art of Curiosity and Lifelong Wisdom with Chip Conley
Chase Jarvis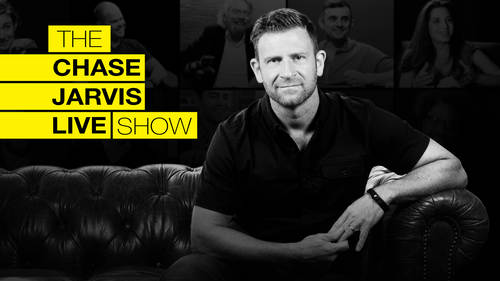 The Art of Curiosity and Lifelong Wisdom with Chip Conley
Chase Jarvis
Lesson Info
82. The Art of Curiosity and Lifelong Wisdom with Chip Conley
Lesson Info
The Art of Curiosity and Lifelong Wisdom with Chip Conley
No. Hello, everyone. And welcome to creative live. I'm your friend, your host, and happen to be the founder CEO of Creative Loving Chase. Welcome to another episode of this show here on Creativelive. If you're familiar with the show, uh, then you know what your in store for. And if you knew, I wanna welcome you. This is where I sit down with the world's top creators and entrepreneurs and I do everything I can tow unpack their brain with the goal of helping you live your dreams in career, in hobby and in life. We are live streaming today and I know that we broadcast a bunch of different places on the Internet. If you're watching this, a creative live TV, I get your questions and comments first. If you click the live chat button in the upper right hand corner or if you're on YouTube or Facebook and other platforms, Um, I do see your comments maybe 30 seconds delayed, but, uh, please share your thoughts and questions with our guest today because I know that you're here for him and not me.
So I'm going to do my part to get out of the way. But I want to call our attention to the fact that we are in an era where digital skills, they get a lot of attention. And rightly so. Um, you know, there's there's a lot of argument in support of that. But another P. O. V is emerging where those skills might on Lee have a shelf life equal to the latest fad. Or the latest gadget whereby true human skills on these air skills that often possessed by mid career workers things like good judgment, specialized knowledge and the ability to collaborate, coach and mentor where these things they never expire. So enter our guest Rebel hospitality entrepreneur, New York Times Best selling author. Ah, man, I'm very excited. We've been navigating this, um, conversation for some time here. We're happy to have him. Um, this is Mr Chip Conley disrupted his favorite industry twice, 26 when he founded Joie de Vive hospitality transforming inner City Motel into the second largest booty call Brandon Hotel Brand in America. He then sold that after being a CEO for 24 years, which we can talk about that arc as an entrepreneur on Lee to then join Airbnb as head of global hospitality and strategy for four years. And today's acts as thes toe, the strategic advisor for hospitality and leadership we have had Joji Biya, co founder of Airbnb on Before, was very popular episode. What is especially exciting to me about this episode is the emphasis and the focus on mentorship on leadership on There's So Many, you know, our marketing here, creative lives, very splash. It's about, you know, hip creators learning new things. And you know what? There's so many in our audience are mid career workers. And this episode is specifically here to, um, help those folks and inspire all the other folks who don't know what they're missing. So, please, wherever you are in the world and I'm seeing your names and locations tickin from my on my Facebook feed here from all over the world, please tap your keys or give a shout out. Raise your hands for Mr Chip Conley in the house. Welcome. Thank you, Chase. I'm happy to be here. Thank you very much. Um, well, congrats on a lot. Uh, you've had enough career success for several lifetimes. Um, one of the ways that I was interested in starting to two different, um, forks I wanted to explore. As at the front end of the show Here, one is retracing some of your history for the folks who are not into the hospitality or hotelier universe that you have, um, created French is pretty good. Chase your friends, maybe get there's a legend of pop up pin francais. Uh, interesting. Uh um but that that's one. I want to retrace your steps in that industry, but also where you came up with this idea that, um, mentor ship and that now it's such a critical time. There's a lot of people that are feeling lost and a lot of the the we were looking for leaders in a lot of places, and not a lot of people are showing up for for some. So, um, these seem to be at opposite ends of your career arc. So we might as well take the left hand one first, tell us ah, a little bit about your early early career and how you got started and and then we'll move over to the other point Now, someone recently said to me, Chip, you went from Boy Wonder to Modern Elder. How the hell did you do that? Um, so, yeah, I went to college, went to college and graduate school at Stanford business school, governing MBA there. And a couple years later, at age 26 I started, uh, a boutique hotel company. Now it was way early. It was the only two people who had really started boutique hotels. Before that in the US were Ian Schrager and Bill Clinton. And it was a motel in the Tenderloin that I still own. 34 years later, it's called the Phoenix Funky Motel. Paid by the our motel the biggest, you know, corporate account for that place. When I got it was Vinny and his girls eso you know what kind of place it was a very popular lunchtime. Um, and, you know, over the course of the next 24 years, I rode the wave, Um, the boutique hotel way, which was a pretty big wave, quite honestly. And, um, it was able to create 52 unique hotels, each with its own different brand and identity, all in California. It was very conscious about wanting to be the the largest independent hotelier in the state of California. And we were by far the largest, and I loved it till I hated it when we maybe maybe we'll get to that in a few minutes. But I I loved until I hated it. And, um, and I sold it in the great recession. I sold the brand, and the management company didn't sell the real estate. So I still owned a bunch of hotels. The real estate of the hotels. Um, and then it was a couple years later that the There's a you've seen the movie the Intern Chase. So Robert DeNiro and halfway at some point, Robert De Niro says, um, musicians don't retire. They quit when there's no more music left inside of them. So I actually knew that it's a music left inside of me. I just wasn't sure who to share it with. And it was about that time that Brian Chesky reached out to me and said, Will you be my mentor? Will you be the in house mentor and head of global hospitality strategy, and will you help us democratized hospitality? And at that point, Airbnb was a relatively small tech firm, uh, in San Francisco, not a person in the company with the hospitality or travel industry background. Andi only entrepreneurs in the House were basically ah, couple people who had started tech companies. So it was a great opportunity to join. And quickly I learned I was the intern as much as I was the mentor. So we'll come back to that. But I I realized I wasn't the know it all. I I I had to learn it all as well, because I've never worked in a tech company. And I was 52 years old, twice the age of the average employee in the company. Wow, Well, s So there's a couple of different arcs there. Obviously, there's the arc of us entrepreneur. And then, as you said from Boy Wonder Toe mentor and, um, themes of reinvention, uh, this combination, this word that you coin in the book, which, if you're just tuning in, I'm sitting down with Chip Conley and we're here talking about a lot of things. But one of which recently is, uh, most recently is wisdom at work, which you can see my copy right there. Um, it already it looks like I've owned it for six months and I've owned it for about eight days. Um, just a beautiful book. And these, uh you know, part of the ethos around Creativelive is, um is pursuing your dreams and career and hobby and in life. And you have exemplified those, um, in many ways. And I want to hear a little bit about how you got started in hospitality because so many of our people want to find out how to apply themselves in an area where they have, ah lot of energy and where you know, not to be cliche, but if you're going to do something and do it Well, uh, it might as well be an area that you're interested in. And how did you discover your interest and passion in this area? Because that is a huge stumbling block for so many of our listeners and watchers. You know, it was interesting chases that I went to Stanford Business School. I graduated quite young. I was 23 when I graduate from physical. So Seth Godin and I, with the two youngest people in our class, very closest friends in business school and ah, still are very close. And I knew I wanted to go into real estate, so I was I was focused on commercial real estate. Uh, and what was clear to me after about a year of being in commercial real estate development in San Francisco is that it was a dog eat dog world, and it was a bit of a zero sum game. So the negotiation you do in an office building with an office tenant, you know, it it is didn't feel like it was a win win. And so, interestingly, two things happened at the same time. Number one is I started having people come visit me in San Francisco who had gone to college or high school with or graduate school with. And they never stayed in a hotel. They always stayed on my couch, so I had a little focus group of one each time. Like why you're not staying in a hotel. Um, and the thing I kept hearing was the hotels in San Francisco are expensive and and boring. And and so that was one thing, then. Secondly, our commercial are small. Maverick commercial development company that I was working for, decided we were gonna potentially to a hotel in San Francisco, and and so I got I was in charge of the feasibility study of that. And as I learned more about the business and I could see the early stages of boutique hotels um, taking off, I was fascinated by it because it was a win win. I mean, instead of it being dog eat dog, it was more like God, if you treat people well, uh, actually, you do better in business. So, um, that's why I called the company's watch TV, which means joy of life in French. Because that was our That is our mission statement. That was our mission statement, um, is still the company's mission statement. It's now a Hyatt company by owned by Hyatt. Andi. I said, Okay, I'm gonna go out and quit my job, and I'm gonna, you know, earn a salary of $2000 a month, which I did for three years, you know, at $2000 a month, basically $72,000 over a three year period, which is not what a Stanford MBA usually is earning 2.5 years out of business school. But I loved it. I really loved the business. That was what I realized is my creativity. My, my appreciation for design, um, my natural tendency to be a host and to like to make people feel good. I went to high school and the inner city of L. A Long Beach called It's called Long Beach Poly High School, Snoop Dogg's High school. So I knew what it was like to be the other. And so I knew what it meant to be empathetic to other people. And I had sort of spent my lifetime learning how to ingratiate myself with other people in a way that made them feel comfortable, um, and and made myself feel comfortable as well. And so so I just was. Being a boutique hotelier was really easy. I think that in your work, you can have one of three relationships with either a job, a career or calling, and I would highly recommend to those of you listening, find the calling. And the calling is usually something that gets you in that state of flow that Mohali chicks at me high state of flow where you lose track of time. Abraham Maslow called it being self actualized, and you are doing it because it feels like there's almost a bigger force than you that is helping fuel your talent. And And when you are living, your calling you are You're sort of on an anesthetic you don't have, Ah, very high. You have a very high pain threshold, you don't feel pain. And that's why it was really weird Chase when I for 22 years I That's how it felt. And I went through the dot com bust and 9 11 and that whole terrible period. But we tripled in size even though we were very vulnerable as a particularly a very strongly Bay area oriented company. And at the end of the day, it was the great recession that what was my wake up call? The wake up call for this hotelier that said, Listen, I actually want to do this anymore on and I went from calling. I missed career. I went from calling to job. It was like there's no dimmer on this switch. It just went from, you know, lights on toe lights off and that's the hard thing toe happen when you are the face of the company, you're Richard Branson wrote. The first four written five books in my first book was called The Rebel rules, and Richard Branson wrote the forward, and I remember having a conversation with him once where he said to me, he said he was a like, a little bit of a mentor to me And he said, The moment you start losing the passion for the businesses that you are not just owning or concept ing but you're actually running them is the moment you start running for the door and you think you've got to figure out a solution. And that was really hard during the great recession because nobody wanted to buy a boutique hotel management company during that, you know, time when everything was in free fall. Um, but I was able Thio get Teoh a better place and, um, and is almost exactly 10 years ago, in fact, 10 years ago this month that I sold. And, um, that was a hard thing. What I will say is that one of things that a lot of people really underestimate, especially if you're an entrepreneur, is how tightly wound that identity is to you. It almost feels like abandoned. You have to rip off when you are selling your company, your the identity of being the face of the company and and in my case said 3500 employees being Mama and Papa Bear for the that company. I was the founder of CEO. There was I didn't have a co founder. I didn't have a co CEO. I was I was in and and it really was a lot of my identity because from age to 50 that's sort of what I knew. Um, but the thing was the fact that I had two years to ponder it during the time I was trying to sell the company on it was doing and I was also really quite private. Not very many people knew that I was trying to sell the company. Um, that helped me that spent two years preparing myself for, ah, life without that identity. And there are a lot of entrepreneurs who don't do that proper, um, preparation to realize that leaving that identity, uh, is leaves you in a place where sometimes you feel a little bit naked and lost the concept of identity. It's amazing that you said that is the perfect lead in because so many people identify with their career and their job and it's a place to hang your hat, and especially in the States, you know, what do you do with such a early conversation starter, for better or for worse. But the concept of tying our identity to how we spend our time is at the crux of what I find fascinating about your work. Most recently, you know, the book wisdom at work is this idea of reinvention and for so many people are watching and listening. They either there's a couple different past. They left school and they did the thing that their parents want them to do, and that society and culture told him to be a doctor, a lawyer or whatever. And then they've got to this point where they realize that they've got one precious life and that they're living a life that someone else around, a script that someone else has written. Then the other is someone who maybe had a great run, as you did with Joie de vive. But the flame has, uh, has gone away, and in both those cases, regardless of you know which camp you may find yourself in. Reinvention is at the core, and I'm wondering if you could talk a little bit about the process that you went through to reinvention. And, you know, you talked about it in the book, and I've heard other interviews where you basically just say, Oh, well, you know, Brian called me. And but there had to be, you know, there had to be some internal thinking about what was the right opportunity and what what was I cut out for? And if you know, just help us understand a your mindset and be some of the tactics that you went through again. A mindset be tactics that you went through in order to monitor or support or foster your reinvention of your yourself is a business person. Well, I think if I if the number one thing I would just say is be curious. I mean, curiosity is the elixir for creativity and innovation, and frankly, it's the elixir for life. One of my heroes is Peter Drucker, management theorists who wrote two thirds of his 40 books after the age of 65. Um, and every two years he would study a new subject that had nothing to do with being a business professor because, and, like Japanese ikebana flower arranging or medieval war strategies. And he would become one of the world's leading experts on it because what he knew was that sort of passionate engagement and curiosity about life actually fueled his whole way of being. So I would say that my the thing that I got when I sort of unleashed myself, got my get out of E get out of jail free card from, you know, working 70 hours 60 hours a week in my company was I was particularly curious about emotions and about festivals. And so I actually went into a deep dive on both, and I ended up writing a book called Emotional Equations. Um, that did really well, and it was because I was I wanted to understand my own emotions because when I was that CEO silently, you know, suffering through the recession, great recession and wanting not to do it anywhere and felt like I was I was reading Man's Search for meaning Victor Frankel's famous book because I felt like I was in a concentration camp of my own mind. So, um, the process of learning about my emotions help me to understand. Okay, Wow, my emotions run through you. It's when you actually hold on to them and or your unconscious about, um, Carl Jung, the psychologist. Really? I believe he didn't never say this. This is Chip Conley saying it, but I'm gonna e get this from him, which is I think wisdom is all about learning how to take the unconscious and make it conscious. And for me, I want to do that with my emotions. And then I was fascinated by festivals I've been on the board of. I was a founding board member of Burning Man. Um, and so I was really curious about creating a website which, which was called Fest of the 300 best festivals in the world on an annual list. So we have a Forbes wait a fortune 544 153 100. Um, and I love that. I figured. Okay, that makes for an interesting life. I just got to go around the world, all kinds of festivals and killed, you know, all kinds of interesting things. Um but I think what I did was that the curiosity of mindset and a sense of like, Okay, I'm not not done and I'm not living on the laurels of what I've done in the past. We all know you go to that high school reunion and the jock, you know, You know, high school quarterback, you know, is still telling his stories about whatever happened in high school. And he's now £400 and and, you know, his best times are behind him. And so I think one of the things that's fascinating is, um, chases. You're 48 years old. And the question I would ask you is, what percentage of your adult life do you think is still ahead of you guests? Just guests. Uh, well, adult. I feel like I just became an adult so Mansour would be 100. But let's just say I got I I believe that I will live to be 120 years old, based on some of the conversations I've had here, but so I got 50 50 years of goodness. Yeah. Wait, what you got? You got more than 50 years because you're you. If you're 48 you've got 30 years of adulthood behind you. If you start counting at age 18 if you live to 100 120 you have 50 to 72 years ahead of you. So 30 behind 72 ahead. Well, you are. You have 70%. You're 70% of your adulthood still ahead of you. Yes, most of us don't do that. Math. So I was doing that math, and I was saying, and you know, I'm 59 1960 later this year. Um, some longevity sites have said I'm probably gonna have time 98. So if I lived till I'm 98 I have, at age 59 I have just entered the second half. I just finished halftime, just starting the second half of my life. A second half of my adult life in my eight my you post 18 years old. All of that led me to a place of having a growth mindset. And then, you know, Carol Dweck has talked about fixed on growth mindset. So fixed mindset is when you tend to be focused on proving yourself and success is defined by winning. A growth mindset is when you're focused on improving yourself and success is defined by learning. And so if you are, as you get older, if you have a fixed mindset. What you tend to do is your your sandbox gets smaller and smaller because there's things you can't do, like you used to be able to. Especially physically. Um, and so I got to the point of realizing my my future will be better than my past. Only if I have a growth mindset. So at age 59 I'm learning Spanish and I'm learning how to serve. Um, and I'm learning. I'm learning how to cook on DSO. I'm learning things that I feel an idiot at these things. But what I learned from my experience that Airbnb was I would have run for the Hills a month into it if I hadn't had a growth mindset, because my way of being historically was I was the CEO of the company. My ego was big. Um, I was used to being the stage on the stage, not the guide on the side, and I needed to actually write size. The ego realized that I was there for the three founders to help mentor them, to create a great company and to make them great leaders. And I'm really proud all these years later that they still the three of them are still together, which is, I don't know if there's never been a company that hit this kind of evaluation that's had three founders. They're still actively involved in the business. But I also had to realize that I need to have a beginner's mind because there was so many things I needed to learn, and often the relationship I had with Brian who who I was mentoring. But he was also my boss, was one of mutual mentorship. Well, mutual mentorship is obviously a big piece you talked about, you know, being a mentor and an intern at the same time. That's like if we're exploring mindset still like, how does one have that? Because most people come from the attitude of, you know, how do you is it just a parting of the ego or parting ways with the ego? How can you both have this beginner's mindset? Um, and and a leader at the same time? You know, Brian and I have as when he wants it on stage, he said. We have our our synapses fire together on dso we, but his knowledge and my knowledge were very different. Um, he said to me. You know, about a month about two months into he said we hired you for your knowledge. But what we've really gotten is your wisdom. And I'd never really known what the different waas. Um but what we offered each other was the following. First of all, we both tried to be humble, and that was, you know, I mean, that was something that you don't think of. Ah, Brian Chesky, necessarily as a humble guy because, you know, he had to go out and raise money from venture capitalists, and you need to go out and have all that confidence. But you know the thing underneath. For those people who know Brian, he's actually relatively humble person one on one, and in terms of knowing that he wants to learn from other people. So he's got that that growth mindset and that that desire to be curious about what? He doesn't know yet. I'm for him. What I was able to teach him was a lot around e q and around leadership. So some of the qualities that you get better at as you get older because we it's weird, you know, the venture capital and private equity firms sort of expect these young, brilliant technologists to miraculously embody the relationship wisdoms and leadership skills that those of us who've been around a little bit longer had decades to learn. But what he So I taught him a little bit. E que. He taught me a lot of Dick Digital intelligence, and I got to say I was digitally not only in terms of the tools I used was I a bit of a dunce, but I didn't understand what even product. Waas. First time I heard the word product at Airbnb. I thought the product was our homes in our apartment like no chip. The product is our website, um, and so I had to learn not just the lingo, but the the way of thinking of how you scale a global network effects company, which is what Airbnb waas. It is, um, in a way, and that's why it's so funny. Way like two months into it. He really just asked me to be the head of hospitality. But two months into it, he said, you're now in charge of strategy and I said, Well, that's interesting, because I never worked in the tech company before strategy with tech company. Good, But, you know, it was it was an amazing experience. And what I learned also is that it's valuable to a mentor. I'm sorry to intern publicly and mentor privately. What does that mean? That when I needed to give Brian some feedback about how he was running a meeting, Um, I of course I never gave it in the middle of the meeting, The executive committee meeting. I did that privately, and I did that privately with my own team. My team is Well, I had about 100 mentees at Airbnb, and frankly, everyone have mentored me as much as I measured them. But what I try to do publicly was to just ask questions. And initially I thought I was an idiot by asking questions. But then I sort of realized that Socrates, you know, sort of famous for asking questions a long time ago and that you could ask catalytic questions to help the company and maybe leaders see their blind spots. Um, and then I would, you know, save the mentoring for a one on one with someone. So, you know, that's how it worked. And, um, I've had the good fortune of doing that with, um, Marion Goodell, who is the CEO of Burning Man being on the board there. You know, having the one on one with her with, as opposed to saying something at a board meeting. And same with Gavin Newsom because Gavin was a good friend of mine who became mayor of San Francisco. I helped to make the mayor, and he asked me to be his conceal your conciliatory, Um, basically, the guy like hung out with him as his mentor in Room 200 in City Hall in San Francisco. Um, and now he's the governor of California And there's a bunch of other folks I've had the good fortune of helping to mentor, and I just I've got to say the older you get, the more this statement from Eric Erickson, a developmental psychologist, makes sense. He said, I am what survives May, and that's really what you know, we if you have kids, that's how you think about your kids. Um, if you have a company or you've written a book, that's what you think about that. But when it comes to the people that you have actually influenced in terms of their skills as leaders or as entrepreneurs. That's such a You get such a high from that. Um, I was very, very proud of Brian in this pandemic with how he handled a very difficult situation with having to lay off all of his contractors and 25% of the workforce, almost 2000 people. Um, and so I you know, it's that that you feel a bit like the proud papa when you see something like that. Well, this I'm curious If you think this idea of being curious and being willing to be an intern and bring to the table the mentorship skills that you have is this is this something that every middle career person should be thinking about? That you have skills that you can offer and that you need to have this. You know, this growth learning, curious mindset like is how important is this skill of developing this relationship between internship and and mentor for anyone who is trying to reinvent themselves? You know, Chase, we live in a time where we're gonna live longer than our parents. Power seems to be moving younger, and the world is changing faster. And those three variables have got a lot of people in midlife really bewildered and feeling your relevant. And so what I call it is I call it same seed, different soil. Um, that was my experience at Airbnb. Same seed. It was me and actually same industry. It was hospitality. Very different read on hospitality. But I was able to come into a disruptive company and help them understand the landscape, help them understand the leadership, help them actually take what was a very niche oriented business that was sort of millennial budget, urban travel and and take it mainstream. Turn it into a global hospitality brand. Um, and I didn't do that by myself. That was a whole team of us. But, you know, I was really the only hospitality person there, so I certainly had a lens that was different than everybody else's. And I would just say that that process I was gifted because at 52 I was tapped on the shoulder. There's a lot of people right now who have lost their job here of 52 who are like thinking what the hell You know, this extra longevity. It sucks. If you know, how do you pay for it? Um, so there's a So that's part of the reason I yes, I think anybody could do it. I think it has to do with getting curious learning. I think a modern elder versus a tradition older is as much curious as they are wise. Curious curiosity opens up possibility, and the wisdom distills down what's essential and those two qualities together in the same person could be very valuable. But we live in an era that's somewhat ages and in certain industries. Tech advertising. Um, generally marketing, um, fashion, entertainment industry, um, professional sports. After about age 35 a lot of those industries, you actually feel like you're a little over the hill. So, um, part of my crusade is toe not just figure out. How do we create more modern elders out there? But actually, how do we help companies to see the value of it? And there's a few studies have recently come out that shown we've known for a long time that diversity is valuable in companies. But the focus on diversity has usually been gender, race and sexual orientation. There's growing evidence that age diversity is the number one variable for effective diversity and companies. Why? Because a younger brain and older brain usually operate a little differently. And and so you get that diversity on a team which actually allows for different points of view. And, um, and a lack of group think so, Yeah, I wanna put a pin and team and come back to that because this is another huge theme in the book. Um, there's again. I got a bunch of underlines and pages turned over about the role in the Value team as the ultimate disruptor. But before we go to team, I wanna, um, circle back on the the idea of the modern Elder. Now I know that you have the academy, and it's a little bit tough right now because we're in the middle of a pandemic. But just this idea that, you know, midlife mid career deserves its own set of reflections and rituals and that in a previous world, maybe world of manual labor, uh, that you needed to rest after working for 40 years. But as you said, you know, the the the quote about, um was a DeNiro with, you know, you stopped playing music when there's music inside inside you, and you've clearly got a lot of music, and so do so many others. So help us understand your vision for the modern Elder. Yeah. So what? I you know, we have an interesting situation like never before. We have five generations in the workplace for the first time. Um, that includes the great generation. So if you're in your seventies, you're probably, you know, you're you're probably great generation. Uh, some people are boomers in their early seventies, but so with people in a place where they're gonna be living and working longer, either by choice or necessity, what we need to do is to do is learn how to bring almost, like an inter generational potluck to the table. Um, So that that's what part of the reason why I decided I wanted to create the academy. So Modern Elder Academy, It's also knows Emmy A, uh is one hour north of Cabo San Lucas in Southern bought the southern Baja Peninsula of Mexico s Oh, it's only a two hour flight from L. A. And, uh, it's the world's first midlife wisdom school. It's a social enterprise, so I don't pay myself a dime I've built the full campus, you know, not getting any rent because what I wanted to do was give back. I wanted to say, Listen, I know people who've committed suicide in midlife and there's the suicide. Mid light midlife suicide rate today is 50% higher than it was in the year 2000 because a lot of 50% yeah, a lot of people feel irrelevant. What I wanted to do was say, what if you created a place where people actually cultivated and harvested their wisdom and they were able to say same, see different soil, able to see how to repurpose that mastery, that they've learned that they may. Actually, they don't even realize the value in it. Um, And then how do you actually take it out to the world and confidently market yourself or even go out and become an entrepreneur in your fifties? Let's say, Ah, and which is the fact? The fastest growing segment of entrepreneurs in the United States is people in their fifties, and actually, frankly, it's been shown many times now that actually, if you're in your fifties, your likelihood of success is higher. Your twenties so long story short is what we're trying to do is address the confidence crisis and also creates a matchmaking of younger people who have a lot to bring to the table and older people who do as well. And, uh, instead of seeing it as a generational war see it as a generational opportunity. And so it's been and it just and, you know, Google showed in their study, the Project Aristotle study that the number one variable for teams to go back to teams for a moment, um, with psychological safety. And there's all this evidence that actually psychological safety is improved by age diversity on the team because you and gender diversity. Because, frankly, you get ah, bunch of 27 year old guys in a room, all of whom have their own idea of how things are supposed to be and you're missing collaboration. Put some women in the room, put some people of color in the room, put some gay or lesbian people in the room and put some old people in the room older people in the room, and what you do is you get a collection of ideas, But the older people, the older people, do is they create the psychological safety because one of the things that is very evident in, um uh, social studies social um, research is that as we age, we get a little bit more emotionally moderate. We'll get there able to control our reactions, Victor Frankel famously said in his book, That man's Search for Meaning, um between stimulus and response. There is a space in that space is your power to choose your response and in your response lies your growth in your freedom. And as you get older, you move from reaction to response. Um, and again, I'm generalizing here. So I'm careful. Be careful generalizations, but there's a lot of evidence that that is true. I don't and anecdotally my own life, like my ability to contemplate something, even if it's just a millisecond More. I claim that is a little victory where the younger me would would have reacted and probably with, um, less balance. And, uh, and once you've seen that in yourself, you can't unsee it and and my wife is a as a mindfulness teacher, So I I get a lot and I know you're you're long relationship with the SL in, um There's a lot of, uh, I think of threads we could pull on their but in order to be in service of what I said we were going to talk about next, which is teams again. So many, so many topics. I'd love Thio to go deep with you on, but I can't go past teams because so it's so many of the people who are listening and watching. We creativelive attracted largely a creator and entrepreneurial mindset. And so much of the entrepreneur story, the narrative and our culture is solo creator sets off on a vast journey. And, you know, you mentioned Branson. Branson's an investor and creative live a friend. He's the first person to tell you that, you know, team is is at the center of this. Despite all these toxic myths that we've got of the Lone Creator. What, going into the woods and in wisdom at work, you talk about teams as the ultimate disruptor. Same or you know what? When I joined Airbnb, it was a fascinating experience because, um, what I noticed was everybody was trying to be the smartest person in the room. And at one point someone said to me I was the wisest person in the room. And again, just like when Brian said the difference between knowledge and wisdom, I'd never really seen the difference. But part of what helped me to see is that when you create an environment where, um e think I don't remember who it might have been Harry Truman, who said, You know, it's amazing what can get done with No, it doesn't matter who gets the credit or no one cares who gets the credit. And I think there's an element in a team. But when a team feels like they are firing on all cylinders, it feels better than actually your own personal individual achievement. Um, enrolling or crew. There's actually a, uh, word called Swing when, when the eight rowers in the cox and are all in unison, the boat starts to actually elevate in the water a little bit, which means that there's less friction, which means it goes faster. That is a team. A team is in unison. Bye bye. You want to say to be in unison. It doesn't necessarily mean there isn't conflict there absolutely, is we? Is it as a as an executive team at Airbnb read. You know, Pat Lenski owns five dysfunctions of teams, and we did work on that. And we realized that actually having conflict was a good thing as long as we could a lot a line as a group, once we had agreed upon what our path was gonna be. So we did a ton of work, and part of my role in the company was toe help. I was, except the learning and development function in the company. And so is to help. Actually, the teams in Airbnb work more effectively and especially the executive team, which was about 10 or 12 of us. Um, so understanding personality types is a lot of that as well. Understanding. Oh, my gosh, the difference between an introvert and extrovert or I'm a big fan of the diagram. And how do you understand? You know, angiogram types and what that means about the overall pair of glasses that someone is wearing. Um, so there's a There's a lot to it and, you know, there's ah e I. I could be someone who's impatient by nature. I have a bias for action, you know, classic entrepreneur, One of my co founders in modern elder Academy last week, said Chip, are you able to fly at the speed of partnership? And that was really good for me to hear because it reminded me of the African proverb. If you wanna go fast, go alone. If you want to go far, go together. And I realized with my two co founders of the company, and I'm the predominant, you know, one that the world season, I'm the one who really came up with the idea. But these two are right by my side. I realized I often I'm so much on my own path about what I think we need to do next, especially in covert, where I don't see them, because we're all spread out right now that I am not in partnership with them on DSo knowing your again, I said earlier about Carl Young. Making the unconscious conscious is, to me the ultimate sign of wisdom, and one of the things you get better with as you get older is your own personal pattern recognition. Seeing your own patterns and pattern recognition is a form of wisdom, and so long story short is I was able to see that my team work lately hasn't been very good because of my pattern. Recognition of seeing my bias for action means I'm impatient. Means I don't have time to wait around to talk to them about it. So So I'm glad I've been able to say Okay, I've I've been a great team member, and I was I think I helped create a really great set of teams at Airbnb and the and the framework for how we thought of teams. But I can at times, you know, at 59 a half years old, being a place where I'm not a very good team member as well. And I have tow become face to face with that that's actually, uh, thing worth peeling back. One more layer on. So, yeah, you've spoken all over the world about this. You talk, you know about being an elder and the not just the books you've written on the topic nor the leadership positions you've held. But what part of the 59 year old Chip Conley is the scared part that people don't always see on stages or read about in the books because that, you know, you seem superhuman When we read your books and we see you on stage. But right now there's someone listening who's 59 years old and has just lost their job. And what can you What would your advice be to that person? Well, if you believe that the your best years or behind you, you're answering your own question. So part of what's been fascinating for me to move from lifelong learning to what I now call long life learning the emergence of long life learning, understanding how to create a life that is as deep as it is long on. And that's really what Modern Elder Academy is all about is to recognize and study social social research on this social science research. On this, the U curve of happiness is fascinating. It's across all cultures. It's gotten a lot of press in the last five years. What is shown is that from about age 22 to 25 till around 45 to 50 Sorry that you're right in the middle of it. Chase, Um, you see this long, slow decline in life, satisfaction or happiness for a lot of reasons. It's the mash up of all the responsibilities, all the identities all of all of the things that you have on your plate, Um, including kids. Often kids don't make you happy, but they give you meaning, lots of lots of research on that. Um So what happens around 45 to 50 is if the equation disappointment are, disappointment equals expectations minus reality is relevant here. Um, you actually often around this age and you're, you know, mid around 50 you start shifting your expectations. Um, you also start to shift out of the primary offering system being your soul to the primary operating. I'm sorry, Prime happening system being your ego to the primary. Bring system being your soul. Now that gets pretty wu. And I'm not gonna get into the specifics of that right now. But what I can say is there's a lot of evidence that people actually start to move beyond their own petty needs, and they start to actually get happier. And what's weird about the UK of happiness is that people in their fifties or happier in their forties sixties, happier than fifties seventies, happier than sixties and women in their eighties happier than seventies. And so what? I would say that 59 year old who's lost their job, who feels like maybe, you know their life is over. Uh, do the math and how much what president of your adult life is still ahead of you. Get curious, brush off your wisdom and mastery and have someone help you, whether it's a coach, whether it's coming here to the M E A. Whether it's your best friend who knows your your qualities maybe better than you do, um, and go out there and start to look for the thing that you most most are curious about and what could be a new industry you could go into. Um, it doesn't have to be the same industry again. Your skills. You have human skills, that pattern recognition. Or there's something called crystallized intelligence. It's holistic thinking, Um, as you get older, your your ability from with memory and how quickly you recall things, um, actually is less. You're less fast and you are your memories and this good. But what you get better at until about your late sixties is your ability to connect the dots. Andi Connecting the dots is a quality that young people really appreciate in older people because it actually is the ability to see the pattern before and to be a futurist, to be able to sort of see the future and be able to then say okay, if that's the future, this is where we should go. Um, so I would just say you probably have a lot more going for you, but as you go look for a job at age 59 or 52 or Chase, in case you lose your job, but what you've got to do is you've gotta actually find a habitat that's gonna be right for you. And one of the qualities that you get better at as you get older is environmental mastery. And this has nothing to with the ecology. It means you actually know the habitats in which you flourish. And so you are very readily able to determine pretty quickly whether a particular company and culture are right for you And is that does that just come from experience? Does that come from you know, a lot of people? Where does that intuition come from? Eso intuition comes from pattern recognition and wisdom, and it really the intuition comes from the lived experience and what you've learned over time, one of the practices that I started doing at age 26 that relates to what we're talking about here that I would recommend to anybody at any age. So if you're listening to this and you're 23 years old right now and saying, Who the hell is this guy? At 59? Well, here's something you could start doing at age 23 at age 26 when I started my hotel company, I had no background or experience in hotels, and about three months into it, I realized I was up Shit Creek. I had no idea what I was doing. And so I actually took a journal, an empty journal, and I wrote on the cover my wisdom book. This is a true story, my wisdom book, and every Saturday or Sunday, Friday afternoon or Saturday, Sunday each week for 30 minutes, I would actually put together a list of about 3 to 6 bullet points of what I learned that week. Typically, things where I just I had a bad experience and I had to learn from it. And so whether that was the wrong kind, of partner in business, a new investor or whether that was how I ran a meeting badly. Or, um, you know how I gave a direct report, a review that just didn't go well and how I could have done it differently. I've been doing that now for 30 almost 34 years, and I have nine wisdom books. And actually, during the great recession, I went back to look at my dot com bust 9. 11 ones because I was like, Okay, I think I had some learning back then and I need to go back to. So what I'm just saying is whether it's environmental mastery and understanding what it is, where what habitats you flourish in what kinds of people you work best with, what kind, what time of day, You know, you are your best at your at your best. Um, these are the kinds of things you learn over time, and, uh, but it doesn't necessarily mean that just because you're older, you're wiser, because there's lots of people who are older who don't cultivate and harvest their wisdom. Nor do they have an open mind about learning new things, or nor are they curious so you could be wise at a wiser age 30 than someone who's age 60. Um, but it's all about cultivating and harvesting that wisdom. Well, we mentioned early on in our conversation the timing of all of this. And now, um, we need guidance more than ever. And there's well, I don't know too many people who are alive for the 1918 pandemic. So the reality is that's that's that's subset of leadership is pretty small, but this concept of leading through crisis is, um, not new, right? You've mentioned several crises in the in the, you know, the arc of your entrepreneurial career. Um, but let's just flip the script now because there we've taken the approach that if you are mid career middle age looking for another restart, whether it's, you know, something you're passionate about. And you talked a lot about pulling on the curiosity threads to see an area you talked about environment, environmental awareness and mastery. Let's flip the script and say you are ah, young person and you are found yourself in a tough spot. What is a good You know what? What are some with some guidance that you would give us for turning to people who might be great mentors. How should you find them? Cultivate them. And, um, where to look? Couple of thoughts. Um, first of all, I have a daily blawg, and I write a lot about this in the daily blogged, which is called wisdom. Well, it's on the modern elder Academy website, um, and so it's just, you know, you can sign up for. It's free and you just get an email each each day with a a little micro dose of wisdom, Um, and whether e want to say two things on this number. One is, um What I'm hearing a lot from people of all ages right now is a lot of anxiety about where things are in an uncertain world. And, um, if you go to the wisdom well blogged, you'll see there's ah ah post. Very sure, all the poster relatively short, Um, because their daily, uh, there's a post called the Anxiety Balance Sheet, and I highly recommend people look at that. If you are feeling some anxiety about your workplace right now, or just you know your career or your life, because there's really two primary ingredients and anxiety um, it's uncertainty and powerlessness. And so the key is to do about she helps you to see what do you have some certainty about and how What do you have some influence over and if you can influence? And if you can actually upped the ante on both of those, Um, it helps you with the things that you feel uncertain and powerless about. So moving on the mentorship. First of all, if you can find someone that you you can teach us well, a mutual mentorship relationship that's dynamite. That's like the best thing you can get because then it's a It's a It's a relationship of reciprocity. It will probably last longer. It will actually feel more enriching because you're both neither one of your typecast. We call ourselves Men, turns a mentor and an intern at the same time. Um, I would say, Look at the people who you look at the qualities that you want to learn yourself, What are the things that you feel like you really need help with? Um, that's one way to start and then sort of start with that and then say OK, who are people who you admire who exhibit those qualities whether they're people at work or people, Uh, in your family life, uh, people, neighbors, friends, etcetera. Or look at the people who you just admire the people who are people who are just the kind of people you you wanna be like when you grow up, so to speak. I'll tell you my story. So, um, about two years after actually know about four years after I started want Viv, we were getting our 2nd and 3rd hotels, and we ended up with 52 hotels. But, you know, the 2nd and 3rd, about four years into it, um, and I knew that culture was important. And the company that I would most admired Azaz in terms of the company culture was Southwest Airlines. And so I tried to call Herb Kelleher, who for 37 years was the CEO of of Southwest, to see if I could ask him if you'd be my mentor and his assistant, Izzy a, um uh, Colleen Barrett eyes, the one who answered the phone, and she said, No, he can't do that. But if you write him a letter, this is like the 19 early 19 nineties. If you write him a letter. Um, and maybe you write him once a year. If you really likes you, maybe he'll answer it. That's like writing Santa Claus. So I wrote Herb Kelleher. A one page letter asked him three questions about corporate culture and how they've grown the culture at Southwest. And three weeks later I got a letter from Herb, and over the course of the next 10 years, once a year he was my mentor and I would write him the letter. And here's the part. That's the great part of the story. I got to know Colleen better than I got to know her, but I never had a phone call with Curb. He was He was my mentor and I never met him. Nor did I ever have a phone call with him. Um, but Colleen be ended up becoming a bit of my mentor to, And here's the amazing story. Colleen was his executive assistant, and she went on to becoming the president of Southwest Airlines. His secretary became the president of their company. And so what I can say about that is don't assume that someone that is far away from you is going to say no. Um, I probably will, because I have a lot of mentees right now, s so be careful. Eso But I would say, uh, exactly you write a book about mentorship is like, you get a lot, you get a lot of people, but, um, but, you know, be open to trying Thio reach out to someone who you know who really is. You admire, um, their qualities about them and in the world we live in today, which I didn't have back there in that era, which we didn't have the Internet. You can learn a lot about someone who's no longer living who could become your mentor because there's speeches, there's blogged posts. There's things that they've done in their life. There's books about, um there's books they've written, so you can actually have a mentor and learn about them without actually necessary. Having them face to face, that's huge. And I think there's another take way baked in there, which is you received mentor ship from her without ever actually contacting them. And there's a There's so much like, uh uh, what would it be called? Baggage in the word mentor. Right. But what you're asking for these people for is help and advice and every little piece of help or every little bit of advice I'm curious on, you know, landing a mentor, even if you don't actually know them. So I would just I would not start with the word mentor. It's like it's like popping the M question like marriage like date first go for, have coffee or, you know, in my case with her. But I didn't ask him. I really I was calling him to see if he'd be my mentor. When I wrote him, I didn't say the word mentor because actually didn't feel like there's a mentor thing because it was like once a year letter. But the truth is that actually, when you start with the word mentor, it can actually scare someone off because it makes it sound like it's a It's a really big commitment, Um, and so just start, You know, if you can if you know by, you know, having a I. When someone writes me a in the subject headlining Chip, I've studied you and I really admire you as a leader. I'd like to learn from you. I'll read that email I promise you. And then I will respond to that email. I probably say I can't be them their mentor. But if they don't say they don't say mentor in the thing. I mean, they don't say mentor the thing, I will actually do my best to answer a few questions. Um, because actually, I believe in karma capitalism. What goes around comes around. And that's true in leadership and in management and in business. So, you know, I I think just, you know, be willing to go out and ask last comment. Question. Ask request for your wisdom is around. Not retiring, but rewiring. Yeah A. Do you feel like the idea of retirement is almost a thing of the past? Is that the thing that was really designed around having worked so hard for 50 years of back breaking work on an assembly line in a factory environment? Is it going away? And if so, or if not, how should we think about rewiring so retirement should be retired, Um, and because there's now a bunch of evidence that shows that retirement increases your mortality rate by about two years, and the three things that actually sort of fall apart or your purpose, your community and your wellness. The purpose and community are pretty obvious because you're no longer working, you know, full time. Often the wildest piece people are surprised by because it seems like you have more time to go golfer to play tennis or whatever, but because you lose the discipline of the workplace, um, often you lose your discipline throughout your life. So long story short is, uh I think the idea of retiring is going to go away as people realize that they're gonna live a lot longer. Um, and they're gonna want to stay actively involved in life spoken. You heard it here, If not first. Certainly the loudest and the most well put. I want to give you a shoutout. Congrats on the book. Wisdom at work. The making of a modern elder. Um, what's the best place? I mean, we've talked a little bit about the modern Elder academy, Of course. Wisdom at work in the other place you mentioned, um, see the name of the block again at the border wisdom wisdom. Well, um, and I actually post the wisdom Well, block posts unlinked in virtually every day, so if people want to sort of stay in touch. And, you know, Lincoln's probably the best, um, social media tools with me and And on that platform, you're just Chip Conley. That's right. All right. Um, thank you so much for showing up in a world that, uh, we we we are gonna live a lot longer than ever thought before. And thank you for being a guiding light for so many an inspiration. Uh, and again, your wisdom in the workplace, having reinvented yourself a handful of times is inspiring his health. Want to say thanks for being on the show, chip. Thank you, Chase. Just an honor to be with you. All right, everybody signing off. Hopefully be with you again tomorrow. Mhm.
Ratings and Reviews
By far the best classes on Creative Live!! Thanks Chase Jarvis for bringing so much greatness to the table for discussion! Just LOVE it!
@ChaseJarvis - love chat with Gabby about hope and the "relentless optimism" you share at the end of Creative Calling. Many thanks. -- René Vidal McKendree Tennis
Excellent interview with thoughtful questions. Thanks!!
Student Work