Intro to Fashion Marketing and Branding
Jay Calderin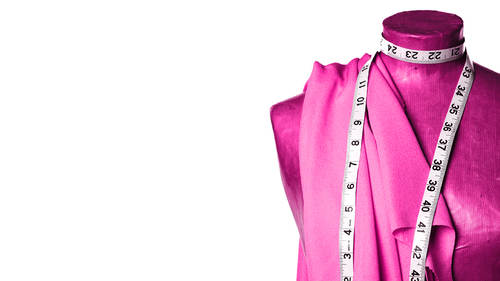 Intro to Fashion Marketing and Branding
Jay Calderin
Lesson Info
25. Intro to Fashion Marketing and Branding
Lesson Info
Intro to Fashion Marketing and Branding
This class is going to be about fashion, marketing and branding, and we're going to start with three areas that are very important to that we're going to talk about display data and design, so before we get to the actual process, I thought it would be important to kind of talk about a baseline, so this is just kind of going over what will be covering in this in this class, so presenting your work to different audiences, understanding your customer through information, telling stories across different platforms, engaging your customer, and anticipating a pivot in your plan. So I'm going to describe a kind of how I approach each of these areas, and then what I'd like to do is have you think, be thinking about that, and we're goingto ask you guys questions, and we invite the online audience as well to chime in this would be a great spot to interact, and when you're thinking about presenting your your work to different audiences, you might be considering not just in terms of different plac...
es where you're going to show your your your work, but you might want to think about how different groups will will respond to your work. So if you're working with in a community of students, if you're working in a community that a certain age group, if you're working with, ah, community that has more boutiques versus big stores. So thinking about where you might fit in that scheme of things. Because I think in the beginning when we talk about fashion design, were we kind of hope and dream that it's just going to be everywhere. And that's that's. Great. You know, it's a great starting point. Does you want it? You want to share your all your all your inspiration. But it's it's a really key thing to think about how to break it up. Because sometimes you can break down your own design process into sections that really speak to those communities. So understanding your customer through information. There are two very important areas about people and your customers that you want to consider. One is the basic with the area of basic fact. So demographics. So how old is your customer? Where do they live? You know, how much money do they make? Are they married? Are they not married? Do they have children? Do they not have children? Do they travel? What kind of work do they do? All these kind of basic backs. You no hard facts that will give you a baseline. But then you need to consider what takes them out of that group, what makes them a little bit more special and unique, and what brings? Divers, demographics together and that's more psychographic ce, and this room is a perfect representation of that, because you all are from different backgrounds, different ages and different interest in fashion. But what brought you together is that the idea of fashion and the idea of growing your your your world so this is an area where you might want to consider where does your client go on vacations? What do they do for fun and things that are more personal? That would bring them together with a different kind of group? Because that also allows you to expand your circle, telling stories across different platforms, we're going to explore how you have to change your stories, sometimes, depending on the format that you're sharing it. And so twitter is actually a great example, because, you know, in a in a certain amount of characters, you have to really create an impactful message and or called toe action, so those kinds of things are very important to keep in mind that you have being small are many I should think, you know, in terms of sort of micro for twitter, all the way to long form things, like articles about you and how you would help the writer craft that engaging your customer this is important because the attention span of most most audiences is very, very, uh overwhelming. You know, I mean, they they're overwhelmed with information. And you want to make sure that you engage with them so that they feel like they have a real relationship with you. And keep coming back. And finally anticipating a pivot in your plan, always having in the back of your mind how you might approach all this in a different way.
Class Materials
Styling and Fashion Show Gear Guide
Care and Feeding of a Garment
Copy Rights and Copy Culture
Dissemination - FashionArt
Specializations - The Players
Pattern Making Gear Guide
Ratings and Reviews
Jay is a rare gem in the world of instructors. He has the perfect balance of information, examples, and hands on visuals. He included his students in the teaching process. They were not just the audience. Even the viewers were encouraged to participate! I loved his teaching style and enthusiasm as well as the content of information he shared with us. He covered a vast amount of information and led us at a pace that was very easy to follow. It reaffirmed my love of fashion as well as designing new ideas. This class was inspiring and motivating. If you are even the slightest bit curious about Fashion Design, constructing patterns, or even drawing models, this class is for you. It was all encompassing for an overview of Fashion Design from start to finish. Jay has an easygoing manner that you will want to watch him again and again. A great resource for your library. I can't wait to see him again in the Creative Live classroom!. Good luck to Jay and all his endeavors! Thank you Creative Live for providing yet another great learning opportunity for an international audience.
This is day one of Jays class and I am already hooked and purchased this class. Jay is an awesome instructor. He explains everything in easy to understand terms. He explained things that I have bought books to learn and didn't in one easy lesson. I recommend this class for anyone that has a interest in Fashion design or even learning to draw models for anything you need to sketch out. I hope Creative Live will bring Jay back for more classes. Jay is a instructor also worth having in your tool box of CL classes to refer back to for learning and inspiration! Thank You Jay for sharing your knowledge with us!!
I agree with everything that michelle-b said in her review of this class, and will add that I can tell that he is an instructor who not only knows his subject matter, but has excellent teaching skills. He is very engaged with his students, and focused on making sure that they get what he is telling/showing them. He also has the rare gift of distilling a complex subject down to its essence and teaching it in a simplified form that gives the student a good overview of the basics, and somehow also gives the student insight into more of the subject's depth than he actually says in words. This broader understanding of the subject empowers the student to proceed on a much higher level than would be possible after taking any other course overview. Even more amazing is that the lessons covered in this way could be (and are) full courses in themselves elsewhere, but were merely segments of this two-day CL class. For this reason, if I ever got a chance to take one of Jay's classes at the School of Fashion Design, I would take it in an instant. I too bought this class by the end of Day 1. For me, the segments on sketching and drafting alone were worth the $69, and the rest is bonus.
Student Work