Fashion Design: Start to Finish
Pattern Draping: Working with Muslin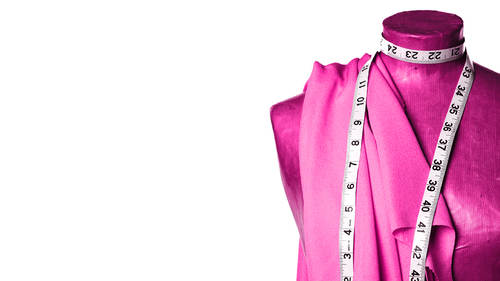 Fashion Design: Start to Finish
Pattern Draping: Working with Muslin
Lesson Info
Pattern Draping: Working with Muslin
One of the big questions around all this because we feel like we can just jump right into, you know, creating a garment is to have a real plan for your production and understand all the different elements of it. So one of the keys to that is your fabric, and when you're starting to create the actual pattern, um, were you normally used using an inexpensive cotton fabric called muslin, and the thing about it is that you want tohave, uh, muslin that reflects the weight of the garment? You mean, the fashion fabric that you're going to use to make it so if you're using sort of mid wait, this is really good, but if you're using chiffon, you might want to use a very much lighter version of muslim, sort of a more glossy fabric if you're using, if you're doing a heavy coat, you might want to use something that feels a little bit more like canvas, so this is usually the first step some designers will work with, uh, right, we'll work with paper, but a lot of designers I like to work with muslim. ...
I mean, what with the draping aspect of it? So one of the first things we want to do is cut off a piece here and, uh, you want to test your fabric? I mean, most cotton fabrics have a basically that you could do this, but you don't want to cut it all the way across, you want to sniff it and tear, and you can't do that with every fabric fair warning I've tried and have made some horrific mistakes, but if it has a basic we've you can do that, and one of the reasons for doing that is that fabric can get worked, and we want to make sure that the fabric stays on green so often will take a piece of fabric like this, and if we feel that it's warped, we might sort of twist it by pulling it back into shape until we get on actual truth square. So this is is the starting point now? Um, the muslin has some important things you need to consider. Going across is the cross green and then going along the salvage is the length white screen. Most garments are created on the length white screen because it has a little bit better drape it hangs down better. Um it was more fluid, and then there is another element of fabric which is very important, and if we create a true, uh, bias, which is that the perfect angle if you have a square, so I always do it by going from the corner and bring it over. This would be the corner of a square shape right here. This line that we're seeing at the fold is true bias, right? That perfect, that center cut and one of the nice things about it. Although this is a woven fabric on the bias it will give, I hate to use the word stretch, even though it is technically stretching, stretching implies sort of in it, but this is a bias, the bias, and it gives it kind of conforms to the body. And we spoke a little bit earlier about madeline bonet, who was sort of a master of working with the bias, and she wanted closed to drape and hug the body and the kind of mitts that are available now weren't available then, and she was able to manage that effect by using the bias. So one of the first things I want to do just so that I have something to work with, I'm just gonna cut myself a basic square. So you want to take this and you want to press it? If your muslim has creases in it, it will actually affect the size of your garment of your pattern, because when you transfer this, it'll be to paper, which doesn't have those creases. And every little crease is sort of grabbing it could be a fraction of a fraction of a fraction of a fraction, but when you're working especially in the industry on large numbers it can affect the patterns in a big way, so we're just going to take a minute to press and it also helps kind of uh the pressing also helps kind of make it a little bit starchy causes a little starch in muslin before you you wash it okay there and this is our first plane, so to speak, the plain on the body we're going to do one section at a time wait and I know that I wanna work with the lengthwise grain so it's my selvage so I'm going to automatically fold in about an inch actually a little more than an inch and I can do this by eye, but you want to measure it's funny it had, um wonderful patter, mate, I mean better making destruction teacher in high school and she used to see me doing things by eye and she'd go crazy. So when she said, if the measurements aren't right, you're failing that project and I was so happy that measurements were right, but not but I don't want to encourage that because teachers all over the world will get very mad with me, but you want to you want to, uh measure and check and make sure, and it could be. Whatever measurement you decide. I just give myself that much, sometimes with fabrics that are woven tightly. Here at the salvage, you might want to clip to cut into it. So that it's not too tight and that you know just to release it.
Class Description
Interested in the world of fashion? Even if you're not an aspiring fashion designer, you'll enjoy this class. Jay Calderin is the Director of Creative Marketing and an instructor at the School of Fashion Design. He is the author of three top-selling books on Fashion Design, and the founder and executive director of Boston Fashion Week. 
In
Fashion Design: Start to Finish
, Jay Calderin will get you started through hands-on demonstrations and step-by-step guidelines. 
Learn to navigate through the design process, from conceiving a garment to marketing it.
The various phases of fashion design will be covered, including:
research and mood boards, collections and trends

sketching, draping, pattern making, construction 

branding, marketing, and industry positioning
Fashion doesn't have to be intimidating. This class is a beginners guide to the world of fashion design, led by an industry professional.