Fashion Design: Start to Finish
Why Start with a Sketch?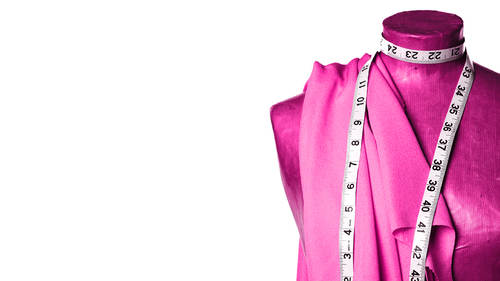 Fashion Design: Start to Finish
Why Start with a Sketch?
Lesson Info
Why Start with a Sketch?
So why start with a sketch before we actually start sketching? I want to bring to your attention the word sketch in terms of what's, the difference between a sketch and an illustration and on illustration is, uh, it could be a fashion drawing. But the whole goal behind it is advertising and promotion and creating a mood right it's, almost like with fashion photography like you see catalog photographs, which are very clear, the model's not moving. And you can see the clothes. And then you see fashion editorials where, you know she's jumping up in the air and maybe you don't even see the clothes, you know. I mean, they're kind of obscured by something. So with that is the basic difference between the sketch and illustration is, well, that's. Not to say that if you have some drawing skills and put a little flair or start to add them to your menu, your sketches can't be is beautiful. One of the I would say the two things you might want to explore along those lines is learning more about an...
atomy. And taking some life drawing classes those air very simple and they're fun and you can usually do them locally, you know and and in a real relaxed way those things are the things that will allow you to add the little nuances you know, the little special things that you only get after time and familiarity with those things um I also wanted to speak to photography because historically illustration was one of the first ways other than showing the garments to to get people to get excited about them to sell them to promote them. That changed when photography kind of became the fashion and it became a more important tool but nowadays there's return to fashion drying because there are places you can go with a fashion drawing that you can't even go with photography and sometimes they morph together like in a digital format where you could bring in a photograph and then sketch over it and, you know, enhance in ways that you use, you know our techniques. So yes, is there a drawing program that you recommend for a tablet or well, I'm not sure I think they have versions for tablet, but I primarily worked with photoshopping illustrator those are sort of industry standards across the board and we just treated as another tool so basically just a digital tool rather than the pen or the watercolor or whatever we're working with um then we have drawing styles and this is about capturing the style of the designer but also the essence of the customer s o the style in which you drawing and the what you emphasize becomes an important part of your sketch and last but not least the tools and materials that you can use there's no right or wrong there's some suggested tools and I'm going to go over what some of the highlights are of tools that like the basics that you need and why you might choose one over the other in terms of medium so here I'm just showing you a couple of different styles. This is one of my heroes that I learned from one of my first textbooks was using the artwork of steven stepleman he's, a very famous fashion illustrator and this is definitely on the illustration side this is your capturing the essence of a woman you know what? Like what the feel that you want her to feel when she buys the clothes on then our next uh slide has a lot of three very very different styles. One of them is christian brard, who is this incredible illustrator on dh there's he was involved in this incredible fashion project called after the wood and the's beautiful fashion dollars and they created sets and he used to go to two fittings with the women the privilege women in paris and history is definitely more illustration you know about setting a mood the center image on this slide is actually a really fun fashion sketch from one of my students and he was having the hardest time withdrawing for the beginning of the semester and then he realised way said, you know, you have permission to create your own figure, you know, I mean like to create your own you know, who do you want represent and he create created this incredible characters and it allowed him to want dig deeper not like b you know, put off by the whole sketching process and the last one is actually one that I did actually on the computer so this is it looks like it might be by you know by hand but it's actually a computer generated trying and it emphasizes sort of quality of line which we'll talk about it a little bit um here again just example about the photography how vanity fair these air both images from vanity fair this's the early nineteen hundreds and the first one is an illustrated cover which was the standard and then photography took over and then last but not least our supplies and the supplies these air three of the basics that I use every day but students can adopt any kind of, you know, materials that they want to use I'll tell you why I think these are important and how they're useful teo starting someone starting sketching the first one our watercolors watercolors um I think the most useful aspect of watercolors as they allow you to mix and create these incredible layers of transparency in a drawing so for someone on a budget having a basic set of colors you know like some primary colors black, white and I always recommend burnt sienna for for a color for skin tones on dh then with just those and maybe some secondary colors you could do anything so if you just want to start with that that gives you the most versatility pencils were I use in my process to both start a sketch and to finish a sketch to transfer a sketch and to reinforce lines but you can also just use pencils to do your sketches and then markers will give you a great powerful color on the page. But the only drawback to markers as you can see here is if you have a large menu of colors in your collection, that means getting a marker for every single color there's no real mixing I mean you could do a little blending, but it gets kind of expensive, but but if you have a certain palette you're working with for a season it's so where the investment so that kind of lays the groundwork for what we're gonna be doing now we're going to get to the heart of what this section is about, which is making. So we're actually going to be drawing and going through that process.
Class Description
Interested in the world of fashion? Even if you're not an aspiring fashion designer, you'll enjoy this class. Jay Calderin is the Director of Creative Marketing and an instructor at the School of Fashion Design. He is the author of three top-selling books on Fashion Design, and the founder and executive director of Boston Fashion Week. 
In
Fashion Design: Start to Finish
, Jay Calderin will get you started through hands-on demonstrations and step-by-step guidelines. 
Learn to navigate through the design process, from conceiving a garment to marketing it.
The various phases of fashion design will be covered, including:
research and mood boards, collections and trends

sketching, draping, pattern making, construction 

branding, marketing, and industry positioning
Fashion doesn't have to be intimidating. This class is a beginners guide to the world of fashion design, led by an industry professional.