Fundamental Scrapbooker Profile
Close To My Heart, Monica Wihongi, Jill Broadbent, Karen Pedersen, Michelle Snyder, Kristina Livingstone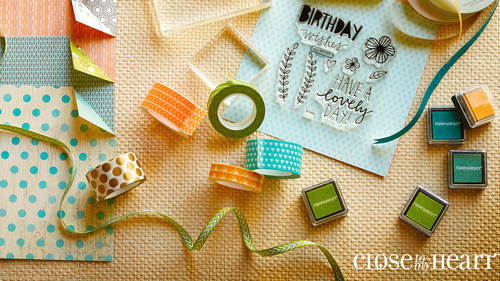 Fundamental Scrapbooker Profile
Close To My Heart, Monica Wihongi, Jill Broadbent, Karen Pedersen, Michelle Snyder, Kristina Livingstone
Lesson Info
9. Fundamental Scrapbooker Profile
Lesson Info
Fundamental Scrapbooker Profile
Fundamental scrapbooking let's, go to the keynote and you can see here the array of colors that we have in fundamental it's, a great way what a fundamental scrapbook remains. We talked about decorative scrapbooking we've talked about pocket scrapbooking. Fundamental scrapbooking is a way to tell your stories, with coordinating products and a really fast and simple way. So you're still putting your journaling and it's more about the photos and the stories, then spending a whole lot of time on that page and so you can see we have a whole line called fundamental, and we'll be working with that today with our studio audience. The's scrappers are less focused on dimension stamping and techniques, but more on getting their story told with minimal design elements here's a couple of layouts we can see on the screen so really beautiful you can use them as base pages, you can use them. We do have also some fundamental accessories that go along and coordinate with them just really, really great i...
t's a lot of photos, some journaling. Fun and fast and easy way to do it these lands in particular we have cutting guys and instructions on how to do these layouts online so again go teo are blogged make it from your heart dot com or follow us on facebook and we can find a consultant for you go too close to my heart dot com and we'll find a consultant for you to give you this workshop stacey did you have a hand up did you need a microphone? No oh oh oh she was just saying I'm a fundamental scrapbook er okay got it all right so here we go I'm going to show you underneath the camera here some of our beautiful pay I know isn't that so cue that was such a cute one but you can see the fundamental papers uses the background but also using the white daisy car stock as your base. So I'm going to bring in some of the papers here to show you I've got some here on display right here and so they are double sided papers over here we have you can see that the design on one side has the white element as well but then on this side it's got this uv coding I don't know if you can see that how it catches the light so it's got like a resist on it as well which is a really fun element to this paper now if you don't want to use the coding you don't have to and then it picks up the white design with that color all right? So here you can see we have several different design options with each color you can see that this little doodle art and then we have this really fun we have stickers which go really, really quickly make your lattes go fast and stickers that compliment all of our papers you have the alfa and the numeric strippers and very simple and easy to use the stickers here's some sentiments all done in stickers as well so you can use thes and mix those up within your layouts now this is probably one of my favorite features of fundamental line and that's our accessories that go with it like joe was saying if it shiny that's where my eyes go to and I just want it all and all the colors, all the shiny things give them to me now, eh? So this is not just a square of shiny beautiful glare paper with you look behind here you can see they're actually been cut through and it has stars and circles and hearts and so there's all kinds of shapes that have been cut out I don't know what the best way to show this so they're circles here we've got hearts well, thank you I'll try to stop moving maybe so you can see it's already all been cut out prey, so they're just so I'm an appeal one off so you can see here we go look at that so you can see that little heart and you have three different size heart it's on this little page here, this little sticker page and they're all have adhesive on them. So isn't that so cute? I will not lie and may have used him as hearings once and I may have put a bow on my dog with this, but you know, so you can use these cute little bows as well, and so we're going to make a really beautiful layout using our fundamental line. All right, let me pull that layout in over here. Here I've got my fundamental layout that we're making today. I know isn't it so fun? I love the clean look of this layout you can see here the squares and by alternating by showing that you be coating on one side and then the white line design on this side, it really does give it like a visual interest. I've used the embellishments that go along with this line as well as the stickers and the shimmer embellishments as well got some journaling here and then my photos and it just really comes together really, really fast used the stickers to dio my titling so it's a really fun and simple way out there's not a whole lot of technique to this it's about getting your photos on your paper and writing those memories down these pictures in particular, I want to talk to you just to briefly about these were taken in hawaii, close to my I've been all over the world, thanks to close to my heart. Honestly, another reason probably why I stay too is we dio incentive trips for our consultants and they can earn their way tio exciting and fabulous places. We went to the al ani resort in hawaii let this last year with one hundred sixty of our closest friends. So can you imagine how amazing that isthe we've been? Tio europe, we've been on cruises throughout the caribbean, we're getting ready to go on a brand new ship call it's from norwegian cruise line that just barely launched just barely and so we love to spoil our consultants and we left to take them on trips and we're going to talk some more about that later, but this is what this layout is all about. It was my time and I got to bring one of my daughter's with me, which was great one on one time, she said this is what it's like to be an only child, this is awesome. So we're gonna go ahead and pull that out and it's just going to be so, so, so easy to put this page together so you can see you have your square's already been cut for you. So do you see that? You see how you've got the option of using either the uv coding are the white design of the fundamental papers. All right, so you're gonna pull out that they were gonna go ahead and start putting it together. Let's put together the right page first. Here we have the family memories page, so I'm using my saffron paper. You can see that when they're this square and my design is going, but little triangles are going up and down. And if you put that one down right here just with some adhesive and then this one is touching the corner of that one, and so we'll flip that over. This one is, see how that see how simple and fast this can come together? So I'm gonna leave that up for our class? And do you have any questions for me on fundamentals? I do have a question that had come up. What? What is a favorite oldie but goodie technique favorite oldie but goodie here say, a technique that you put a new twist on. Oh my goodness that's a hard one that's really putting me on the spot you know I love doing distressing with our scissors I personally love our scissors and using them as a tool and because our paper has a white coat four you can see through the white core and I love that look of distressing and so let's see if I can show you just really quickly here I'm gonna put this up for our class right there so I'm using the fundamental paper but by using the scissors to distress the edges I'm showing the white core but I'm giving it a really fun distress look to my paper and it just adds a little fun element to it so this is one that we've been doing for a whole long time and the other cool thing about this one is jill do we have can you pull a need for me but finally the sunset inc so look at that and you can do that with any of our colored carts stack stock and so scissors are not just for trimming their also or distressing and and then when I do the distressing technique smooth yeah give me survey so I'm gonna show you because I so I guess I love distressing and I love that our consultants love distressing and they'll distress the white core is well, so now I've exposed the white corps and I'm going to use my pad to really just highlight that so you can see how it just changes the look of the card stock so I love that yes doesn't matter which side at the scissors you used to know it I don't think it really does kind of yeah, you can go yeah just says you can even do it closed so let's try that okay, yeah, it just gives you a different let's get you totally can so I find it a little simpler if you open them but no, not really it doesn't matter because there's a blade on each side so you kind of you pull against the grain of the paper to expose the white poor this is the first time I'm using the scissors and I am in love they're my favorite toll honestly, I feel like this is like I'm gonna go home and orders and my precious thank you for all those lord of the ring nerds out there. All right, so you see scrapbooking khun b nerdy to are any other questions did have question about how do you change from traditional layout to pocket page layout? How do you change from those you just you go to get? They just go together so aa lot of our decks complement the actual paper packs like beautiful you and love ian rose have a similar color scheme and so they just do work beautifully together I don't have any samples to show you but I think we did in the power point and just are the key note just a second ago but you can easily just add them on what I'd like to do what I like to do is have two pages my decorative my left and my right page and then behind it put in my pocket pages right behind it so then it has all of the photos put into one album all right let's see do we have any great fun stories we want to share about close to my heart top of you know what I do want to talk local head yes I had heard that there's a fun technique to use ink with the paper the glossy side of the paper yes yes I can highlight the paper let me see let me move this over did you have um you can just fund right over the up have a spending by means of your sponges oh thank you so you can do the tone on tone look which is also really fun so you can see again sponging on because it has that resist on it you can deep in the color that you have on your paper and really show that resist so you see how the pattern starting to really pop up and it's all because of the depth of the color so thank you dry you know I don't believe it does but I would suggest letting it dry before you put it in your page protector and so before you slip it into your sheet protector so you can just really helped kind of deep in the colors that you have in our color palette but like I said our fundamental line is just beautiful let me show you what we have here we have all of these different color families you can see this is the one that this's adventure I believe the adventure pack it up let me show you all of the coordinating stickers you can see all the sticker lines and so all of the different color families have this line within them so we have adventure and whimsy oh and there you can see I mean just you know more glitter what can I say? It's clear paper it's beautiful there's a paper for every season or color our palette so it just really is a very versatile line that really helps you to get your scrapbooking done very very, very quickly yes and what's nice about the the basic fundamentals collection is that the stickers also have some gold foils so it's really beautiful you are right so we do have a basic that has black and gold and white and brown white and round yet clock gold white and brown yes beautiful you can use the negative part that's left the hole so don't throw away the scraps that can weigh the scraps of your of your stickers. The's yeah? Or even the little the glitter stuff you can cut that off after the all the little pieces were taken off and use it as a little border. You see, consultants are amazing and so resourceful and they will use every little piece and so that's a really consumer tip. Thanks so much, naomi, for telling us that. All right, well, we are really line by this is so great! Oh, my goodness, that is a ok, I'm just looking at the twitter feed and looking at all the different things that people are talking about as they come through so it's really fun for me because this is new to me airlines I need to wait to see some of the different colors that people are saying are their favorite pops of color on people are wanting to know some of your favorite things as well. So can I put you on the spot you can? And I'm just wishing I had like everything that I would take up this whole room I would say another one of my very favorite close to my heart items is liquid glass and liquid glass is like the best super glue, the best embellishment and it's it's a clear adhesive type of liquid I'm sure it's hard to describe without it but I've actually like fixed my shoes and fix fix my desk and also put it on my scrapbook pages and what it does is when it dries over time it gives you this really glossy sheen and you can use it all I know joe why don't you bring me that aboriginal page because that having liquid glass all over it and so it's a clear shiny liquid that can go on to any other projects and if you put it on top of paper or if you put it on top of an embellishment it will just after time it dries it gives it this beautiful nice glow and so it really is a beautiful way of showcasing and like I said I've used it on like home repairs when I've broken a nail I mean really you can use it for so much so jails going to bring that over so I can show you a couple of liquid glass features on this layout in particular so on this layout which I love love love there's the's little tiny dots right here you can see them shine under the camera pills are done with liquid glass so we just dropped liquid glass all throughout here and it really adds a different dimension and you can feel it so it's rise once it once it dries so you up liquid glass is one of my favorites I love the sprits spin we have pins like a spray pen that you can fill with any kinds of color we also sell re anchors and all the colors of our impact so every year impact gets dry you just add more ink but you use those three anchors to fill your sprits pen with some water and you can get any you know you can do certain amounts of water versus how much free anchor you use and I spreads the background of a white daisy piece of card stock and you get all these cool splatters kind of like that stance that that we looked at earlier but your own organic creation it's really fun to add just a little pop of everything so just using the spray pins are really fun for cool techniques I love that terror hodge says I used liquid glass to seal a pinhole in an air mattress you see what you think so like they like their track and luke and somebody else laney thirteen is one of my customers fixed they're milking machine on their farm liquid glass okay that's it that is a plane from vermont so surprised yeah she should get a price that is so great so not only for crafting it's a title like so also people had asked what is your favorite color mind maybe for both of you oh well depending on the project right now I'm really in love with lagoon which is like a turquoise color and I love lagoon I just it just makes me happy. I recently painted my office at the home office and I painted it a lagoon color, but a light it's actually, tiffany blue, and so it just is just that beautiful. It just makes me happy when I get that right. Thank you. That was june this turquoise and I would say glacier, which goes it's, one of our newer colors and it's just a really soft glacier layer. So glaciers lost really? I love that with gold. It looks so pretty and it's just super trendy. So I love lecture. Yeah, all right, jill, do you want to bring her other products over so we can talk about some of those as well? And while you're doing that, I'll read out another comment. Melissa sanchez robinson says, I've been truly inspired and want to be able to create all weekend incorporating these techniques and project it's that could last me through two thousand sixteen, and it really does go to show how much we've seen already and learned about today howto make all of these things it's, and you can do so many different types of projects, but even within those there so many options, I'm just really impressed at how you have systems to make people's creativity easier you have it's all taking it far lower that that having, you know, because we're all creative, but having that system in place to help you with that, well, we have a remain in home office that we say it does it make things faster, simpler, easier and that's, what we're looking for in helping people and they're crafting projects is to do faster, simpler ways of doing that. We have the most amazing team of artists and house, you know, both in our stamp art studio shout out to the art studio because way love you. They are so incredibly creative and do these beautiful designs, and of course our artists are graphic designers who designed all the papers and all the embellishments or new product development team we have creativity at at home office, and we want to share that with you, and we want to make it simple for you to put those memories and albums to give gifts to help make the world just a happier place. That's what close to my heart really is all about? You know, our mission statement is so much of who we are, and we believe in that very much about building people and celebrating relationships and celebrating your lives and telling your stories fell, thank you, yeah, all right. There were so many things we didn't get to cover because they specifically in one of our profiles, but we couldn't leave the day without you even more of the close my heart love so let's do first let's do that our little instant life, but just released a line called insta life you know who doesn't love instagram? I personally love it in fact, if you want tio, it reminded me earlier, someone asked, where do we find creative inspiration? Our instagram account has tons and tons of inspiration. We try to post at least three to four times a week there's all kinds of hash tagging so you can look through and see see all of the art inspiration that we have there, and so I love to do instagram and we just released this line and it's instant life, and you can see that it's all done in the square format. So here I've got this adorable album you can see let's go to the overhead camera. I was also going to going to say our instagram is at seti mh official, thank you so they want to follow along with close to my heart that's our instagram so here you can see the album's already been designed it's adorable all I do is print my photos in studio j to get exact sizes that I want here's a one by one photo to go with these pre printed cards so just like the picture my life deck well look I have glitter on me follows me everywhere I leave a little sparkle everywhere I go so anyway so these little cards have our pre printed for you again it's like the picture my life concept you just get those cards you put them into our little page protectors which I have to say close to my heart page protectors are really phenomenal here your quality I mean you can't feeling their our studio audience has them they can see how on that yet they're clear so they're not cloudy and you can see perfectly through them as well. So here you have have some instagram memories right here insta memories and you can see how simple and what a great gift like especially for the teen audience or those younger people who I really don't know what it means to scrap book yet you know and they need to they need to start printing their photos and taking them off their phones and their devices and this is a really fun way to do that so you can see here and you can do the site like the square size this is a four by four photo and you can go down to the one by one photo depending on which page protector use jill scott when I mean this one, which is our other collection so you can see it's got the nice gold foil it's, the lagoon color that we're talking about, and I just kind of took on the instagrams from two thousand five or two thousand fifteen instagram was probably not around in two thousand and fill this I love that some of the cards are cut out so you can see here that this heart is an opening, so it just becomes a frame to my photo. And so we've got a lot of cards that do that you khun again fill the section with the four by fours, this one we added a stamp, we have a really fun actually two different roller stands kind of like your old library style roller stance that you khun stamp on to these projects you could use them anywhere, but we've designed them to coordinate one does the dates and one does really fun sayings like this love image here um you can just see all the fun things you can you can add with the cards being your pop of color in your design element, you don't have to do anything else, so this one is really fun again that arrow was cut out so the I put a second card I just layer two cards together so that you get that color coming through the cut out there and just like picture my life they come together so quickly all you need to do is put your photos out and you're ready to go so that noted again comes from the roller stamp and I just add journaling and again this was an instagram photo where I used a collage so then I didn't have to do any work when I printed this it just was before by four photo with all those different photos in between so there's a few more this book was just really fun and what I love about this some consultants might recognize this exact project because we made this as a creative project at our convention so I was able to teach this teo about a thousand women who were in attendance able to make this as it was a brand new product first released and so they were able to get their hands on it and try it out it was really fun so that's what this project is wait hold on those were some hot shoes but the daily details of life because you know when I'm home with my kids that's what I wear I actually believe that you okay so I wanted to show you an instant life done up decorative you know and so this is a gift from a can sultan kimberly dinos in colorado and she gave this to me and I just thought I've got to bring this because I wanted to show how you could amp it up and make it just a little more special by adding some embellish trends is so here's I mean this is perfectly fine and beautiful obviously but look at house like it really just brings it to another level right adding some schumer trim a little bit of our fundamentals accessories and some washi tae because we do love our washy too and then she went on and her team her whole entire team put this book together as a gift for me coming tio their city and I just love it I really treasure it and you can see they did a lot of stamping and a lot of embellishment within this book I love the journaling here is well so this is more of our decorative scrapbook her profile done with insta life isn't that so fun? So just a really great way to showcase our products and you can continue to use it but I want to show you see this cute little happy sticker I'm going to talk to you about that next so let's bring out our base in bling line jill so you can see so you get the idea though insta life is another line that we sell so here's another sticker that we're gonna talk about next
Ratings and Reviews
I have been stamping, making cards, for 10+ years but only found out about ctmh last year. I love, love, love your clear stamps. They are great to use and easy to store. These classes inspire me and get me all excited again about making cards. I just recently got a circuit, so much to learn. I've got to get me a ctmh cartridge!!!
This video series will provide all viewers with a fantastic overview of not just the wonderful products Close To My Heart has to offer but the creative environment they foster. Whether you want to craft personally or would like to see if this could grow as a business, watch this series and receive tons of information. Thanks CTMH and Creative Live!
I'm in love really with art ,craft ,colours, everything related to papers stamping writing party preparation, celebration wedding everything over and over things that course will be definitely increase my ability to innovate more and more ... thanks a lot for that free course with massive information love my heart to close to my heart
Student Work