Jill Interviews the in-studio Audience
Close To My Heart, Monica Wihongi, Jill Broadbent, Karen Pedersen, Michelle Snyder, Kristina Livingstone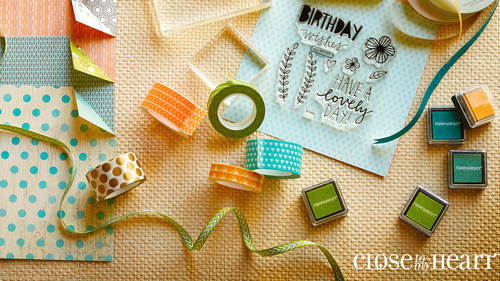 Jill Interviews the in-studio Audience
Close To My Heart, Monica Wihongi, Jill Broadbent, Karen Pedersen, Michelle Snyder, Kristina Livingstone
Lesson Info
20. Jill Interviews the in-studio Audience
Lesson Info
Jill Interviews the in-studio Audience
We wanted to really have the time to talk to our studio audience they've been here crafting along with us the past two days, listening and learning to all the presentations of this day that we've had together and so we thought to be fun just to hear from each of them as to what they've learned, what kind of ah ha moments or special experiences that they've taken away from this so we're going to start with terra u I crafter have been more of a card maker and now I'm getting really excited about scrapbooking so the thing that stuck out to me most wass I would rather have stories without photos and photos without stories they think he has I was thinking what box do I pull out? What photos do we start with? How do I get into the scrapbooking side of it? Perfect you just start where you start and it's little great ok alison thanks jill so I think my biggest ah ha moment was between last night and then between sessions today I've been posting pictures on instagram of what we did in the most ...
previous segment and there's such a big community of people who are online and scrap booking and sharing ideas and I haven't seen that before and it's wonderful so that's been a lot of fun and then for actually my own work being able to mix and match decorative scrapbooking with the pocket pages. Perfect. Yeah, kind of a great option. Hi. Um, angie and from this class, I just think that is allowing me to tap into my creativity. I'm never the type of person I'll sit down and take out papers and, like, cut things. And I really wanted to start doing something like that. And so this has helped me to say, hey, you know what? You can do it. So that's, what I'm leaving with that I'm going to go home and want to try some of these museums because you wanted to come to learn something to help with your own personal business, right? I wanted to humanize my own business, you know, and just make it so that it's personal for my clients. And so this will help me go. Thank you so much for all the cool tipps. Thank you for coming. So, there's two things for me is I've learned that it's ok not to be an expert at everything, and that you can look at all the products that are offered and you can pick the niche that best fits you and you can run with that. And then the other thing was stacey's story about how it's okay to never catch up and have to go back to my kids or thirty one thirty two and try to figure out what we did when they were four years old to scrap rick that you can just do it in one page ah whole decade can cover in one page tonight like that and I think that will be very helpful it is spring, isn't it? Hey alicia um I didn't have really one ah ha moment it was just the whole experience I really want to come and learn how to use all of the products I've only been with my consultant since january and so I've gotten a little bit here in a little bit there and so it was great to learn how to use the stamps and different ways the inks in different ways the fundamentals packs the papers just everything learning how to use the products in different ways perfect is what I was amazed that so thank you guys very much we fed you a lot and you know what you did fight but I am excited that I can go back and watch the videos over and over and over we wanted that to be available for everyone that's great and your youtube channel I'm excited to go there so thank you thank you I have had a blast the last two days on dh I think the biggest thing for me is spending time with such great people and enjoy everybody who's enjoy buying this craft and then sharing it out there with the world a ce far as one part of the classes again going back to stacy's what what she said, and what stuck out for me is not all the pictures are created equal. I take a ton of pictures, I'm one of those people who probably has one hundred thousand pictures, I swear, and something that stuck out to me is something my dad told me a long time ago don't take any pictures without people, and I think she kind of brought that home that it's the people in those pictures and the relationships that matter, not necessarily the food and the scenery and all those kinds of things that might tend to take so many pictures off, I would say that going again back to something that stacy said about triggers I end that we heard an example of today tio during michele's presentation she mentioned the finding inspiration for themes in a variety of places, and as I was looking at some of her photos of parties that she's thrown, it reminded me of things that might mom did when I was a kid and so I started getting all of these story ideas, so I love being in a room with a lot of creative people because it just sparks that creativity in yourself and so thank you very much I really appreciate it and this room of our small group here extends all the way out into all of our friends who've been watching and tuning in over all of these segments. And we've loved the connection that we've been able to feel, even through those who are watching at home and join learning along with us, creating along with us, whether your consultant or you're watching toe, learn about close to my heart for the first time, we hope you've learned so much from this. We still have a little bit more to go. We're excited to share a few more highlights with you. So I want to welcome back monica and karen.
Ratings and Reviews
I have been stamping, making cards, for 10+ years but only found out about ctmh last year. I love, love, love your clear stamps. They are great to use and easy to store. These classes inspire me and get me all excited again about making cards. I just recently got a circuit, so much to learn. I've got to get me a ctmh cartridge!!!
This video series will provide all viewers with a fantastic overview of not just the wonderful products Close To My Heart has to offer but the creative environment they foster. Whether you want to craft personally or would like to see if this could grow as a business, watch this series and receive tons of information. Thanks CTMH and Creative Live!
I'm in love really with art ,craft ,colours, everything related to papers stamping writing party preparation, celebration wedding everything over and over things that course will be definitely increase my ability to innovate more and more ... thanks a lot for that free course with massive information love my heart to close to my heart
Student Work