Student Shoot (Carlos)
Matthew Jordan Smith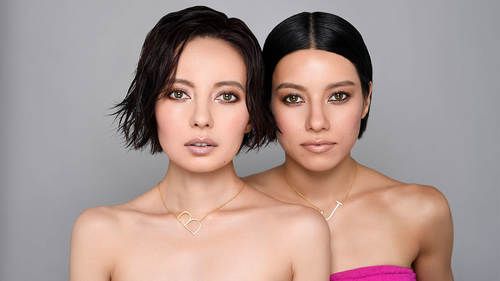 Student Shoot (Carlos)
Matthew Jordan Smith
Lesson Info
38. Student Shoot (Carlos)
Lesson Info
Student Shoot (Carlos)
It's all yours again man or you had before you shot well he's brandon he's going to start up in there man thank you look at these lines look at the lines in your hair lines look at the silhouette don't get lost in the beauty of it the model think about everything the fashion is king look att the shoes look at her accessories look att where the line falls her lines to silhouette her chin look at all of that and then create this is a blank palette for you to paint that's all it is I was thinking with you sitting right now on her own look how beautiful that is I mean quite know know know his grand it's exactly what I was thinking more uh yes as you are right now you were before with your legs crossed so this leg crossing in front and I think my idea is a little bit that you're waiting it's a nice aren't coming down and you're just waiting for the bus to come or something so I would like very small movements very very time go for the sitting proficient wires yeah super bowl and then very s...
lowly the hands moving and all okay one filled three this is her first yeah beautiful and slowly you're filling their air you're feeling the light coming on you gorgeous beautiful beautiful and look a little bit at the sun look up kind of yes good gorgeous gorgeous and how about the senior hands more towards your face a little bit yet beautiful looks one more uh ok yeah so it's obviously one two three there were no beauty and I'm gonna have one closer yeah uh if your turn towards that side just your face your body straight on me uh huh gorgeous again okay one two three I know you're in there make sure that's enough I love the way you giving your direction thing is quite nice even looking at this is so beautiful yes that the shape is so lovely on the way you're giving her direction is perfect thank you trying to relax between your deep voice and his accent is this all right? Okay so that's beautiful just that beautiful gorgeous gorgeous gorgeous and there beautiful and just look at the yes gorgeous gorgeous girl and look at the camera tine of it yes beautiful guards and this hand tiny detail you're not another hand tiny retire there we go gordon's class beautiful books one second it's busy president run we're transmitting today to the cheating raw files all right one two and three gorgeous gorgeous matters you're gonna have to stop me as well you're doing a great job I don't want to interrupt your crazy beautiful weary from all the wonderful one that's very close let's put your hands up both of them one of the war in closer yeah that's gorgeous gorgeous one to treat books I'm missing one second yeah it's coming up on the screen it's coming up right now for second and they will give you a break because I want don't want to like to wear you out come down for one second that was fantastic thank you so much so let's have some questions right now I loved watching you guys shoot here in the audience so let's take some questions online either for myself or for the students carlos coming for us like it grab that mike you're going out today so do you have any questions for either one of us? The great man that's very cool had a tweet out that of course the latin man knows how to talk to the model on set no foreign espanola is for your lives better I really you did a great job how do you feel doing that? No, I love it I just don't want to stop you know I just want to go and go and go and more now after having on the work shipping on it's just like you get it she monetized and just do more and tried to dance with the model they were saying that's what it is that's what it is any more you do it the better you get at it but find your inspiration and put you in all your images and that's research like right now we're doing was shooting on set this is also just a teach but the vision board the the storyboard excuse me the storyboard and the images and how he put together but now you can go home and think more about how you feel about whatever you love shooting and fearing out a way to put you into all your shots terry richardson is shooting his version of fashion abadan was shooting his version of fashion herb ritts was shooting his version of fashion and all three are great photographers and very, very different what's your vision put that in the work fine you're your key words to use describe your style put it on the back of the camera or on your wall and look at it every day and learn how to put your vision your feelings into your work great job great job it's firing any questions coming in for carlos at all or for any of the other students who are here live people are just continuing teo to compliment um and I have enjoyed watching you all shoot because it's it's one thing to watch matthew but to see matthew instructing you is really really helpful for everybody out there so thank you guys for doing that we were talking a little bit during the break about the difference of being here and having the physical experience and all the work stuff and it's just like incredible, incredible it is not only watching it, but we feel it and it's going to be in their bodies now forever. It's a great feeling, it's a great feeling. Well, all minds are clear. I'm gonna shoot. I do have a question about you from showing on the internet. Um, from texas. How do you learn the lines and what to look for the model studying. Okay, studying this, zain studying the past? Uh, really? Not just not just looking at magazines, but studying them, doing a research. Um, getting an app that gives you all the latest fashion magazines, be it. Ah, an online magazine or whatever. Finding those anat for your ipad that keeps you fresh and updated with the latest greatest, best work from around the world. Not just here in the states, but from around the world studying, looking at pictures, what makes for a successful shot finding that shot and then taking it apart, looking at it and figure out how to get that line. That beautifui that view which lenses that that's putting in the research that happens before you get to this point. That's the hard work that's, the research, the studying, taking the time to perfect your craft.
Class Materials
MJS Storyboard Concepts.pdf
Ratings and Reviews
Thanks Matthew for the super informative courses. I'm from Thailand and I'm very impress with the way you speak. It is super clear and very easy to understand. Your answers to each questions are extremely inspirational. I think you are the best teacher on photographing so far on Creative Live. Each of your answers and information are very motivational and very thoughtful. Thanks again for this great Live broadcast. You are a great teacher and a very nice warm person as well.
Thanks Matthew this two days have been amazing, and I am looking forward for the last day,,in which you will be talking aobut the photography i would like to do, since is my dream to be a fashion photographer i have learn a lot from you, and this expirience has been amazing, if i only lived in L.A. and not mexico city, i would definitely write you a letter and try to be your assistant to learn as much as possible from such and amazing photogrpher and person; once angain thanks for everything. Thamks creativelive for bringing this amazing photographers, and letting us learn more and more about the amazing world of photogrphy.
This course has been an awesome experience. I have learned so much about the process of beauty and fashion photography. Matthew takes the viewer through the preliminary thought process. He not only covers the technical aspects but also the importance of the photographic team itself--the stylist, makeup artist, model and photo assistants. The photographer plus the team equals magic. I do not use the term amazing lightly. This man is AMAZING and INSPIRING! Thanks to Matthew, I feel confident that I will find my own vision.
Student Work