Balancing Your Energy: Delete.
Cynthia Ackrill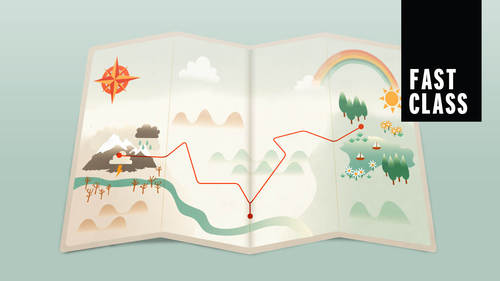 Balancing Your Energy: Delete.
Cynthia Ackrill
Lesson Info
12. Balancing Your Energy: Delete.
Lesson Info
Balancing Your Energy: Delete.
we're going to get to the meat of what is going to come off of your plate. How do you decide what really belongs on your plate? Now, some people decided for you, but you want to clean this up. This is the clean plate club. That doesn't mean you're going to empty it at all, but you want to clean it up. So that when you look at where you're spending your really precious time and energy and focus, when you look at it, you don't look at it, go God really? You look at and go, okay, this is me and this is what I'm doing. And there are few Uggs on here, but it's not all a pile of rugs. It's me living the life I chose. And we're also going in the end, be looking at how to, how to make it a really tough plate. A plate that can hold a lot. Um, so how do you get stuff off of the beginning? How do you let go of some of the things that are on your plate, we're going to reduce that load. We're going to reduce how many things we're dealing with because we are just famous for dealing with too much. Hu...
mans really don't like to let go. We're all in a way hoarders. Now, some of us may call ourselves minimalist and I mentioned the book of Centralism, which I think is fabulous, but in general, the human doesn't like to let go. We are brought up genetically for a scarcity situation. We like to hold onto stuff and we especially like to hold onto stuff that's in our lives and the things that we're doing. Um, I used to bring up a slide of this garage that was just spilling out with stuff. How many of you have had a place in your life where you stick stuff and it's stuff that, well, you know, you might need it one day. I might need this one day. Um but it's really not relevant to your current life. Well, we do that with what's on our to do list too. We have so much on our to do lists and the things that we're doing that really aren't relevant to who we want to be. There are three ways that you can get stuff off of your plate. You can just scrub it off. I'm not going to do that for things that are no longer relevant. And we all have some of that. I had a client who was in the middle of this enormous stressful situation, just horrible stressful situation. And we were talking about how he was managing his day to day life and time, because some of stress management is time management, A lot of its energy management, but some of it is time management. And he was leaving the office late at night with this huge commute commute and going home and mowing the lawn. And this is a person who had a possibly seven figure salary. And is it so you're going home and mother lawn in the middle of this. Let's talk about that. Well, it was an old story. He was raised to believe that mowing the lawn was an important part of being a father. The story came from his youth And the pride that goes with taking care of your house and doing it and he can value all those things and they're they're good. But when he came up to 60,000 ft and looked at his life, he realized that that was something he could take off his plate right now. He could delegate that right now doesn't mean he's not going to do in the future. It doesn't mean it's not important to him. It's just not the right time. It's time to delegate it. So we let go of that one. So most of us have something on our plate that is based in an old story or it's just no longer relevant. Like when you look at your to do list and there are all those things you never got done and like even three weeks later you look at him and say, oh yeah, I didn't do it. And guess what? It doesn't matter now. How about weeding some of those out proactively kind of looking at your list when you do that weekly meeting with yourself, what's relevant, What should be guided by your Gps and what can you let go of? Or even more importantly, not even put on there to begin with. Can you all think of something you could take off your plate or your to do list right now?
Class Materials
Keys to Creating Strategies to Ease the Drain of Stress.pdf
Stress Is Optional Workbook Parts 1 and 2.pdf
Stress Is Optional Workbook Part 3.pdf
Ratings and Reviews
How do you write the video text and it function with the video at same pace, this is mooc, is mooc allowed outside coursera, this is so imp. for my courses. I want feedback.
Student Work