Building Up Your Confidence
Cynthia Ackrill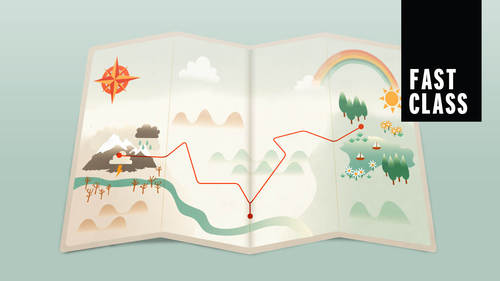 Building Up Your Confidence
Cynthia Ackrill
Lesson Info
27. Building Up Your Confidence
Lesson Info
Building Up Your Confidence
So then I want to talk about the confidence and yes these are all tied together. Of course give yourself and we're turning the page here, give yourself a score for how confident you are that you can do this goal Erica's in. But usually at this stage when I'm working with a large group of people, there are all kinds of scores. And that score comes from immediately. The minute I asked you this question I would guess that some of you went to all of your failures, the men and I asked if you were confident about this goal, you started to catalogue some goals you hadn't made. So I want you to stop right now, take a deep breath and name for yourself some goals you have made Simon, you you said that you've done this with a gang. What's another goal you've made? Something you decided you wanted to learn or do when you did it? Um Let's see. I well I I wanted to transfer in the past different college and I did everything I needed to do you know and I successfully transferred. Excellent example. A...
nd was there a stage in the beginning of that where you doubted you would do that? Okay. I think the doubt was more. Um should I transfer or not the decision thing but the actual um the ability to do it, I don't know. Somehow I had such a deep, but I think that because I was so motivated to at a certain point to do it that you felt confident doing it. Yeah. I would say that for me, those two are pretty intertwined. That motivation and confidence, they are intertwined. They really, really are because they're tied deeper to what you really want. But sometimes we can tease them apart. Sometimes we're kind of really motivated to do something but we're not confident and maybe it's because we need something else. We need a skill or we need a resource or something to go with it or we're tired for another reason. I really want to do this, but I'm kind of whooped and you know, there's occasions when I've said to clients um that I really don't want you to do this right now, you're not in the space to do it, you're too overwhelmed, you're not ready on the ready curve, you're not there. So if your confidence isn't there, one of the questions to ask yourself is am I really ready? Maybe my timing's off, Maybe I'm not feeling confident because I'm not really ready right now and I've got to attend to something else. Maybe I'm not feeling confident because I just went through a failure in something else. Can I let that go and come up with some of my successes and remind myself where I am strong and and even teasing down to what what was it that made you strong to do the things you've done? We don't play around with that much do we? We spend so much time on where we're not strong. So so when you don't feel the confidence their ways to ramp it up, remember the stress and skills curve was a bell curve with performance um and challenges on this axis and your performance is on this axis. And this access can also be called your ability to cope. But what is ability to cope, but your confidence that you can, people do amazing things and they have to ramp up their confidence to do them. Now I want to I want to be really specific about something Does being confident say you're on the confidence scale. Does that mean you have no fear? That was a trick question. It doesn't, you can be confident at the same time. You have fear. Nobody said it was gonna be without fear. Nobody said that there wasn't going to be doubting thomas coming to the party too, but there's a piece of you that feels like you can do it in the face of that, you've got it and doubting thomas is just going to have to come along for the ride. So maybe that's what we were talking about before. Maybe that's some of the good grit, the, the confidence in the face of fear. If we didn't have, we have fear for a purpose, our brain is trying to keep us safe, and if we're going to change anything, our brain is inside, they're going, is this going to be safe? I'm not really sure this is going to be safe, That's its job. It's total job. So it's gonna ring a little bit of a fear alarm that you're going to change and accept it and just know it and then look for your real confidence. Look for that part that's totally motivated because, you know, you have what it takes, you've done it in some other setting and you know, you're motivated and you know, you're motivated now because it's tied to your values and purpose and when you do that it takes less effort. It feels easier. You can almost get to the state of flow with the very thought of it. I think it's also really important step in looking at your goal. Do you have everything you need to get to that goal? Do you have the skill you need if you want to eat healthy, do you have the ability to find the food to make the choices or do you need a resource? Don't go it alone. Don't do it without the skills without the tools, without the resources you need. If you need a buddy to help you stay accountable because you're not in class of Cindy anymore. Go get a buddy, find some resources, going to help hold you too many people jump into something without doing the initial steps without doing the research of what they really need to do this and what it would look like you want to write the great american novel? Well, just writing is a good start, a very good start. But if you want it to be the great american novel, what other skills and resources you want to find along the way, you know, think of that as part of your goals. Just finding a resource can be a goal setting aside time that you're going to look for resources and just like setting aside time to job hunt even within job hunting, do you have the resources you need? Have you found the sites you need? Or do you need to go spend some time in the library? Which is for me the bookstore, reading through? Excuse me, reading through and getting some ideas. Would that empower you first to go get some ideas of how to do this smartly? There are lots of ways to go find, make sure you've got what you need and you'll know when you have it. You really will know because you feel more empowered to do it, but you may go along, you're you're starting to do something and you're getting it. You may go along and then you say, you know what, I've hit a snag here have hit a bump. It's always a good idea at that bump to say, am I am I stuck here? And if I hit the bump because I don't have something I need, or if I hit it because I let my inner critic back in the room a little too far, but make sure you make sure you're not cheating yourself because you don't have something you need.
Class Materials
Keys to Creating Strategies to Ease the Drain of Stress.pdf
Stress Is Optional Workbook Parts 1 and 2.pdf
Stress Is Optional Workbook Part 3.pdf
Ratings and Reviews
How do you write the video text and it function with the video at same pace, this is mooc, is mooc allowed outside coursera, this is so imp. for my courses. I want feedback.
Student Work