Why We Fail
Cynthia Ackrill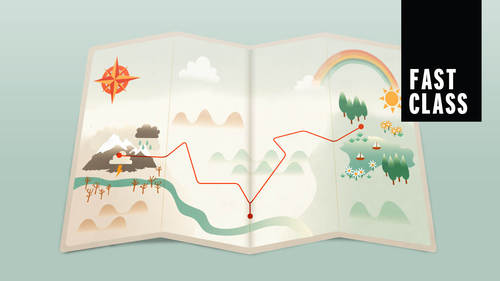 Why We Fail
Cynthia Ackrill
Lesson Info
23. Why We Fail
Lesson Info
Why We Fail
we're going to talk in this segment, but why? It's so hard to change behavior, you know, I'm just a hazard a guess. Have you guys decided you're going to do something and not done it or you set out on day one and you're thinking, yeah, I'm gonna do this, I'm gonna, I'm gonna be the Primo exerciser and I'm gonna do this for an hour day. And by day three something gets in your way, the meeting runs long reigning and you don't do it. And by day four, your motivation falls off drastically. Or maybe you started out with a New Year's resolution and we know how effective New Year's resolutions are. I used to belong to the y in my neighborhood and as a member, we couldn't stand january because it was packed absolutely packed with people wearing their brand new exercise clothes that were under the tree and by february we knew they'd start to fall off. And sure enough, by March, it was back to the regular crowd. So we have a habit of humans and of failing at the habits we think we want to choose...
. So we've been talking about in the first segment how to pick a habit, something that excites you to do. Now, I want to look at making sure you don't fail doing it, setting yourself up to really win and talking about why his behavior change so hard. one in 9 people faced with cardiac surgery, I'm talking ripped the chest open. One in nine people managed to successfully change to healthier lifestyle habits that would support the cardiac health. Now, one would think that the risk of death would be a pretty good motivator. I mean, we're talking a big surgery. The risk of death would be a good motivator and one and nine manages it. So if that's why is it so hard for humans to change behavior? And if that's the case, how can you be the one, you know, let's be the one instead of the nine or the other eight? Let me do some meth, let's be the one instead of the other eight. So why do you think people fail? Well, I've kind of teased out a number of things and I'd love to hear your input for when you've not managed, the word fails strong, but when you've not managed to create a new habit, love to hear your input. But these are some of the things that I've come up with okay, from reviewing literature. First of all, we tried too many things at once and that we're human, we decide that we're really in pain, Life is miserable. This isn't working well. So we need to change everything. But changing everything is really hard. Really, really hard unless you decide to move and you're going to hire a staff that supports you and all of a sudden somebody's making your meals and the trainer arrives and um your mindfulness coach arrives and everything's taken care of for you, which is not the majority of our lives. It's, we're taking on too many things is tough or we take on something that's just too big. If you want to tell me I'm going to run the boston marathon, it's probably not happening if you want me to start running, that's that's within the realm of possibility. But the marathon is probably not for me. That's too big a goal. So when I have too big a goal, what do I see? I see the distance between me and that and it's defeating. It's too much. I don't want to have a goal that's so big. That in my mind my inner critic is saying there is no way you're doing that, honey, That that's just exhausting. Yeah, or we want to do it too fast. If I said that I was going to run the boston marathon, well actually it's happened for this part of the year, but if I said I was going to run it in three weeks, what are my chances it But we do that same sort of thing with other habits. We, first of all, we make a goal and we say that we're gonna do something really huge that's unreasonable and then we're gonna do it really fast. It's what we want because we want to have arrived and yet we don't realize that when we do that, we do all the vision and we picture ourselves doing it and that's a positive thing. But when we don't tease out how to exactly do it, we have this huge gap and the gap that really we drown in that gap. So those are the two big things. Then there's some two little things we're not clear about what we really want to do. We have a fuzzy goal where it's a being goal. You know, I want to be healthier. Well that's not an action, that's a being, you need the action that goes with it, what you're gonna do, you're not, you need to be really clear about that. I want to be more positive. Well that's great. But what are you gonna do? You got to be very clear about what you're gonna do. We're gonna talk about how to make a a smart goal for that or maybe you don't have the resources. And then we say this a lot. I worked with a client who wanted to lose weight and when I started to work with him, realized he didn't understand a lot about the relationship between the behaviors and the eating that he was doing to wait. He needed to learn more. And so his first goal went from the losing weight to the learning goal and that eventually paid off. But sometimes we don't have what we need, we jump right in and we forget to check if we have what we need or we don't have the skill. I'm not a very good runner. Going off to run the boston marathon would probably take me learning from a trainer how to run. So I don't kill myself because I probably would. So you need to make sure you've got the resources and the skills lined up if you want to meet a goal motivation. Um, we've, we've touched on motivation in the earlier sessions of this motivation is a really interesting thing. Why are you doing it? Are you doing it because you should how likely are you going to do it? Because you should, you're not because inside your brain is going, I don't think so, you're just, the very word should, brings up your resistance. So you've got to find the things that intrinsically motivate you, Intrinsic motivation, being autonomy, mastery and purpose. Something that's pulling you forward and you have to have, like a seven or more out of 10 level of motivation to make it. Because as if it's a four or five, there's some other there's some other stuff going on and we're gonna talk about that, we may think we're motivated were, you know, I'm motivated to give up sugar, but the motivation for me to feel the benefit of sugar has been winning a lot of the time, so you not have, you don't try that, you don't want to just look at what's motivating you to make that goal, but also what's motivating you on the flip side to not make that goal. Looking at the whole picture of motivation is much more empowering than looking at one part. I love in coaching, working with people and they'll tell me what their goal is gonna. We'll talk about a vision, will tease out what they want from that and we'll talk about goals and I can usually tell just from the verbal queuing and the body language. If we're live or just that voice alone, I'm going to learn emotional intelligence. Yeah. Is that person going to do that? No, you have to feel confident, you can do it and that sometimes feels like an oxymoron, like I want to learn something but I have to feel confident I can and confidence comes from learning, but there are other ways to build confidence to find it in the power of what you've done before and apply it to this goal. So as you listen to these reasons of why we fail, listen for the opportunity, where is a place where you sabotaged yourself and now you can move that around and set yourself up to win. That's the reason to look at failure, as I've said a billion times now, I think it's all research and this is just data, another huge reason that we fail as humans to change something as we don't have a plan for our obstacles and if you think, but you can go out and decide to do something and they're going to be no pitfalls along the way, get over it. You know, things are gonna happen, things you didn't plan, plus the things that you normally do where you sabotage yourself, this stuff is just gonna happen. So you have to have a plan for where you self sabotage and a plan for the sabotages that are going to come from the outside world, and that can be simple little things like knowing that meetings run over and you want to get to the gym, so you're gonna keep gym clothes in the car, little tweaks that are going to keep things from getting in your way. The other thing that keeps us really from doing what we want to do, and that's what this is all about. This is all about volition. If we want to feel less stressed, if we want to be more in control, if we want to have more choice in how we're spending our precious time, energy and focus to have less stress, then we need to step out of our business and our distraction to do it if you want to accomplish a goal and you kind of say that at the beginning of the week and you dive into your normal week and you're keeping up with your social media and you're doing all of these other things and you're filling your calendar over and over again. Well, that will be accomplished. You've got to keep it front and center for yourself because it's hard work you're about to do. You are about to rewire your brain that takes some power. So if your brain is already busy, it can't do that. You've got to actively worked to rewire your brain so you can't do it in the middle of being distracted by everything else. You've somehow got to bring that front and center to what you want to do, have that re attention to your intention. So you wire up the neurons that are going to create that pathway. That becomes a habit. And the first part of that takes some effort. Once it's a habit, it takes very little effort and that's the cool part. But you want to set yourself up so that that effort pays off. I want to talk for a few minutes on one of the biggest mistakes that we make in changing a habit. We rely on willpower and we had a question earlier about grit and some people confuse grit with world power. I'm just going to bear through this Will Power is a frontal lobe function. It's the ability of our brain to say I am not going to eat chocolate and it's got to override some really strong drives in my brain to eat chocolate. It hasn't happened if I rely on willpower, that's never happening. Will power comes from the front of your brain and we over and over think that we can just change something with willpower. But it's a very limited commodity. The minute you're tired it's gone, it's just gone. So you have to set yourself up to win in other ways because willpower is a frontal lobe function and the frontal lobe takes the most energy in your brain. It's more energy dependent. So if your if your blood sugars down, if you're tired, if you have been emotionally disturbed by somebody or hurt or you're feeling lonely, you don't have that energy when you're depressed, you don't have that frontal lobe energy to use willpower. So setting yourself up to do this just with will. Power alone isn't going to work this concept of realizing if we want to change something, we have to support our brain. We just have to and we can't rely on the little man to guide an elephant. We've got to find other ways to do it and to be in touch with that, to know that, you know, I'm trying to change the behavior and it has been a really difficult week. This is going to be hard, so what am I going to put in place in the middle of this difficult week so that I can actually do that?
Class Materials
Keys to Creating Strategies to Ease the Drain of Stress.pdf
Stress Is Optional Workbook Parts 1 and 2.pdf
Stress Is Optional Workbook Part 3.pdf
Ratings and Reviews
How do you write the video text and it function with the video at same pace, this is mooc, is mooc allowed outside coursera, this is so imp. for my courses. I want feedback.
Student Work