How To Create A Successful Strategy
Cynthia Ackrill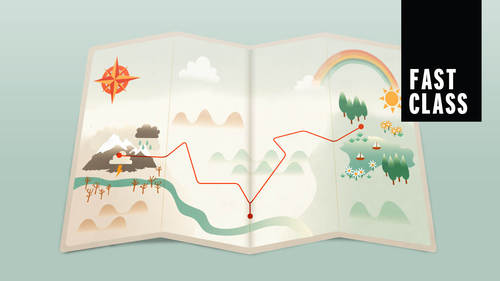 How To Create A Successful Strategy
Cynthia Ackrill
Lesson Info
9. How To Create A Successful Strategy
Lesson Info
How To Create A Successful Strategy
we already know so much about what makes us our best and yet we get busy and we kind of forget it, you ever do that, you go through the day and you think that's not how I do my best work. But I started off on this path and somebody else came in and I, you know, I got off path. So how do you connect your inner wisdom about what's right for you with all the other parts, with your values, with what you've learned through experience the insights that you have. How do you tie those to the strength you already have? We have a culture that really focuses on our weaknesses. It's like, well you're good, even when we do like employee reviews or if we're in business for ourselves, we tend to think, you know what I'm good at this part, I'll kind of ignore it. This is the part where I'm really not good. I should really work on it. We really, that defeats us so much of the time switching to tien into our strengths and using them can be so much more powerful and we'll talk more about that and using t...
hose things to set the mindset to choose our perspective. Because when you choose your perspective, you have choice back. And if one of the definitions of stress is a lack of choice, this is a way to get back to getting your choice, which is going to give you resilience. I think probably the worst expectation that we deliver to ourselves is that life should be stress free. Do you hear me? Life is full of stress. Some of it's good, some of it's not so good, but that's what life is. So the deal is to get resilient in front of it, and it doesn't mean you're going to be like Susie Zan and everything's going to be wonderful. Susie's n who acts like that is probably in denial. Equanimity. He has a lovely thing, but it's difficult to maintain. I I'm an emotional person. I like some of the ups and downs, but I need to keep coming back to neutral. That's what's gonna make me resilient so that I know, and I'm having a stress weak, like, like this week has been I can come back to neutral and I can find my perspective and that's what's the key. So it's not this, you know, it's not a strict rigid thing, allow yourself to be human. Well, one way is to really focus on what your Gps is. And by this, I mean, the thing that guides you when you make choices now, you get in the car and you set something for the Gps and you don't pay attention anymore, you just wait for it to talk to you. This is finding that voice in your own head, your inner gps, that's going to talk to you and say, you know what? There's a decision in the road. I'm gonna base that decision in my values, in my goals, my purpose, my strengths. And it's so much easier. It probably won't help you buy toothpaste, but it will help you with the bigger decisions in life. And we've talked a lot about the stress of decisions. So there's some parts to this. I'd love to go through. And this is in the workbook, we're starting on page 16 and it's really about finding your why great book called Start with, Why there is fabulous research showing that when we do something according to our y our purpose, we do it with less effort and greater satisfaction and we're healthier. Those are kind of all win win wins. But it's important. We don't take time out to identify or why we just keep doing this on the to do list, don't we? We we skipped the Y. Part and when we go back and really look at it, we talked about this. Looking at your y during the meetings, that's what we're gonna do today. We're gonna look at your why we're going to start with values. So here's a list of values that are in the hand out there in the workbook and there's a values exercise that you can do, going through this and deciding what it is. You value. You can value absolutely all of this you're allowed. These are all lovely things. I like partnership. I like I certainly want peace. I like free spirit. I love free time success sounds pretty darn good. So just stability. These are all great things. But when you look at that list, there are certain ones in that list that if you just kind of read it, paying attention to your body energy, there's certain ones you land on, there's certain ones that feel really like you and I call them your brand. I've had people put this on the refrigerator and just walked by it and you start to just kind of notice and feel and let it sink in. If your business for yourself, this is a really, really, it's important for everybody. If you're in business for yourself and you want to succeed, you need to be living your values because it is part of your brand. And when people can tell when you're really authentic to who you are, you're a better business person at that point, no matter what you're doing, you're more authentic when you're living your values. So that's a that's a really, it can take a while to do and they may change a little bit over the years. I would guess that you had that value all along and it has given the space to bloom now.
Class Materials
Keys to Creating Strategies to Ease the Drain of Stress.pdf
Stress Is Optional Workbook Parts 1 and 2.pdf
Stress Is Optional Workbook Part 3.pdf
Ratings and Reviews
How do you write the video text and it function with the video at same pace, this is mooc, is mooc allowed outside coursera, this is so imp. for my courses. I want feedback.
Student Work