Modeling 101
A Professional Model on Set
Yoanna House, Matthew Jordan Smith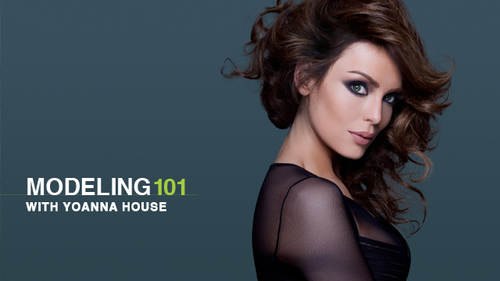 Modeling 101
Yoanna House, Matthew Jordan Smith
Get access to this class +2000 more taught by the world's top experts
24/7 access via desktop, mobile, or TV

New classes added every month

Download lessons for offline viewing

Exclusive content for subscribers
Lesson Info
20. A Professional Model on Set
Lesson Info
A Professional Model on Set
all right. So I wanted to kind of have the girls see what it's like when a professional model gets right on set and start working with the photographer on what they should be doing right away, you know? So we're gonna set this up, and I'm gonna be really focusing on my face, an expression. So we're gonna be doing more of this, so don't get caught up with we're gonna totally move into armed, posing and body language another day. But right now, it's imperative that these models understand how to work with this. So that's going to be our focus for this session. Okay, So give her a mark and also before even start, Just wanted to say we're not going talk about year at all today. Not the lighting that's in the first session I did last year. You want you want the information? Go check out that that Siris of downloads from last year. This is just about work with the model. So today is all about that part coming from the mouth point of view starting tomorrow. It's which, from the photographer p...
oint of view of working with the models, so you're gonna have you bring come for a little bit or markedly was right there and as a model, when they make the markets important because he's got his frame sat hiss lining, you don't wanna, you know, move away from that. So work with what they're giving you. Absolute. So let's get started here. That's quite nice. Just like that. Right in there. That's your mark. Beautiful. Lovely. That's night 20 show. It's a tad to me right there, right there. That's beautiful. You wanna knife good There, There. Give me that again. A little slower in slow motion with that. That's it. That's it. Beautiful. Hold that. Hold that. Hold that again for me. That's nice. That's nice. Beautiful. Bring the shorter around again for me. There we are. There we are there, gets a tad there. I love that show that as a model, I don't want to just stay here. If he's telling me I like that, stay there. I will if I feel like I can get Mawr, especially if you're doing a focus on here. If I can keep moving around and giving more of the photographer work with, it's just so much better because it's so boring. Just have a girl who's sitting here, same thing, and she thinks she's just closing your eyes, Open them, but really just to be really constantly moving and flowing. That's the way I like to work as a model saying for photographer, I like when the girl is constant, Give me different feels about the shot If you just say may be the same thing you're standing there. I'm bored like Okay, my getting nothing from this girl, Any energy from her. But you wanna is moving around and it's like a dance. For the most part, we're working in sync together. I'm giving you a little direction. I'm not putting her hand right here and tell you to do that because that feels still. If I'm shooting somebody shooting me and put my hand here was then here. I feel like a robot that I can't move, but here she's doing her own thing and it's moving and it's very fluid. It's a big difference, and this type of postage I like versus by opposing me into me with my hand and how standing all that. And so if we were to change the mood of it, if you wanted to me. Let's say we were doing something a little more commercial. I'm gonna show the girls. You know what? How, how you would work that you know, we'll see that. So oh, that's great. That's great energy like that. Nice, alive and fresh. There we are. Take that breath again. Oh, I love that. I love that nice. Your eyes look fantastic like this. Beautiful. You wanna knife? It's a different feeling altogether. That's awesome. So if we could if you could talk through a little bit about why you're choosing the poses that you did or when you do you after you've done that, how does that describe more commercial? You know, it's more expressions, happier commercials, more live style. It's every day. Um, so you know, that's what I'm trying to express, something that's more approachable. When you look at the picture, you can identify with the model. I could be her, you know that's me. So that's what I'm trying to do, and we're having fun. And we're just just having fun and making it light, because sometimes fashion be kind of a little heavier or a little more edgier, and you know that would not work for an edgy shoot might read differently. So do you want show a lot? A lot of brand new girls, especially well posed in the way It's not cool goes four posters. Okay, well, I don't know. They're gonna do it, but I know that there's like, five poses that a lot of models do that are just, you know, and I'm not making fun of everyone. I could have done it five years ago, okay? And I've learned from Critique. This is an opportunity just to learn and to grow. And so it's not bashing anyone. But I tell you what photographers complain about the most. Okay, so Oh, yeah, baby, right there already. That's I don't know why so many drop and do that. I mean, for me, if I saw that, it looks like someone's in the street, just, I don't know, hanging out and doing their thing. But you know that it's nothing really sexy about that or inviting where they do this popping out there. But where there's a lot of this, there's a lot of that. There's a lot of that. The brand spanking new that's that's not cute. So how would you adjust like what you just did? If that's a natural sort of thing for women to do, is there something that's close to that? That you would I think that they should study pictures on. And if you get a chance when you're testing toe, look through a gallery of pictures, uh, that the photographer sending Max the agency, or that photographers just sending to you if you decided to just do, Ah, a trade with them Studying yourself? Oh, my God. You should be watching and learning if you're not seeing these poses in any of the 50 magazines that you've been studying a month than it's probably not something that is desired or you could tweak it to make it even better, you know? And if I wanted to drop, maybe I would drop back my body a little bit more, but not do actual over posing, which can read office being cheesy. You know it is cheesy. Yeah, it's just cheesy. Yeah. Um, so and then another pose is the bathroom pose in your in your bathroom and you've got your IPhone and you're doing your duck face fun for Facebook. Fun stuff, whatever. But don't bring that on a set, you know, or I just I don't know how to scratch this cheesy, but that one is very popular with girls. Who? A brand new. Yeah, it drives me crazy, but it is for every day, but not something you would want to bring to a professional like Matthew. It won't get you work. It won't You work as a model? Not in the real world, anyway. And then another one is I've had to work on. This is elongating your neck. It's important when you're very aware of your body of your shoulders. The worst thing I could do is this. I think Tyra caught it like the Loch Ness, her, the monster, something the necklace monster. But it's really it would look so much better if it was like this, you know, with my no longer and my shoulders back, Onda also a lot of this covering You have to know when to drop a little bit of your shoulder, how to hold your chin up. And the photographer can help directing that a little bit. He's not really coming in to move you, but he should say, you know, drop your shoulder a bit. Um, push it back, bring forward your profile a little bit more, and these are things that girls will learn as they grow. I can't that look so bad, but those were like the bad shots. And that's what if you're giving them that, that's what's going to read. And it's frustrating as a photographer working with the new girl, just like he said, if you're only going to get possibility of maybe a couple or few great images when it should be a time much better for photographer toe, look through model and say like so many I don't know what to choose versus I don't really have a lot to choose from. Let's see what I could make work. So let's bring out the girls, I think. Is that right? Good. I ask you one more question. Yes. Okay. Well, there'll be one minute. Go ahead. I just watching you. I know that you are have a lot of control of your hands. Yeah, And I feel like even if a girl has an amazing gives, amazing face or body language, if if the hands aren't right, then it ruins. The whole plans are super important. Um, And and I think once you get in that frame of shooting with the photographer, you're gonna relax more, You're gonna be able to move around in a more natural way. Sometimes a girl might need just a few frames toe kind of release that, you know, nervous, you know, edge. But hands are super important, and we're gonna focus on that in the next few days. And a lot of it when it went to show an outfit as well. If you have a stylist wanting you to show off a particular Shuhada model that Andi that'll be covered with Matthew more in depth another question is about eye movement And how important is his eyes? Eyes? I guess they could say You can smile with your eyes. You can express with your eyes as a model. I'm always trying to change my gaze a trick ideo which I was like Should I make it known? I look at different sides of the camera. I might look a Matthew shoulder. I might look at the top of Matthew's head. I'm always trying to change my focus, and I'm always thinking of something else. Whether it be a picture that I really loved in a magazine or a moment I had with my son or, um, you know, my favorite dessert. I'll get to eat after the shoot or whatever it is. It's something going on. Or if it's a song playing and I'm trying to get into, like, living a music video in my head, that's great. I think it helps when there's music on a set. It's awesome when that's available. So that's great, because somebody actually had just asked GSM photo. Just ask what? What? What do you do to relax? I love music. Think music is important for girls I love when they crank it high. I love when it's music that I like and that I made maybe know the lyrics to and, um, or I just get into that groove great. And if if I'm getting style that day in a themed way or if it's a certain era, I want to listen to that music from that era, or if I'm gonna be shooting something very edgy and indie, I want to listen to a group that's edgy and indie. I wanna start creating. You know what the vibe of that day is going to be in? The music helps definitely
Class Description
Yoanna House (winner of America's Next Top Model season 2) is coming to creativeLIVE to teach you all about the modeling industry! This is the inside playbook of the modeling industry! What does it take to be a model? How do you get into modeling and become a model? How should you prepare for your first photo shoot? How do you find an agent? How to stay healthy and how to take care of your skin? During this 2-day workshop, fashion model Yoanna House shares her own experience and teaches the skills needed in various types of modeling: runway, commercial, high fashion, and more.
Photographers: interested in learning how to find and work with models? This course has some great techniques for you, as well as a rare interview with an agency booker who has insider information for you! Also check out the related Working with Models workshop with Matthew Jordan Smith!
Reviews
Tbh, this course should be mandatory viewing for all new models. A very insightful review of how it is to be a model, what is expected, what you can expect, how the industry works, what kind of modelling there is, how to deal with different types of photographers, catwalk, etc. Everything they should know but often need to learn the hard way. All masterfully presented by Yoanna House and Matthew Jordan Smith. Henrik "Imaginara" Bengtsson Sweden