Modeling 101
Polaroids
Yoanna House, Matthew Jordan Smith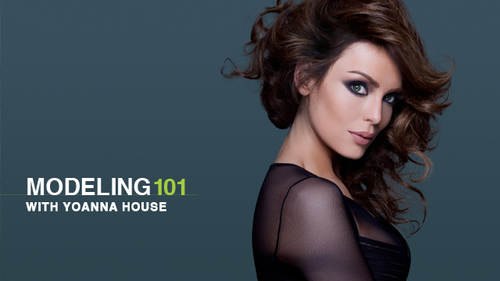 Modeling 101
Yoanna House, Matthew Jordan Smith
Get access to this class +2000 more taught by the world's top experts
24/7 access via desktop, mobile, or TV

New classes added every month

Download lessons for offline viewing

Exclusive content for subscribers
Lesson Info
Polaroids
So we were talking about, um, kind of the role of a model. Before we left, we touched about Polaroid. So I wanted to show you some samples of some recent Polaroids within the last few weeks that I've taken. And I'm sorry one of them had an instagram filter, so don't do that. This is just what I had available with me right now. I love Instagram and I like, you know, doing the filters and all that, but this is just something super simple. I had to actually it was on a job and I'd wipe down the makeup to send to the client in Mexico. They wanted to see what I looked like that day. And I just had my hair highlighted. They wanted to see how highlighted my hair waas before they pitched me to this client. And did I have a tan on that day? Every once in a while, I like I said, I'm super fair skin. I like to get my level one spray tan every once a month or something. Hello. I like to look fresh and healthy. His clients love that. Some don't They want to see natural fresh porcelain skin So it's ...
important to understand seasons to if you are in New York and a model or aspiring to be a model, you can have a slight tan. If it's after the holiday August. People like to know that you've come back and you've been somewhere and you traveled and you know, but probably not a good idea like January in December and February and those kind of months, it wouldn't be really smart idea to go get sprayed. Trust me, did it? And I did a lot for TV purposes. So I hear people she's so armed or she's so tan while I was filming a show and I didn't look tan while I was filming because you're working with such strong lighting that sometimes when you're on camera, the girl can get lost if they're super porcelain skin. So for me it was about having a slight tan so that I could be have a bit more effect on camera filming a TV program because it really didn't make a difference if I had a little bit of a tan versus a shooting for an editorial, Okay, when then here's another. One thing is what I'm talking about fresh blown out hair. You know, just having a bit of a wave, but a bit of straight. You don't want to have super bored straight here, either. You want your hair to look natural. You don't want to show up, and it sounds so simple. But you don't wanna show up looking over done, even if they think that you were sitting in your bathroom, straighten your hair. If it is straight, take out the Frese's, put it in a bun on your way to the casting or whatever, and then let it out before you get there. So it's got, like, a natural kind of bounce to it. So, yeah, we'll leave that there. And I want Matthew to, because for me, I only here on the other end the mistakes I made on a casting or what I could have done better to improve the chance of me getting booked for a gig or what to wear in a Polaroid out. Super important because you have to have someone take your Polaroid, especially if I'm trying to get a job book to Mexico and I'm in Florida or New York. You have to have your friend. They're taking your picture, and they think it's, like, so easy. They just get 76 poured in, like, two hours, and then we want the client wants to see you right now. So you've got to make sure. Ask them. What do you want me to wear? You know, um, I'm gonna be the bathing suit or anybody. Bikini. Am I just in a t shirt? A pair of jeans? No. We want you to wear black top way. Want you to wear a push up bra, or we want you to wear, you know, a body suit or whatever. So ask because that's important to, um, a clarifying question. Yes. Chad is going on in the chat room about term Polaroid. Yeah. So a lot of us are photographers, and we digitally polarizes the physical. You know, Iowa, physical Polaroids and some people sleazy. But I mean, like a digital. Meaning not enhanced, not retouched. It's got to be a digital. I mean, poor. It might be a little dated naming it that way, but it's just something super simple. I phone. Sometimes they're acceptable. I don't think I mean, unless you have the top model or whatever it Sometimes it could take away from the clarity of a picture the pixels. And I don't know anything about I'm learning to about that. Whole worlds are not going to sit here and tell you, like I think I know what I'm talking about because I don't understand that Matthew could tell you what type of camera. Most agencies will have the camera there. They'll have the in house Polaroid guy or digital guy who will take your pictures. It's probably better if they do it, because what they're gonna have you do as a model when this is super important. When you take a Polaroid, you know, in math, you can sit here. I'm gonna calm and walk and that, you know, I'm gonna take my hair down and I'm going to start this in this and you know, they're gonna want a profile and they're gonna want the board. Look, then you have a client who's gonna want to be like, you know, whatever Miami they love happy people so way. It depends. Like what you're trying Teoh to sell to the client. So the work with you and then what they'll do is they'll put 45 images, Um, and a file. They'll date it and they'll send it off with a long shot. You know, 3/ length profile, looking down, looking up. That's important, too, if you're gonna get booked for commercials because they're going to notice everything. And when I do a lot of beauty, work with photographers or cause, you know, done cosmetic clients, cosmetic companies, they're gonna want to know what? How full my eyebrows air at that time. Do I need to grow them out? What's my skin looking like right now? So I need to lay off on the dairy because I break out if I tick. Terry, it's like, silly, but things that I've learned over the years might be able to technical for you guys, but, um, it's my hair highlight growing out too much. The client want me to freshen it up, or they want me to put a gloss over it because it's looking dull or things like that. You know, the agency needs to communicate, and you need to ask, cause a lot of times agencies working not only casting you probably for this job, maybe four of their other girls, and you need to ask the right questions so that you have just this much fair game as the other girls. You know who where they're sending out on these jobs. Tell me about what you think you know when you're sitting with casting directors. What's important kind of what it was. The feedback you get from the white girls present themselves just in their polo writes Everything's important. Every part of the I get all these emails almost on a daily basis of agency sent me pictures of girls, and I do like seeing those pictures of we're using the term Polaroid. It's on an actual point. We're using that term because it's like that riel shot of the girl. So you have the ammunition of girls portfolio looking all her work, which is by, you know, retouched or whatever. You may have a video of the girls sometimes, and then you have these Polaroids or digital shots when you want to call it, and it's those shots. Sometimes that helped a lot in determining having really looks at that point, hair color, everything about her, the small subtlety, things looking for all the time and one thing he said, which I forgot which is important, too. Especially if you are auditioning for a commercial on agency. The agency will probably have you come in for a video if you've already met the client because you might go on three or four castings before you actually book the job, which could be frustrating as you are, like, calculated on my God open. Get this job. I'm gonna pay off, you know, whatever. I don't think about that. I've done that way too many times. And unfortunately, in this world of, you know, being an artist 50 50 and 50% chance you'll actually get the job they might love. You just didn't work out for X amount of reasons. And so you can't really count on that. But you might get called for five times back for that. And I did. I did this huge cosmetic campaign overseas, and I had to try out for like, five times. And because they're wanting to make sure that they're investing and the rise, a lot of money on the line, a lot of money and a lot of people putting their I guess, creative juices into the pot. And maybe there might be this side of people who love you think we want her, and then there's someone over there. But I really liked little indecisive little. I'm really sure. Let's and let's see what else she's got. So you're going to go into the agency apart from doing the Polaroids, they're gonna do a video of you and this is your time to sell. And this is what I mean about expressing emotion, expressing your personality, and you're not gonna talk. Or you might say, hi, M you wanna I can't wait to, you know, go to so and so and meat you guys and then they'll cut. And then you are going to start working with the video. You're going to start, you know, showing them what you're gonna bring on that day if you get booked. Okay. What are you gonna show them on Sat? This is a little a little sneak peek of what I'm bringing. So then they will probably apart from your portfolio, your composite card, all of your digital's that were sent from your file, your press kit that's going to go in with the video, and it's all gonna be sent out. And one important thing to learn about that. You will get charged for that when it gets sent out. And we're gonna talk about talk about that because that was a big lesson for me. Learning about how much you actually end up owing an agency and and how it really is run like a business. It is a business. Yes. OK, so I'm super excited because I know after lunch, like we said would have an actual agent and agency director call in. So I'm gonna ask him some really pertinent questions and maybe get a couple questions from online, um, Teoh here about the New York market and then about the other market. Miami in Europe, um, and how they kind of come together.
Class Description
Yoanna House (winner of America's Next Top Model season 2) is coming to creativeLIVE to teach you all about the modeling industry! This is the inside playbook of the modeling industry! What does it take to be a model? How do you get into modeling and become a model? How should you prepare for your first photo shoot? How do you find an agent? How to stay healthy and how to take care of your skin? During this 2-day workshop, fashion model Yoanna House shares her own experience and teaches the skills needed in various types of modeling: runway, commercial, high fashion, and more.
Photographers: interested in learning how to find and work with models? This course has some great techniques for you, as well as a rare interview with an agency booker who has insider information for you! Also check out the related Working with Models workshop with Matthew Jordan Smith!
Reviews
Tbh, this course should be mandatory viewing for all new models. A very insightful review of how it is to be a model, what is expected, what you can expect, how the industry works, what kind of modelling there is, how to deal with different types of photographers, catwalk, etc. Everything they should know but often need to learn the hard way. All masterfully presented by Yoanna House and Matthew Jordan Smith. Henrik "Imaginara" Bengtsson Sweden