Modeling 101
Shoot: Lingerie
Yoanna House, Matthew Jordan Smith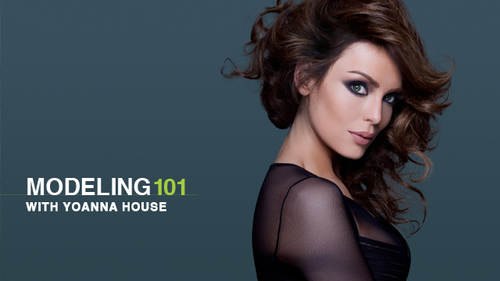 Modeling 101
Yoanna House, Matthew Jordan Smith
Get access to this class +2000 more taught by the world's top experts
24/7 access via desktop, mobile, or TV

New classes added every month

Download lessons for offline viewing

Exclusive content for subscribers
Lesson Info
23. Shoot: Lingerie
Lesson Info
Shoot: Lingerie
we're setting this up because it's important for the girls to understand showing sex appeal on. But you know what? The photographers wanting and to really set it up because it's important for models to feel comfortable in their own skin. It's opportunity for them to understand, send their own sensuality and to use that when they're working with the photographer. So, you know, I've shot in a bed before for a hotel campaign. And how did I have to make it look inviting and cute for the client who wants to go to that hotel, you know, and also it's important that girls learn how to work in lingerie or swimsuits. It's really not We're not doing it. Teoh, you know, raised the writings. It's it's important because it's a model. You, in a way, have to become a fantasy, um, at times for men or for a brand, and you need to learn how to work with that. So okay, do you want to find sexy for because there's a big between sexy for your mate and sexy shoot? Define that well, and I think Matthews a pho...
tographer. I mean, from a man standpoint, I mean, you know, I'm coming as a professional, ready to show you what I think you would want from me as a photographer. So the communication We want to make it a lot more open than maybe the shoot that we did earlier today so that the girls can ask the right questions and and get feedback from Matthew if they're being cheesy, sexy or they're being central, sexy. And there's a difference. So big difference. Definitely. It is hard because a lot of women, whether they're models or not, they don't They don't understand that line or their own their own sexuality or you know what, what? It's sexy and what isn't for them personally. That's true because they're not used to seeing themselves or they don't know. And people are always giving feedback. So it's hard to kind of want to grow in the element because you're always gonna have people saying Now that's tackier Oh, that's this. You live and you learn and you look at yourself and say OK, that didn't really work. So it's important these models don't listen to too many opinions, but really what the photographers telling them other images, air reading and learning and growing from that experience. True. Okay, so we should start shooting you, right? Yes. So, for this one, I want you to start where you're, like, very lounging long there. Yeah, that's what I want. Comfortable. So we're normally testing all the stuff before, but I always like to get a fast test of the model where she is and we're good. Sure, Absolutely. That's nice. You want I want to be, like, very lounges. Well, it's kind of cool like that. Beautiful. That's nice. Come on, a little closer. My night in the good. There. There we are, just like that. Very long. Nice Making more lounging for may Come down more that I think that pill in the front covering you too much. I wanna Yeah, that's good. That's good. That's good. Just the color checker. That's beautiful. Last nice. I like that, dear. I like that right there. Nice. That's beautiful. Pass it with the girls Very experienced. I don't have to, like, really give her that much direction because she falls into stuff. That's just great. Put out more. Check it out for me, dear. There we are. That's nice. Beautiful. And as I'm shooting goes to go back to the lounge position for me. That's beautiful. That's beautiful. There, Relax the face. Last night's That's nice. Beautiful. But you look great. You look great. You deal with those photos. I mean, your skin is just absolutely flawless and glowing in the shots ability to be comfortable in front of lights and okay, Are they reading? We'll bring them on in. They have any questions while we'll grab the other girls have a question for you. So in the example of her lying there when her hair came down, When you're shooting, do you just keep shooting? Or would you say, Would you hear makeup artist out and say, You need to fix this or I give them hints. If they're likely she's doing herself, it looks kind of natural. I give a little hint to zip in. They might zip in and just do some really fast and then sit back out. So it's very like, you know, fluid the movement and the way by works together because it takes time in the situation to get the girl comfortable. You can't do it in five frames of 10 frames or 30 frames. It takes a minute to get her comfortable being here and learning to let go and be sexy and comfortable with her own sexuality. Thanks a minute. So you wouldn't want you wouldn't want to interrupt that flow by saying, Oh, your hair's not down? Not at all. Okay? I want break the moment, right, Because you can't get it back. If I keep jumping in as she's about to get there, I'll never get there. So I want to get comfortable and let it flow in the situation, because harder here. Are you comfortable? Unless she's very, very experienced. Takes a minute. Well, interesting that you said that because you want is very, very experienced. But even doing that, she's a little bit. Exactly. Exactly. You feel it, right? Yeah. She was a little bit more comfortable than I've seen her yet. Yeah, which is very interesting. Is there? She's vulnerable. Yeah. Yeah. So to bring only one by one or all four to come. We're doing one by one. But I could be wrong. Erin. Erin, Come on. Enforcing. I'm sorry. The Ravens Ravens. Aaron's our producer. So we were like Aaron. What radio? Why don't you jump in re evidence, give it a go. Bring these over here. Yes, perfect. So even in this situation, it's very sensual. But think about what you're seeing laundry for for Macy use or for any store like that. It's not overt sexual. Just you become comfortable in this spot, so you're laying down in the space you can have where you're laying down. On top of this could be under your legs as we start shooting out out. Guide you. In their last session, I was known saying that you were more comfortable when camera came down. Remember the camera up? I think you start to get going to mope model mold. I like it more when I had the camera down and you just be comfortable being yourself. I want that I want you being comfortable in your skin. Let's see that. That's cool. That's cool. Now don't pose. Forget about posing part altogether. I want to find your best side as well. It might take a minute so you can move around when you hear me say, Oh, I like that. That's when you know you in a spot that looks great. And what looks great may not feel great. I'm looking for that great moment. Come on, your side more. For me, that's better. That's better. That's better. Just like that. Just like that. Just like that. Beautiful. Where the hand is in, the hair looks a little funny. That's better. That's better. Put it under. That's nice. That's nice. Nice. So keep moving Is, well, your body. Not only a face, but your body as well. That's good There. That's good there. I want to feel sensuality coming out of your eyes, not the body, cause it comes out of the face so your eyes have got to sell it. The body could be absolutely amazing, but your eyes are dead. It's not sexy. The sex appeal comes all from here. A lot of girls think in my body and what I have on, but it's not. The sex appeal comes from your face, and from your eyes it's you giving it from here. That's beautiful, fast, beautiful. Even if the hands have them relaxed, relaxed, relaxed. That's better. That's better. That's nice. There. Get him off the eyes. There. Quite nice there. So as you're moving around, I want you to really think about what you're seeing with your eyes. I'm seeing your body moving, but the eyes of staying the same. I want to feel it in your face in your expressions. And sometimes that means you face away coming back. It's a little flirty, almost. That's what I want. I want to flirt. I want to feel the flirt. Flirt is sexy. That's better. That's better. Do you feel that difference? That's what it is. It's the flirt that makes it sexy. Beautiful, nice, good There, That's it. That's it. Stay with that safe that for me softer, softer, softer. Nice, beautiful. Soften the mouth there, going to rebels for me, very talking about eyes and how that's expressive. And when doing that. So if I could come in apart from the posing, being sexy. But also in a way, it's like flirting with the camera. Flirting with Matthew, um, are making him be who you want him to be. So really use it. Watch your forces using your eyes. And I had to get changed because there's so much better and normal people close. Yeah, but you know, if you're here, that's why when I'm talking, telling these girls you could be sexy without over exaggerated sexual looking poses or sexy poses, you know, And that's what's great about reading European publications because they really emphasize sex appeal in a very central way. So that's something to look at. But for instance, you know Matthew shooting me now I'm going to start focusing more on my face in my eyes. You know, I'm gonna give us soft and, ah, you know, approachable. Now if I want to do something more fears Oh, I like that. You know, um, you know, serving that as well and changing it because, like he said, the subtle changes on a huge gallery so beneficial for photographer toe look through versus a girl who might be moving her body a lot or staying in one pose. And it's the same look in her eye the same way she holds her mouth. The whole always, um, it just gives the photographer a lot more to work with. Even regards. What she has on sex appeal comes from her face, where she's exuding regards of what she has on. It's all right here, and we were talking about looking down Matthew, can we do a few of those? Matthew loves this and so if I do 123 and and looking up, he could count you in. Sometimes they don't. They just expect that. But then I'm gonna come to decide. Sorry. I was beautiful. No, that is not a good was complaining about something, but, you know, look at the screens. Also. I'm looking down and I'm you know, when I'm looking, if he counts me in three day that's nice, you know? And it's that way. You're also not getting bored, but you're waiting for your next opportunity to show something different. Okay, so and the more you should work for you get with it. Yeah. All right. Next girl. Thanks, David. Definitely. I saw such a difference for a rave in when you went from when you told her to be more flirty and they could sit. You could see it a real shift there. So it's funny, because I think a BA has his own their own vision of what sexy is in our mind. Um, and that's all based on your own experience. And it comes from, you know, movies and TV. And but sexy is different to different people. And then how do you show it is different also. So a girl who is very new to modeling might think it's something very overt and what she wears and all that it has nothing to do with that. It's the energy you're giving. She could have one of you know, come from from from here to tow from neck to toe and still be steamy. Sexy? Yeah, absolutely. It just depends on what she can give. Has nothing to the clothing could be wearing clothes it that's very sexy and appealing. But the sex appeal comes from you, not the clothing and how you show it. So the great models are hired because they can give that energy. Giselle is a very sexy woman on from the camera and no matter what she has on Beit Lingerie or make coat off faux mink, whatever, she's giving this energy off. And that's what you have to do, no matter what you have on is the energy you're giving off. So let's see that very comfortable, beautiful. Show me more than that. I want to feel it because right now that polls everything looks beautiful. But the eyes of God tell me that's really that you're really in that space. And sometimes that means taking your mind is going any way you want to fantasizing thing about what have you to do to get yourself in that place as the model you think about? What can I do to get in that space to be comfortable in showing that part of you that's nice, beautiful. That's getting there that's getting there. So you, by staying the same, don't be scared to move around. Now you have this entire bed. You can move around anything you want, so make it like your cat. Show me your version of a sexy cat there. And the more you do this, the more you comfortable moving and learning how you should move. Because still, I feel like you're by starting a move and great, but the face is staying the same because you're thinking a lot about it. Don't be scared to take your eyes off camera, and sometimes it helps When you just go away, come back, go away and come back. That feels different each time and as you, especially beginning as you start to move, is a model move like you'll hold it, move the entire body almost a slow motion. Come back, click move again. Click. Keep moving and changing around until you feel comfortable and what you're giving, and you'll feel the energy from the photographer if they like it or for like mm, you'll feel it. That's why that again there, talk to me with your eyes. Nice. So each shot should not feel the same. If you're just going like this and the by staying the same, it comfortably could move around more and be fluid. And I'm saying fluid a lot, but I want that feeling where it feels like like water flowing and all this beauty coming from you is exuding from you. Comes from your eyes from your face from your mouth. It's all that working together in unison. Beautiful. Let your hands go Change your polls all together for me Good time. If he's saying change, your post may be set up. Um, do a different angle. I feel like you keep using the same lip for every shot. It is the same lip. So if you could maybe, um, instead of being here what you're doing now come up, learn how to start breathing, sighing. Hold her breath right. It's yet Teoh, like you're like, I don't know. I can't tell if you want to be done with this quickly or if you don't feel comfortable like it could read very differently. So if you worked it like, maybe pop up and maybe that or open your mouth a little more, show your teeth Hillshire, who will choose the best shot, you know and at the end. But you've got to give them enough variety to be able to make that choice. True. No, right now we don't have any muse, everything playing, but normally what I'm shooting. There's always music that helps get you in the space where it could be co mazir. I think when you're in a set where this no sounds at all, it's hard to get there. But I put a lot of energy as photographer, a lot of energy in defining the right music for every shoot, because that helps people get comfortable. My job as photographer is to help you get comfortable. It's possible. So you give me a great shot so your agency will have a great image for your book like Oh my God, that's her best shot ever. That's what I want to hear is photographer. That's her best shot ever. And if you could, like so you know, now come to the better side of the bed. Let me show you something you could dio make sure you know, you're not revealing anything, but something like this would be a different variety. And then in the sense of my mouth, you know what you're having a problem with? I would change it. So I'm gonna do, like, four different lip changes. Okay, Okay. And then you can. Those little changes will make a difference. Very subtle. Very, very subtle Lip movements with all huge differences in a picture. Let's see you try that for a second. Yes, it's something totally different right in the middle There, right there in the middle of my mouth. Some consciously I'm moving my body without knowing. Okay, I'm not It's, you know, it's it takes a while, but I want you to breathe for me Also. Deep breaths as you're moving shot. Think about a song in your head that you like and play that song in your head and breathe through it. Breathe in, breathe out. We then breathe out and give me that shot, Let it go. I didn't want to feel you bring. And as you're breathing, it's a totally different pose. I want to feel that movement that all feels the same to me, does feel stiff. And I want to really practice even tonight. When you go back to your room rate, they want you to think about being comfortable and maybe even spend time from the mirror and just seeing yourself moving and move and move and move. You're comfortable with that and learning how to move your body and take your head up and down and come around. But talkers want that. If you're just here and you go here, it feels the same and it still feels dead. I want to feel the energy because for photographers to get excited, shooting a girl, we want to feel that energy. Like if I shoot a brand new girl. Okay, System. About the first time I shot Tyra the very first timely shot together we started part like around three in the afternoon. We finished at two in the morning, our very first test because nobody want to leave. That's how good it waas and we just all fill it and we were all tired. But just nobody want to go home. I agree. It's a great feeling I've had may test like that where a buy in the room can feel the energy. You say a word. Everybody feels the energy And those tests, you know, messing, Amazing. And also as a model, it's no. The world sees the image in your portfolio or in the magazine, but you is the model you have. You are left after your modeling career is done with all these great experiences from creating these images, so creates the amazing every shoot Give your all and improved each time as you go. Thank you. Thank you. All right. Next girl. You know what? I love what you're doing now I want you toe come back from the back of the bed And then very slowly whatever song you were playing on your IPod, I want you to have that song still in your head. They were slowly come to in the middle of bed and then last but do everything in slow motion. Let me see that. Show me that's on it. The same thing again. And as you do it want you more flirty. So as you're you're taking that first step into the bed, Look down They come back to me then look away then come back to me. So I want to be like a seduction. I want to feel that last night last night that's Basque. A Basque beautiful their way there were Don't think about it. Don't think about it cause I see I can feel that moment You stop to think about what you're doing and it's much better. I don't care if you give me 10 bad shots. Forget about those every shot that be great. I want to get you to the point where I'm finding the great moment. So in finding those great shots, there are moments when we have some bad shots. I don't care about those. I won't get to the point where I'm fine You where you're comfortable and I get the great shots here. Forget about all that. Just let it go. That's nice. And change your lip. You keep doing the same lip every and you're very good with your eyes and speaking with your eyes get better, push it even mawr and learn how to take it away and come back in a way and come back last night. That's nice. Go loud. You for me? More? Absolutely. Absolutely. Unless here something if I get in trouble. So much for playing with my hair. No, that it's a particular look that the hair style is to set. You need to ask them, Can I touch my hair? The last thing you want is a hairstyle is coming over. Don't do that, Especially if it's a particular look for a magazine or for something asked, Is it OK? And they'll say Yes, but don't touch the top or don't mess with this part. I put a pin in there and I don't want you to pull out the pan. But I also feel like you're you're you're warming up much better than from beginning. But I'm getting a lot of this from you looking down, closing your lip and yeah, and and it's got to be a little more relaxed on a little more varied. Okay, um, because you are moving around, but going back to the same faces, the same face, and you're looking, you know, lift lifting your head up, angling the subtle You know if you were to play with your hair, Don't keep it there. If you're playing with the hair, lift up your head a little bit or do this. And if he's saying, Oh, bring down your chin, bring down your chin. That's great. Much better for you that you understand. But you know, it's about not being boring. Let's say that you don't want to be boring. You want? Well, if you have to study your pictures. So if you see that you're doing this all the time in the mouth was the same. You know, it's gotta be, you know, and that's very different. All those very this expression that you would do in having a conversation with someone to, you know, or into your everyday life. You don't keep your mouth down like that the whole time, right? So s So it's like, you know, basically, that's a great That's a great even that moment just now, when you laughed your natural face in the way you change. You didn't think about that. You just did it exactly, and that's what I want for models. We want you to have a real expression and very often means you're doing what you do naturally. Then you come on the set and you think about Oh, this is a model. Look, I got to the model. Look, no, we want you. And then we find those shots within you to make that great shot. That great moment, looking for great moments in very office, not oppose. It's natural. Let's try it again. Now I don't think so much about your mouth, but do let it go. Well, that's beautiful. That's nice. Nice and long There. Drop your head down for to the side more. Take your head back more. The lounge e passion eyes, fasten eyes So it's pill right in the front. Take that one out the way so I can see you. That's better. That's better. That's better. That's so beautiful. Just like that. There. Turn your stomach for me like that. Like that. That's nice right there. Just like that. I don't think about it. Hands off, soft, Beautiful. That's nice. That's nice. That's what I want at the mouth. Go let the mouth go there. That's what I want. That's what I want. Don't be scared to let it go. That's what I want. The last couple frames felt really good. That's we're talking about even here. I love that. If you let the mouth go, would be so beautiful. Don't be scared to let that go. Very cool. Thank you. Thank you. She has some questions before you do the last one here where souls go, she'll be back. Okay, This is a question from Brad Connect Matthew and coaching Amore experienced model as opposed to the amount of coaching you need to provide the younger unexperienced. What kind of words emotions would you use? And maybe you want to come help us by letting us know which keywords she finds easy to understand. Like saying more sexy, more cute, more innocent. Do you have some keywords that you go to you? Because if you say sexy Oh, give me sexy about their own version of what they think that is that words not working. Try. Oh, give me something that you know, softer or sensual, tried different words until you find that magic word that hits them. Because every girl has their own version of what sexy is. Change it around, maybe make it more innocent. And sometimes that very instant look can be very sexy and sensual. CNN has specific go to words different for everybody is different for each girl. I base it on how I feel when I'm shooting that person, and then you find the moment you find the moment. And sometimes when I find that girl that she's in a moment, I will be quiet. I want I don't want to interrupt it. If I get her in that space and everything's working, I'll just give her Well, that's beautiful. That's beautiful. Give her like that. Reassurance. I won't over direct because she's already in a zone. I want to make sure I captured that moment without interrupting it. Let's go to work. What do you think? Your opinion. That's the best advice you gave its. Not over directing, because if you've got if the girls like in a trance shooting, then that is the best you're going to get when it's over, directed when it's too calculated when too many people are giving opinions, it's just kind of breaking the chemistry between you and the photographer. So great advice? Yeah, as as a As a photo assistant, I came. I came up working with Victoria Secrets, Jobs all the time. So I got a lot of a lot of my training came from being on the sets in Florida, shooting Victoria's secrets for weeks on end and washing. The photographer is working for guide and direct those girls, and I learned a lot. It's helping throughout my career in shooting this type of work. Now let's go to work. So I want you just very Lounge E. You had these great eyes. I want you to really, really work on just being flirty 30 looking away, coming back to me, maybe even lounging down looking at me. But really play it like just Carrabba skin like that. I want to just subtle, flirty, sexy, even innocent. That's great. That's great. That's great. There. Stick your hair back. It's a little bit there. That's nice. That's beautiful. That's beautiful. Nice There, there, there. So start off. Very cool. Those 1st 2 frames. I really liked that, that you almost like starting, think about it and put the legs up. A lot of people do that. They're not stuff going to be very natural like you would be if there was no one around, but you bash NYSE. That's beautiful right there. Bold. That the pillow up anywhere you like on it More taking guests. Be playful with it, even last night. I don't have that back on. I want to That back arm. That's good. That's good. Beautiful. That hand feels a little stiff in the front for me. Throw that pillow out. Get rid of that pillow. That's nice. Now, staying with me. I want you to go where you're coming up and you're seeing on the edge of the bed, but the entire time I want to shoot it. So do it in slow motion. Where you exactly? We start down lounge E use. Come around as you come up. You're doing in a very 30 way there. Do that again for me. Have you seen that judo or commercial is a TV commercial of Theodore, and, uh, it's such a beautiful, sexy commercial. They're playing that old song by Marvin Gaye, and it's just her walking, but so sensual and sexy. The way she's walking, the way she's moving. It's the same thing here. Is that movement there. Bass. That's it. Beautiful now, innocent now innocents from it gets very innocent, Open and innocent is just very open eyes. That's nice. Beautiful. That's it. That's the mouth we want, Do you think? Um, a little, little more expression, I think with the eyes, I think you start showing the same Look all the time. The mouth is getting better. The girls air kind of understanding. And I think because you had an opportunity toe listen to the critiques with them. Um, I think that you're really pretty. Sometimes it could read cute. So try and act, maybe more sensual. Do a couple like sweet frames and then do something playing with your hair, uh, letting the photographer into you, you know? So, you know, mess up your hair, you know, let go a little bit, and I mean, listen, three frames and each frame. I'm gonna give you a word and show me your version of that word. Yeah. Okay. Sitting or links totally up to you. Anything you want, whatever you envision. Because it could be your sexy or your whatever. And let Matthew take a picture. That and then if it doesn't work for him, let him tell you try this instead. Or he might throw a word out there to help to help you. Okay, so the first word is innocent. I want Show me. Show me your version of innocent. We have two more frames. National. Your version of sensual, sensual. Now show me your version of sexy, innocent, sensual, sexy. So it is hard. It's hard to find that. But I think each person should figure out how to define what that is in your own hits. We can give that so having that time where Miles spins in front of a mirror by yourself and learning how to give certain looks is very beneficial as a model. Um, do you want me to come? And you give me three words? Okay. First to exactly the same. But the more you do this, the better you get. This is the exercise that you need to do only bring over again. You learn and you grow. Show me. Show me innocent. I believe that I want to believe it. I won't believe that we're part of this fancy, whatever it is. And fashion really is fantasy. We're all getting together and we're making mean an hour of hair and makeup. The best lining the best. Hopefully this photographer best model, we're creating an illusion. And we all We all believe that illusion for the moment when he says innocence, What are you thinking in your head? I'm thinking of girls. It's likable, approachable, someone that's relatable on guy want, invite them. And I thought, Well, a smile would work. That's not intimidating. And that's fresh. And it's pure, you know, so pure. And you become a character that is in a okay, awesome. Don't overthink. I didn't even know were thinking. I was like, OK, that comes with time Because if you're over thinking I'm like, it's gonna read like we're thinking, Yeah, sensual our X and sexy, Sexy. That's nice. So you now you see, you start to get that feeling, but how it changes, so it should change throughout you. And even if so, farmers like you any direction, you should play this game of going through all these emotions as you shoot and figure out what where it starts to hit and you get your best pictures. I think that's such a powerful exercise. What are some other words or things that you would that you would practice? Um, how do you I think you know, you could take hospital confident and you could take this bed and make it a commercial shoot. How would I do that? Math. You throw me some words as if we weren't doing a fashion set up for a fashiony test. And I'll show the girls what I feel. Empowering, powering? Um, silly. I not work, but he could choose. It is. I like that, you know, so yeah. Yes. Cute. Um Powerful. Powerful. God. Okay, Queen of England. Oh, God. Okay, Queen Mother, that's nice. That's nice. So even if you're shootings may play games with yourself thinking about different ways to make it fun, making fun, it is fun. It's acting. And you can get out your alter egos in these photo shoots. A lot of girls Do you know, Be that Sasha fierce. People are loving this. They're starting to shout out words. Okay, there was a lot. I had a question. I was wondering, um, whatever the photo shoot, maybe Do you go through all of these different characters for every single shooter? Does it kind of depend on if it's ah well again? Like we were talking a lot about earlier. If it's an editorial and I'm styled in a certain era I wanna get in that by would become that character with the test Play around a little bit. Um, that's your time to test show your personality to evolve. Okay, When it's a commercial, you have your booked for a certain reason. What are you endorsing? What are you supposed to be showing off? Um, do they want more? You know, it will come with time. You'll understand. I think all this overthinking is it's It's just, I don't know, giving up a great shot you're thinking so much about Oh, wait, if I do this and also it's going to depend a lot on the clothes, what you're wearing, that's super important. Um, you know, I'm wearing a blazer right now in this bed, but I'm still giving him what he wants. I didn't need that launch array to do it. I gave him what he wanted. Um, when it's working, you know, sometimes you'll be wearing a white T shirt and a tank top or denim pair of shorts, and they want you to look innocent or they want you to look powerful, sexy, and it's learning to do what models to which is become what the muse Air become the artist or, um, the actress or whatever. So I have a question from Emily August. Who would like to know actor training would help would help models or hurt them assed faras have being at ease in front of camera. Would recommend models, take acting classes to help them. With that, You know, I will say that I was a very shy person coming on America's next top model. I had never competed with any girls. I didn't know about competitive competitiveness. I didn't play sports. Um, I was very locked in myself. For me, it was great, because with photo shoots, I can kind of put on a different hat thes central, be sexy and not get criticized for it because I'm booked that day for that way. And I think I've taken speaking how to speak in public. I'm terrified of speaking in public, like five years ago. The thought of what people were thinking of me and how I express myself was super important for me as far as a television host. And yeah, I don't I feel like if you can take acting courses if you could, you know. Put yourself up in front of people in an environment where you're there to learn and to pull out your nervousness or your insecurities. It's definitely a major plus because some of the most brilliant, talented actors and actresses started out in theatre, started out in musicals or models, started out in, um, you know, learning toe let go during testing. And that's why that's important. So, yeah, it can't hurt for sure. There are a lot of most that shot. No, my career, who started off being models who are now actors and actresses. A lot of my good friends, boards. Khoja was a male model with Ford in New York, and Force was doing a lot of work. And now he's acting and tons of movies all the time in the movie comes out next week, actually.
Class Description
Yoanna House (winner of America's Next Top Model season 2) is coming to creativeLIVE to teach you all about the modeling industry! This is the inside playbook of the modeling industry! What does it take to be a model? How do you get into modeling and become a model? How should you prepare for your first photo shoot? How do you find an agent? How to stay healthy and how to take care of your skin? During this 2-day workshop, fashion model Yoanna House shares her own experience and teaches the skills needed in various types of modeling: runway, commercial, high fashion, and more.
Photographers: interested in learning how to find and work with models? This course has some great techniques for you, as well as a rare interview with an agency booker who has insider information for you! Also check out the related Working with Models workshop with Matthew Jordan Smith!
Reviews
Tbh, this course should be mandatory viewing for all new models. A very insightful review of how it is to be a model, what is expected, what you can expect, how the industry works, what kind of modelling there is, how to deal with different types of photographers, catwalk, etc. Everything they should know but often need to learn the hard way. All masterfully presented by Yoanna House and Matthew Jordan Smith. Henrik "Imaginara" Bengtsson Sweden