Custom Menu B: Button/Dial/Lever
John Greengo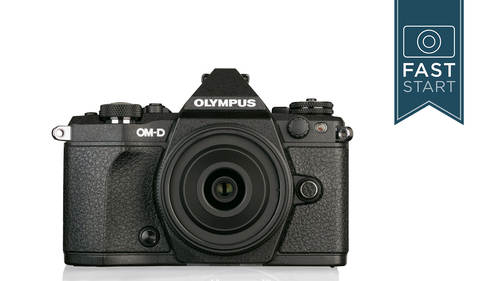 Custom Menu B: Button/Dial/Lever
John Greengo
Lesson Info
22. Custom Menu B: Button/Dial/Lever
Lesson Info
Custom Menu B: Button/Dial/Lever
so moving down to be the button function, button dial and lever customization, and this is where we get to really customize the various controls of our camera. And so when you go into button function, you'll see there on that left hand column all the different buttons that you can customize throughout your camera and you can do. You can customize each one of these two. I don't know how the number it's it's somewhere between one and two dozen different features to control your camera. And so if you don't like using the A E l button on the back of the camera, you can have it on the top of the camera. And so there are lots of different ways that you could do this. Notice down at the bottom of the list the L F in the lens function button that is Onley four cameras that have lens function buttons like I showed you earlier. The one's just above that are for the vertical grip. The vertical grip has customizable buttons that you can also control on there, so tons of different controls in there...
the dial functions I remember I remember telling you earlier in the class that you can program the front and the back dials to either switch their exposure, compensation or program shift, you could control which one does the shutter. Which one does the aperture? Because I know Nikon and Canon are a little different about the way that they control things. This style set up is a little different, so you may want to change it according to what cameras you're coming from, or just how you like to have it set and how you hold the camera. What's easiest for you to use. And so if you don't like it, you can change it on this camera more than any other camera. Okay, so one of the things that you can control is you can choose how these dial's work in different modes. So, for instance, I want this to be my shed a really my shutter control button when I'm in manual. But I wanted to be something different when I'm in Cheddar priority. And so whether you're in program aperture, Priority Shutter priority manual or in the menu system, you can control in what button or what dials are doing, What sort of function in there and so it does get fairly in depth. But it is great to have a camera that is tailored exactly to the way you want. All right, dial direction. I had mentioned this before, and I pointed this out. So this is an indicator that says we are two stops to the right hand side. Okay, so how would we normally fix this? Well, we want this to go left correctly. Well, how do we turn the back dial? Do we tend send it to the left? No, we send it to the right. Uh, and so if you think this is awkward as ideo I would like this to match the correct direction of the exposure. And so I highly recommend changing the exposure dial to dial number two. This will save a lot of confusion and save you little bits and time. Whenever you're trying to do manual exposure on your camera. Next up is a mode dial function. So on your camera, if you're a pretty serious user, you're a hard core e m five mark to user. You're gonna probably not be using the art mode and the I auto mode on a regular basis. Well, you can repurpose these modes on the mode. I'll to be either my set 123 or four. And so this is now your custom mode. There's a number of other cameras on the market that have custom modes built right onto the camera with the C one or C two, for instance. And so you can use these. They're not clearly labelled at C one and C two or my set one and two. But you can re program them if you don't need them. Which is really nice, because I say, say, there's a lot of more serious photographers, you know that they're never gonna go into these modes, and this is a way for them to simplify and speed up the shooting process of changing functions on the camera. Yes, cannot question. Have a question on that? The my sets. Are you able to changes in the name of that instead of my set? One. My set to my set three to something that might be more memorable, Don't know, have to talk my head, but let's go in and quickly take a look. So we're gonna navigate to shooting Menu number one will go into my set my set one and I can set this for the current settings. But once I am here, I cannot. So Nice try, folks. Maybe on the e m work three AM five mark three. Okay, so next up is lever functions. Remember, the back of the camera has this lever, and there are six different modes for the level. And we're not going to go through in nauseated detail on each one of these six modes. Dio it does describe it on the back of them. The camera here, for the most part, I can say that Mode one makes a lot of sense to meet for people who are changing the isso and white balance, which tends to be after shutter speeds and apertures the most common settings that most people are going to change. But you can go through and kind of switch this around into a lot of different functions that I say more than we're gonna spend the time to go through. But there is a great way of customizing how to best use mode one and mode to on that dial. That's next up is the optional grip that has a dial on it itself so you can go in and you can customize the dial function of this. And let's see, what else do we have on here? We also have a control. I mean, let me jump in here on the menu system. I got another little note that I've seen that I need to pay attention to here is that you can also Oh, you can have that dialogue control the volume that you are recording in shooting movies. And so if you want to record movies and you want to have more direct control of the volume, that can be your volume adjustment when shooting movies.
Ratings and Reviews
I had previously purchased the Fast Start for the earlier OM-D E-M5 model and found it invaluable. I was lucky to catch this E-M5 Mark II Fast Start when it was live and had my camera set up beautifully - until I updated the firmware recently and discovered how uncooperative the camera can be in the absence of the combination of settings recommended by John. So I bought the course, which enabled me to restore the camera to the optimal settings and gave me may "Aha" and light-bulb moments about things I'd forgotten or not understood the first time around. I am glad I now have this course so I can revisit it as needed. NOTE: There IS an option to save settings to the PC before updating firmware. I will be doing that in future!
Excellent course. John's ability to patiently and throughly cover all elements of this detailed camera is impressive. He converts the stress level of learning a new camera to a fun level.
I watched most of the live broadcast and just finished going through all of the modules with my camera. I learned so much!! My camera is customized to my preferences and I am now very comfortable shooting in M mode. My picture quality has already improved. John is an excellent instructor.
Student Work