Mode Dial: Movie Mode
John Greengo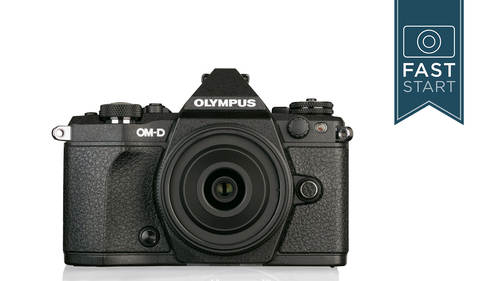 Mode Dial: Movie Mode
John Greengo
Lesson Info
6. Mode Dial: Movie Mode
Lesson Info
Mode Dial: Movie Mode
next up, we are going to the movie mode, and we're gonna talk a little bit about shooting movies on this camera. So when you put it in the movie mode, it changes a lot of the parameters about the camera automatically eso that you can have the camera set to a movie setting. Now, if you want Teoh, you could have the camera in the eye auto mode and you could hit the movie record button and you could record a movie. But all your movie controls may not be up. For instance, in the movie mode right now, let me show you what's going on. Turn the camera around here. If you notice in the upper left hand of the screen, you'll see the mic levels up and down, up and down. And so we'll have other controls in here that we might want to see when we're shooting movies that we wouldn't normally want to see when we're shooting photos. And so that's one of the advantages of going into the movie mode. And once we get into the menu system, you'll see how we can customize this mode to shooting the way we wan...
t. Maybe we want to keep it really simple and keep the camera in a program mode where it's figuring out shutter speeds and apertures. Or maybe we're more of a cinema buff, and we want to go in and control things manually ourselves. And so those will be options that we can get into. So let's talk a little bit about shooting movies with this camera so the camera will be thrown into an HD aspect ratio for the most part, which is 16 by nine. It's a very wide screen Look to it. It's going to show you the recording time down in the bottom, right and whether it's recording in the top left of the frame. There are a number of different frame rates and quality options that you can choose when you were in the camera. Now, for the first time in this class, I'm going to show you a shortcut, because I know a lot of people are watching this class and they might see these movie quality settings and they'll say, Oh, I know what I want to set it out and I want to do it right now and part of me is the instructor says No, we haven't gotten to that point of the glass. I will tell you about that when we get there, but I know some of you are impatient and you want to do it right now. So here's the shortcut, and you'll see this throughout the class. Whenever you see one of these little boxes that come in, this is gonna tell you kind of the menus that you need to go to to make the setting. So what you would do is you would go to the menu, go in shooting menu number one, the image quality setting and in there is a special group of settings for the movie mode. And when you get in there, you'll be able to select between full high definition or standard high definition 30 frames or 60 frames per second, or the different impact settings for a different type of video format. And so you'll be able to choose which one of these quality settings you want in there. So we have two different major video formats that you can use is a dot movie format and then an M J peg, which is a little bit smaller file size for people who don't want to use as much space on their memory cards. F H D stands for full high definition, which is pixels by 10 80. That's the standard TVs, at least currently in use. There is kind of a smaller version called HD 12 80 by 7 20 And if you wanted to record a relatively low resolution image, a YouTube style simple one for the Internet, 6 40 by 4 80 would be a fairly small size file. In order to se file space on the memory card, we have different frame rates, according to which video market you're in. Europe and North America have different standards as far as 30 and 25 frames per second. There is a 60 frames per second for anyone who wants to shoot at higher speeds and potentially slow the images images down in post. There is also the 24 frames per second, which is what Hollywood movies are shot at and is a very popular cinematic look to it. So there's a number of different frame rates depending on your needs. For most people, 30 frames per second is kind of this standard for video that looks normal, you might say there is a limit to the file size where we're shooting videos four gigabytes or about 29 minutes, that you can shoot in one continuous take so you can't shoot for two hours continuously. It'll have to stop, and you'll have to start recording again now. One of the things about this is that this is primarily designed as a still photographers camera, which means if you're shooting videos, you can shoot a still photo at any time you want. Now, the type of photograph and the quality of the photograph will depend on some settings that you can make in the menu section that we will get into and talk in detail in the second half of this class. Now, if the camera is not in the movie mode, it'll automate automatically be set to the program mode, which means shutter speeds and apertures will be figured out for you. If you are in the movie mode, you get to decide whether the camera is in a manual mode or in an automatic mode, and that is something that will get into when we get into the full menu section
Ratings and Reviews
I had previously purchased the Fast Start for the earlier OM-D E-M5 model and found it invaluable. I was lucky to catch this E-M5 Mark II Fast Start when it was live and had my camera set up beautifully - until I updated the firmware recently and discovered how uncooperative the camera can be in the absence of the combination of settings recommended by John. So I bought the course, which enabled me to restore the camera to the optimal settings and gave me may "Aha" and light-bulb moments about things I'd forgotten or not understood the first time around. I am glad I now have this course so I can revisit it as needed. NOTE: There IS an option to save settings to the PC before updating firmware. I will be doing that in future!
Excellent course. John's ability to patiently and throughly cover all elements of this detailed camera is impressive. He converts the stress level of learning a new camera to a fun level.
I watched most of the live broadcast and just finished going through all of the modules with my camera. I learned so much!! My camera is customized to my preferences and I am now very comfortable shooting in M mode. My picture quality has already improved. John is an excellent instructor.
Student Work